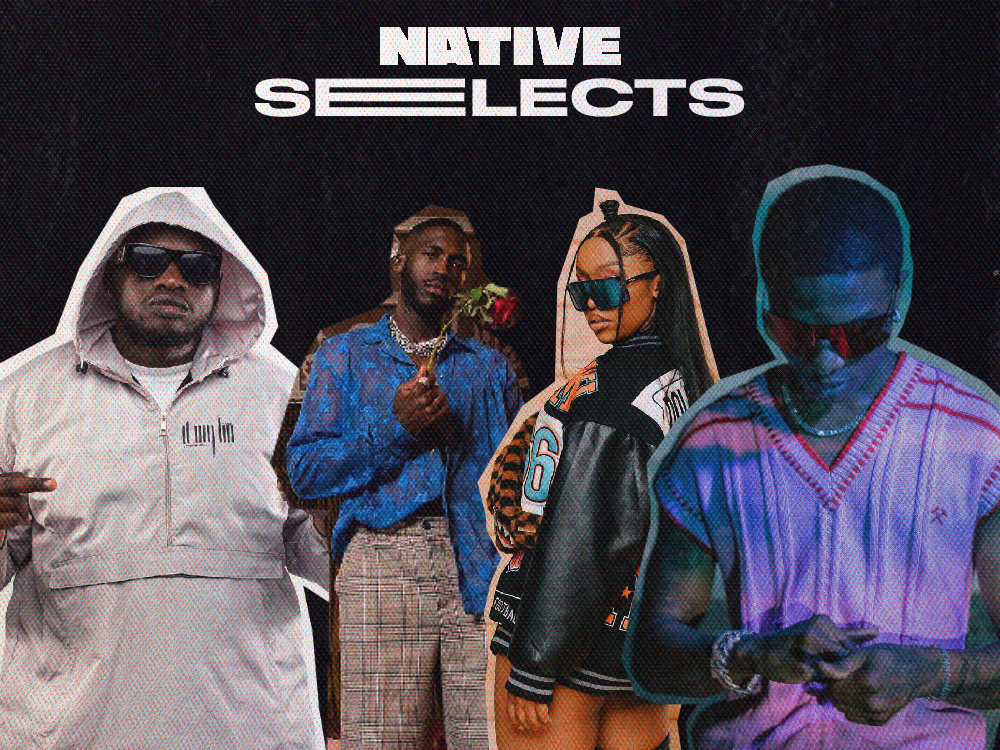 NATIVE Selects: A List of The Best Songs This Week
Featuring Rexxie, Kamo Mphela, Khaligraph Jones and more.
It's that time again. Every day, new music shows up, sweeping fans and music lovers off their feet while artists gauge reactions to know the effect of their creativity. At the NATIVE, we are committed to keeping our ears on the pulse of the music scene and bringing the best sounds to your doorstep.
Last week, we highlighted songs from Oxlade, Nissi, Skiibii, Shatta Wale, etc. (Tuesday) and Cruel Santino, 2BABA, Mi Casa & Larry Gaaga, Nasty C, and more. Today, we have songs that move from Afropop to Amapiano to R&B; these artists—from Nigeria, South Africa, Kenya and Tanzania—showcase their unending talent and passion for creativity. Dig in!
REXXIE, NAIRA MARLEY & SKIIBII – "ABRACADABRA (REMIX)" FT. WIZKID
In the second half of 2022, the trio of Rexxie, Naira Marley and Skiibii scored a hit with the Amapiano thumper "Abracadabra." The Rexxie-produced song, which already has a spot on his forthcoming album 'Big Time,' caught the attention of music lovers, including Nigerian music superstar Wizkid. Rexxie reserves a spot for Wizkid on the remix to lend his renowned vocals and fire up an already blazing tune.
Uzoma
KAMO MPHELA – "HANNAH MONTANA" FT. BOIBIZZA, CHLEY, NOBANTU VILAKAZI, BONTLE SMITH, F TEEARSE, SHAUNMUSIQ & MELLOW & SLEAZY
Kamo Mphela is inarguably one of Amapiano's most magnetic personalities. The best part is that it translates on wax. She doesn't just make songs; her music is bad bitch credos, where raps and chants blur into declarations that find a dwelling corner in the listener. On "Hannah Montana," she's joined by an army of collaborators but it's obvious that she's the sun around which they all orbit. The Bacardi-piano beat is an instant ear-holder, and while each guest pitches in with important glue moments, from Chley's wordless chants to Nobantu Vilakazi's rousing 8 bars, Kamo breezes in mid-song and holds sway with that trademark effortless charisma.
Dennis
BZ – "GET PAID"
British-Ghanaian rapper BZ has just shared his first single of the year titled "Get Paid," which finds him waxing poetic about his success in the game. With sharp tongued bars and a snot-nosed flow, he details his life both abroad and back at home. Shot in Ghana, the Delenn Vaughn-directed video stars BZ playing the role of The African Robin Hood, a heroic outlaw who sets out to provide for his community.
Tami
DALIWONGA & MAS MUSIQ – "10 KILOMETERS"
For their first single of 2023, South African singer Daliwonga and fellow South African DJ and music producer Mas Musiq team up for "10 Kilometers," a delicious tune that concerns itself with the soft side of human emotions. Daliwonga layers his smooth vocals over Mas Musiq's enticing Amapiano-laced production to create a certified earworm.
Uzoma
KAESTYLE – "SOUNDTRACK" 
For a while now Kaestyle has been cutting his teeth in the music scene. Signed to KeyQaad, last year's 'Kae's Study' attempted an autobiographical parsing of love tropes, assisted by star features from label mate Omah Lay and Victony. "Soundtrack" is a fine step towards individuality; over vibrant drums and sombre notes, Kaestyle produces a heartfelt ode to female physiology. He arrives at the standout chorus with energetic verses backed with crowd vocals, while touches of amapiano colour the romantic tension he sings about even more vividly. 
Emmanuel
KHALIGRAPH JONES & HARMONIZE – "KWAME" 
Khaligraph Jones is at the pinnacle of rap music. With a plethora of hits under his belt, Khaligraph has morphed into a rap genius funnelling a life of hustle and success into music with a guttural voice poising as the best name when mentioning rappers. Together with Tanzania's Bongo superstar Harmonize, the duo team up for an unconventional single "Kwame." Unlike his previous songs characterised by aggressive performance, Khaligraph Jones takes a different route comparing himself to the late Kwame Nkrumah. While this move might be controversial, it is understandable as Khaligraph is seen as a revolutionary force in the entertainment scene and also a vocal voice in championing Kenyan music on Kenyan airwaves. Talking about the challenges of being a musician, Khaligraph and Harmonize pay homage to fans and industry heads. A spectacular release that is both pious and boisterous. 
Tela
SHAYKEH & MIDEBEATZ – "CALL MY NAME"
Canada-born Nigerian singer Shaykeh taps music producer Midebeatz for a new tune spiced with romantic intentions. With "Call My Name," Shaykeh encourages her lover to allow her a space in his life. "Oh when you're down/And you're feeling lonely/Call my name," she sings, her vocals intertwining with Midebeatz's guitar-led upbeat Afro-fusion production.
Uzoma
LAYZEE ELLA – "CHEMICAL" 
Layzee Ella has been a remarkable talent to witness. Pulling diverse sounds into her artistry, she has enough free room to experiment and she's made a fine demonstration of that. Extending the sensuous direction of last year's 'Feel Everything,' her new single bares her desires colourfully and confidently. "Chemical" aligns with the hyper-physical allure of Dancehall, with Ella working her delivery to glide over the beat. Describing intimate moments with a love interest, she curates a Sean Paul-esque banger, but with less pomp and more sensitivity, making this the perfect record to get down to. 
Emmanuel
NASBOI – "LOVER BOY"
In the spirit of Valentine's Day, Nigerian comedian Nasboi, real name Lawal Michael Nasiru Bolaji, releases "Lover Boy," his debut single as a musician. Nasboi, who is a fan of music stars 2Baba and Davido, seeks the assistance of Producer X and guitarist Fiokee for this mellow tune, wherein he serenades his heartthrob Morenikeji with promises of love for her commitment to him. "Lover Boy" is a promising beginning for Nasboi.
Uzoma
TABBIE – "KAM TU" 
Tabbie has been strategic about her come-up. The R&B songbird takes tactical approaches with her songs from her sultry vocals to the meticulous production, she is an artist to watch out for. Releasing her first offering of the year on valentine's day, "Kam Tu," a Swahili equivalent to the phrase "come over." Accompanied by steamy visuals "Kam Tu" is a feel-good song, the visuals bring the words kam tu to life especially when you miss your significant other and you are working to convince them to come over while highlighting the feminine power and vulnerability that comes with needing another. A display of both sensuality and a representation of a strong woman who is not afraid to communicate their desires " Kam Tu" is a perfect addition to your playlist on a valentine. 
Tela
Featured image credits/