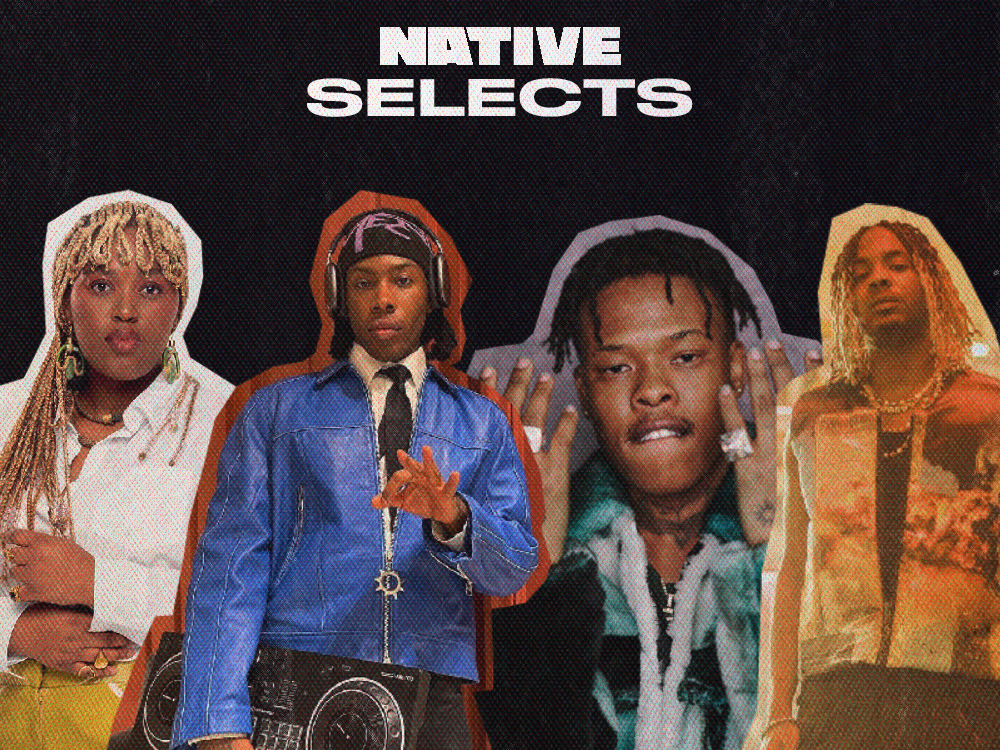 NATIVE Selects: A List Of The Best Songs This Week
Featuring Cruel Santino, Nasty C and Young Jonn
It's that time again. Every day, new music shows up, sweeping fans and music lovers off their feet while artists gauge reactions to know the effect of their creativity. At the NATIVE, we are committed to keeping our ears on the pulse of the music scene and bringing the best sounds to your doorstep.
As such, every Tuesday and Friday, the NATIVE will compile a list detailing the best and most enjoyable songs released during the week. This Tuesday, we covered releases from Oxlade, Shatta Wale, DJ Tunez and more. Today, uncover our favourite tunes from 2Baba, Cruel Santino, Jesse Jagz and more. 
CRUEL SANTINO – "SHOWMETHEWAY !!" FT. POCO LEE 
Tinkering with his sound has been the defining ethos of Cruel Santino. Even though he's always flown the alte banner within these parts, his music honours a wide range of cultural traditions. On "showmetheway !!" he unites with popular dancer Poco Lee who expectedly imprints his signature energy. The shimmering, fast-paced production belongs however to Santi's "Omoge Wa Jo" universe, freewheeling bops which uphold the musician's high school-evoking spirit. If the visual rollout is executed with a similarly colourful direction, Cruel Santino might just have a viral record on his hands. 
2BABA, MI CASA & LARRY GAAGA – "BEBE"
Every person on this record has earned their flowers. From the legendary 2Baba to South Africa's quintessential trio Mi Casa and the iconic executive figure of Gaaga, it's a coming together that works. Soulful best describes the record's atmosphere, with warm percussions sitting gently alongside arrangement which includes, at several points, piano licks, zesty violins and a saxophone solo. Over the dramatic floss of this sound, the  musicians' assured vocals underlines the thoughtfulness of this cross-country collaboration. 
NASTY C – "BLACKOUT" 
Prolific doesn't do justice to Nasty C's energy. Few weeks seldom go without the South African rapper releasing a new song, and it's been testament to his artistic range that most of the songs sound different to each other. "Blackout" has drill-esque drums at its base, but strung atop are cadences and choices much closer to Trap. As a result the beat's sombre energy finds a perfect companion in Nasty who colours the credo of his superstar life even more brazenly. While the topical matter might not inspire the takes the Sarkodie-referenced "No Big Deal" does, it's a vibey interlude to what the rapper has coming next. 
YOUNG JONN & OLAMIDE – "CURRENCY"
Last year Young Jonn was the artist to beat. He had the pulse of Afropop in his voice, and every song sounded like a hit on first listen. Returning from his elevated spot, Young Jonn takes the appreciative route while reiterating the need to make more bangers and secure more bags. "Currency" meets the zen calm of OG Olamide perfectly, the YBNL boss doing the required on his verse. Young Jonn however creates the cherry, right from the chorus down to his second verse which closes out the song. A perfect blend of cool and fire, it's the kind of song you want to hear before heading into the sure trials of a day in Nigeria or elsewhere, really. 
NNENNA – "DAYDREAMING"
The musicians of Africa's diasporic base would always have something to say. In recent years acts from hotspots such as the US and the United Kingdom have shared their unique experiences in songs, drawing connections across several eras of popular music. American-Nigerian singer Nnena is one such musician, an R&B purveyor with soulful edges reminiscent of her influences like Jill Scott and Tiwa Savage. On "Daydreaming" her full vocals are evocative and zesty, breaking from the melancholic hue of its chorus to rapping its latter parts. By all indications she's a musician to be watched out for. 
JESSE JAGZ – "CHANT DOWN BABYLON"
With an album expected later this year, Jesse Jagz has been fanning the embers of his legacy. His latest record is titled after a Bob Marley classic and has the same revolutionary edge the legend was known for. "Chant Down Babylon" thus sounds like an entry into Jagz's 'Thine Nation Come' era, built on heavy bass and the bouncing feel of roots reggae. His songwriting has a prophetic lean, referencing political themes which suggests commentary on the forthcoming election. For anyone who fancies this side of Jagz over the NY-inspired spitter, they're surely in for a good treat. 
1DA BANTON – "CALL JEHOVA"
Some weeks ago 1da Banton premiered his new song and now, he's got evocative visuals to boot. Directed by Adasa Cookey, the scenes in "Call Jehova" amplifies the aspirational emotions laden in the record, at once drawing references to religion while establishing the need for one to stay on their grind. It's a purposeful interpretation of a beautifully raw song, proving that as much as Banton's talent has never been in doubt, the creative team around him are making good of their roles. 
ICE PRINCE – "GET AT YOU" 
Teasing a return with an EP scheduled for next week, Ice Prince SZN might finally be upon us. Over the past few years, listeners of Zamani have longed for a more prominent position in the Afropop global movement, especially as he's one of the early runners of the journey. While he bided his time, it's assuring that music was never the delay. "Get At You" proves this: over lush patterns which evoke the sea breeze, Ice's trademark flow charts the journey of an unrequited love. The video carries that affectionate quality, minimal and yet expressive, featuring Ice walking over choice locations with his supposed love interest. 
MSAKI & TUBATSI – "COME IN"
Ahead of the release of their debut album'Synthetic Hearts,'on March 10th, Msaki and Tubatsi release their latest offering "Come In." The single is both introspective and conversational – disentangling emotions and considering what is shared and private in the messiness of our relationships with ourselves and others. Speaking about having an equal responsibility to look after each other the single shares the intimate feeling of love, longing, confusion, sorrow and despondency, are opened up and negotiated. "Come In" is a perfectly uncomplicated love song, a declaration of unshakeable commitment that wears itself with a determined assurance. With each repetition of the gauzy refrain, this assurance grows ever stronger, as the invitation is made again and again: "So come in  I love you Take off your chains So come in I love you / Kiss me again."
ZAGA – "ORGANIZE"
Having ended the year off with a smooth laid-back afrobeat single " Ohema", the Port Harcourt born singer kickstarts the year with a fresh new afrobeat single," Organize". A singer that can deliver on any day and on any beat, Zaga is slowly building his audience and gaining recognition in the afrobeats space. Inspired by the past, present and future, "Organize,"pierces through your emotions as he incorporates the reality of his life – good times and bad times in his music. "I just want to make music that can heal people", Zaga stated while speaking to the NATIVE."I hope all my supporters will enjoy this latest offering. Very soon I will be releasing my debut EP..so I am looking forward to this journey".