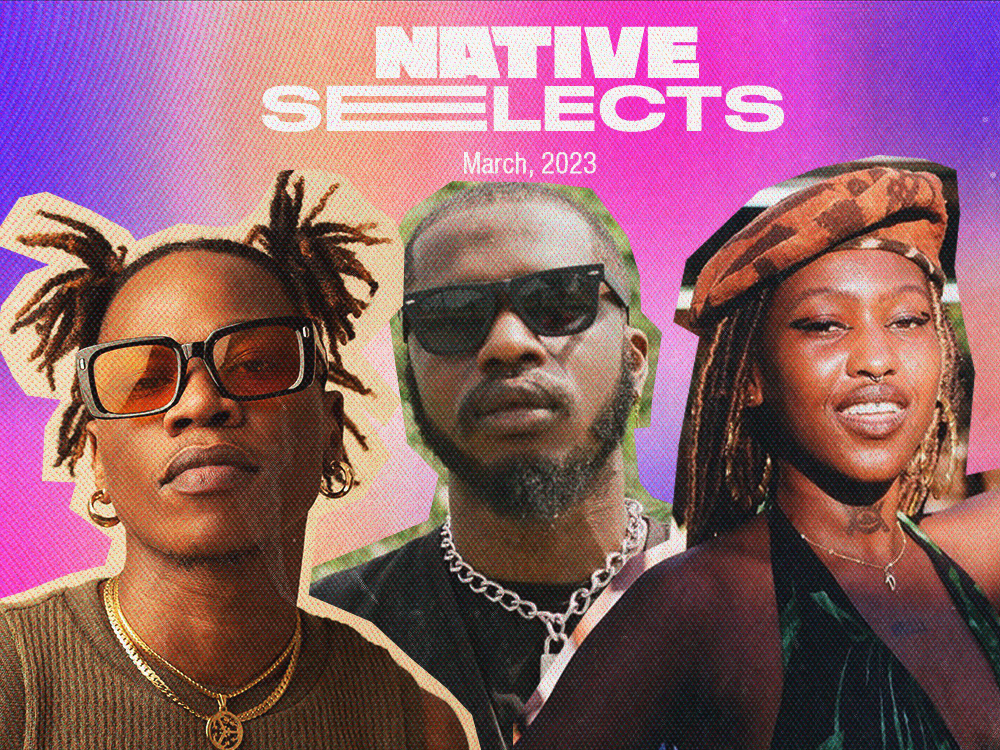 NATIVE Selects: New Music Friday standouts From BOJ, Zlatan, Blxckie & more
kickstart your weekend with these tracks
It's that time again. Every day, new music shows up, sweeping fans and music lovers off their feet while artists gauge reactions to know the effect of their creativity. At the NATIVE, we are committed to keeping our ears on the pulse of the music scene and bringing the best sounds to your doorstep.
Earlier in the week, we brought you songs from Camidoh, DAP the Contract, DeadWvlf & Jaci Martinz and more. Today, we have songs that move from Afropop to Amapiano to R&B, with our select artists showcasing their unending talent and passion for creativity. Lock in!
BOJ – "2 BAD"
Following the release of his star-studded, solo sophomore album, 'Gbagada Express,' Boj spent the later parts of 2022 expanding the world of the project with accompanying visuals and memorable stage performances in cities across the UK. For his first release of the year and first since his album, Boj's sonorous vocals lead the groovy, mid-tempo track where he expresses his admiration for his girlfriend. Through the Adey-produced track, Boj repetitively croons on the catchy hook, "my girlfriend is too bad," evidently mesmerised by her beauty. 
Nwanneamaka 
MIKUN – "SUPERWOMAN"
Mikun's distinct vocals has seen him pull numerous singles revealing a new phase of his artistry. After taking a much needed sabbatical break, Mikun returns with his latest release, an ode to all women. In "Superwoman," Mikun is in awe of his muse as he celebrates her strengths and beauty as his tender vocals croon over the synthetic melody. 
Tela
SEUN KUTI & BLACK THOUGHT – "BAD MAN LIGHTER 2.0" FT VIC MENSA 
Over the years Seun Kuti has proven eager to blend his Afrobeat sound with sounds from the diaspora. His collaborative approach sees him join forces with the legendary frontman of The Roots, Black Thought and Vic Mensa on "Bad Man Lighter 2.0." Set to laid back funky grooves, the energetic hook from Kuti proves a fitting accompaniment to the conscious lyrics of the rappers. Mensa does a great job on the closing verse, channelling the spirit of musical ancestors, before ceding way to an evocative horn solo. A perfect demonstration of fusing distinct energies. 
Emmanuel
HAGAN & MUVA OF EARTH – "HIGH (HAGAN REMIX)"
British-Ghanaian DJ and producer, Hagan, joins Nigerian alternative jazz singer muva of Earth on the remix of her 2022 single, "High." The initially slow-tempo melodious track takes new shape with Hagan's groovy and energetic drum patterns and adlibs. Released alongside the instrumentals in a 2-pack record, muva of Earth is tapped into her higher self as dulcet vocals deliver a smooth rendition, "I'm high, high on life/Thirsting for knowledge."
Nwanneamaka
PHVNIX – "MARY JANE" 
Newcomer singer and songwriter, Phvnix is here with the mid-tempo record titled "Mary Jane." On the record, he talks about living a stress free life, the importance of focusing on one's self and taking life one day at a time. He fuses Afropop elements with new sounds of reggae and highlife. Over the distinct production of the track, the artist continues to express his deepest thoughts about life. 
Wonu
ZLATAN – "OMO OLOGO" 
Major pioneer of Nigerian street pop, Zlatan returns for his second release of the year following the Seyi Vibez-assisted "Let There Be Light." Unlike Zlatan's energetic and upbeat tracks, "Omo Ologo" -which translates to glorious child in Yoruba- takes a more solemn approach. Lead in by heart-warming mellifluous vocals, Zlatan marks his journey, attributing all praise to God in Yoruba and English. Comparing his past and present, his lyrics and tone are heavy with reflection and appreciation of God's favour in his life.
Nwanneamaka
BELLA SHMURDA – "ARA (GEN GEN TIN)"
Bella Shmurda's foray into pop on last year's 'Hypertension' proved to be masterful. Flexing his spirited vocals over colourful production, he set a new path for his future sojourns. "Ara" continues in that direction, the musician assuring his lover of his good intentions while painting an image of his celebrity perks. Taking the celebratory tone of his more celebrated records, the song finds Bella in familiar territory. 
Emmanuel
EMO GRAE – "AMAZING"
Marlian Music act EMO Grae starts 2023 with "Amazing," a smooth love song wherein he serenades his beau; he ensures to inform her about the sacrifices he's willing to make for her and the kind of future he wants for the both of them. EMO Grae's lush vocals make a fine combination with IbkisSleek's saxophone-aided Afropop production, culminating in a rich, mellifluous sound. 
Uzoma
YKB – "BO CARD (THINGS I NEED)"
Still relatively new to the scene, YKB has proven with each release that he is an artist dedicated to his craft and on the cusp of a breakthrough. After delivering promising tracks like "san siro" and thoughtfully curated EP, 'Before I Blow' in recent years, uNder alum, YKB is back for his first release of the year, "bo card (things i need)." The track lyrics, accompanied by instantly catchy instrumentals, take the vulnerable route as YKB often does, "Girl I've been sitting by your window, please can you come out." He expresses his longing for his love interest with the assistance of soft saxophone keys midway through the track. 
Nwanneamaka
BLXCKIE, MAYTEN & S1MBA – "STUCK (YOUR HEART)" 
Love has always been a favoured theme among musicians. With an array of perspectives capable of being presented, it's no surprise the tensions and joys of affection are everywhere on the playlists. "Stuck (Your Heart)" shines with its stripped soundscape, pairing soft drums with the vocally dynamic deliveries from the trio of musicians. A sensitive record, it's the type to soundtrack chill outdoor evenings. 
Emmanuel
Featured Image Credits/The NATIVE
---