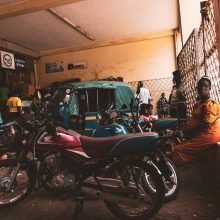 Essentials : Co-curated by KMRU, 'Insha' Merges Innovative Electronic Music with Folkoloric Values
A versatile yet compact album
In life, you can't move forward without knowledge of your past. Knowledge of your heritage forms a source of self-identity that lights up an inner flame. On 'Insha,' a collaborative project from members of the Nairobi Ableton User Group, the exploration between the past and present cutting-edge electronic production forms a connection between music and our deeper self. With very little by way of vocals, its intentions are as clear as its searing execution.
Nairobi Ableton User Group (NAUG) is a community and space where Ableton Live is used for creating, collaborating, and performing. By extension, NAUG is emblematic of how creatives in Kenya's experimental electronic space cross paths frequently. In 2021, renowned luminary KMRU helped curate a primer into the space with the compilation project, 'Place: Nairobi', with contributions from Janice Iche, Kimina, uNder alum Coco Em and more.
Similarly compiled to show the diverseness of Kenya's electronic beat scene, 'Insha' is a 14-track project that fuses synthesised instrumentals and organic sounds. Created with the vision of cultural evolution in the Kenyan community, the cooing of birds in the morning accompanied by gentrified production calls you into freedom, love, captivity, and self-analysis. The project was born out of a workshop organized by KMRU and Mbogua Mbugua Mbugua, known as M³, and includes a robust roster of Manch!ld, Nyokabi Kariuki, Kimina, Ngat Maler, Rushab Nandha, Snse, KMRU, and M³.
View this post on Instagram
The ominous yet hopeful "Aliamka," by Kimina, serves as the perfect intro track with the conceptualization of actuality sounds, culturally symbolizing the opening of a new era while still paying homage to the past. The instrumental gleams of minimalistic productions as it ushers you into KMRU's electronic "I Had The Impression." As if the bass drums don't trigger your inner African, the songs give a sense of escape from colonial clutches that slowly convert to neo-colonialism. The static sound over an indistinct conversation only proves Kenyan creatives are adding artistic layers to their cannon.
Seeking to work against the preconceived notion of what African sound is supposed to sound like, KMRU meticulously curated 'Insha.' From the cover art, you immediately get the concept it's supposed to be an African-themed project. Focusing on the uniform yellow line on the old-age public transport vehicles and bus stop area reflects the rawness of the project. The warm colours are meant to present a peaceful time of expressing your African values without fear of being judged.
The melancholy in Barno's "Calm, Chaos" serves more as a calling to escapism from colonialism, as the background vocalist emphasizes the glorification of colonialism. The plaintive expanse mirrors the black man's despairs over neo-colonialism while the muse states everyone will donate money to the white man while no one can contribute to a black man. "Escape From Nyawawa" colours the project with hope and triumph. According to the Luo tradition, Nyawawa was believed to be the spirit of the dead. To escape it you had to bang pots, plates, pots etc. Marking a different era in the album, Manch!ld cumulates modern tempos with 808s while still enacting the traditional drum sets.
'Insha' takes you through various time stops, each relevant to the other. The unpredictability of the album oscillates between a spate of moods and themes, aligning with the cultural vision of the project. The constant whistles, chants and ululations synchronized with the electronic bass brought a new element to traditional songs. Originating from the Gikuyu, "Mura" by Budalagi espouses the independence and the joy that comes with freedom.
On "Anjiru (interlude)," Nyokabi Kariũki releases scintillating cries while finding her inner voice in Pan-Africanism. The thumping of the drum with her high-pitched shriek creates a vivid glorious image of colonial oppression through education."Mtwapa Siren" stood out for several reasons. Of all the songs, it was the only one that was accompanied by vocals. Acting as the lead single, Nabalayo's husky yet sultry vocals instantly sweep you into an instant folk tale. Painting a vivid image of instruments underwater, Nabalayo's voice is a siren inviting you into the water.
NAUG – INSHA (THE FILM) from NAUG on Vimeo.
Growing up in Nairobi serves as a form of expression. Being the capital city of Kenya and home to a large youth population, 'Insha' forges new sounds that uphold the inherent need for inventiveness while still being tethered to an authentic centre. With an emphasis on highlighting new artists, Munyasa makes his debut with "Borrowed Cadences." The pitched synthetic melodies breathe a life of new air with their electronic instalment and airy synths. As he makes an intersectional new age frenzy as MR LU's "Kaa Tuchome" sees him infusing traditional chants and new age music and reflecting Nairobi's current music scene: diverse and monumental. 
The emphasis of this tape comes in African-inspired productions. The drums, the bells, and the horns are all synonymous with African heritage in communication. In Kenyan cultural communities, musical performance has always been linked with a long chain of related events and ideas. Music was often used to illuminate a specific topic and its implications for society. Through this method of explanation, musicians were able to reveal several underlying social concepts that determined people's behaviour towards each other and the community. This common recurring theme was seen mostly in ceremonies.
The strongest aspect of 'Insha,' apart from the stellar production, is that it gives everyone enough space to explore and create their sounds without losing focus. A versatile yet compact album.
Listen to 'Insha' here.
---