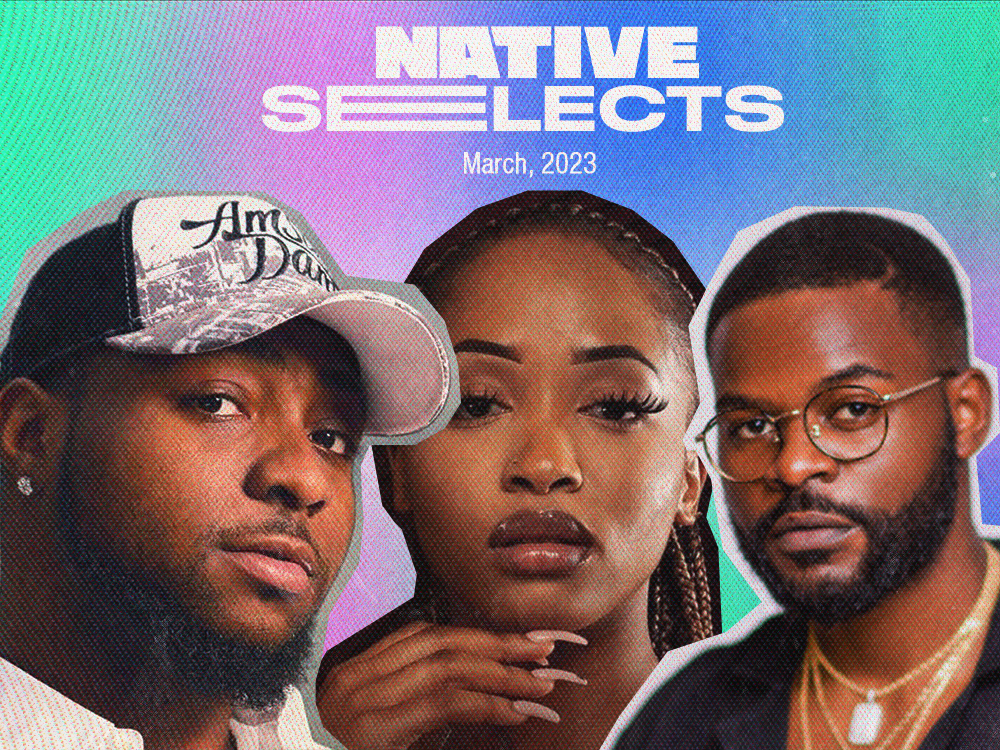 NATIVE Selects: New Music from Davido, Falz, Bloody Civilian & More
jams to start your weekend
It's that time again. Every week, new music shows up, sweeping fans and music lovers off their feet while artists gauge reactions to know the effect of their creativity. At the NATIVE, we are committed to keeping our ears on the pulse of the music scene and bringing the best sounds to your doorstep.
Previously, we brought you fresh releases from Suté Iwar, Lil Kesh and more. Today, we have songs that move from Afropop to Amapiano to R&B, with our select artists showcasing their unending talent and passion for creativity. Lock in!
DAVIDO — "UNAVAILABLE" FT. MUSA KEYS
After much anticipation, Davido has released his 17-track album 'Timeless.' Out of the project, "UNAVAILABLE" is one of the early standouts. Davido lays his vocals over Magicsticks' intoxicating Amapiano-tinged production, sharing his frustrations with the unrealistic expectations society has placed on him. He is majorly concerned with reminding listeners that he is just a human with flaws. South Africa's Musa Keys adds his soothing voice to the track with nice flows and, amid Magicsticks' signature crowd vocals, he and Davido ensure that "UNAVAILABLE" will be a fans' favourite.
Uzoma
FALZ & VECTOR — "YAKUBU"
Among the current generation of African musicians, few match the social consciousness of Falz. In a career streaked with hit songs, the rapper has also been consistent in speaking to the Nigerian sociopolitical climate. The biggest conversation from this year has been the controversial elections and on "Yakubu," he joins forces with Vector in what is a riposte against the INEC chairman and the country's political elites in general. From the lyricism down to the allegory-heavy visuals, it's a brave and haunting reminder of what Nigerians have experienced in just three months of 2023. 
Emmanuel
BLOODY CIVILIAN — "I DON'T LIKE YOU"
Since her outstanding debut as Bloody Civilian on "Cold Freestyle" off NATIVE Sound System's 'NATIVEWORLD,' this artist-producer has been one to watch. Shortly before her solo debut, she joined Rema to deliver a standout performance on "Wake Up" for the Black Panther Soundtrack. Still in her experimental phase, as she settles down in the industry, Bloody does not shy away from expressing exactly how she feels on tracks like "How to Kill A Man" and recently released "I Don't Like You." Over a groovy beat, Bloody leads into the track by directly reiterating the title, emphasising that she cannot be swayed. She closes out with subtle log drums, intensifying the track even more. 
Nwanneamaka 

PAYBAC IBORO — "OLOUN" FT. PAYPER CORLEONE 
Off his just-released 'West African Goat' album comes this rippling collaboration with Payper Corleone. As gleaned through his recent songs, PayBac's growing ease with Trap-tinged sounds makes for great bops. With his cache of Nigerian references delivered in a wavy flow, the ominous elements swirling beneath the drums make for very effective progressions. Payper's signature chill flow also works to amplify the mood, while the hook sees PayBac continue to excel with sing-along bars. 
Emmanuel
DEELA — "TAKE IT UP"
Audacious rapper and uNder alum Deela is back for her first release of the year, "Take It Up." Since releasing the snippet on Tiktok with the catchy lines, "Take it up with another hoe who cares you fucked up," Deela's new single serves as a reminder that she is not one to mince her words. The melodious trap record, layered with subtle of Hip-Hop elements displays Deela's effortless and commendable flow on the track, earmarked by her unapologetic attitude. Deela is clearly over it and she is unwilling to entertain any exes trying to spin the block and distract her from her bag. 
Nwanneamaka 
CHOP LIFE CREW, MOJO AF & EESKAY — "NO EXCUSES"
Chop Life Crew, an ever-evolving collective of Nigerian rappers, is one of the names keeping the lights on in Nigeria's Rap scene. On "No Excuses," MOJO AF and EESKAY dip into their bags of braggadocio to unleash one-liners and punchlines and warning shots at their contemporaries. "Got a couple screws loose/Can I use it to hold the game together?/So we can last forever/Maybe I'm way too advanced for my class/So I sit in the back while my dogs dey attack," EESKAY raps over Shwoff and BANICLAVA's Drill-inspired production.
Uzoma
TESH CARTER — "MONSTER" 
Over the years, Tesh Carter has been in and out of mainstream prominence, but her talent has never been in doubt. Last year's 'Rebel EP' demonstrated her seamless ability to parlay her rap origins into sonically vibrant music. Debuting this '23 with "Monster," Tesh plays beautifully into the zeitgeist of contemporary Afropop. Her svelte vocals interchange exciting rhymes with a lustful edge to them, layered confidently over the upbeat Amapiano production. With the year's second quarter just starting, this record—while being an eventful release on its own—gives her listeners so much to bank on. 
Emmanuel
SGAWD — "INTERMISSION"
On "Intermission," Nigerian rapper SGaWD has a lot of thoughts to get off her chest. Over an infectious production from 44DB Collective's Trill Xoe and JohnWav, she calls out the bullshit of those seeking to drain her energy and pledges allegiance to her close associates. "Intermission" is SGaWD's first release of the year, coming after "Telfar," last year's collaboration with Ronehi and her 2021 EP 'Savage Bitch Juice.'
Uzoma
BRUM3H — "YOU DON'T WANT ME" 
With bluesy production and measured vocals, Brum3h tells the quintessential heartbreak story on "You Don't Want Me". The subject matter is hardly new to musicians and to his credit, the rising artist makes his song stand out. Anyone who's been in love would understand the crushing emotions that come with pouring yourself wholeheartedly into someone whose affection only trickles down—that tension is the sweet spot of Brum3h's writing, which is enlivened through the passioned vocals he wraps around the production. It's a song which sets grand ambitions for itself and delivers with understated confidence. 
Emmanuel
YAZZAVELLI — "KPOLI POLICE" FT. DOPEMAN TWIZZY
On her catchy single "Kpoli Police," Nigerian rapper Yazzavelli creates a stoner's anthem, as she and fellow Nigerian artist Dopeman Twizzy infuse their dedication to the herb into the daily conditions of living in the country. In a mix of English and Pidgin English, Yazzavelli and Dopeman Twizzy trade playful bars over a Hip-Hop production, calling out greedy smokers and the good feelings the herb elicits in them.
Uzoma
SHALOM DUBAS — "RUN ME LOVE"
Since we last heard from her on "Gold," the brilliant Shalom Dubas has been relatively quiet. That's no problem because the America-based Nigerian rapper packs a lot of thought into every song, and her latest single is no different. Carried on soft strings and quietly knocking drums, she flits in her signature style between rapping and singing, imbibing a distinct even if nostalgic vibe onto "Run Me Love." In it, she explores the weight of relationships and the disparity that sometimes arises between what some are willing to give and what they expect. With a wise perspective, Dubas blazes on sweet wheels for the rest of the year. 
Emmanuel
Featured Image Credits/The NATIVE