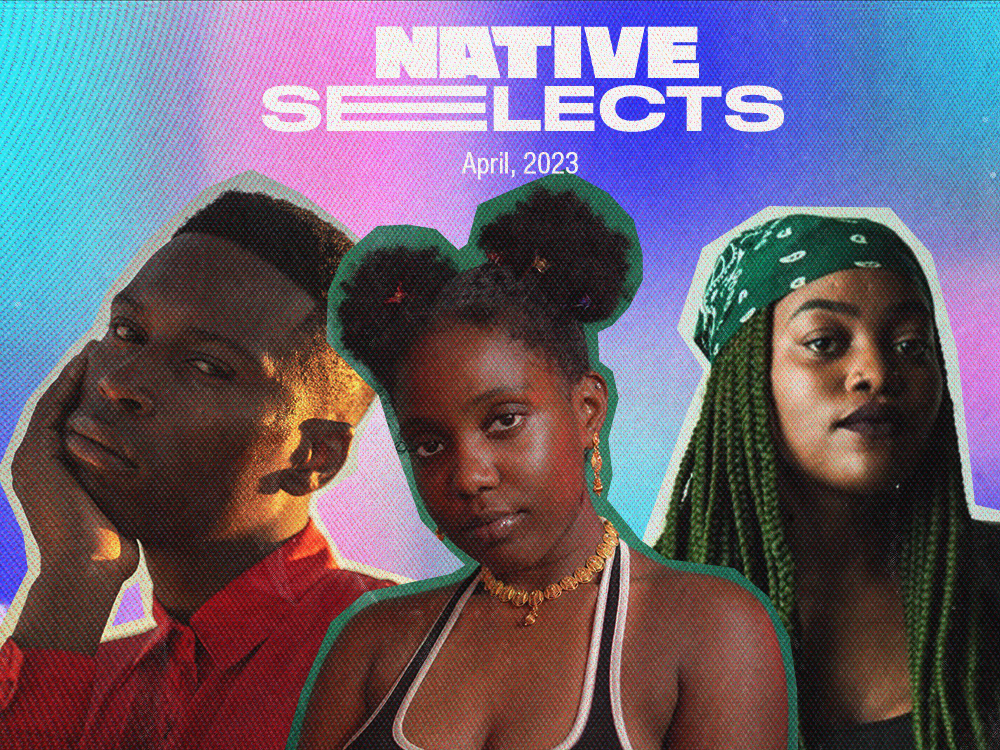 NATIVE Selects: New Music From Bongeziwe Mabandla, TAR1Q, Deto Black & More
some beautiful new music to get into
It's that time again. Every week, new music shows up, sweeping fans and music lovers off their feet while artists gauge reactions to know the effect of their creativity. At the NATIVE, we are committed to keeping our ears on the pulse of the music scene and bringing the best sounds to your doorstep.
Last week, we brought you stellar new releases from Olamide, SuperJazzClub, Zinoleesky and more. Today, we have songs that move from Afropop to Amapiano to R&B, with our select artists showcasing their unending talent and passion for creativity. Lock in!
BONGEZIWE MABANDLA – "SISAHLELENI (I)"
One of the most distinct voices in South African music, Bongeziwe Mabandla is a sonic treasure. His albums 'Umlilo' and 'iiMini' both won the Best Alternative Album at the South Africa Music Awards (SAMA), a demonstration of his almost peerless work in that category. With his fourth album 'amaXesha' expected next month, Bongeziwe has upped the ante with his debut COLORS performance. A stirring showcase of his signature Xhosa folk style, it's an ambient record full of spirit and soul.
VENUS RAPS – "MSHINE" FT. AIRDEE
Rap music doesn't have to be a one-dimensional affair. The most dynamic rappers have always recognised this, placing their bars in conversation with other genres of music. VenusRaps, a rising act from South Africa, also shares this quality. On her new project 'Superstar', she moves towards full form as she incorporates bubbling sounds from around her. "Mshine" is a stirring standout, coasting on vivid drums that coerces a memorable performance from her. With bars mostly delivered in Xhosa, she incinerates the production while wielding the skill to create a hook that sounds every bit of a hit material.
RIC HASSANI – "AMINA"
Since breaking through the Nigerian music scene, Ric Hassani's hearty records have cornered a distinct audience. He's rewarded that active participation by releasing more music, his most recent body of work 'The Prince I Became' demonstrating his growth by pushing into previously uncharted sonic terrain. Releasing two records to continue his busy start to the year, "Amina" pairs beautifully with "The One". Whereas the latter is more upbeat, "Amina" demands more from Hassani's voice, which he provides in its typical lusciousness, incorporating spicy lingo to drive home the point of being heads over heels in love. 
LAYCON – "SHINE"
Ever since winning the heralded Big Brother Naija, Laycon has proven eager to burnish the credo of his artistry. Constantly pushing his craft in fresh ways, he's stayed relevant on a musical level, even while navigating cultural ubiquity. On his new double release, Laycon places himself firmly in the Nigerian music discussion. "Shine" takes from the aspirational style of street hop, but with a sound that's essentially stripped, Laycon's submission is powerful in its self-affirmation. Reportedly bagging a degree not long ago, it's a fitting reminder that the mind can do anything with the right motivation. 
RUKMANI – "GETAWAY DRUG" 
Only starting to share her music two years ago, it's incredible how far Rukmani has come. The Port Harcourt-born musician has a soulful edge to her artistry, impressing great vibes on listeners who've followed her journey. "Getaway Drug" is the newest stop in that cruise, further establishing Rukmani as someone who's got their hands all over their music. Set to retro R&B production from Wavskinny and Mirra Pro, it's a sensitive record which upholds strength and the willingness to live life on fun terms. Its fun vibe is colourfully rendered by the Clarence Peters directed visual, placing Rukmani in evocative scenes with other Black women. 
E.L – "CHOP LIFE" 
E.L is Ghanaian music royalty. Present in the scene now for over a decade, he's constantly remoulded his style while keeping his signature humour-laced flow. These peculiarities are the hallmarks of "Chop Life", his new track which marks his return to the scene after some time. With an obvious nod to the party vibe he's curated for much of his career, the song jumps with colourful synths and a head-bopping drum pattern, while E.L floats over the song with positive assurance. 
TAR1Q – "PRETTY LIKE"
Chocolate City's TAR1Q unveils his debut single for the year, merging his smooth vocals with sensual yearnings. Co-produced by TAR1Q and BMH, "PrEttY Like" operates in the Afropop territory whilst incorporating elements from Amapiano. TAR1Q sings of a lover who chooses him yet fights with doubts as to his sincerity; he spends the song reassuring her of his love and commitment. Vocally, it's a very  dynamic performance which recalls the movements of Rema, and with the brooding sonics colouring its backend, it's an instantly memorable song that seems destined to do great things for TAR1Q. 
IMMACULATE TASTE, SILVERSTONE BARZ & DETO BLACK – "SAUCE" FT. DEE KOALA & MONEY BADOO
When people imply the quality of Rap music is deteriorating in Africa, it reveals only a surface-level understanding of the scene. In truth, barely have we had such a multi-faceted culture, pulling from everywhere and everything. Women rappers have been beneficial to this set-up and right now or whenever, there's fewer songs where that fact is manifested as strongly as "Sauce". Featuring two rappers from South Africa and one each from Nigeria and Kenya, the song lines irresistible and distinct rap styles over the glossy production. It's a song that says so much with great swag,  resulting in what sounds like a potent hit.
TOYE ARU & BANKYONDBEATZ – "WE DEY WHERE MEN DEY"
Nigerian music producers Toye Aru & Bankyondbeatz releases "We Dey Where Men Dey," a dance-ready anthem curated for the party floor. The tune is the first single of their forthcoming EP 'Gifted Hands,' which drops on Thursday, April 27. Like "We Dey Where Men Dey," the EP will showcase the duo's unique production skills, featuring a blend of traditional Afrobeats sounds and modern production techniques.
KOFEE BEAN – "SILLY NIGGA"
Ghanaian alternative artist Koffee Bean asserts her dominance on her latest single "Silly Nigga." She reminisces on losses caused by giving her autonomy to the men in her life. "You took the deepest part of my soul," she sings. Over Okaiwav's R&B production with Gospel influences, Koffee Bean becomes the main character in her life,  choosing to love herself over and over again.
DJ LATITUDE & AYANFE – "LABA LABA" FT. WICKEDD 
The trio of DJ Latitude, Ayanfe and Wickedd! join forces on "Laba Laba," a irrestible tune on the pleasures of love and its concerns. Over Iambeatz's Amapiano-infused beat, Ayanfe colours the track with his vocals, singing in Yoruba and serenading his lover. DJ Latitude and Wickedd! add their touches on the production, making "Laba Laba" one of the week's best tunes.
Y'AKOTO – "SECRET" FT. JAY BAHD
Having spent much of her life between Germany, France and Ghana, Y'akoto recently relocated permanently to the Ghanaian capital of Accra and kickstarts her new phase with "Secret" Ghanaian rapper Jay Bahd. The Nabeyin-produced tune is an intense interpretation of romance, the kind that inches toward danger. "Romantic love is an enigma and a notion that you have to be completely selfless and unconditionally in love from dusk till dawn," Y'akoto speaks about the song. "That is a scam in my eyes. Love feels reckless and dark sometimes but we kind of like the thrill. That's why we do it over and over again."