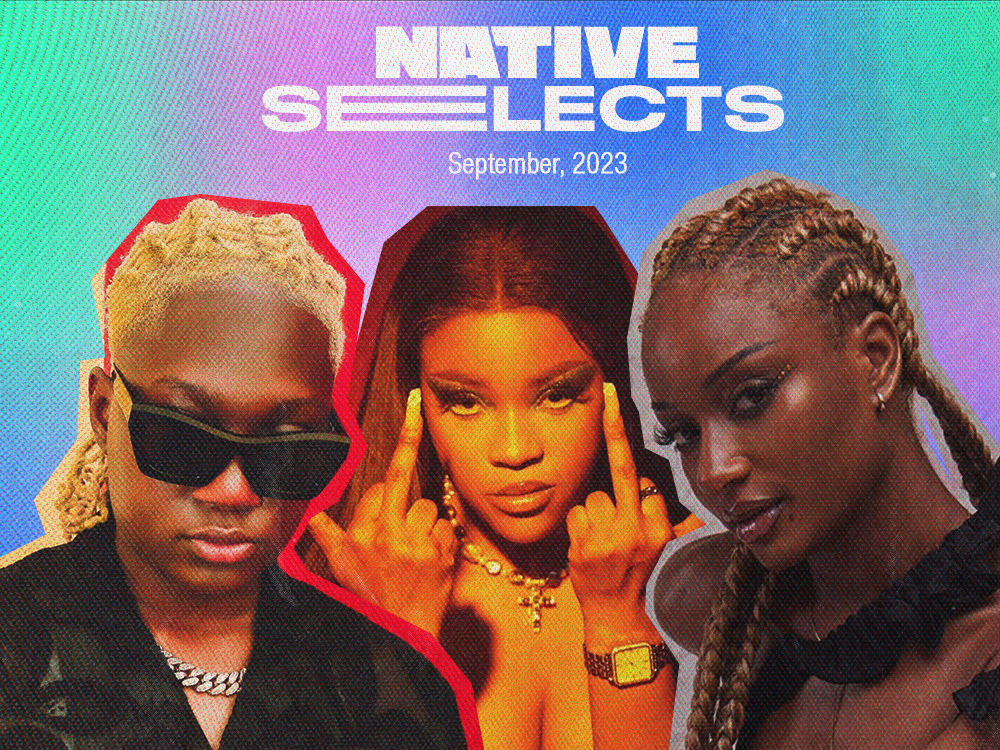 NATIVE Selects: New Music From Ayra Starr, SGaWD, Darkoo & More
new tracks to kickstart your weekend
It's that time again. Every week, new music shows up, sweeping fans and music lovers off their feet while artists gauge reactions to know the effect of their creativity. At the NATIVE, we are committed to keeping our ears on the pulse of the music scene and bringing the best sounds to your doorstep. In our last edition, we brought you stellar new releases from Kah-Lo, BNXN, Young Stunna and more. Today, we have songs that move from Afropop to Amapiano to R&B, with our select artists showcasing their unending talent and passion for creativity. Lock in!
AYRA STARR – "RHYTHM & BLUES"
Emerging as this year's best female artist, Arya Starr has delivered the highly anticipated single "Rhythm and Blues." The new track, while showcasing the superstar's vocal prowess, confesses love to a special person which she refers to as her rhythm and Blues. She emphasises on how special this person is as she sings in the chorus "My rhythm and blues/ So many things you dey do nobody do me like you do."
MUZI – "MILK & HONEY/LIGHT"
Over the years, Muzi has been one of the most inventive artists in the South African music scene. An experienced purveyor of electronic sound, his music finds a middle ground between futuristic and traditional forms of expression, an ingenuity that's made him a favoured act beyond the continent. On his new double release, Muzi channels the positive energies he's reflected since the start of his career. The mellow "Milk & Honey" features British rapper The Last Skeptik who layers evocative bars over the production. "Light" sees Muzi go solo, but with his masterful vocal manipulation, it's a communal-evoking record which calls the body to move.
DIANE DDDD – "MA JOLIE"
Exceptional Francophone artist, Diana Dddd, releases her awaited single "Ma Jolie." The singer promotes the idea of valuing oneself and achieving personal growth within the context of relationships. The lively and colourful percussion instruments create a harmonious blend that beautifully complements the artist's pure voice and the meticulously polished production.
WAVY THE CREATOR, SGAWD  & ARIEENATI- "SHAYO GALORE" FT. LE MAV
After a long 2 year hiatus, Wavy The Creator bounces back into action with the rising rap queen, SGaWD, to deliver catchy and feel-good tunes on "Shayo Galore." With the help of a formidable production trio of Le Mav, ArieNati, and Malik Bawa, "Shayo Galore" proves to be a good time accompanied by a lush, memorable beat. The song's heart-thumping production promises a good time with a melting pot of Electronica, House and rollicking bass. 
NISSI – "NOBODY" FT. FIREBOY DML
When this song was teased a while back, listeners eagerly anticipated its release. Nissi after all has been one of the shining lights of the alternative scene, impressing her luscious vocals on memorable songs over the years. Alongside Fireboy DML, both artists create a smooth vibe on this one. The writing is pristine as ever, the beat ecclesiastical, while the promise of remaining loyal to one's lover renders a tender energy to the record's seams. A fine collaboration. 
DARKOO & TION WAYNE- "SHAYO"
On this party-ready track, Darkoo soundtracks the motions of a night out. Amid crowd vocals and the saccharine measure of the production, it's a song with charming exhilaration and well-realised images. Her hybrid qualities are on display as she sings for those with some weight to get off their chest, while Tion Wayne delivers beautifully with his Christopher Wallace-mentioning verse. A fine collaboration, it extends Darkoo's ethos of connecting the African soundscape to the diaspora. 
BRUCE AFRICA – "SLOW"
A rising artist from Tanzania, Bruce Africa creates an impressionable melody on this one. "Slow" doesn't describe the energy of the song; there's rather a fast-paced progression to the beat, but it's the artist's tender yearning for a lover which supplies its attendant chorus and its title. Elements of the bongo flava sound are present, but the song resides more in the Afropop style, which proves Bruce's versatility which, with the right push, should make him an accepted name around the continent. 
DJ GIAA – "MESSAGE/JAZZ HOLE IKOYI"
The wide reach of Amapiano has been largely owed to producer/DJs and GIAA is a figure you should know. A consistent purveyor of the sound, his high-tempo production has earned him a loyal following from the US where he's based. On his new double release, the masked act unfurls distinct layers to the Afrobeats sound, which is especially present in "Jazz Hole Ikoyi." He's also an inventive user of his vocals, a sort of hype man controlling the tempo of the party. 
KEMUEL – "ALONE"
Known for his evocative writing and fine vocals, Kemuel has emerged as a young talent to watch out for. His collaborations with the likes of SPINALL and Olamide have bolstered his potential, but Kemuel continues to release solo material. His latest is this vibey record; on the other side of his heartfelt lyricism, where he sings about not wanting to be lonesome, there's a bevy of Highlife-originated guitar playing which contributes to the song's sweetness. Surely, it's a good way to keep his name on playlists as we approach the end of the year. 
COULTS – "IN THE MIDDLE" FT. DEELA & ODUNSI (THE ENGINE)
DEELA and Odunsi (the Engine) showcase their admirable synergy as they  join Coults to deliver a memorable rendition of "In the Middle." Each artist showcases their ability to sync perfectly with the heavy bass Rap track with ease. Coults strongly introduces us to the song with his verse and carries on to spearhead the captivating hook. Odunsi leads on the second verse while DEELA appears later on, sealing the track with the final verse sung in her effortlessly confident bars. 
[Featured Image Credits/The NATIVE]
---
Words by Chigoziri Ezeaku and Emmanuel Esomnofu
---