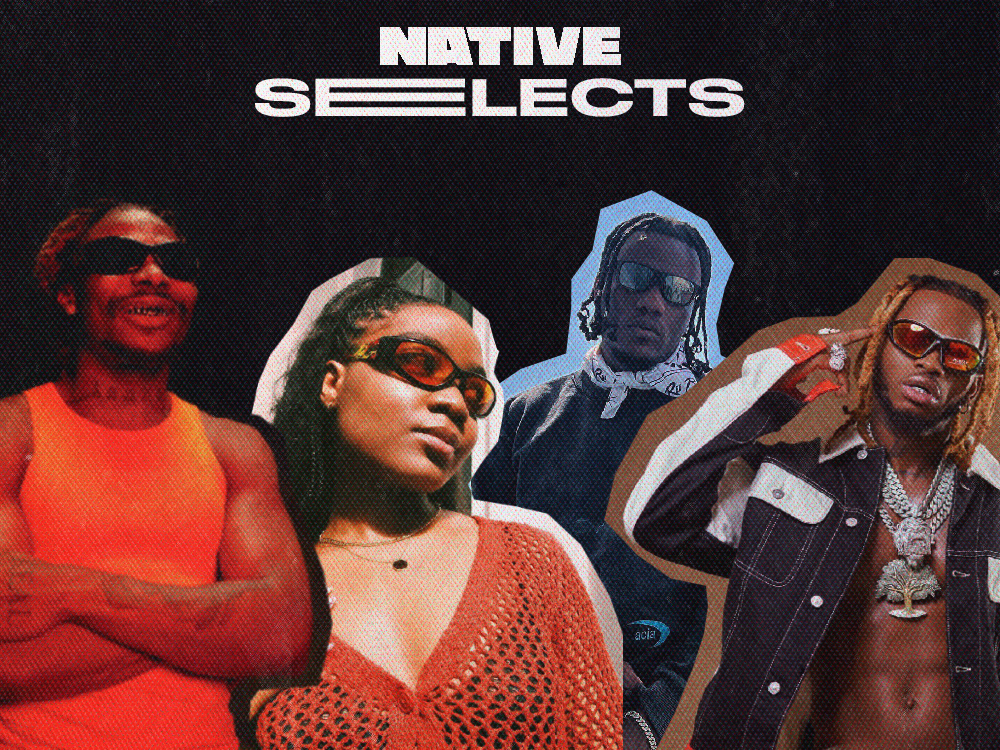 NATIVE Selects: A List of the Best Songs This Week
Featuring cuts from Asake, Pheelz, Bad Boy Timz & more
It's that time again. Every day, new music shows up, sweeping fans and music lovers off their feet while artists gauge reactions to know the effect of their creativity. At the NATIVE, we are committed to keeping our ears on the pulse of the music scene and bringing the best sounds to your doorstep.
As such, every Tuesday and Friday, the NATIVE will compile a list detailing the best and most enjoyable songs released during the week. Last week, we covered releases from Tyla, Jeriq and more. Today, uncover our favourite tunes from Asake, Pheelz, Bad Boy Timz and more.
ASAKE – "YOGA"
On the back of the prolific heater that was his 2022 run, Asake has just returned with his first single of this year, "Yoga." Where his music from the previous year was defined by its inspired relationship with Fuji, this new single sees the singer reach even further back into the canon of Yoruba music history. "Yoga" takes clear influences from Sakara, the bluesy style of music that was popular in Nigeria's southwest from the 1930s and even served as a stylistic progenitor to Fuji. Created in tandem with the main collaborator Magicsticks, Asake dispels the bad energy that can come from being young, rich and famous, letting ancestral spirits from the past guide him in the present.
BAD BOY TIMZ & EMPIRE – "FAYA"
Last year, music distribution giant EMPIRE curated a project, 'Where We Come From Vol. 1', featuring artists from several parts of Africa. The roll-call included artists in different stages of their careers, from world-renowned new schoolers to veterans of eras past, bringing a cocktail of feels to the project. On "Faya," the electric style of Bad Boy Timz edges remarkable space for itself. Since his arrival on the mainstream scene, Timz has kept his music groovy, making bold statements while having obvious fun on the beat. This new record retains those energy levels, but the storytelling is remarkably heightened, working up a metaphor which represents fire as desire and destruction. 
PHEELZ – "STAND BY YOU"
Pheelz's impressive run of form continues. As he gears up for the release of his 'Pheelz Good' EP, the Nigerian producer/artist puts out the mellow tune "Stand By You." On the track, Pheelz surrenders to the spellbinding love he shares with his woman as he promises to remain by her side through good and rough times. The track is strewn with catchy lyrics—like "I don chop breakfast, lunch and dinner"—that make the song a fire tune.
NEZSA – "SHOULD HAVE CARED"
Love is blind until it robs you of your dignity and self-respect. On "Should Have Cared," Canada-based Nigerian R&B singer Nezsa rues the decision to devote herself to someone who wouldn't reciprocate with the same intensity, despite the signs being there all along. The affecting quality of this song is, Nezsa offers herself grace as much as she beats herself up, her earthy voice floating over Reggae-tinged production that's accented by talking drums and rippling strings.
FADÉ – "LIGHT MY FIRE"
As the year starts, new female voices are equally stepping into the scene. Newcomer Fadè joins the conversation as she arrives with her debut two-pack single, 'Ignited Heart.' It features the records "Light My Fire" & "Love Me." The former sees her serenading a love interest as she sings soulful lyrics such as "You light my fire/I hope you feel the same" with her clear and solid vocals, over the melodious production of OgbeniSB. 
LOTI – "SEARCHING"
Debauchery is a subject Afropop artists are increasingly discussing in records. From Omah Lay to the ascendant Libianca, the motions of a heart learning to survive have made for dramatic complexity. "Searching" finds Loti threading that path, layering mellow vocals over ominous production. Like evocative singers are known to do, he enters into the emotion of his messaging, really making this personal affair embrace the wholesome strain of something universal. It's a distinct direction from last year's EP, 'Gorimapa Gangster,' but following the characterisation of that project it's a fine portrait of a character caught in his excesses and clawing through the mud for redemption. 
BAABA MAAL – "AGREEMENT"
After collaborating with Swedish composer Ludwig Göransson on the score for last year's 'Black Panther: Wakanda Forever,' veteran Senegalese artist Baaba Maal unveils the second single from his forthcoming album 'Being,' which is his first in seven years. "Agreement" contrasts the upbeat nature of "Yerimayo Celebration," the project's first single: its gentle-moving melodies are hypnotic and meditative, flowing in tandem with Maal's observations about relationships and connections, both cultural and emotional.
SAMBA PEUZZI – "MERCEDES" FT. REMA
Known for contributing his dynamic vocals to diverse artists around the globe, Rema gets on this new record with Senegalese rapper Samba Peuzzi. "Mercedes" takes after the glossy feel of its title, its bewitching drum base matched with sunny rhythms. Romantic promises make up the lyrical content, and the distinct cadences of the featured acts impressively pad the song's appeal. Samba has consistently flirted with pop-leaning sounds since flexing muscles as a freestyle rapper, and here he's in familiar grounds. With his feature polishing the affirmative direction, the listener comes away with the exhilarating lightness of sunbathing on the famous beaches of Senegal. 
DIAMOND PLATNUMZ – "YATAPITA"
Drama is half the vocal performance in Bongo Flava. Within the Tanzania-birthed genre, no one is better adept at heightening the emotions in their lyrics than its foremost superstar, Diamond Platnumz. After dabbling in a multitude of Afropop genres on last year's EP, 'First of All', he returns to his roots with "Yatapita," a heartfelt love song written from the perspective of a man promising to give his partner the finest things money can buy when he's financially capable. Like many of his best songs, the draw is how his voice rings out and wrings out feeling out of every line and melody.
BONGEZIWE MABANDLA – "NOBA BANGATHINI"
In preparation for his forthcoming album 'amaXesha' in April 2023, South African musician Bongeziwe Mabandla serves a blueprint with the stirring single "Noba Bangathini." The track is centred on the power of love to overcome difficult situations as well as protect, strengthen and elevate a person. "It's about seeing all the obstacles and heartache that comes with sharing your life with another, but still choosing to do so, in spite of it all," Mabandla says about the track.
MAANDY & SAVARA – "NITARUDI"
Maandy's scope has widened enabling her to flourish as a pop star. Weaving numerous bangers with her cheeky lyricism and cadence, she's stood out as a budding female artist. After teasing with still shots with Savara, Maandy offers her latest offering "Nitarudi. (I will come back)." Maandy showcases her honeyed vocals over the mellow beat as she pledges loyalty to her significant half. She shows her lovesick heart that yearns for love even if she's hurt. Sauti Sol's Savara melodic voice intertwines with the dulcet cadence delivering a passionate love song.
MUTHAKA & CHEMUTAI SAGE – "GO"
Very few people manage to personify R&B like the 90's but Muthaka and Sage Chemutai are special exceptions with their alluring vocals. Muthaka is fresh from her AFRIMA win and she isn't slowing down. The duo teams up on a nostalgic 90's old-skool R&B beat with vivid details of a fiery love that pushes you to the edge.
Featured image credits/NATIVE
---