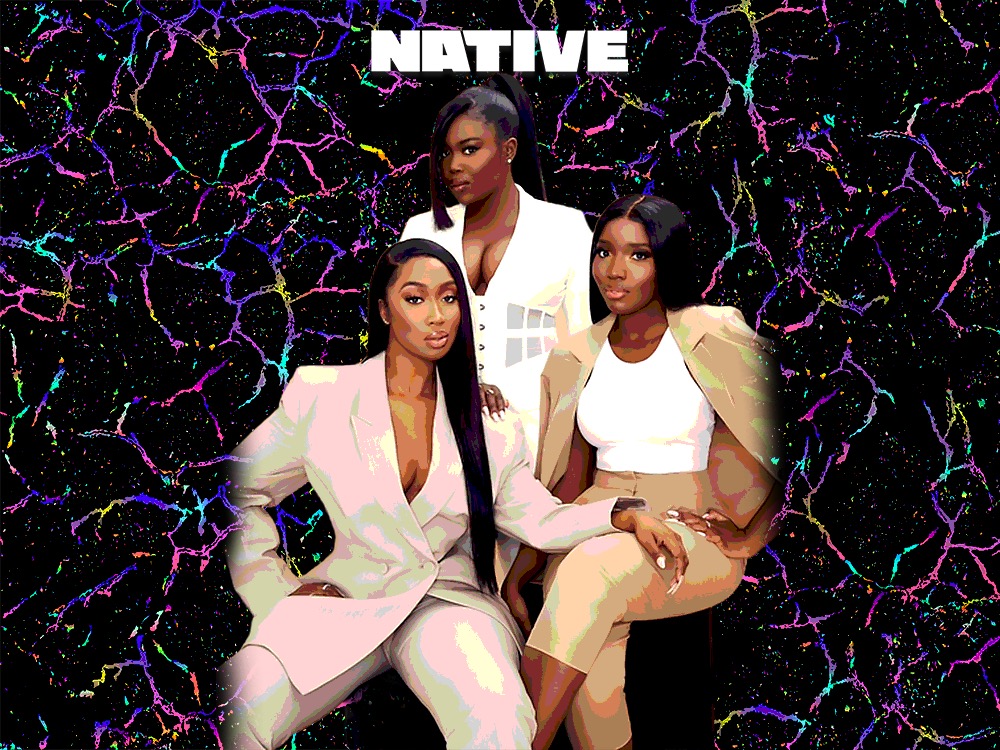 NATIVE Exclusive: WMNS WEAR Is Providing Quality Alternatives To Fast Fashion
A sustainable brand for the modern Black British woman
In 2019, a year before the COVID-19 pandemic caused seismic change to life as we knew it, three school friends, Elizabeth, Lola and Valerie came together to create and conceptualise the women-led clothing brand known as WMNS WEAR. With a £3000 financial backing to their name, these three friends saw a gap in the market at the time and rose up to the challenge to redress this gap by providing quality clothes for women outside the myriad of fast-fashion options.
View this post on Instagram
Utilising colourful patterns and trendy silhouettes and styles, WMNS WEAR has quickly risen through the ranks and become a near-perfect embodiment of the new-age Black British woman. The brand is based in London, where the three co-founders and creative directors manufacture and market their wide-ranging products which include dresses, two-piece sets, cut-out tops, body con mini skirts and more.
While WMNS WEAR is their first-ever official business venture, Elizabeth, Lola and Valerie have always been industrious. Right from a young age in school, the three friends piqued their business interest by selling cookies in the playgrounds to their young classmates and soon after, launched a clothing and lingerie brand during their university days. It's from their shared desire to lead and take charge of all their affairs that the three friends formed WMNS WEAR, which allowed them to individually and collectively combine learning experiences, their sharp eyes for what's trendy and a strong business mindset, in just 4 years of the brand's existence. 
Now, WMNS WEAR has been donned by popular names such as Summer Walker, and past Love Island contestant, Mary Bedford. Social media has become one of their brand's greatest assets as they utilise their social platforms to market their products to over 88K followers, who are keenly interested in every new drop which sells out in minutes. So far, they're racking worthy accolades such as generating over £40,000 in sales a year into their launch and increasing their revenue to £500,000 within the next year.
With this in mind, it's clear that founders of WMNS WEAR have worked out the winning formula on their home turf, and are now set on furthering their global ambitions to the rest of the world. The quality designs, social media buzz and sales led to major fashion retailers such as ASOS & Urban Outfitters stocking their products and now, WMNS WEAR is currently valued at £3M approximately and has easily become a go to hub for women who love fashion. 
With the launch of their new collection titled Apocalypse yesterday, The NATIVE spoke to the women at WMNS WEAR about their journey so far, sustainability and working together & co-owning a brand. 
Our conversation with Elizabeth, Lola and Valerie which follows below has been lightly edited for clarity.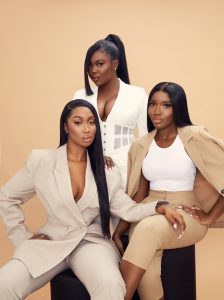 NATIVE: Hello, how did WMNS WEAR come together? What was the idea behind it?
Elizabeth: As young kids, we went to school together and developed that love of fashion growing up. We made do with what we had by going thrift shopping and bargaining on fashion pieces. In the long run, we knew business was what we wanted to go for after studying different courses in the university. At a point in time, we had separate brands (lingerie and clothing line) and at the end of the day we figured out that together we could do something great. The lingerie brand birthed the idea of Wmnswear, and we have not looked back since then.p
Why did you decide to lean towards a women's only brand?
Lola: The main reason we targeted this specific brand is because we are consumers first and we know what women like. It was easy focusing on this because we represent our target audience as well as our family and friends that are females.
Elizabeth: There were times when we wanted to wear certain things and not be able to buy them, it was very important to create wears that we wanted to wear and are true quality pieces that could be worn multiple times. The best part of it is that we are a big part of our target market first.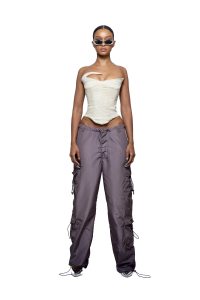 What were the major resources used in starting up?
Valerie: We discussed with Laila's Dad and he gave us lots of insight about how to manage business from the start to finish. We made mistakes in our other businesses and decided to learn from it. Properly do our market research and find out what people like to wear or would be most comfortable in.
How do your pieces come to life?
Elizabeth: We looked at what is missing in the fashion industry. The casual and comfortable pieces that can be worn multiple ways and in different styles.  On the business side, We looked at influencers to showcase our vision for the brand. But as we have grown, we have gotten an in-house designer to bring our vision to life.
What has been your biggest challenge on this journey?
Lola: Putting ourselves out there and creating a stronger social media presence. Starting from scratch to grow that and the images would attract people to know more about the company. Use our resources to market and Instagram helped in the advertising process. Finding manufacturers was also very hard  to share in your vision . 
Elizabeth: A lot of the things we were doing was from research and not necessarily having a strong background in design. It was a steady journey because starting out, we didn't have like a mentor or anyone to put us through so it was basically a lot of  'trial and error' and learning from our mistakes.
What has been the most difficult aspect of working together and co-owning a brand?
Lola: I think the major difficulty has to be schedules. We have different individual lives so sometimes there might be a clash in time. I won't really look at it as a difficulty, it can also be to our advantage because there's 3 of us so we can lean on each other to stand in for one another. 
What are your thoughts on sustainability and what are some of the sustainable practices you adopt for your brand? 
Lola: As a smaller brand it can be difficult to achieve everything we want because of budgeting. When trying to make sustainable fashion pieces, it requires funding especially for materials which can be quite expensive. So, we work closely with our manufacturers to make the products. The factories are in line with our plans, and we make sure to enforce a conducive work environment for the employees and also resist anything that negatively affect the climate.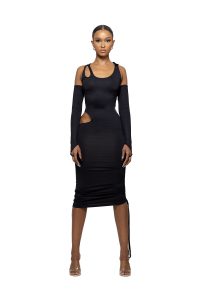 What sort of pieces do you make and what inspires these pieces?
Valerie:  I would say it is mainly pieces that are missing in our wardrobe. For us, it is making pieces that are not so extravagant but comfortable and of good quality. Look at the fact that post pandemic, places are now open for people to go out and have fun, so we make pieces that make you look good when you go out in the day time.
For your designs I see you deal with a lot of bright colors. Is this intentional and why? 
Elizabeth: That was only for one collection. The colorful collection you saw was our summer 2020 collection which was inspired by the heat, people going on holiday, taking pictures and having a lovely day without looking extravagant. Our earlier works had more neutral tones. Our pieces are transferable wears which don't have to be worn as seen on our Instagram, you can pair them however you like. 
Has the vision for Wmnswear changed significantly over time? 
Elizabeth: I won't say the vision has changed. When building the brand, we sat and discussed what we wanted for the brand and how to go about it. I think we stuck to that and it has worked for us. We are not there yet, we are still working on reaching our goal. The vision is to keep growing and that has not changed. 
What are the next steps for your brand and for you?
Elizabeth: We are about to launch our Autumn/ Winter 2022 collection. This is our biggest collection yet and it is very different from our colourful Summer 2022 collection. We are bringing in pieces we love wearing both day and night like cargo skirts, cargo trousers, mash tops, cut out tops, etc.  Pieces that will have you standing out in the crowd. There is a bit of something for everyone in this collection, I don't want to give out too much. 
Lola: We are also trying to be more present because we have always hidden behind our brand. Not many people know who we are so we want to show that we are normal African girls, Nigerian and Sierra Leonean and there are a lot of people who can identify with us. People who want to start businesses but don't know how to go about it just like we didn't have anyone to see us through most decisions we made starting out. We want to be able to assist female business owners that need help and guidance. 
When is the new collection dropping? 
Elizabeth: The collection goes live on October 30th.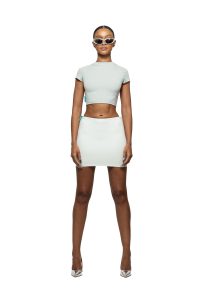 Featured Image Credits/NATIVE