As a mark of Burna's growing cultural influence, his grimacing face singing "Ye", was projected on billboards at Time Square less than two weeks ago by YouTube. Like the same artist who mythologically emerged with a classic like "Like to Party" in 2012, Burna is also casually making history with "Ye".
The murmurs from the public to make "Ye" Nigeria's actual national anthem is one thing, but recent global events even suggests THAT level of success is different from the one "Ye" truly deserves. For a fact, "Ye" has already done three things for mankind as a whole:
"Ye" saved us from Ye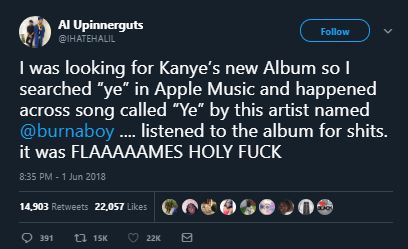 Remember when a rapper who shall not be named (hint: used to be friends with JayZ) dropped that album—also titled 'Ye'—that made everybody cringe? Ah well, lucky for people who only tried to stream that hot mess because they got directed to a different kind of "Ye", literally.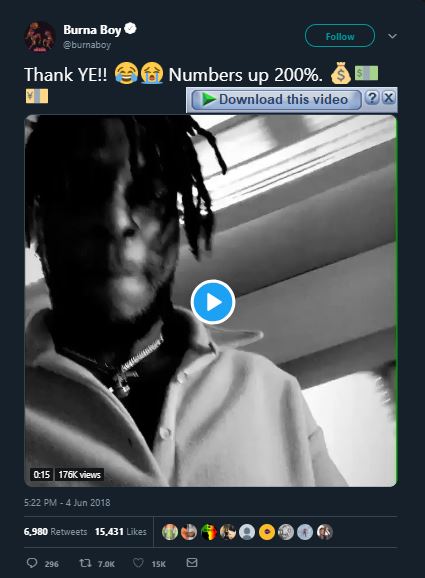 Burna announced that his streams were up after the rapper's album also titled Ye dropped, and it was a good thing too, no one should be listening to the ramblings of a man who probably thinks Wakanda is real anyway. (Except Donald Trump of course, because likeminded people need each other)
'Bona Boy Call Me'
A lot of random things have happened in 2018, and Ariana Grande making Pete Davidson the face of Big Dick Energy doesn't even top that list. What comes close, however, is this video of a superfan geeking out while playing "Ye" for 'Ye in Uganda. The kicker comes at the end of the video where he is yelling "Bona Boy Call Me!" into the camera. We haven't talked to Bankulli, the music entrepreneur who was featured in the clip, yet, but the moral lesson from that epic "Ye" moment is: securing the bag is key, even when it's two different Ye(s).
"Ye" the OshMix edition
In the age of social media, nothing is truly pop culture until it has become a meme-worthy moment for millennials to mine for situational humour and self-deprecating jokes till the end of time. This is another noteworthy mark of how "Ye" is truly a gift that keeps on giving. The video above is of a rapper simply known off Twitter as Osh, freestyling a rap-sung verse to Burna's "Ye" . Don't get us wrong the rap is bad but that's not why this video is funny. Osh can rap-ish, but something about how he sings "Different to your Ye" makes him sound unusually melodic for a rapper, almost like he's from the opera. If this is your first encounter with this video, don't be surprised if you catch yourself singing this line over and over till somebody punches you in the face.
It's a whole ass crazy "Ye" out here. Stream it via Apple Music below: