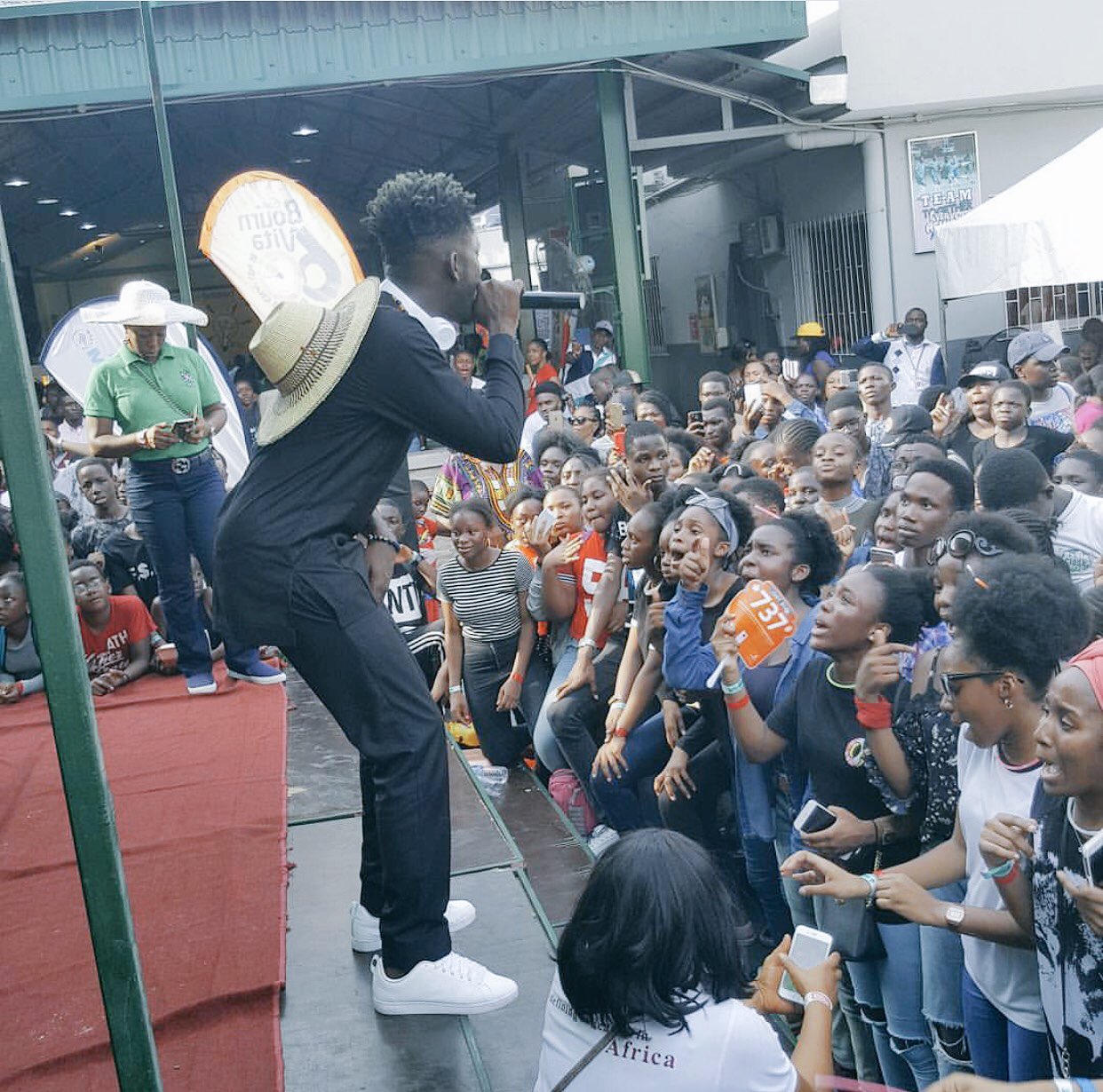 Not many have stories like Mr Eazi's. The singer and songwriter, started off promoting University parties and shows in Ghana. A random studio session led to the recording of his first single and successively, he recorded and released his first mixtape, About to Blow in 2013. Over the next months, Mr Eazi steadily rose through airwaves in Ghana. And in 2014, he relocated to Nigeria, a precursor to an eventual blow-up with break-out single, "Skin Tight" the following year. The rest of the Eazi story is pretty much public knowledge from there.
This summer, Mr Eazi will be going up against AfroPop heavyweights AKA, Wizkid, Davido, Sakordie amongst others nominated for BET's Best International Act: Africa category. The nomination for the highly coveted award strengthens a sturdy global reputation and acclaim he has built over the past few months, in addition to performing for audiences of various sizes and nationalities.
These are no small wins for any African artist. Despite the facts, it's almost hard to think Eazi is the same man who rose to popularity in less than two years with a handful of singles and a moderately successful Accra To Lagos mixtape. In fact, Eazi's distinct laid-back style and comparatively low-replay value made early doubters speculate he would fizzle into the same backwater stable all one-trick ponies go to die (Olu Maintain, what's good?). But it's 2017 and Mr Eazi has not only cut through the long line to mainstream reverence, he is also cultivating a following built off more than hype with a world tour.
The rise of Afro-inspired sub-genres has been well documented by local and foreign media since the turn of the decade. But the hype of forays by forerunners, D'banj, 2face et al who attempted to take Afropop into the global market never materialised into sustained mainstream careers. It may be agreeable to say Mr Eazi is only a beneficiary of a digitally globalised world where accessibility is increased by the internet, however, the announced locations and dates for his world tour gleans an artists who understands the value of markets outside of his comfort zone. After premiering his mixtape Accra To Lagos with an intimate London event hosted by DJ Cuppy in early February, he announced his #DettyWorldTour listing fifty initial venues – both big and small – across Europe and North America, and an eight-month calendar that would put him on the road from April through November.
"I'm not a businessman, I'm a business, man" – Jay Z
Going by the numbers, Eazi's #DettyWorldTour highlights a crucial pitfall of African artists: the failure to follow album releases with a promotional tour to signal-boost the project. Revenue that could have been garnered from tickets and merchandise sales and are often lazily foregone, causing even good albums to come and go with little post-release staying power.
Perhaps the broader discussion here is a general lack of performance-worthy venues and the sheer volume of logistics required for an international campaign. However, the #DettyWorldTour hack for this conundrum is a pretty simple one. In addition to including small to medium sized easy-to-manage venues for international stops, his team also revealed that upon return, Mr Eazi would be going on a thirty-school university tour across West-Africa. This is a game-changing strategy no doubt borne of Mr Eazi's past as a university events promoter. The ingenuity, however, is further highlighted considering Kiss Daniel similarly set out on a tour for his New Era album last year, and left African venues off his map completely.
As with many pop sub-genres in any soundscape, there is always a tendency for sound to be dependent and fettered by hype. This is particularly why Mr Eazi's attempt to surpass that limitation is important. In this part of the world, there is low respectability for the value of live performances and big stages (like airplay) are often tied to backdoor payola arrangements and nepotistic 'links' between artist/management and event promoters. #DettyWorldTour does not only redefine Mr Eazi's artistry, it's a glimpse at how a sustainable brand can be built away from industry politicking.
Mr Eazi's insistence on playing the game by his own rules is probably why he has previously stated he wants to be the "Jay Z of Africa". Putting the extensive catalogue of Gloria's Son aside, the formative Roc-a-Fella years in the 90s is what set Jay Z apart from his rap counterparts, predating his actual run as President of Def Jam and all that came after it. There's a long way to go before we can speak about Eazi in the same breath as The Greatest Rapper Of All Time, but he is well on the path to living out one of Jay Z's greatest teachings: "I'm not a businessman, I'm a business, man."
Image Credit: Instagram/mreazi