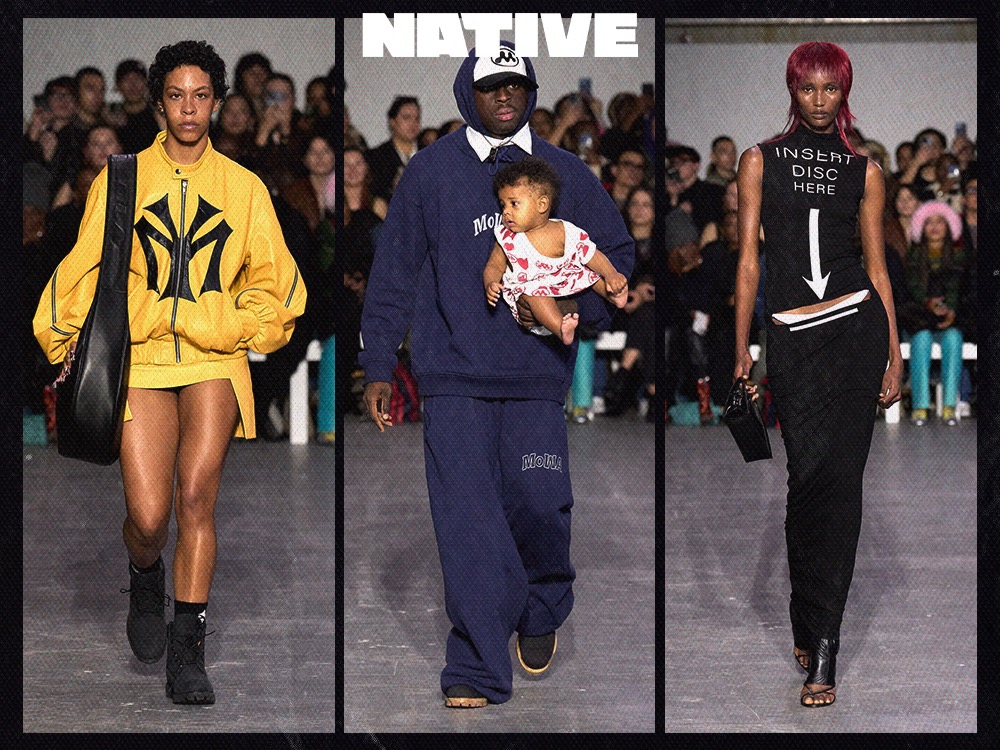 Mowalola Brings Fashion's Dystopian Future to London Fashion Week
her take on dystopian fashion
British-Nigerian designer Mowalola Ogunlesi is hot off the heels of her Fall AW'23 Collection reveal at London Fashion Week. Titled Darkweb AW23, Mowalola's latest collection is created to encapsulate her idea of fashion's dystopian future presenting a collection of bootleg sartorial creations that pay tribute to the Big Apple.
Pulling inspiration from her idea of the apocalyptic universe, Mowalola blurs the lines between imitation and appropriation of IP, while merging NY-style sportswear with futuristic elements that were punctuated by the designer's own signature, sexy leather look and donned by stars such as Rico Nasty and BK the Rula. The collection wields the classic logos of the New York Yankees, Musuem of Modern Art (MoMA), McDonalds and the National Basketball Association, with the words 'Sue Me' boldly printed across look 17, and stylising MoMa as MoWa in another instance.
It's a daring take on fashion in our current age, one perched between humour, shock, engagement and rebellion. Ogunlesi explains that the collection represents the power of capitalism in modern society as well as the ever-increasing hold big corporations have over our lives. "It's about the collapse of society. What I envision people wearing at the end time…low-key we're literally in the last fight between life and tech," she shares in a recent interview with Vogue.
View this post on Instagram
While the legality of these intentional "knock-offs" can de debated, a larger conversation is currently bubbling around the lines between borrowing for inspiration and wholesale co-opting and appropriation of Black African American culture. Despite how often the topic is discussed online, no one actually likes to talk about cultural appropriation, let alone be accused of it.
The advent of social media and globalisation has meant that the world is now a more connected place than it once was. You don't have to come from a particular country to know what is going on within it or the cultural trends that they adhere to, because it's simply available to peruse at the click of a button. Mowalola herself has spoken at length about her childhood and her exposure to Western pop culture. In her NATIVE 004 cover story with Odunsi The Engine, she shared: "Also being exposed to MTV in the early 2000s and just seeing how real [it was]. Seeing a different kind of Black person on my screen than what I was used to seeing also just made me feel like I could dream bigger than anything…or [be] opposed to what I was being taught in school. I guess to me, like MTV and that stuff did more for me than like going to school and learning about everything else."
Not one to shy away from controversy, Mowalola confronts this head-on in her latest collection, daring to poke at what's acceptable and what's not, a common aspect of her brand. As a disruptor brand always keen to investigate and observe the hypocrisy of the gatekeepers and the industry at large, Mowalola's AW23 debut at New York Fashion Week was as bold as it was refreshing.
Other highlights of the show included Slawn's walk on the runway with his son, bold splashes of hooded capes and denim-inspired balaclavas, cow prints, pants-down jeans and skirts. In all, Mowalola's 'Darkweb AW23' provided a new perspective on her older works, juxtaposed alongside the long-standing conversations of our current realities as ruled by modern technology and gargantuan corporations.
View this post on Instagram
Featured Image Credits/Instagram
---