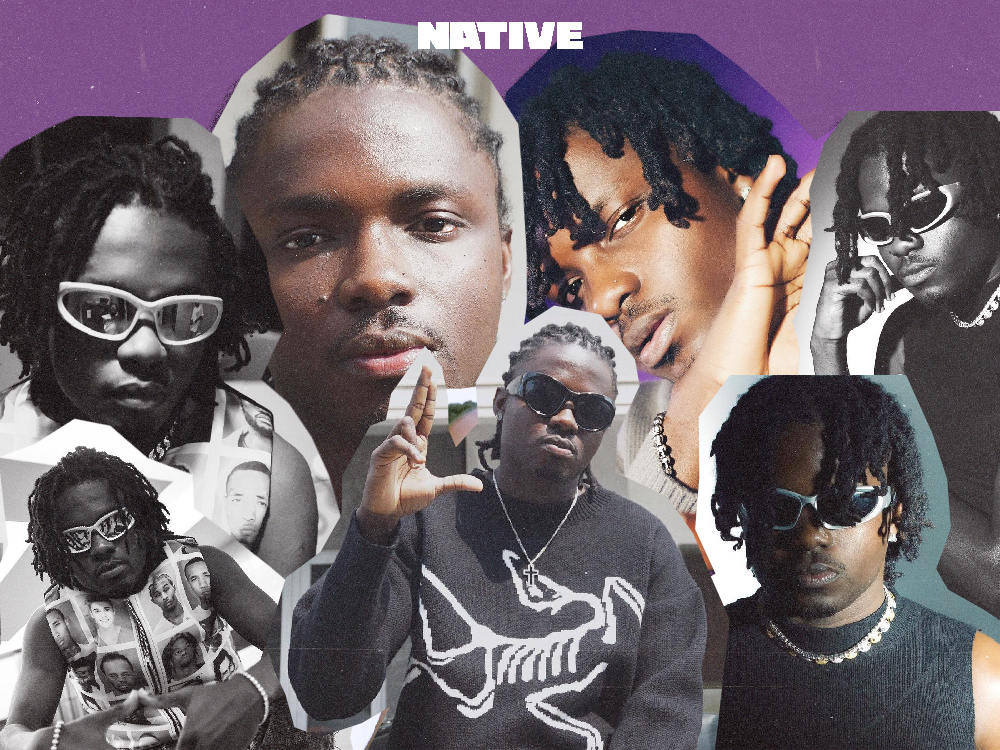 With "Wo Wo Remix," Minz Solidfies Himself As A Considerable Talent
Minz scores an early hit
2023 has been off to a great musical start. Thanks to Afropop's teeming creators and their audiences, the scene has picked up from where it stopped in the previous, movement-defining year. Mainstays like Kizz Daniel, Shatta Wale and Joeboy have all released songs this year, while wanton up-and-coming artists have thrown their hat in the crowded ring of mainstream popularity, willing the best to happen. Among those who've participated in the thrill of releasing new material or refreshing old one, the artist and producer Minz has arguably been the most successful, embarking on an upwards career trajectory that may be well established this year. 
View this post on Instagram
"WO WO," the song which sets him on that path, was released last November as a single under emPawa records, the Mr. Eazi-owned label he signed to in 2020. While no doubt an impressive record, its acclaim has been skyrocketed by the addition of two in-form musicians on its remix: BNXN and Blaqbonez. Career upliftment has been variantly explored by Afropop artists, a textbook style Minz pulls with unique zest here. On the original's first verse, he sings, "tell the kele do proper, get the money, live soft life ah ah/ Say they want to link for vibes, on my neck it's ice water ah ah," those words sketching the hedonist underbelly of his aspiration. With bubbly, assured production from Mike Bgrz, the burgeoning fan base of Minz caught on to the song, but now even more people are catching on. 
At number eight on the Apple Top 100 chart for Nigeria, the song currently ranks above Seyi Vibez's "Chance (Na Ham)" and Libianca's viral "People." While it's yet to register similar impact on other streaming platforms or on TikTok, the motion has been set. In some ways, the story has been in progress since 2016, when his professional career started. "Aunty Patricia" bore the colourful percussive bounces he'd later master, but even the lesser-known "Neva Stop" had exciting composition going on for it. With breezy flourishes of Dancehall, the musician bares his Kranium influence with swag and poise.
Born Oluwadamilola Adedolapo Aminu, in 2017 Minz sat down with NATIVE Mag to discuss music. The resident Lagosian was then 22 but was already controlling the twin forces of his artistry: being a musician and producing his own songs, although he'd admitted that the former came more easily to him. "Beat making is dynamic," he explained. "Each beat chooses its path to life". It's expected then, that Minz continued creating songs so he'd chisel them into his vivid interpretation of Afropop, a potpourri of influences that ranges from trap to reggae and highlife. 
Over the years Minz has parlayed his 360 skill set into a formidable portfolio, among others producing for Spinall ("Energy"), Boybreed ("Apuruka") and Runtown, whose 2021 playlist-esque comeback tape 'Soundgod Fest Reloaded' had four tracks composed by Minz ("Sativa" "Ghetto Gospel Riddim" "Bad Pass Dem" "Fuck Eh Up"). As a featured act, he's also appeared on a lot of records with fellow rising stars, a clear case of a musician pushing the bar alongside his peers. On "See Something" and "Boti," he pulls up alongside acclaimed colleagues like Mr. Eazi and Cruel Santino and still delivers convincingly, making standout contributions to both records. As part of Ejoya's 'Class of '20,' he appeared on two records, dazzling alongside a set we've increasingly become familiar with: BNXN fka Buju, YKB, EMO Grae, Jinmi Abduls. That year he also appeared on the near-hit record "Confetti," off E Kelly's 'No Secrets,' a slim project which served as a sort of group work for emPawa artists. 
As the Afrobeats movement propels itself further into the world, scenes across Africa are becoming hot prospects for international investors. Asides setting up label and streaming platform offices, more spontaneous engagements like writing and production camps are on the rise. Minz easily fits into several facets of the culture, and with the business-savvy Mr. Eazi by his side, there's no foreseeable limit to his trajectory. On his own, he remains prolific, colouring last year with stirring solo releases like "Lady" and "Diamonds" while showing out with JAYLON on "Naya's Riddim" and DJ Flex and Crayon "Meliza (Remix)". 
A professional still immersed in the craft with a student's zeal, Minz continues to grow. In a 2020 interview with Artish, he explained his approach to songcraft. "I'm someone who's always trying to learn and evolve," he said. "I'm observant. I observe what's happening in the industry, I observe people when I work with them, like for example when I work with bigger artists or artists who have really gone far in their careers. I listen, I learn and sit down with them and just take notes of the things that I feel like made them get to where they are and I apply it in my music. I just learn and put my ears down and see what I could be doing better". 
If anything, the ascendant success of "WO WO (Remix)" shows that Minz walks the walk as eagerly as he talks. In a meta sense, calling on the verbose motivations of BNXN references the Gbagada export's own early days, marked with feature verses as many as the locks on his head. And wasn't it Amaarae and BNXN who carried the potential of "Bling" into the youthful demographic it needed? Blaqbonez's second act had properly begun then, his glitzy pop-star image cut with desired edge. 
Minz continues on his journey, and for those who believed since day one, there's a cloud of destiny that seems to unfurl from above him. For his newer listeners, there's a rich backend of music to forage through. That might be the sweetest thing about discovering a new artist after all—the wide world which opens to the listener. Later this 2023, the expected release of a new project will aim to cushion his successes, and that's a seat anyone would want to be on, especially when the architectural process began so early in the year. Minz is coming. 
Feeling grateful for all the love y'all showing #WOWO
So I created a space for y'all to talk your shit!!
Giving out $1k to the hardest verse THIS WEEK! 💜💸https://t.co/FwzCAujAGf#WOWOOPENVERSE#WOWORMX pic.twitter.com/y2kjUbvaSa

— MINZU (@MinzNSE) January 24, 2023