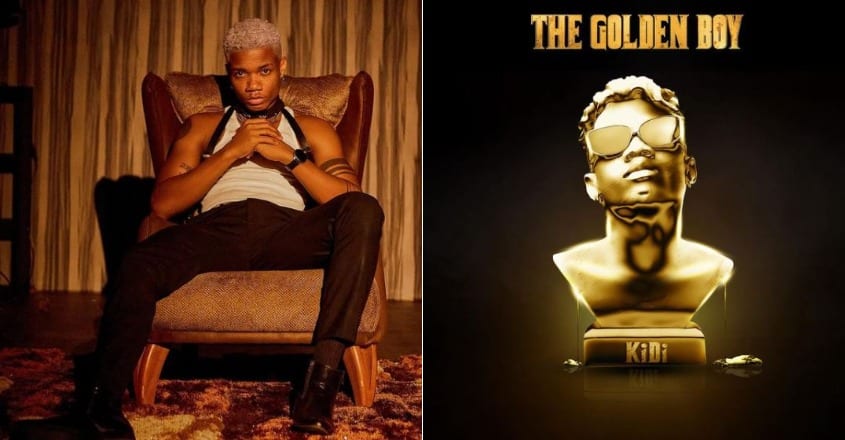 Listen to KiDi's new sophomore album, 'The Golden Boy'
Features Patoranking, Kuami Eugene & Joey B
At the fourth edition of the 3Music Awards, held earlier this year, KiDi swept all four of his nominations at the ceremony. He won awards for Artist of the Year, and last year's Blue won EP of the Year. These wins were a marker of the Ghanaian singer and producer's undeniable dominance, as he's gone from star-in-the-making to bonafide superstar. Not too long after his well-received debut album, Sugar, he released the viral track "Enjoyment"—which won Song of the Year—and he followed up with the hugely successful EP, Blue.
View this post on Instagram
A creative and commercial level-up, 'Blue' portrayed KiDi as an artist in stronger control of his powers as a singer, songwriter, producer and all-round hit-maker. The EP spawned gems like the Disco-influenced "Next Time I See You," the Afropop-R&B merger "One Man," and the inevitable smash hit "Say Cheese." Refusing to hit the brakes anytime soon, KiDi has been making moves towards a new album since the beginning of the year, signing a joint venture deal with U.S-based label services company, EMPIRE, and long-time record label, Lynx Entertainment. Under this partnership, KiDi has now dropped his anticipated sophomore album, 'The Golden Boy'.
Announced a few months back, 'The Golden Boy' is a clear statement of higher intent and apotheosis from KiDi. "I'm that special kid that is really going to do wonders and great things in this world," he says of the title track on the Apple Music liner notes. "I believe that I am the golden boy of my generation." On the album, KiDi produces six of the songs, while sharing production credits for the other eight tracks with producers including Pheelz, Guiltybeatz, and more.
The album features vocal contributions from Nigerian Afro-Dancehall singer Patoranking, Lynx label-mate Kuami Eugene, and Ghanaian rapper Joey B. It also includes the pre-release singles, "Spiritual" and "Touch It," both colourful, dance-ready songs hinting at a festive, self-assured direction.
Listen to The Golden Boy here.
---
@dennisadepeter is a staff writer at the NATIVE.
---