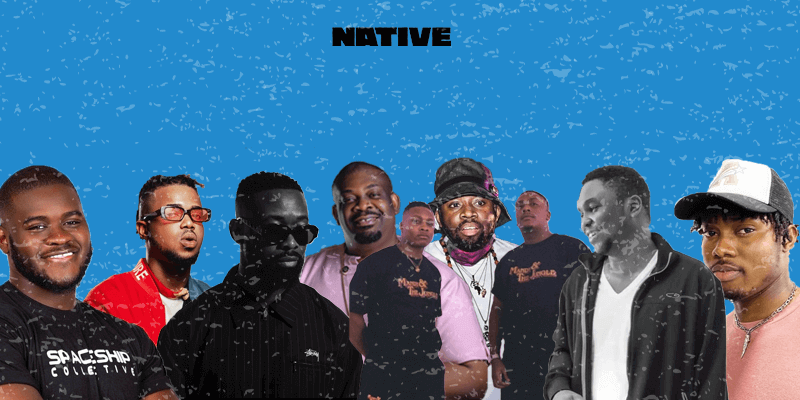 The innovative significance of Nigerian producer tags
Improving their reputations and imprinting their names on listeners' minds
The first time I listened to Rema's "Bounce", produced by Don Jazzy, I scrunched my face a bit at the opening adlib: "Na who do the beat? Jazzy!" I remember that moment because I still have the same reaction even after dozens of listens. Thinking about it now, my reaction wasn't really a sign of disapproval, it was one born out of a sentimentality for nostalgia's sake.
As an early to mid '90s kid, the bulk of my adolescence and early teen years was marked by the dominance of Mo' Hits, the Don Jazzy-led crew that held Afropop in a chokehold at will every year. During that run, there was an ever-present adlib that will forever be immortal in Nigerian pop music: "It's Don Jazzy again!". Rema's adlib at the beginning of "Bounce" isn't entirely alien—Wande Coal used it on "Taboo"—but, to my old self, it didn't feel emphatic enough to announce a towering, era-defining super-producer, albeit one who'd recalibrated his role in recent years, from helming hits to commissioning them as one of the most successful record label executives around.
From Jake Sollo to Laolu Akins, Nigerian music had witnessed a handful of popular, prolific and in-demand producers in previous decades, but it's undeniable that Don Jazzy effectively transformed the idea of a super-producer by aptly blowing it up. Similar to another era-defining peer, OJB Jezreel (R.I.P), '00s Don Jazzy was a Svengali with an unrelenting repertoire of hit songs. At the same time, though, he was an intriguing personality, something like '90s Puff Daddy with an arcane charisma, which shot him up to a level of fame and reverence typically not associated with music producers.
By virtue of being far more conspicuous, artists are the most recognizable cog in the music-making wheel. On the opposite side, producers are largely incognito, and that anonymity tends to rob them of public admiration. Considering how heavily artists invest in being visually identifiable by the audience, the disparity in popularity is par for the course. At the same time, though, the attention imbalance doesn't fully represent how indispensable producers are in the process of creating music these days.
Where Highlife, Juju, Afrobeat and other older genres of music that dominated Nigerian music in previous decades relied on live instrumentation, technological advancements in music production has significantly altered and expanded the role of a producer. With those older, aforementioned genres, artists often doubled as composers and they worked with live bands to execute their music, while producers generally oversaw the process and filed the rough edges. In the last two-plus decades, with the widespread adoption and use of Digital Audio Workstation (DAW) programs in Nigeria, producers function as composers of the music and, in the many cases where there are no live session players, the equivalent of a one-man band during music recording.
In his Issue 003 NATIVE cover story, Cruel Santino referred to producers as "guardian of the sound". It's not an exaggeration, seeing as producers have been heavily instrumental in ensuring that modern Nigerian Pop music has remained inventive, integral to inducing several sonic shifts and a musical landscape that's become incredibly diverse. While playing a key role in the creation of music, only to play the B-role in terms of popularity is a tacit part of the job description, music producers have increasingly taken to the use of audio tags as a means of cornering some well-earned recognition for themselves.
In the late '90s and around the turn of the millennium, producer tags weren't rampant, mainly because production credits were imprinted on the album/single jackets of physical CDs and cassette tapes. As music consumption has become primarily digital, though, it's become slightly more complicated to find out producer information if it's not plastered directly on the song's artwork and/or within the song itself.
Earlier this year I was in a car with a few friends, and whoever had the aux cord spun Naira Marley's "Koleyewon", an undeniably slapper that's inevitably become a big single. As it played, two people in the car started hailing Rexxie for the infectious bass-heavy beat, unknowingly giving credit to the wrong producer, even though Niphkeys—the actual producer—had his tag announced in the song's opening seconds. In a way, tags are the aural equivalent of the bat signal, an attempt at forcing listeners to acknowledge the producer's presence in an era defined by playlist shuffles, oversaturation in music releases, dwindling attention spans, and (still rampant in Nigeria) online music piracy.
All these factors have contributed in making producer tags a necessity of sorts, especially in a music space that keeps on expanding but is still figuring out how to properly appreciate those working behind the scenes. It's difficult to specify the very first use of tags in modern Nigerian Pop music, but Don Jazzy's signature line is iconic enough to deem as the jumping point for the popularity of producer tags. Where tags have evolved to become a way for producers to watermark their work, "IDJA" functioned more like a trademark statement, an organic inclusion worked in on a song-to-song basis by his collaboration. It was a sign of reverence, buoyed by the stick-wielding, Mafioso-inspired image of Mo' Hits-era Don Jazzy, and in hindsight, an explicit form of quality assurance that a Don Jazzy-helmed single at the height of his prolific powers was destined for smash success.
Around the same time and shortly after, A-list producers of the time like K-Solo and ID Cabasa were increasingly incorporate tags into their work, helping to set the precedent for a practice that has become commonplace today. With a commitment to being identifiable through their work, especially as means to standout and remain relevant within a space teeming with established and rising producer, it doesn't take much to figure out the central conceit behind the use of producer tags: Branding. By leaving a trail of credits that audiences and future collaborators can track, producers improve on their reputation and leverage previously released work into an increase in demand for their services.
It's a common fact of the music industry that, no matter how talented a person is, visibility plays an important role in determining long term relevance. With the exception of the few producers that are instantly recognisable, a significant portion of Nigerian producers are physically incognito, which really isn't the problem. The actual problem is being entirely anonymous, which is largely solvable with the use of tags. In the last few years, many producers have been able to imprint their names on listeners' minds, employing unique tags as a form of representation. Without any set rules, a remarkable amount of tags have graced Nigerian music in the last decade-and-a-half, showcasing the variety and increasing innovation attached to the mundane act of producers owning their work.
A very common practice, is the pronunciation of the producer's moniker somewhere on the song, often at the beginning or at the end of the song. An example that comes to mind is Spellz, one of the longest-serving producers around who has worked with everyone from Wizkid to Tiwa Savage. Although his single tag has been scattered around the some of the biggest and best Afropop songs this decade, Burna Boy's elastic enunciation of his name—"spellzzz"—has yet to lose its lustre; it isn't necessarily the most thrilling tag around but it is effective.
There's a roll call of producers who follow this pattern of spelling out their name on record, albeit with some sauce. A couple of examples include: The sensual pronunciation of "Juls Baby"; Shizzi and Higo using a haunted, ethereal call out of their respective names; the half-sonorous, half-robotic ring of "Ikon"; the imposing, nominal shout Major Bangz graces his slew of hefty beats with; and the pronunciation of "Ozedikuz Nwanne" in a vocal tone distinctive to the Eastern part of Nigeria.
Switching it up a bit, other producers accompany the use of their name with a phrase that is unique to them. This approach, when it sticks, not only helps the producer's reputation, it also gives them and their work some amount of personality. Young John designated himself "the wicked producer", Sess owned the word "problem", and Kel P attached his production work to party-starting vibes. In the case of a few other producers, their phrases also serve the additional purpose of being cinematic. It's a shortlist that includes: Leriq's iconic "It's Leriq, call the paramedic"; Syn X's "Syn X, do the math"; GMK's "GMK 'bout to make that dough"; and Genio's "Genio, where you at, my nigga?"
While the inclusion of names is dominant, some producers totally eschew it, choosing instead to use single words, phrases and even onomatopoeias in representing themselves. Bonafide super-producer Sarz ditched his ubiquitous "Beats by Sarz" tag a while back, opting for a bulbous pronunciation of "riddim" to announce his presence in recent years. In a branding masterclass, every song on his incredible debut beat tape from 2019, 'Sarz Is Not Your Mate', contains the word "Riddim". In a similar vein, prominent producer, Killertunes emblazoned his 2018 banner year run of hit singles with an instantly recognizable tag, the boisterous shout of "Shabalistica".
After the release of Burna Boy's 'Twice As Tall', Telz emerged as a breakout producer, after his "Funkula" tag signalled his multiple song credits on the Grammy-winning album. Shortly after 'TAT' came out, Twitter was buzzing with jokes on how Telz's tag bore similarities with "porn killer", a playful fiasco that has inevitably made his tag one of the more recognisable ones in Nigerian music at the moment. This nameless branding route, however, isn't limited to highly popular producers alone. Spax, frequent Show Dem Camp collaborator who's also produced for Falz, Tekno, Yung L and more, watermarks his beats with a calm pronunciation of "Classic", while veteran producer Kid Konnect is familiar amongst Nigerian hip-hop listeners for the snappy intonation of "Amazing".
Aesthetically, not every tag will be wholly appealing to listeners—e.g. my reaction to Rema's "Bounce"—and there are some people who still decry their use for cluttering songs. However, the primary priority of a tag is to give producers the ability to document their specific involvements, providing them with the agency to own their work from the shadows. This way, the guardians of the sound can get around the music industry's knack for boxing out non-vocal artists from getting adequate credits for playing their parts in dictating what we listen to on our phones, hear on the radio, and dance to at parties.
---
Dennis is a staff writer at the NATIVE. Let me know your favourite the Cavemen songs @dennisadepeter
---