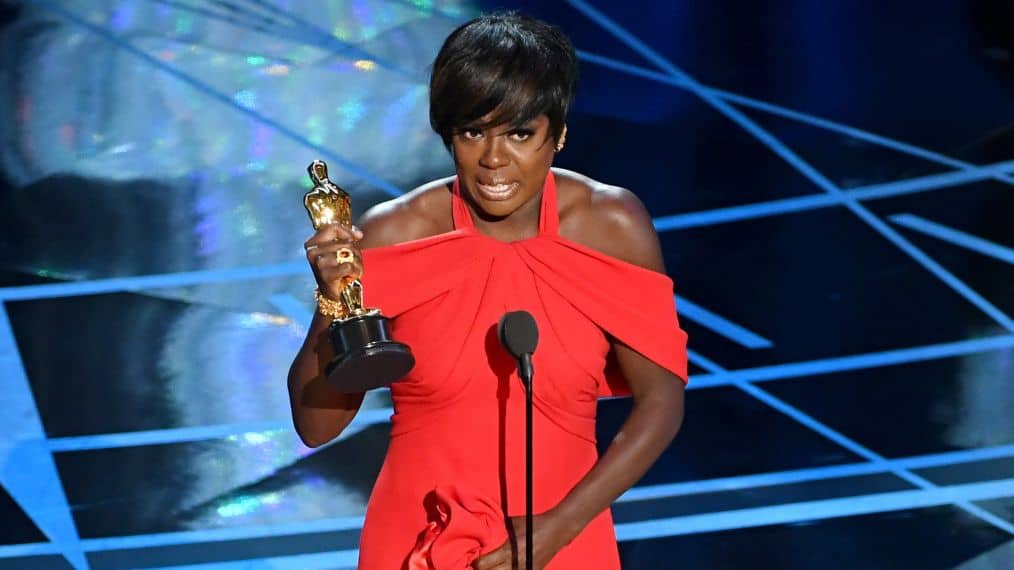 ICYMI: 7 Memorable Moments From Oscars 2017
All the major events from the biggest night in film.
The 2017 Academy Awards was a memorable one seasoned with eyerolls at the predictable wins, political speeches, a surprise Steve Harvey moment where the wrong film was announced for best picture (see below) wins. In case you missed all the fun, here's a list of 7 major moments that happened at the 2017 Oscars.
Viola Davies Is Crowned Queen Of Acting
.@violadavis gives tearful acceptance speech thanking her family: "I'm so glad that you are the foundation of my life." #Oscars pic.twitter.com/70UvDzlhsM

— ABC News (@ABC) February 27, 2017
Famously known for her role as Annalise Keating on How To Get Away With Murder, Viola Davis won an award for her role in Fences. Her win puts her in the elite category of actors who have won 'The Triple Crown' of acting (Emmy, Tony and Oscar). She's also the first black person to have won all 3 awards for acting categories. Check out her award acceptance speech above.
The Historic Best Picture Mixup
Warren Beatty pulled a Steve Harvey (If you still don't know what that means, watch this clip here) and announced La La Land as the best picture winner. The super excited producers were already on stage beaming and preparing to belt out their acceptance speech before they realised something seriously mind-blowing: the Oscars favourite actually didn't win. This has never happened in all 89 years of the Award show's existence and an equally surprised Moonlight cast was ushered on stage to receive their rightful award.
The Hidden Figures stars invite out one of the real-life stars
As one of three films based on a true story of the 2017 nominees, Hidden Figures paid tribute to the people who inspired the film by bringing out former NASA aerospace technologist Katherine Johnson played by Taraji P. Henson. Hidden Figures sadly didn't win an Oscar but her presence at the event made the struggles depicted in the film all the more real.
Cheeto President Slander
Given the current political tension, everyone assumed someone would definitely talk about it — it was just a question of how political and how quickly. The host, Jimmy Kimmel went there right away, taking digs at President Donald Trump in his opening monologue, saying, "I want to say thank you to President Trump — remember last year when it seemed like the Oscars were racist?"
Watch out the rest of his monologue above.
The Dead and Undead:
Oh dear. The #Oscars put up what I think is a photo of Jan Chapman, instead of Janet Patterson, for the In Memoriam segment. pic.twitter.com/VbnO7u3HoS

— Rhett Bartlett (@dialmformovies) February 27, 2017
Australian Twitter was ablaze after another Oscar mix up happened during the In Memoriam segment. Late Janet Patterson was being honoured yet the image of her friend and colleague, producer Jan Chapman, who is "very much alive," was mistakenly used. The late costume designer who passed on in October was a four-time Oscar nominee for her work on Bright Star, Oscar and Lucinda, The Portrait of a Lady, as well as The Piano.
Director Asghar Farhadi's protest absence
#Oscars: Iran's 'The Salesman' wins, filmmaker sends statement slamming Trump's "inhumane" travel ban https://t.co/gy5GoysJ6l pic.twitter.com/ouFb58xAIs

— The Hollywood Reporter (@THR) February 27, 2017
The Iranian director announced weeks ago he would not be attending the Oscars ceremony, though his film The Salesman was nominated for Best Foreign Film. When the award was announced, two prominent Iranian-Americans—engineer Anousheh Ansari, known as the first female space tourist, and Firouz Naderi, a former director at NASA—accepted the statue his behalf, reading his powerful written statement.
Mahershala Ali's Win
Mahershala Ali thanks his wife, celebrates newborn daughter during #Oscars acceptance speech https://t.co/LOhkJ3ZP65 pic.twitter.com/BFToiQdsKl

— ABC News (@ABC) February 27, 2017
Mahershala Ali made history last night by becoming the first ever Muslim actor to win the award for his role as a sympathetic drug dealer in the Best Picture winner, Moonlight.  His joint win with Viola Davis was the first time more than one Black actor won a competitive award on the same night since 2007.
Featured Image Credit: TvInsider