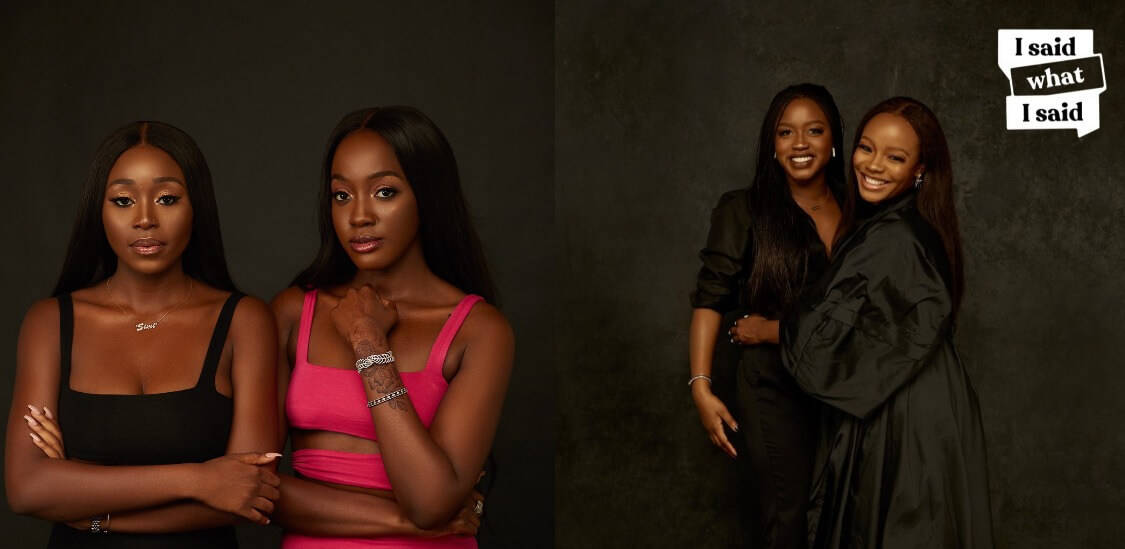 Meet the women fostering sisterhood and community through podcasts
The women behind two of the best podcasts in Nigeria
Podcasts are becoming increasingly popular in today's world and everyone from your fave celebrities right down to influencers and regular folk like you and I, are tapping into the growing industry as a different medium to talk freely about the topics that affect all of us. Whether that's Mandii B and WeezyWTF of the Whorible Decisions podcast talking unabashedly about sex toys and tricks or Scottie Beam and Sylvia Obell bringing you the latest news blowing up their timeline on Okay, Now Listen, there's a podcast out there for every and any listener.
As of this year, Apple Podcasts is home to more than 500,000 active podcasts and many of them are racking up stellar numbers as listeners regularly tune in weekly or bi-weekly for new episodes. Though the growth of podcasts has been more of a slow burn here in Nigeria, there have been a few shows over the years which have been able to garner loyal followings. In 2018, Stears Business posed the question 'will podcasts become the new FM?' challenging whether the most used media form in the country could be usurped for this new way of disseminating information, particularly as it was very popular amongst millennials. Unfortunately, podcasts still haven't taken over mainstream radio quite yet, but there has been a boom in the number of podcasts popping up in these parts, from former regulars Loose Talk to Nigerian-American, Submarine and Roach, I Said What I Said, and even newcomers like F & S Uncensored, the fourth space, Confident and Killing It and many more. 
I, for one, was late to the party and started listening to podcasts just two years ago when I stumbled upon Adowa Aboah's The Gurls Talk podcast, a conversation between the British-Ghanaian model and activist and some of the phenomenal women she's privy to know in varied fields of work. It didn't take long for me to seek out similar podcasts from women who created a space to talk and share about issues that affect us the most and the latest happenings in today's world. Through this, I found podcasts owned by West African women living here and in the diaspora including Hectic Podcast, The Receipts Podcast, and a personal favorite of mine and many young Nigerians, I Said What I Said.
One thing particularly endearing about these podcasts were the women behind them and the unadulterated way they were able to get real about issues pertaining to young people, especially women and their experiences. Though Feyikemi Akin-Bankole and Simi Badiru of F & S Uncensored never set out to inspire anyone but themselves, the two long-time friends, who created their podcast over a year ago, have already become a favourite amongst young Nigerians for being so relatable. Having formed the podcast over their shared love for music and pop culture, the two friends set themselves apart with their determination to stay true to themselves. When they speak about their experiences registering for NYSC in Nigeria or interview people that are culturally sound in the music and entertainment scene like Tinya Alonge and Fresh L, they unknowingly influence a host of young people listening to their show and going through similar experiences.
In Nigeria where creative careers are not always embraced and encouraged, Feyikemi and Simi are taking up space by shining a light on their experiences while working in the music industry as well as producing nuanced commentary on the pop culture of today. 'We didn't specifically set out to host a women-centred podcast, but then we are both two young girls that enjoy life and enjoy the things that we do so we figured why not talk about it and see if anyone else can relate' Feyikemi shares with me, and it so turns out that many listeners definitely did relate as the duo share their heartwarming fan mail from listeners who are impacted by the two close friends.
For Feyikemi Abudu and Jola Ayeye of I Said What I Said (ISWIS) podcast, who have just celebrated their third anniversary over the weekend, they are unashamedly honest about everything pertaining to life as a millennial woman in Nigeria, discussing everything from dating to pop culture and even taboo topics that are typically shunned when it's not behind closed doors.
The idea for I Said What I Said first came up in 2015 when Jola nursed the idea of hosting one for women like her. Jola wanted a partner who she could effortlessly bounce ideas and jokes off, which came in the form of her friend, Feyikemi Abudu two years later, the pair were friendly but apart from the fact that Jola had a crush on Feyikemi's brother in secondary school and the duo moved with the same circle, it wasn't until Jola extended the suggestion to be co-hosts that a deeper sisterhood was formed.
'I remember thinking this is going to work and it's going to be smooth, and it has been from the first day' Jola shares with me about the synergy between her and Feyikemi was effortless. With the help from friends at Midas Radio, the duo set out to create what is now widely listened and enjoyed by many today as I Said What I Said.
"I am an unashamed feminist 
and a lot of my interest is in women's issues. If I am going to be doing anything that I am in creative control of, women's issues will always be the top of the pile and that's the same thing with Feyikemi. It's our thing and we care about women and we want them to express themselves and feel safe and gist."
Jola is aware that ISWIS has many male listeners as well, her focus is on showing up for the women she and Feyikemi have been able to connect to through their podcast. Fostering this safe community for women has been of utmost importance to the pair as they regularly communicate with the women that listen to their show and it's this element of care and empathy in their podcast that endeared them to their loyal followers who wholly supported them at their first live show during Social Media Week.
In a world where women–especially black women–are unfavourably treated and berated by society, ISWIS creates an unfiltered space to share a bit of banter, gossip, and talk about some genuine life experiences. Both women genuinely love making others laugh while still taking time out to speak on what matters the most to women who like and sound like them. Openly speaking about these topics gives other women the confidence to share their own experiences as Nigerian women are often taught to shame themselves for speaking out about their dating mishaps and exploring their sexuality.
Though they are regularly topping Apple podcasts charts for having the most listened to podcast in the country, Jola shares that 'I think just, in general, having spaces that focus on women without performance is really great and because there are so many types of women out there and so many different things we are interested in, you literally can't exhaust audiences'. What has set them apart from their peers is their ability to use their similar senses of humour and their close friendship as a means to break barriers that exist between them and their audience. Thick as thieves, they represent both sides of the same coin, but their distinct personalities help to spruce the show up with their cheerful and fun antics. 
I can't stress the importance of having a safe space for millennial and Gen Z women to find joy, laughter, and advice all in the same spot and the continued existence of these podcasts that cater to a myriad of women goes a long way in helping a community of women openly embrace their mistakes and their achievements. We've listened, laughed, and cried along with these women and now it's time that you do, you might learn a thing or two.
Featured image credits/BolajiOdukoya
---
Hell hath no fury like Tami. Tweet her your fave female rappers @tamimak_
---