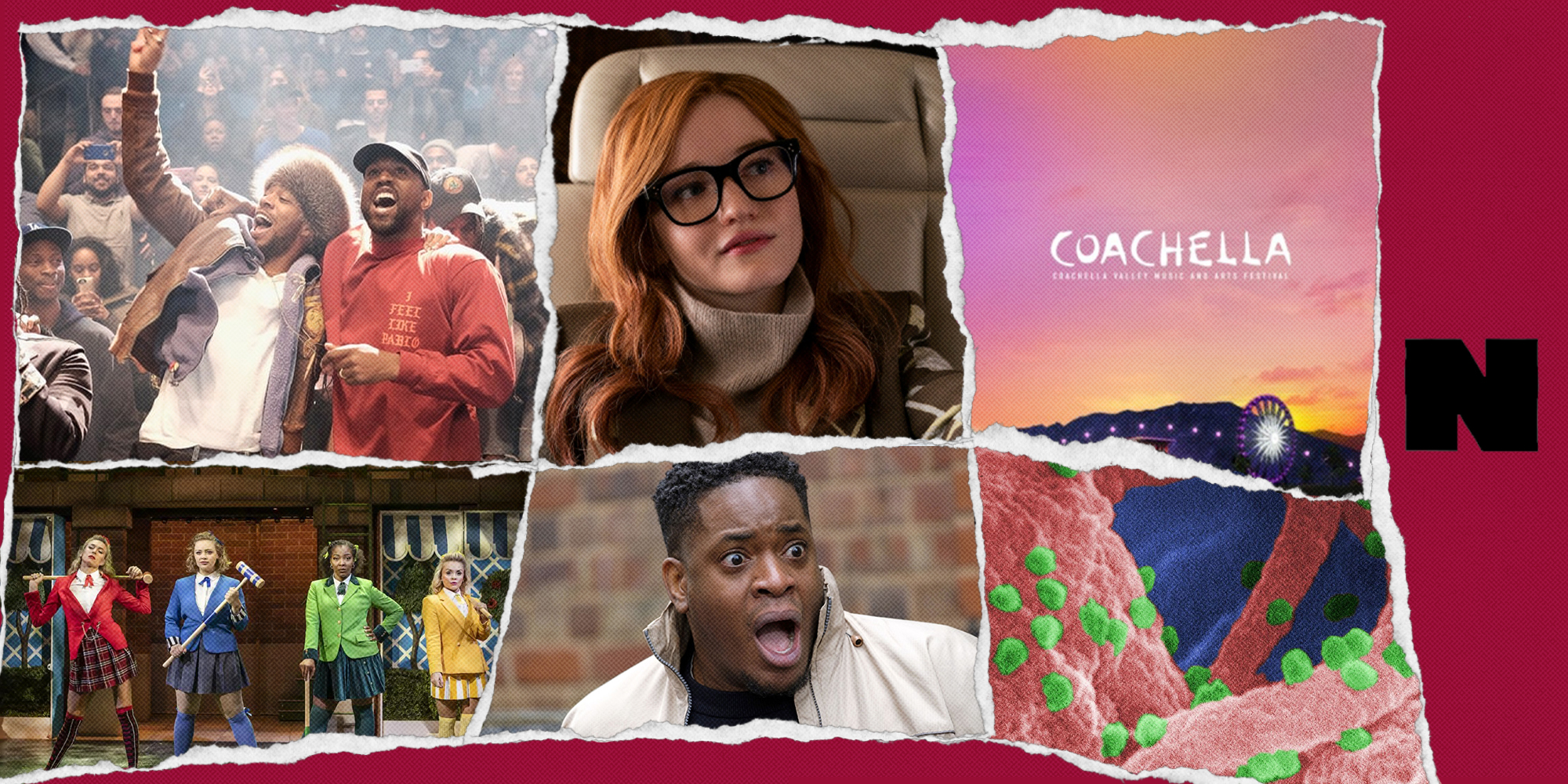 Hot Takes: Inventing Anna, Don't Jealous Me, & Much Ado About Kanye
all our hottest takes on pop culture today
With March around the corner and the first quarter of the year drawing to a close, I have found myself being particularly opinionated on recent events. There are a lot of things to be opinionated on. Every day for the past couple of weeks it seems like there is a different story about the wild antics of a (certain) celebrity, a questionable decision from a politician or simply an exciting new show being released.
Thankfully, I have an outlet through which I can express these opinions that may have otherwise made me unbearably frustrated. Our Hot Takes column was designed to bring you all our unpopular takes on what's going on in pop culture. From Netflix's 'Inventing Anna' to Kanye West, I'm joined by Chibuzo this week to give you takes on everything from Kanye West's everlasting drama to some significant breakthroughs made in HIV medication.
What I'm watching
Last week I binged the Shondaland true crime limited series 'Inventing Anna' on Netflix. It follows the story of Anna Delvey (actually Anna Sorokin) the infamous Soho grifter, a Russian woman who posed as a German heiress and infiltrated Manhattans elite. The literal definition of faking it til you make it! It all sounds very gaslight gate keep girl boss but unfortunately the show doesn't seem sure if it wants to portray her this way.
Anna pulls off some pretty unbelievable scams. To make this understandable, she is clearly is meant to come off as this sort of alluring it girl, with a certain je ne sais quoi that drew people in and made them want to believe her. She is not performed with the necessary gravitas however, and it makes it hard to understand why anyone buys her bullshit and would put up with her past politely  socialising in a group setting. We are meant to be taken in by her and even sympathise with her the way many characters do.
An example of the degree of sympathy the character gets of this is through the depiction of  what may be the most famous incident in Annas case, she invites her friends to an extremely expensive hotel in Marrakech ($10,000 a night!) knowing that she had exhausted all her borrowed funds. After building pressure from the hotel, her middle class friend Rachel offers her cards instead for the hotel to hold while Anna sorts out her funds. Obviously, there is no money coming for Anna, and the hotel eventually charges the $62,000 expense to Rachel's personal and work card.
She faces being fired from her job and losing her apartment. After months of pestering and begging Anna for the money, with promises from Anna that she'd sort it out tonight, or next week, or when she can get in contact with her bank, she eventually turns Anna in to the police. Rachel also makes significant money from an interview on the ordeal and ensuing book deals. She is treated as the spawn of satan for this. The characters and show treat it as some kind of unbelievable line crossed.
Now, Rachel is an extremely annoying character. She's portrayed as a fake,  desperate kiss ass who is prone to taking advantage of her white woman's tears. But how is any of her fakery different from what Anna does? Rachel at least only crosses this boundary when she is at her limit, whereas Anna goes out of her way to take advantage of people.
The show wants to portray Anna as some sort of folk hero but also a comedic villain, while also an misguided kid who bit off more than she could chew. The final episode has her lawyer and the journalist covering the story mulling over her sentence and how she had her life stolen from her. Even though the show also shows her as a remorseless scammer a lot of the time. This multi faceted portrayal could work but winds up coming across as fractured and desperate to find meaning, the same way the characters try to find meaning in the whole mess. To be fair, maybe that was the point, or maybe the show was just a mess.
What I'm listening to
Recently I've been listening to 'Meant To Be Yours' from the Heathers musical soundtrack. I heard a snippet of the unhinged rant of a song on TikTok, and I had to look it up, before realising out it was from the Heathers musical, based on a truly iconic 80s film that follows Veronica, a girl in a mean girl clique, who falls into a toxic romance with a charming outsider JD, who winds up murdering the Queen and Veronicas best friends, Heather Chandler.
There seems to be in a small collection of films for teens and young women that made it to broadway, like 'Clueless,' 'Mean Girls' and 'Legally Blonde'. The song captures the essence of the film, but makes JD (the Christian Slater-played heartthrob for misguided teens) seem like more of an emotional wreck. I hope it hasn't given him more fans to romanticise this kind of toxic behaviour. Regardless, the song has motivated me to give the musical, and the other teen movie musical adaptations a try.
Is Coachella setting a dangerous precedent?
The 2022 Coachella festival will be going back on its former COVID policy. The popular music festival will no longer require testing, masks or even proof of vaccination. This is a notable move from the organisers, as such a large festival is capable of setting a new standard for public events in 2022. This may be a sign that we are moving in to more of a "post COVID" mindset.
But is it a smart move? Music festivals are basically the ultimate super spreader, with thousands of people packed together, sweating and screaming at the top of their lungs. If the festival has even a fraction of its usual turnout, there could be a significant boom in COVID infections.  It feels a little irresponsible to not at least require proof of vaccination.
At the moment, most major public events still have restrictions but many organisations may find themselves unwilling to further lose money from people who have positive COVID tests or are either unable or unwilling to get the vaccine. If this move from Coachella proves effective financially, I fear that organisations  may follow in their footsteps. Whether Coachella will have an effect on events going forward is yet to be seen, but I for one hope that it there isn't too much of a case of follow the leader.
JUST IN: Coachella is dropping COVID-19 safety regulations, including masks and proof of vaccination cards‼️😳 pic.twitter.com/SSlemGAwhi

— RapTV (@raptvcom) February 16, 2022
Rediscovering Don't Jealous Me
Viral comedian Tolu Ogunmefun, aka "Don't Jealous Me" recently released the song Vogue featuring TimiBoi. A very notable comedian in the 2010s, he has had a significant impact on internet comedy, showing that Nigerians a place in that world. His career has been particularly colourful, with many acting credits under his belt, including a role in the Idris Elba directed film Yardie.
2021 marked a specific change from the musical parodies he was known for to original music. A lot of influencers in the 2020s have made a pivot into music. TikTokers like Addisson Rae and Lil Huddy have released singles, some to extreme criticism. It seems that their identities as media personalities has harmed them when it comes to critical responses.
The positive reviews towards DJMs music makes it seem like he has escaped this fate. He still posts comedic videos, and seems successful in a lot of fields simultaneously. It's nice to see such a successful evolution, and his success proves that multitalented people do not have to put themselves in a box.
View this post on Instagram
Second POC (a WOC) to ever be cured of HIV
Last week, a breakthrough in medicine was achieved with the announcement of the third ever person to be cured of HIV. A mixed race 64 year old woman in New York was cured after two transplants, including from an umbilical cord. She is only the third ever person to be cured, with a man from Berlin and a man from London being the first and second respectively.
It is surprising that two people of colour make up two thirds the first people cured, with the "London patient", Adam Castillejo being a Latino man. Healthcare is often not a friend to non white people. It is good that people of colour have been treated with such care in this case, although there could arguably be an unfortunate link between this fact and the fact that the treatments used have been very high risk and experimental.
People of colour have historically been used as guinea pigs when it comes to medicine. In the Tuskegee Study of Untreated Syphilis, in the Negro Male 399 African American American men with syphilis were never informed of their diagnosis and many were medicated with placebos instead of available treatment. 128 people died from syphilis-related complications by the time the study was called off.
The current HIV treatments do not have the same ethical concerns as the patients involved presumably were informed of the risks involved. It is just easy to be pessimistic about the fact that this seems to be a rare area of healthcare where people of colour have been prioritised. While there is always cause for concern when new medicines are being discovered and  a cure still seems a ways a way, this good news is still definitely cause for increased optimism.
A woman of mixed race appears to be the third person ever to be cured of HIV, using a new transplant method involving umbilical cord blood that could make a cure available to more people of diverse racial backgrounds, scientists announced on Tuesday. https://t.co/kuGXmL94oZ pic.twitter.com/IeYO4grOIB

— The New York Times (@nytimes) February 15, 2022
Joe Biden promises to appoint a black woman to the Supreme Court
Joe Biden recently announced his intention to appoint a black woman to replace Stephen Breyer on the United States Supreme Court. Responses to this announcement have been divided to say the least. From the more conservative side, there is the expected reaction. Many are asking why the appoint is will not be purely based on merit, regardless of race. This assumes however, that a complete objectivity when it comes to decisions like this is possible.
People's biases always affect the choices they make whether consciously or not. Sometimes, the only way that change will be achieved is if people actively try to go against their biases. This also ignore the fact that the most qualified candidate, depending on the qualifications considered, could easily be a black woman regardless. Others have also brought up the fact that there are other types of women, Asian women, Latina women who are underrepresented. But black women are arguably the most targeted. There is also the fact that appointing a Black woman doesn't guarantee black people will be fought for as people who look like you do not always have your best interest at heart.
Amy Cohen Barrett is a woman that actively goes against women's rights, often compared to the hypocritical Handmaid's Tale character Serena Joy. But people may be more likely to at least empathise with others in their demographic. This is just one small step overall, and there needs to be effort put in to make sure. making sure they get a Black woman who will fight on behalf of other Black women.
Appointing the first Black woman to the Supreme Court is about more than representation. It advances the rights of those most marginalized. I joined 13 of my fellow Black women in Congress to commend @POTUS Biden's commitment to appointing the first Black woman #SCOTUS justice. pic.twitter.com/9gTmwsBD5H

— Congresswoman Nikema Williams (@RepNikema) February 11, 2022
KANYE WEST'S MANIA COULD WREAK HAVOC ON THOSE AROUND HIM
By Chibuzo Emmanuel
'Crazy', 'Impulsive', 'Different', 'Problematic', 'Eccentric'—These are all adjectives that have been used to describe Ye over the years. But in past few months, following his separation from his ex-wife Kim Kardashian, his eccentricity has spiralled into a fully inflated ball of mania—public feuds with Kim over the Internet, Juvenile troll posts aimed against Kim's new partner Pete Davidson, Buying a house opposite to Kim's new residence, Cries on Instagram for Kim to reunite with him, disputes with everyone from Pete to Billie Eilish to his longtime close pal Kid Cudi.
While there are many layers to Ye and his public struggles with mental health, the latest turn of events sees the rapper call on his fans not to do anything physical to Pete Davidson. In the wake of this post, it becomes ironically lucid, the power that someone of the iconography of Kanye wields to both inspire fans and incite them to much worse, particularly to those around him.
There's nothing amusing about Kanye's flagrant abuse. You don't have to be a supporter of Kim K. to see what's happening. 'Ye is outright stalking her. And threatening physical harm on Pete Davidson. Sick behavior. The fact that 'Ye has some pretty warped followers doesn't help.

— Keith Murphy (@murphdogg29) February 15, 2022
Earlier this month, Kanye West took to Instagram to ask that his fans not "do anything physical to Pete Davidson, at the request of his estranged wife Kim Kardashian. Ye allegedly received a text from Kim which he put up on Instagram, it read "U are creating a dangerous and scary environment and someone will hurt Pete and this will all be your fault," the text reads. He replied, casually saying would  "handle the situation myself" in the post, which included a screenshot of the text, along with a photo from the 2001 film Baby Boy. The comments section, as well as Twitter conversations on the matter, were filled with both insults and threats aimed at both Kim and Pete by a number of his loyalists.
It's easy to think that these insults and threats are just dark jokes that have no effect outside the phantom of social media. But history says otherwise. Last year, fellow right-wing popular figure Donald Trump encouraged his followers to reject the US presidential election results after he lost to President Joe Biden. Initially, this sparked conversations and memes of an insurrection online. These conversations were seen as harmless juvenile wails from a few right-wing extremists, until the capitol building attack, which left the whole world shell-shocked on how something as unthinkable as an insurrection could happen in the world's bastion of democracy.
It is also worth noting that all these Instagram posts have now been taken down, only to be replaced by promotional posts for 'DONDA 2,' Ye's deluxe album which is available exclusively on stem player.
Featured image credits/NATIVE