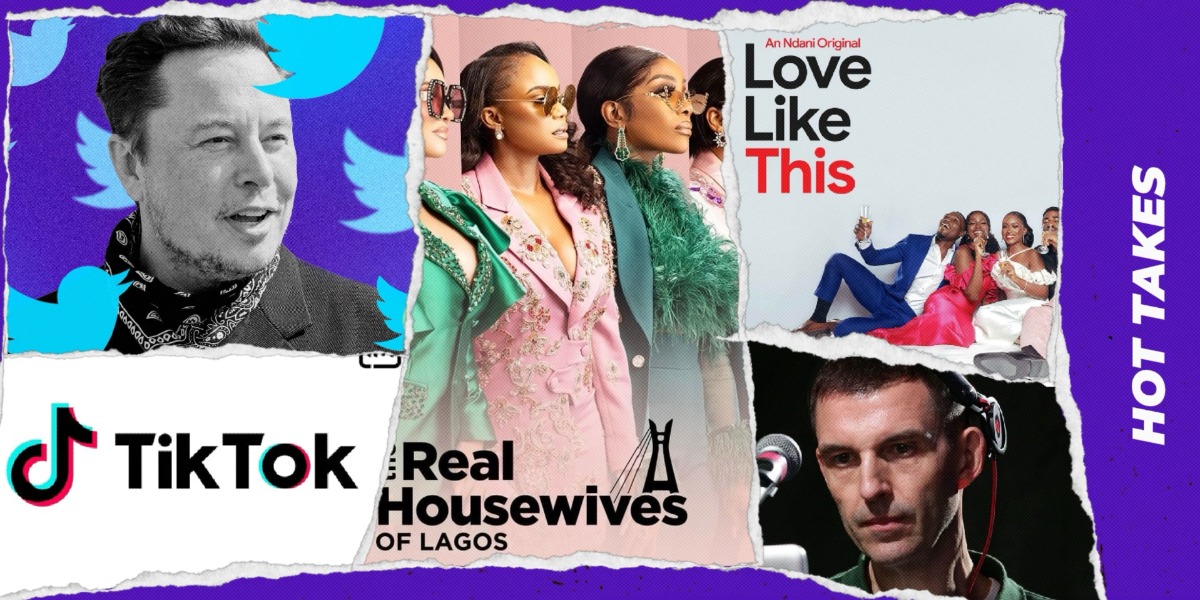 Hot Takes: Elon Musk's Twitter, Linda Ikeji Strikes Again, #EndTimWestWood & More
All the hottest takes this week
In a blink of an eye, the first quarter of the year is done, though it feels like January was only a few days ago. Brisk as it may have been, this hasn't changed the fast paced environment we live in, as we watch culture change and shift powers segueing from us chanting "Hot Girl Summer" one minute to "that ain't P" in the next. In my opinion, the only enjoyable thing about April is the welcome return of live shows across the world from the Homecoming festival weekend to Rick Ross' headline show in Lagos, Coachella and more. It's official! Summer is approaching.
Today, I'm also particularly excited about Burna Boy's show at Madison Square Garden which he sold out, becoming the first African to headline ay the stadium. While I wouldn't exactly call myself an Outsider, I'm super excited for this show for some reason because the man can really perform his heart out. He's committed to the craft and to giving his fans a great live experience so I'm sure he will not disappoint. I'll be shouting "My problem is I too sabi," for the rest of the week in his honour. Dig in to my hot takes this week on Real Housewives of Lagos, TikTok's reach in the music industry, Elon Musk's latest purchase and the investigation into DJ and alleged sexual assaulter Tim Westwood.
What I'm listening to 
Right now, I'm listening to a bunch of new music I stumbled upon as I'm not really listening to anything in particular. But I got into some new releases last weekend and I'm really feeling records like BNXN & Zinoleesky's "Kilometer Remix" which was our Best New Music pick this week and Boj's album 'Gbagada Express'. I also got into Jaylon's "Get Down" featuring Azanti and Chrystel and currently, that's been on replay.
Jaylon and Azanti have a way of creating something magical when they come together and this time, Chrystel was the icing on top of the cake. The record features a blend of string instruments and piano chords, which gives the track a distinct feel to it and make it easily a favourite for me. I also got into Kwesi Arthur's debut album 'Son Of Jacob', over the weekend and I'm surely going to be spinning that a couple more times.
What I'm Watching 
When I'm not scouring the Internet for new music, I like to spend my time watching  TV shows as often as I can. Currently, I'm hooked on a new Ndani TV youtube series called 'Love Like This', and I'm loving it. The series follows a woman called Abiye, who cheated on her fiancé a night before their wedding. On the day of their nuptials, she's marred by guilt and leaves him at the altar setting off a mixed bag of reactions from her friends and family alike. 
Of course coming from a typical African background, this only caused family, friends and others to judge her based on this decision but truly, she wasn't very much interested in him as she was still not over her ex. Shortly after this chaotic experience at the altar, she went back to dating him and it's been drama drama drama since then. I'm currently 9 episodes in and I keep coming back for more.
Gentility…oshey stupidity!
TikTok continues to reach into the music industry, bolstering songs from sleeper hits to mainstream success in the blink of an eye. Last year, we saw this particularly in the case of Nigerian singer CKay whose 2019 single "Love Nwantiti" gained a new lease of life when it went viral on the social networking platform and earned top spots on global charts, including the Billboard Hot 100.
This year, TikTok continues to prove to be a viable source for "blowing" one's music and we've already seen this in the likes of Pheelz and BNXN who scored a hit single with their recent collaboration, "Finesse." Now, it seems that this is happening once again as Melvitto and Wande Coal's "Gentility" climbs to the top of the Nigerian Apple Music Top 10 chart, almost three years after its official release. This no doubt shows the power that TikTok has in the long run, with the ability to increase the shelf life of songs in this hyper climate. Yet we've also seen songs spark and die on TikTok, spurring viral challenges and repost videos from millions of users one minute, only to be abandoned for the next viral thing in the next moment. I'm not exactly one to beat the gun and say that TikTok is going to redefine the trends in music and culture, but we may very well continue to see Afropop songs gain new life  
An Update On The  Real Housewives Of Lagos 
Spoiler alert.
The forecast for the debut season of Real Housewives of Lagos (RHOL) is drama, drama and more drama and I'm loving it. After kicking off three weeks ago, the Nigerian iteration of the hit reality TV show has piqued the interest of many viewers across the country who can't help but irresistibly talk about the cast and their flair for trouble. 
As I mentioned in Hot Takes earlier this month, Laura seems to be the season's villain and three episodes in, she's still wearing this title with visible pride. I'm not really a fan of her so far, and have found her character to be a tad bit too spiteful for my taste buds, nonetheless she brings the much needed drama to the show. Last Friday, the girls were over at Carolyna for a garden brunch (more like dinner), following the beach get away hosted by Iyabo Ojo last weekend. 
Carolyna came ready to treat the ladies to a good time but unfortunately, drama waits for no woman. In the latest episode, we see Carolyna and Laura Ikeji have a face-off after two weeks of brewing anger. We see Chioma spill the beans about Laura wishing to slap Carolyna following the game played at Iyabo's beach house. Carolyna does not take kindly to threats of violence as she feels Laura's anger is misplaced. In Carolyna's defense, Linda Ikeji, Laura's sister has been weaving false stories about her on her popular gossip blog without verifying any of the damaging information. While I'll spare the details about Laura's hateful actions, there's no denying that she has over the years fostered an unsafe environment for women, queer people, children and more, choosing sensationalism over any journalistic integrity.
Tim Westwood Accused Of Sexual Misconduct By Multiple Women
Ex radio host and DJ Tim Westwood has been accused of sexual misconduct by seven different women, making this the second time accusation against him come to light during his decades-long career in the music and entertainment industry. Although he has denied these allegations, multiple women have anonymously come out to share their experiences in an investigation carried out by the BBC. In the documentary, these survivors have accused Westwood of misusing his position in the music industry then, to exploit the young women.
Multiple women have also shared their stories since the BBC investigation came to light, detailing how the DJ and alleged sexual assaulter would cajole them into sexual acts during a time period of 1992 and 2017. The investigative documentary titled 'Tim Westwood: Abuse Of Power' aired on the 26th of April and set off a chain reaction on social media where survivours and allies were able to share their experiences.
According to the documentary, one of the women reporting her story  was underaged (17) at the time Westwood took advantage of her naivety, while another was a fan who wanted a picture with the famous DJ, only to be grabbed on her breast in the process. This has been one of the UK music industry's most openly kept secret and has been long overdue, but I am sure glad to see something finally being done and can only hope that this documentary opens up a criminal investigation into his allegations.
Elon Musk Acquires Twitter For $44B 
Stop what you're doing. We're now operating on Elon Musk's Internet. Earlier this week, it was announced that the world's richest man Elon Musk had now acquired Twitter. This followed earlier announcements that Musk had become Twitter's biggest shareholder but declined a position to join the company's board. Following this, Musk moved for a hostile takeover with his majority share, and soon bought out the company with Twitter's board announcing on Monday that it had agreed to Musk in a deal valued at $44 billion.
Shortly after his record deal with Twitter, Musk began asking Twitter users what changes they would like to see, to the point of suggesting an edit button for users on the social networking platform, a feature many have clamoured for years. Already, many are speculating about what the future for the social platform will look like now that it would be privately owned by one of the world's richest men. Musk, of course, is notoriously unpredictable so if there's one thing that seems clear: Twitter's leadership will likely look much different after the deal than it does today.
According to people familiar with the matter, Musk has already laid out ambitions for Twitter that will fundamentally change the user experience. For instance, Musk wants to pay "creators" to produce content on Twitter, a strategy that helped build TikTok into a social networking juggernaut. Contrary to this, Musk who describes himself as a "free speech absolutist" has also long been vocal in his criticism of the platform's content policies, raising questions after the company banned former US President Donald Trump. Whatever the case may be, I can tell that in the coming weeks we're going to be hearing more and more from Elon Musk and what he has in store for Twitter. As someone who has been using the platform for as long as I can remember, I certainly do hope that this does not open a can of worms for incels, bullies and racists to go scott free on the timeline.
This exchange continues to haunt me pic.twitter.com/W06oSqx0MR

— Dave Smith (@redletterdave) April 25, 2022
Featured Image Credits/NATIVE
---