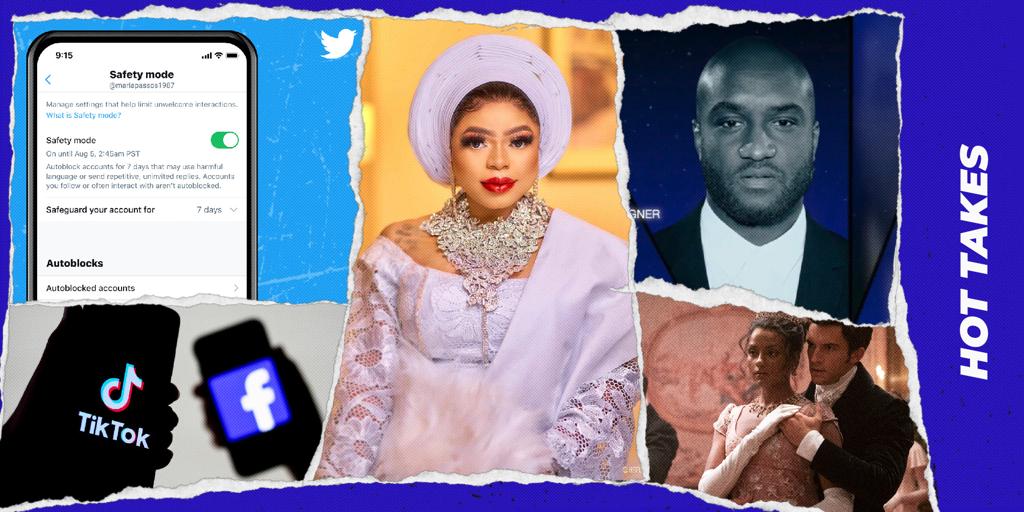 Hot Takes: Bridgerton, Grammys' Virgil Abloh fumble, Nigeria's latest queerphobic law & more
Extra, extra. Read all about it.
We are a few days into April fools month, and already there has been a lot of clownery from all angles. Over the past few weeks there have been ceremonies for what may be the two biggest award shows: the Oscars and the Grammys. They both delivered in giving the internet content to buzz about for weeks to come. The infamous slap, questionable red carpet outfits and shocking wins and snubs have been making their rounds throughout social media since.
In this week's Hot Takes, we're going to look specifically into a posthumous memorial that should have been heart-warming but in some ways felt worse than a snub. We're also going to talk about social media companies themselves, with Twitter having a new feature and some questionable ways Facebook tried to go against their competition. We're also going to talk about the second season of one of Netflix's most popular shows.
Enjoy!
What I'm watching 
The show I've been binging is one that basically half the world was watching simultaneously, eagerly anticipated since its release date was announced. I, of course, am talking about "Bridgerton," Netflix's romance period drama that came back for a second season. It is based on a series of novels by Julia Quinn, with each installment focusing on the romance between a different Bridgerton sibling and their romantic interest.
This season focused on Anthony, the oldest sibling of the illustrious family, and newcomer Kate Sharma. When I heard that Anthony would be the sibling of focus this season, I was unsure if I'd want to watch this season at all. Throughout season one, Anthony represented all that was frustrating about men and gender dynamics in the regency era. He took control of his sister Daphne's romantic life, promised her to a repulsive suitor without her knowledge and violently 'defended' her honour against her protests. He did this while also being an all around rude, prickly person. I couldn't think of how they'd make my least favourite Bridgerton bearable for the entire season. 
They managed to achieve this with the character of Kate. Kate, a protective older sibling like Anthony, matched him in every way. As she tried to shield her younger sister – who he was initially courting, from him – she took every opportunity to call him out on his behaviour, giving him an entire season of being humbled. This kind of rivals-to-lovers set up often works best for arrogant characters like Anthony, as it gives them a way to be challenged by someone they respect and initiate important character development for them. Kate and Anthony were in many ways the best part of the show so far. 
While I enjoyed the pairing however, the initial love triangle is something that made their relationship much less bearable. Love triangles always feel unnecessarily frustrating. Particularly in cases like this where it is obvious who the final couple will be, taking the tension out of scenes when it is clear that the endgame couple should just admit their feelings. This triangle was especially uncomfortable due to the fact that it involved two siblings, Kate and her younger sister Edwina who was eager to be courted by Anthony. This set-up made everyone come across as unlikable: Anthony, for proposing to Edwina even after he realised his feelings for Kate; Kate, for not speaking up for herself and informing both Edwina and Anthony about the depth of her feelings; and Edwina, for being so oblivious to the tension between the two, until the moment before she married Anthony. 
The initial drama of the love triangle may have worked if it wasn't dragged on through most of the season. The wedding between Anthony and Edwina was never close to happening in the book and was clearly put in for maximum drama at the expense of the characters. Apart from the effect on the likability of the characters, it also robbed the audience of softer scenes with Kate and Anthony, as most interactions before they got together officially were either filled with irritation towards each other or anxiety about their growing feelings.
The season ended with them only just admitting their feelings for each other. With two such unyielding people it would have been nice to see more genuine moments of bonding and vulnerability. The closest we got was of Kate guiding Anthony through his anxiety attack over her bee sting (it makes more sense in context.). We never got scenes of Anthony comforting Kate about her struggles, although he did defend her family to her step-relatives. A lot of this could have been eased through simply having them become friendly before even admitting their feelings, like with Simon and Daphne in season 1.
The build up of tension certainly did make their romantic scenes more satisfying in some ways. It just would have been nice to see more of it.
What I'm listening to
Speaking on Bridgerton, one of the standouts from last season was the use of the symphony "Spring 1," by Max Richter. It played over a climactic scene where Daphne stood in the rain and finally began to make amends with her love interest, Simon. In March, Richter gifted us with a re-composition of the track. The re-composition includes credits to the Chineke! Orchestra, an orchestra made of ethnically diverse members. 
The original version was already quite magical. This 2022 composition however is even more ethereal. It feels lighter, airier. Its immersive enough to transport you to a world where you can dance on clouds. Two of my top genres for my Spotify wrapped for 2021 were 'Ethereal' and 'Melancholia' and based on my love for this symphony, it seems like that will continue. There are definitely many more sad girl hours scheduled for me!
Virgil Abloh was definitely more than a "hip-hop" designer
In 2021, the fashion industry lost a true tastemaker when the Off-White designer Virgil Abloh died. Through his frequent collaborations with musical artists, the music industry lost an influential figure as well. Because of this, it isn't surprising that the Grammy's wanted to show some recognition to him with a posthumous award. Where the issue lies is with the recording academy addressing Abloh specifically as a 'Hip-Hop designer'.
I can't help but feel like this is an attempt at othering. He could have easily been addressed as just a designer, or one that collaborates with musicians. Black people involved in music are often automatically associated with hip-hop and nothing else. They are pigeonholed in the industry and not given flexibility in ways that non-black creators are. An example of the fact that Abloh never exclusively worked with hip hop artists is through the fact that the members of BTS, a K-pop band, wore his designs to the very same award show.  
The award show has had issues with the way it has named awards. In 2020, Tyler the Creator criticised the naming of the Urban music category, saying "I don't like that 'urban' word. To me, it's just a politically correct way to say the N-word. Why can't we just be in pop?" "Hip-Hop", in turn, sounds like a more PC way of saying urban. It's unfortunate that the academy seems unwilling to let go of its attempts to strictly categorise black creators. The public backlash against Abloh's award naming may be enough for the Grammy's to avoid this specific mistake again, or it could just make them pivot to another word to specify blackness. 
Calling Virgil Abloh a "Hip-Hop Fashion Designer" is insanely disrespectful and blindly ignorant… do better pic.twitter.com/zHXLhZB6vv

— Debating Hip-Hop (@DebatingHipHop_) April 4, 2022
Twitter's new safety mode
Twitter has recently introduced a Safety Mode. According to Twitter, when this mode is activated, the platform will automatically flag and block "any accounts with potentially abusive or spammy behaviour" for seven days. On paper, this sounds like a wonderful feature. It could potentially help tackle cyberbullying and harassment. This could be particularly useful on a platform that is notorious for trolls.
I just have to wonder why the feature isn't permanent. Truly dedicated trolls will just keep coming back to harass Twitter users, having to be re-blocked week after week. It may still be helpful to the average person who has less intense haters, which is a start. People with larger platforms however may not feel any real effects from this.
As I'm writing this it is undecided whether it will apply to politicians at all. There is a strong argument for this though, as the use of it could prevent valid political criticisms from being shared online. In this case, maybe it is actually for the best that it will probably only be effective for the average person. All there is to do is watch and see if it is effective even for them.
Love to see Twitter incorporating more features like this, but wish the auto blocks could be permanent (why would anyone want to let a hateful account back following them after a week?) pic.twitter.com/2CU8e4JJ1c

— Taylor Lorenz (@TaylorLorenz) April 3, 2022
Facebook vs Tiktok
There are other tech companies that have been making headlines recently. Facebook's parent company Meta has been revealed to have sent emails calling for a smear campaign to Tiktok. Meta reportedly partnered with a right wing consulting firm Targeted Victory for a PR campaign to sway public opinion against Tiktok.
Their emails confirming this have been gotten by the Washington Post. In these, Meta stated that they need Targeted Victory to "get the message out that while Meta is the current punching bag, TikTok is the real threat, especially as a foreign-owned app that is #1 in sharing data that young teens are using."
It is not surprising that such dirty tactics would be used by major companies. I doubt Tiktok would have suffered major blows from this, at least from their user base, but the statement above especially feels particularly pointed. The wording of it feels xenophobic. There was clearly an attempt to fear monger against the idea of a 'foreign' company corrupting innocent American teenagers. This feeds into ideas of the "Yellow Peril" and framing Asian people as a threat to Western ideals. This feels especially true with the rise of anti-Asian sentiment due to the pandemic. Seeing a company with such power attempt to fan the flames of these sentiments, when they publicly stood against Asian hate, is a reminder of what the goal is for most companies, which is just to further their own brands at any cost.
Due to these plans being exposed, maybe people will look deeper into things that could be the result of a PR machine.
Nigeria's legislative arm is trying to ban crossdressing
Nigeria's lack of tolerance towards the LGBT community is no secret. Northern Nigeria just recently ranked as the most homophobic area in the world in a 2022 World Population Review. This is a country where even showing support for the community can be heavily penalised.
Due to all of this, unfortunately, it doesn't come as a surprise that lawmakers in Nigeria's house of representatives are currently pushing a bill to sanction "cross-dressing." The bill will only give exemptions to those "cross dressing in the course of a stage play or in any bona fide public entertainment.". Dressing in a gender non conforming way will be reduced to simply being a form of entertainment for others, and will be unacceptable to the government otherwise.
A particular issue with this bill is its definition of "cross-dressing". It is addressed in the bill as "the practice of wearing clothes usually worn by a person of the opposite sex." This is a very vague way to enforce the law, as the use of gender to limit clothing has always been shaky, and is especially true now with rapidly changing trends. Could a man simply wearing a crop top be prosecuted?
At the end of the day, this will likely be interpreted as whatever makes the law enforcers uncomfortable. This bill will probably target gender non-conforming people in the public eye, such as Bobrisky, Derenle Edun, James Brown and others. There is still a chance that the bill won't be passed and the government's energy will move to actually important issues and for the sake of the people who will be targeted by this bill, I hope it does not.
the good thing about this bill is that:

1) it will finally solve Nigeria's insecurity challenges
2) improve power supply
3) end ASUU strike
4) repair the negative impression foreigners have about Nigeria
5) cause the reduction of prices of items in the market

be fast, please. https://t.co/aMFX82cj3N

— BOBRISKY (@BobriskyNG) April 5, 2022
---