Hot Take Tuesdays: Big Brother's Laycon, WAP, Secret Savings & more
The hot takes of what's popping this week
Twenty years ago, the Internet was still a new shiny toy, and social media was limited to instant messaging and emails. Now, the Internet has become our way of life, and as such has made the world has become a global village, where any sort of information you need is only one search bar way. We're all in touch with everything that's happening in every corner of the globe, all the time, which is ultimately a great thing with several benefits, however, can be a bit (read: a lot) overwhelming.
Constantly digesting information, whether good or bad, is usually followed quickly by your entire timeline's opinion of it before one even gets a good understanding of how they feel about the topic. Much like the tv or music we consume does, the news and current affairs either unites or divides us as people, especially now that we're all (or at least should all be) stuck at home, hiding from a deadly disease.
One day, we're arguing about whether Laycon is really intelligent (spoiler alert, he's not), the next we're wondering why someone has been sentenced to the death penalty for… singing.
For a bit of catharsis, The NATIVE has birthed a new column, Hot Take Tuesdays, where every week, a different member of the NATIVE's editorial team will dissect different trending topics across the globe, and give their hot takes on each topic. Here's how my week is going so far, and a few of my hot takes for the week.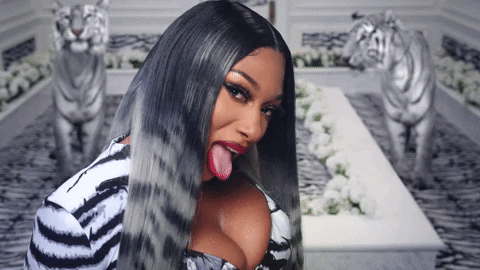 What I'm watching on YouTube: Roddy Ricch's interview with Lawrence Burney for The Fader. I really like this interview because it seemed like a really honest conversation between two black men, and Roddy is making some very important life lessons discussing one of my favourite albums ever, 'Please Excuse Me For Being Antisocial', why it's important to just focus and get shit done, and the power of being yourself. I've watched it a billion times, but I take away something new from it each time I watch it.
Watch it here:
What I'm watching on Netflix: I'm currently in the middle of this film called 'Nigerian Prince' on Netflix. I'm about 20 minutes in and so far, I don't really understand why the main and titular character of a Nigerian film isn't a Nigerian actor, especially when there are supporting Nigerian cast members we've seen do really well in other films.
Check out the trailer:
What I'm listening to at the moment: Obviously Burna Boy's Twice As Tall. Today, I wrote a review on the album's stand out, "23", so I've had that song on repeat pretty much the whole day.
Listen here:
Toke Makinwa and Falz's new show, "Therapy"
In my recent YouTube rabbit hole, I came across a 10-minute web series starring Falz, Toke Makinwa, Bovi and Josh 2 Funny. At first, I was intrigued, so I watched it, but was sorely disappointed so obviously I carried on. Not because of the quality; Toke Makinwa is actually a decent actress and is a lot better actress than I expected her to be. I noticed this on Sugar Rush (showing on Netflix) where she played one of the film's villains, and Falz does his thing with the accent which… I guess gets the people going.
My issue, however, was how blatantly misogynistic and tone-deaf the dialogue was and I just didn't really understand the point of it in 2020. The show follows a young couple, who are in couple's therapy to sort out their marital issues. In the first episode, Stephanie (Toke) and her husband, Biodun (Falz) are fighting because she wants to live in Banana Island, and isn't happy that her husband has bought a house for them in a Lekki phase 5,000. In his response to her issue, the episode ends with him revealing that he was saving so that he could buy a house in America. The fight in the second episode is about the fact that Biodun refuses to help her with any household chores and blatantly refused to because football is more important and it's 'an insult' for him to be seen doing any domestic work.
This brought to mind the timeline conversation about the AITA story where a man complained about his wife hiding a secret savings account from her husband in case anything went wrong, where she put 10% of her salary every month. Given the attitude towards Nigerian women, which 'Therapy' seems to propagate, it's fair to assume that Nigerian marriages aren't really partnerships, and even though I've never been married before, the things I see and hear suggest that it's usually to the detriment of women. While I understand that it's dishonest to hide money from your partner, let's not act like Nigerian women don't almost always have to go straight into survival mode once they enter a marriage.
In the first episode of 'Therapy', Biodun appears to 'punish' Stephanie for hating her house, with the news of a house he's buying in America, which she's now allowed access to for being 'ungrateful'. If I were in a marriage like Stephanie's, where my husband won't help me out with chores and feels like he can punish me for being ungrateful, I would 100% have a secret stash so I could escape the bondage one day.
Watch 'Therapy' here:
Female rappers are not your children's role models
Just yesterday, Cardi B and Megan Thee Stallion's collaboration, "WAP" debuted at Number 1 on the Billboard Hot 100 charts after only one week. This is a big win for women who rap, especially for Megan who had a particularly horrible past few weeks after getting shot in both her feet, followed by an incessant amount of trolling.
Given the premise of WAP, which flaunts a woman's sexual prowess with Meg and Cardi's slick-tongued rhymes, there has been a lot of talk with the aim to chastise these women for 'crossing their boundary' even though they have been saying very similar things for most of their respective careers. A lot of this criticism stems from beliefs that they should be setting better examples for younger women and be better role models since they're in positions of visibility. It doesn't need much explanation to see why it's unfair to place this responsibility on women, especially when the same expectations are not extended to men who usually rap about the same thing, and also glorify other things society deem immoral such as drugs and violence.
In a recent Instagram video, Cardi gives women some much-needed sex education and useful tips about how to not throw your PH balance off during intercourse. Given that a woman's sexual autonomy is usually only considered in relation to men, it's only a good thing that we have women who are unapologetically taking ownership of theirs, which does in fact set a good example for other women who are typically taught that it's a thing to be ashamed of. We've discussed previously about why it's important for women to hear other women's experiences in song, and society's moral compass shouldn't really have any place in what kinds of topics they decide to explore.
P.s: We believe there's a new vanguard of female rappers who are leading the charge in Nigeria. While old heads struggle to see the vision, we spoke all about why these women need to be listened to here.
I don't really want a Telfar bag
In a world of uncertainty, two things have been certain this summer: There's a global pandemic and everybody wants a Telfar bag. While we're all stuck at home, we haven't been able to go physically shopping for a while so we're all lusting after the same things on the internet. From Jackie Aina's wardrobe to Saweetie's, just take a look at how coveted Kai Collective's Gaia dress is, and how quickly it became the item of the summer and sold out within hours at every drop.
The Telfar bag has also been another widely talked about item of the summer, which is stirring up a lot of chaos on the timeline every time a new drop sells out in seconds.  Telfar—a Black-owned and genderless fashion brand which was founded in  2004— has now introduced a new way of making sure the getting the bags are easier for those who want it, with the caveat of a potentially waiting longer to actually get the bags. I've seen a lot of people getting super upset that they weren't able to buy one, but now this new approach means there are higher chances for those who actually want one.
Only thing is, I don't really get it. The bags are really nice – for sure – and these days I'd rather give my money to a black-owned business than a big capitalist conglomerate, however, I just don't really understand why everyone is falling over themselves about it. What I am looking out for, and waiting to drop is a restock of that fire Mowalola bag.
Laycon is not a good guy
When Big Brother started a month ago, we at the NATIVE were automatically rooting for Laycon purely based on the fact that his music started gaining traction after he went into the house. Unfortunately, when we started to get to know him, it became harder to root for him, and now we're just not checking for him at all. Granted, he's been a major source of some of the best entertainment this season has seen so far, mostly as a result of the love triangle (was it even) between him, Erica and Kidd, however his behaviour and the kind of co-signs he's getting are a lot less than ideal.
There's a popular Twitter saying that goes "when many Nigerian men agree with you, you must be doing something wrong", and Laycon must be the human version of this saying. He's the typical 'nice guy', who believes that his niceness must be rewarded and that his affection must be reciprocated, which you'll find to be the case for most Nigerian men but you guys won't let us tell you the truth about yourselves without accusing us of being bitter.
You won't have to search very hard to find a clip him looking salty in the background when Kidd and Erica are being amorous, or saying horrible things about Erica behind her back and making up scenarios that never happened so he can appear to be the victim of a situation which he shouldn't be in to begin with. 2 weeks ago, Erica made a clear choice to couple up with Kiddwaya much to Laycon's dismay, and this is where his true colours showed up.
Watching all this unfold, it's clear to me that Laycon is not a good person, however, for some reason, you see many people on the Internet defending his behaviour, and chastising Erica for picking the person she was attracted to from the beginning (if this isn't misogyny at play, I don't know what is). Even though Laycon has an actual girlfriend who he has been dating for 8 years outside the house, somehow, it's okay for him to be pining after someone who doesn't want him, and is even being touted as a stand-up guy. I decline to agree. No thanks.
Nollywood's portrayal of rich people is abysmal
Who else is watching Red TV's The Men's Club? The web series is so bad it's good, from the cringe-worthy dialogue to the over acting, I love every second of how awful the show is, and every Wednesday, there's no doubt I will be cringing about how the wealthy are portrayed on television, thanks to 'The Men's Club'. The show follows the lives of four friends, Tayo, Lanre, Louis and Aminu, who are probably in their early 30s and trying to live their best baby boy lives. Aminu is (apparently) a billionaire, Louis used to be an heir to a huge fortune before he was cut off, Tayo used to be married to a spoilt rich girl, whose father funded their lives, and is now dating another spoilt rich girl, whose father is now funding his life (by bribing him with contracts to get through to his daughter), and Lanre is a regular guy who likes to date rich older women.
It's clear that these people are supposed to represent the upper echelon of society, but they don't seem to get it right. This is typical for Nollywood, however. From films like 'The Bling Lagocians' to 'The Wedding Party', the portrayal of wealthy people is just so far from the truth, it's actually a bit ridiculous. From the things they say to each other, such as 'Daddy why didn't you allow me take the jet to Paree' ('Assistant Madams') to Aminu in 'The Men's Club' transferring N10 million to a landlord's account without asking for the account number, it's clear that there's very little research put in place when these characters are being written, and these films would be a lot more enjoyable if there was more intention behind these characters other than just being inserted.
Either way, it doesn't stop my binge and I'll be waiting on tomorrow's episode at 3pm sharp.
Featured Image Credits: 
---
Damilola is the HBIC around here, don't tweet at her @damdamxx
---