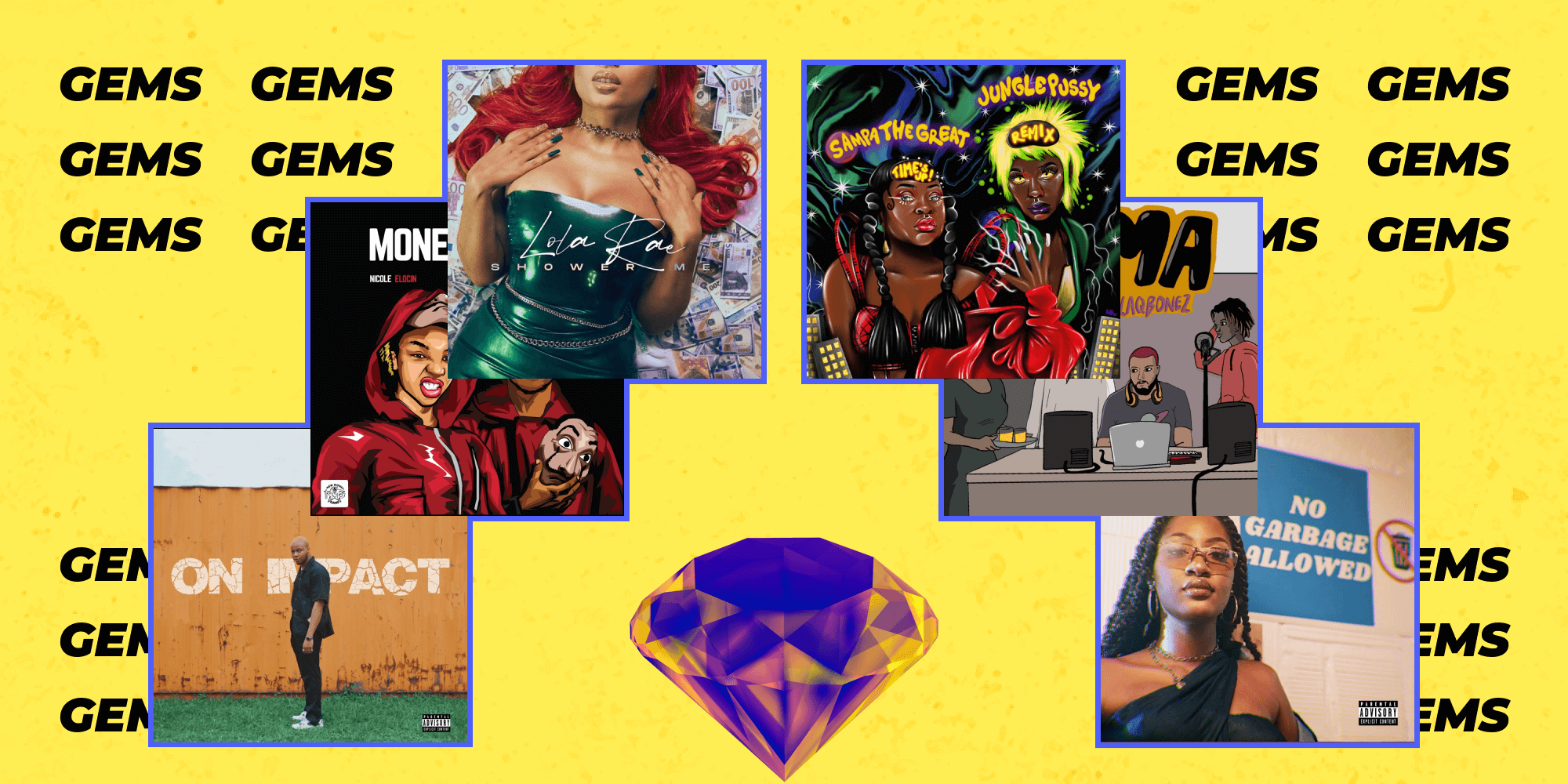 Gems: A list of the best songs released this week
The best songs released this week
Every Weekend, The NATIVE Will Put Out A List Detailing The Best And Most Enjoyable Songs Released During The Week.
With The Scope Widening And Music Dropping At An Immeasurable Pace, It's Easy To Miss Out On A Lot Of New Drops, So We've Decided To Help Out, By Collating A List Of The Best Hip-Hop, Pop, R&B Songs From All Over The Continent. Our Main Goal With This List Is To Make Finding Great Music Of The Moment Easier For You.
---
Tyler ICU & Nicole Elocin – "Bella Ciao" (feat. Kabza De Small & DJ Maphorisa)
It might be a little too on the nose, but describing Money Heist as a global phenomenon is very fitting. Since its third season, the Spanish, Netflix original TV series has become a worldwide event. Noticeably, the show has served as the Trojan horse for the renewed popularity of the Italian folk protest song, "Bella Ciao", originally composed by frustrated women who had to do back-breaking work in rice fields in the late 19th century, then modified and adopted as the anthem of the Italian anti-fascist resistance in the 1940s.
"Bella Ciao" has been covered a lot of times, but it's seen a huge resurgence in pop culture, with recent reimagining of the classic coming from artists as disparate as EDM savant Steve Aoki and Algerian singer Chibane. Tyler ICU and Nicole Elocin are the latest to reimagine "Bella Ciao", using Amapiano as the framing sound to pay dutiful and playful homage to the classic composition. The South African producer-singer duo recently released a joint project titled 'Money Heist', a collection of mostly original songs (they cover Elaine's "Risky" as well) that is carried by the impressive dynamic between the two artists and their slew of featured guests. The best song on the 13-song set depends on who you ask, however, the cover of "Bella Ciao" is undeniably a defining and instantly memorable moment on the project.
Left to their own devices, Tyler and Nicole tilt their efforts towards the jazzy side, with Nicole's sweetly scented voice and preference for romantic themes smoothening things even further for r&b overtones. For "Bella Ciao", though, they get grittier and groovier with assists from the Scorpion Kings, Kabza De Small and DJ Maphorisa, resulting in a high octane banger that will trigger the Vosho or any number of animated dance moves. Sailing over a pulsating synth line and lush piano strings, Nicole repeatedly sings the first stanza of modified version, while chopped chants fills a significant amount of the negative space, adding a trance-like effect that makes the song also perfect for raves. Considering how literal it is, Tyler and Nicole manage to pull off a remarkable and enjoyable cover, readjusting the urgency of the original words into a chant of optimism.
Veen – "The Skies"
Veen's music sits at the intersection of familiar and gonzo. Across his delightful catalogue, the Port Harcourt-based rapper, producer and engineer has established a flair for grounding left-field choices with trap's recognisable low end knock. Last week, he dropped his second solo EP, 'On Impact', comprising six excellently crafted songs that folded indelible hooks and succinct, quote-worthy lyricism into a colourful and impressionistic sonic canvas. On the final song, "The Skies", Veen veers into drill a rollicking banger, imbuing the sound's innate liveliness with his own flamboyant cool.
True to form, the self-production on "The Skies" is wonderfully twisted and meticulously layered, as he merges piano synths that beep and buzz with a lively and thumping percussion bassline. On the catchy hook, Veen raps about he and his team's laser focus on getting to the bag, while also throwing in some raunchy, hedonistic lines. Similar to some of his best work, though, like last year's "Race", he hits patches of profundity that elevate the song's thematic concept and add depth to his exuberant persona.
"You know the vibes, walking in silence like spies/open your eyes, they wanna be telling you lies/don't be a sheep, elevate to the peak", he raps at the end of his sole verse, showing his cleverness with the pen and throwing some meaningful advice. On one hand, "The Skies" will get your head nodding and shoulders rolling, on the other, it contains some food for thought that will stick you. Like they (sort of) say on social media, get you an artist that can do both.
Lola Rae – "Shower Me"
Lola Rae may have been flying under the radar for the past few years, but she's now ready to make her return to the music scene. Her return on the scene comes with a sexy bang and from the looks of things, the singer is ready to prove that her comeback will be monumental. Her latest single, "Shower Me" is a catchy and delectable afropop offering, which finds her singing about being lavished excessively with dollar bills. Over the groovy percussive beat produced by Juls, she sings "Cause we rocking all night o/doesn't mean you're all mine" as she expresses her disdain for lovers who seek to waste her time while maintaining that the only thing that will keep her committed is an amorous lover willing to spray her with money.
In the accompanying Ray-Fiasco directed music video, her penchant for the finer things in life is on full display. Armed with an all-female cast, she shows off her luxurious lifestyle donned in fur coats and glamorous designer items to further push the song's opulent message. After such a long time away from our hearts and ears, Lola Rae's comeback is coupled with such a fun message and a bouncy beat that pretty much demands for one to start shaking their ass, and we couldn't be more happier.
Sampa the Great – "Time's Up Remix" featuring Junglepussy
Zambian-born, Melbourne-based MC Sampa the Great has shared a new remix of "Time's Up" from her 2019 album 'The Return' and this time around, she's enlisting help from American rapper, Junglepussy. The new version is a stripped back look at the single with more of a focus on the song's lyrics where  they both chuck up a bold middle finger to the music industry about its racist ways.
In addition to the new remix, Sampa has launched a remix competition, encouraging "Black women and nonbinary people across the world to submit their best verse for "Time's Up" The top two contestants will have the chance to appear on a new official remix, along with various other prizes. All proceeds from the "Time's Up" remix go to Pola Psychology, a practice that "provides culturally responsive mental health care for African youth and musicians in their own community, by their own community." It's heartwarming seeing two black women carve out space for other women who look like them while speaking on a very important topic which matters in today's world of global reckoning about the erasure, appropriation, and othering of black experiences.
https://www.youtube.com/watch?v=leQYni0ECK8
Tems – "Damages"
Tems' flow is captivating. When she sings, she employs the effortless precision and skill of a seasoned artist and that is a testament to the strides she has been making since the release of "Mr Rebel" over two years ago. Today, she is celebrated as one of the most promising young voices from these parts, and with each new release, she constantly hits the nail on the head, putting the words to our romantic feelings in a way no one else can. Her latest single "Damages" continues her penchant for making music that hears us at our most base emotions as she soundtracks a kiss-off to a past lover.
Singing "I'm not what you need to be now, cuz I'm done with it now/No more damages now" over the song's infectious hook, she sings passionately about finding the emotional strength to walk away from a love which no longer serves her, though she's been hurt in the past, she's no longer afraid to lose lovers as she was in her naïve 'baby girl' years. Beyond captivating us with the emotional depth of her songwriting, Tems delivers a cautionary message to anyone shrinking themselves to bend to a lover's will, and with her strong, unshakeable voice, she reassures them that they, like her, will make it out of the turbulent relationship.
Tems has always spoken openly about her devotion to her fanbase, the Rebel Gang and this new release feels like a special message for those among them who may be hurting. In any case, she's definitely endeared herself further to us and lured us (myself included) further into the Rebel Gang fandom. The delectable new number "Damages" leaves us pining for more as we await her debut project 'For Broken Ears' which is slated for release next Friday. Watch this space.
Simi – "No Longer Beneficial"
Simi is having a great year, following the success of her singles, "Duduke" and her contribution to Ladipoe's "Know You". Both songs showed her strength at making relatable songs with wide-spreading appeal; connecting with married folks and TikTok savvy teenagers. The singer has now released her new single, "No Longer Beneficial", kicking off the rollout for her coming project, 'Restless II' with a theme song for women who aren't looking for serious relationships.
Because conservative Nigerian society makes it seem like every woman's goal is to find a man to start a family with, "No Longer Beneficial" speaks for the under-represented demography of women who are only trying to have fun with no strings attached. And though Simi's marriage to Adekunle Gold means the song isn't self-referential, she boldly embodies the carefree sentiment like she has lived it before. 
Singing "Why do you want a square to be a pentagon/ Maybe I'd be ready 2021" over the lightweight guitar-led beat produced by Sess, "No Longer Beneficial" is a compelling kissoff to men trying to lock her down into serious relationships. We won't be surprised if this turns out to be another trendy song to soundtrack social media posts. 
DJ K3yz, Oxlade and Blaqbonez – "Mama"
Oxlade and Blaqbonez have reunited for a new collaboration, "Mama", a tribute to maternal affection. The two first showed off the potency of their link-up on "Mamiwota", a romantic bop that established both artists as part of the new generation of afropop hitmakers. Now, they've switched gears and the trap beat Focus Ramon produced for "Mama" has allowed them flex their versatility as they ditch the lightweight romance theme for expressing their sincere appreciation for their mothers.
Channelling hip-hop's candid lyricism, the opening lyrics, "You think shit is funny?" introduces the sombre mood of the song. Each of the artists takes turns singing or rapping over the laidback beat as they describe their harsh reality, growing up in Nigeria and working to get paid. Oxlade's trap soul contribution emphasizes how his mother motivates him to work harder to reach his goals and Blaqbonez's closing rap verse echoed a similar sentiment as he brags about his fast cars while reminding listeners of his humble beginnings. With their melancholic melodies and lyrics, you can tell that they mean every word.
Featured Image Credits: NATIVE
---
Words by Dennis Ade-Peter, Tami Makinde & Debola Abimbolu
---