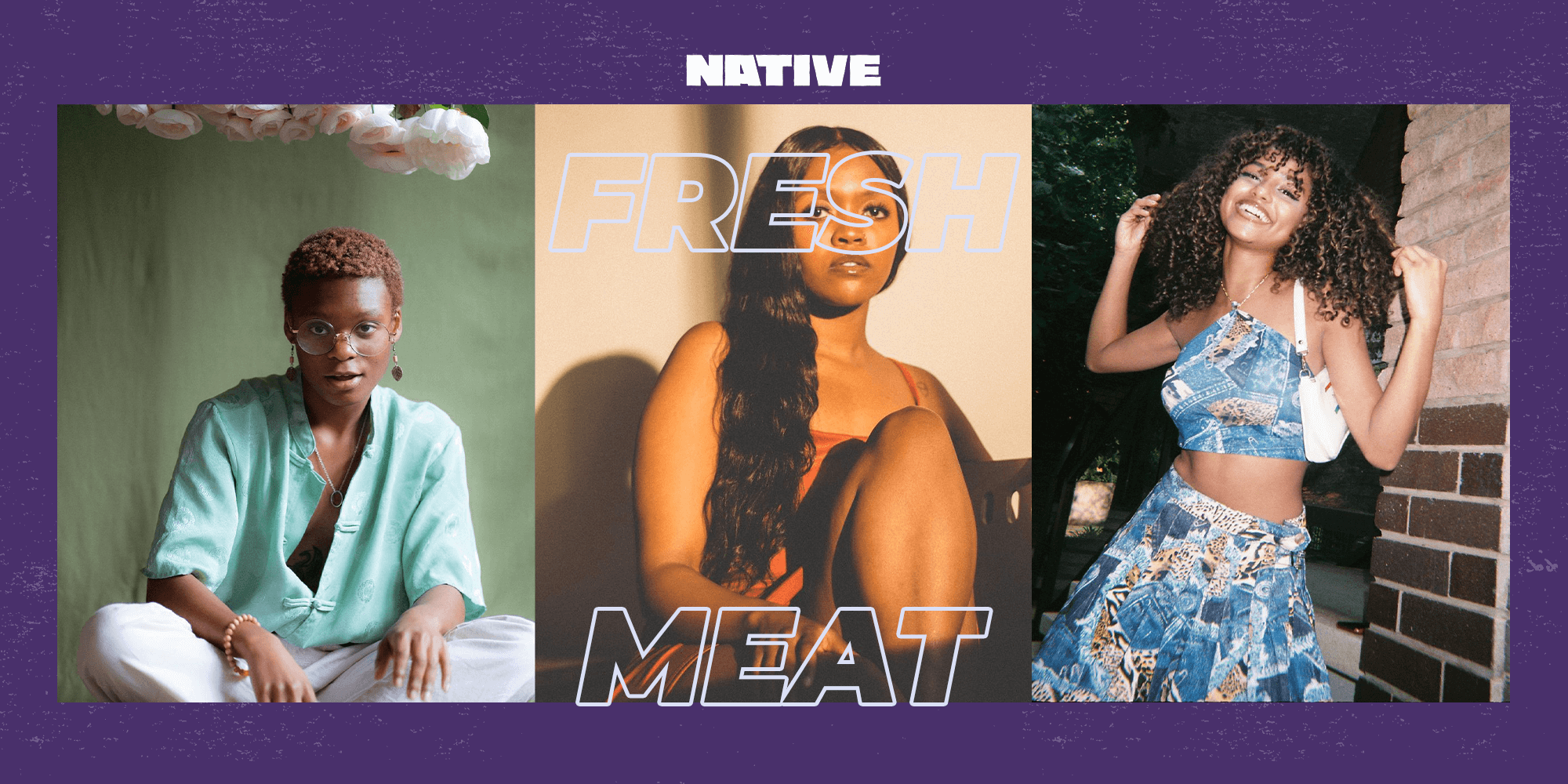 Fresh Meat: Best New Artists (March, 2021)
Including Serena Isioma, Tyla, Nipho Hurd and more
Staying True To Our Mission Reshape The Face Of African Popular Culture, The NATIVE Team Curates A Monthly List To Spotlight The Best And Most Exciting New Artists On The Continent. Some Of These Artists Have Dropped Songs To Some Regional Acclaim, While Others Are Brand New On The Block, Working Towards Their First Big Break. Tune In To What's Next. Click Here For February's Fresh Meat.
---
Women's History Month may be winding down, however, now more than ever, our mission to amplify the voices and experiences of African women, both home and in the diaspora continues to grow strong and firm. Over the past month, we've chopped it up with amazing women from South Africa's Tyla who is well underway to being her country's biggest Gen-Z pop star, to celebrating our African mothers in special ways,  dissecting what it takes for small Black-owned businesses such as Kai Collective to be protected and even exploring the road ahead for Tanzania's first-ever female president, Samia Sulu Hassan.
As we look ahead to a world where female voices are consistently heard and respected in our society, we are celebrating the African female artists who have inspired us to speak our truths boldly in a patriarchal world. Though female artists have always been an integral part of the fabric of our culture, they've often been shifted to the background,  at times pitted against one another, or maligned by critics and fans alike to ensure that only one remains on top. However, this new crop of female artists are showing us that it's possible for everyone to exist and operate within their own lanes, delivering timeless classic music that deeply influences pop culture today.
It has been one year since we started Fresh Meat, and every month since, we have highlighted the best underground talent from all over the world we're tipping for. In that year, we have made it a mission to ensure that the girls are also being heard, and seeing results such as Dee Koala's recent joint venture with EMPIRE reminds us why it's important for us to continue amplifying the voices of women. This is why this Women's History Month, we're dedicating Fresh Meat to the girls who have caught our attention this month.  From Amarafleur's distinct blend of bedroom-pop and R&B to Nipho Hurd's genre-mashing abilities, here are the women that are redefining Afropop, R&B/Soul, Hip-Hop/Rap and so much more.
Tyla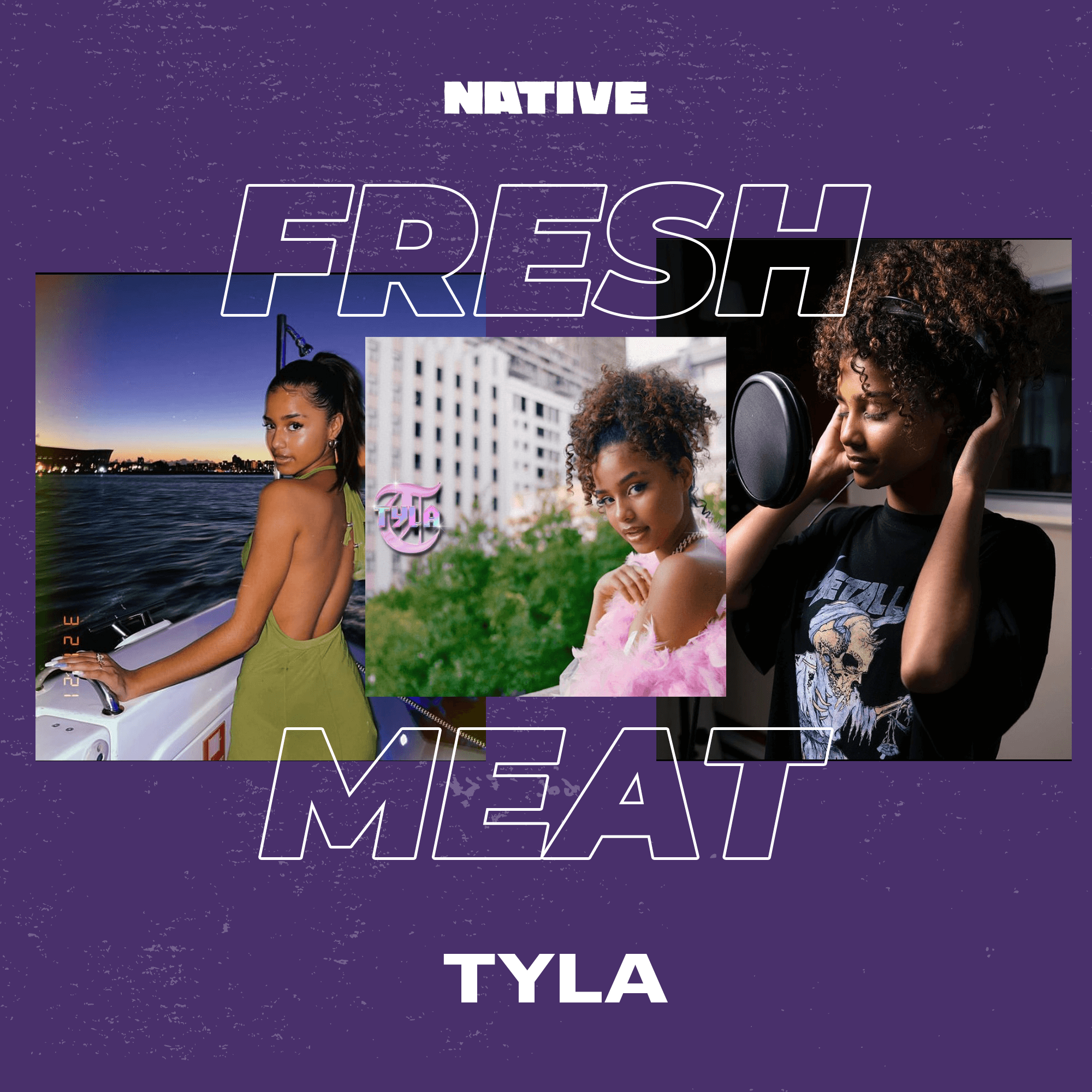 These days, the line between what is considered avant grade and what is mainstream becomes thinner each day, and this is good news for creators as they get to test their own limits and boundaries. 19-year-old Tyla Seethal is one of such artists, who is fusing a multitude of different genres and sounds to create her own distinct sonic style that affords her the opportunity to operate within her own lane. Although she currently only has one single to her name, the budding starlet is already being recognised, thanks to her unmistakable voice, which has endeared her to a multitude of listeners from across the globe, both old and young.
Tyla's debut single "Getting Late", is an earworm track that seamlessly blends pop sensibilities with the groovy percussive sounds of Amapiano. After releasing the groovy number back in 2019, Tyla was on a mission to expand the world around the single by releasing its accompanying music video. She wanted it to be the "biggest one in South Africa" and employed a team of close friends to bring her grand vision to life. However, Tyla's career was put on hold a few months later when the world went into lockdowns due to the COVID-19 pandemic. Speaking to the NATIVE earlier this month, the rising star shared that she "struggled with patience" as she tried to grapple with the fact that her visual introduction to the world would be delayed. Still, this didn't deter Tyla who ended up turning to social media to promote her single. 
The result is now being witnessed by everyone today, as the South African singer has become quite a hit on apps such as TikTok where she releases short clips and videos of her and her friends dancing to her song. Through TikTok, Tyla found a community of fans and listeners who stayed tuned into her content throughout the quarantine, eagerly waiting to see how she pulled off complex dance moves with ease. This year, Tyla finally got round to releasing the song's Bring It On-inspired video where we see clips of Tyla getting ready with her girls for a marching band-led cheerleading performance. The video ends in Tyla and her friends delivering a stunning performance while her crush, played by the song's producer Kooldrink, tries to win her over. 
To anyone looking from the outside in, it seems like Tyla's ability to stay in tune with Gen Z popular culture has won her the hearts of many but it's really down to her ability to meet the demand for something unique in today's ever-changing industry. Tyla has already revealed her plans to experiment further with her sound on subsequent releases, admitting that she's ready to try her hands at a myriad of different genres so it's fairly certain to say that we may soon receive more genre-mashing bops from the singer. With only one official single out in the world, it may still seem like early days for Tyla but we're already hedging our bets that 2021 is going to be one for the history books. 
Serena Isioma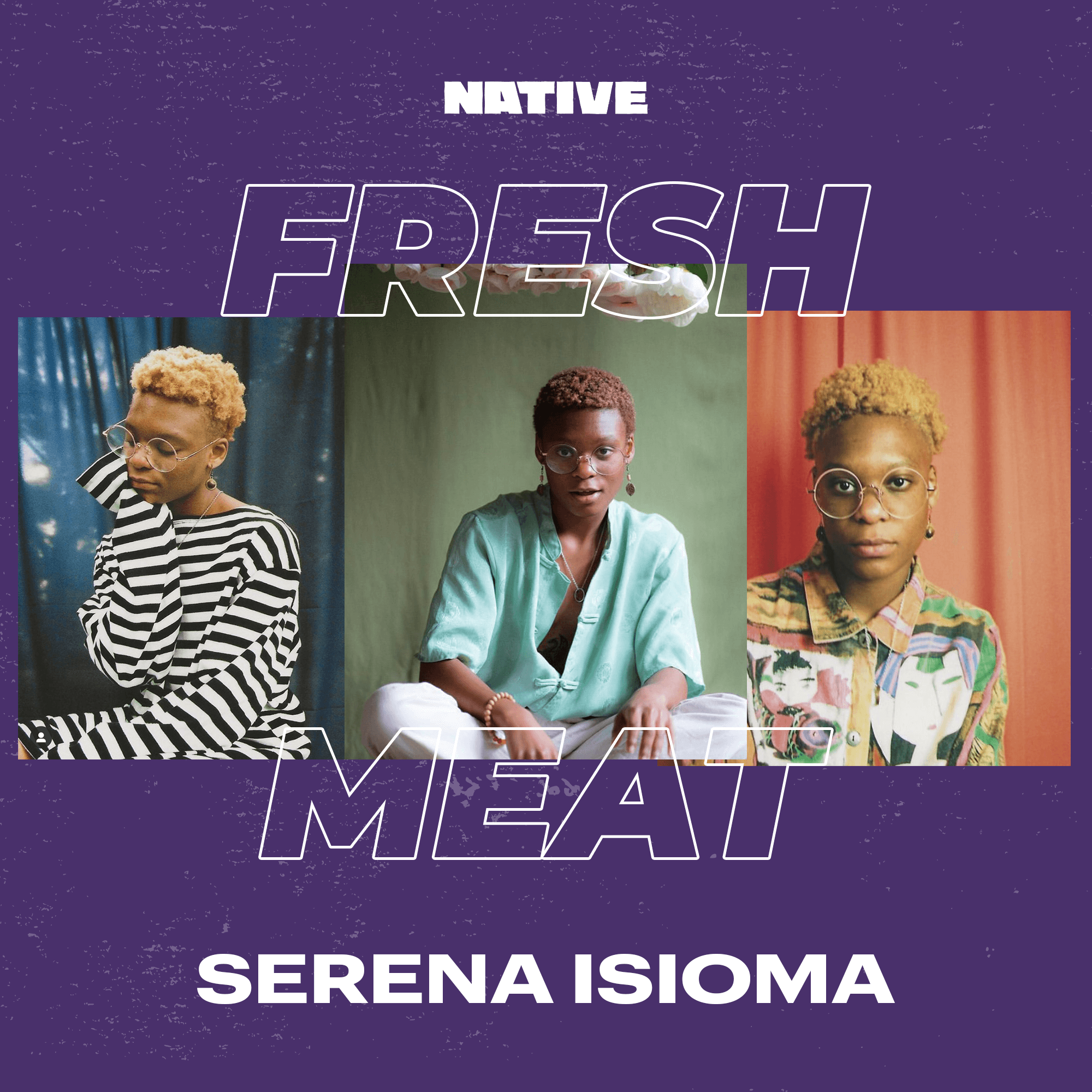 Sometimes when you hear a song for the first time, you just know it's going to be a hit record. This is how I feel about Nigerian-born, Chicago-based singer Serena Isioma's breakout single "Sensitive", the multigenre number which took over TikTok in the early days of quarantine last year. Only a handful of artists can make the same kind of electrifying introduction that Serena Isioma displayed on the number which finds them calling out everyone from fuck niggas to the government and sellouts. "Fuck niggas always tryna take my shit/Bitches these days are so sensitive" they quip over the futuristic production, as confident, self-assured lyrics flow effortlessly from the song's very first line. So far, "Sensitive" has amassed over 80K videos on TikTok as it finds a home in a generation of social media users and influencers who are the very definition of the rebellious, care-free kids that Serena sings about in their music.
As a first-generation Nigerian-American, Serena Isioma grew up with parents who nurtured their musical abilities from a young age. The non-binary rockstar once shared in a recent interview that unlike maths, which they find incredibly tasking, music came naturally to them. "I eat, sleep, and breathe music," they had said, echoing just how important music is and how committed they were to follow this path. The result of this unwavering dedication is seen best in their debut EP, 'Sensitive' aptly titled after their breakout single of the same name. The 5-track EP sees the singer seamlessly combining hip-hop sensibilities with lo-fi melodies and pop sounds arriving at a mixture that completely distinguishes them from their peers. Across the project, Serena Isioma showcases her impressive range and her unique style. There's "Valentina" which is a sweet-sounding love song that finds the singer declaring their infatuation for a woman delivered with a fiery passion. Elsewhere on "Move" feat. Hatesonny, Serena Isioma soundtracks the intoxicating feeling of falling in love in a dimly-lit nightclub, their soft voice effortlessly gliding over the song's spacey production. While on "Hard", they encourage listeners to move on from discouraging experiences or losses because they do not determine the trajectory of their lives. There's no song on the project that isn't smooth-soothing and beautiful as they sing in a light airy voice that sounds almost like they are taking languid stretches over the beat.
Now, Serena Isioma is coming into their own in a very big way with their recently-released sophomore EP, 'The Leo Sun Sets'. The project sees Isioma expanding the scope of their sonic ability as they explore an even wider range of sounds and genres from Funk basslines to heavy-hitting Rock drums & rhythms. We see Isioma finding their lane sonically as they deliver a 7-track project that traces themes of romance, self-discovery, solitude, anti-romance, self-love, and more. The project was compiled during the coronavirus-induced lockdowns of the past year which allowed them to create more than ever before. Speaking about the new EP, Serena Isioma revealed that, "Everything about this project touches on incredibly personal things that were happening in my life at the time of making this project. I'm glad I was able to tell my story in a way that resonates with others." This statement rings through the most on the opening number "King", where we find Serena Isioma boldly declaring to the naysayers "I'm the king of me". The song is a powerful message of self-worth and power as each word carries a profound sense of self-awareness and shows a level of depth that is unfound in many young artists of today.
As Serena Isioma evolves and continues to experiment with their sound, the potential is clear and unshakeable. With the new year in sight, the singer is now looking to continue this forward motion with the eventual release of their debut album which seems to be slated for release sometime this year. In any case, there's a wealth of old singles you can spin on repeat till they are ready to share their debut. Watch this space.
Amarafleur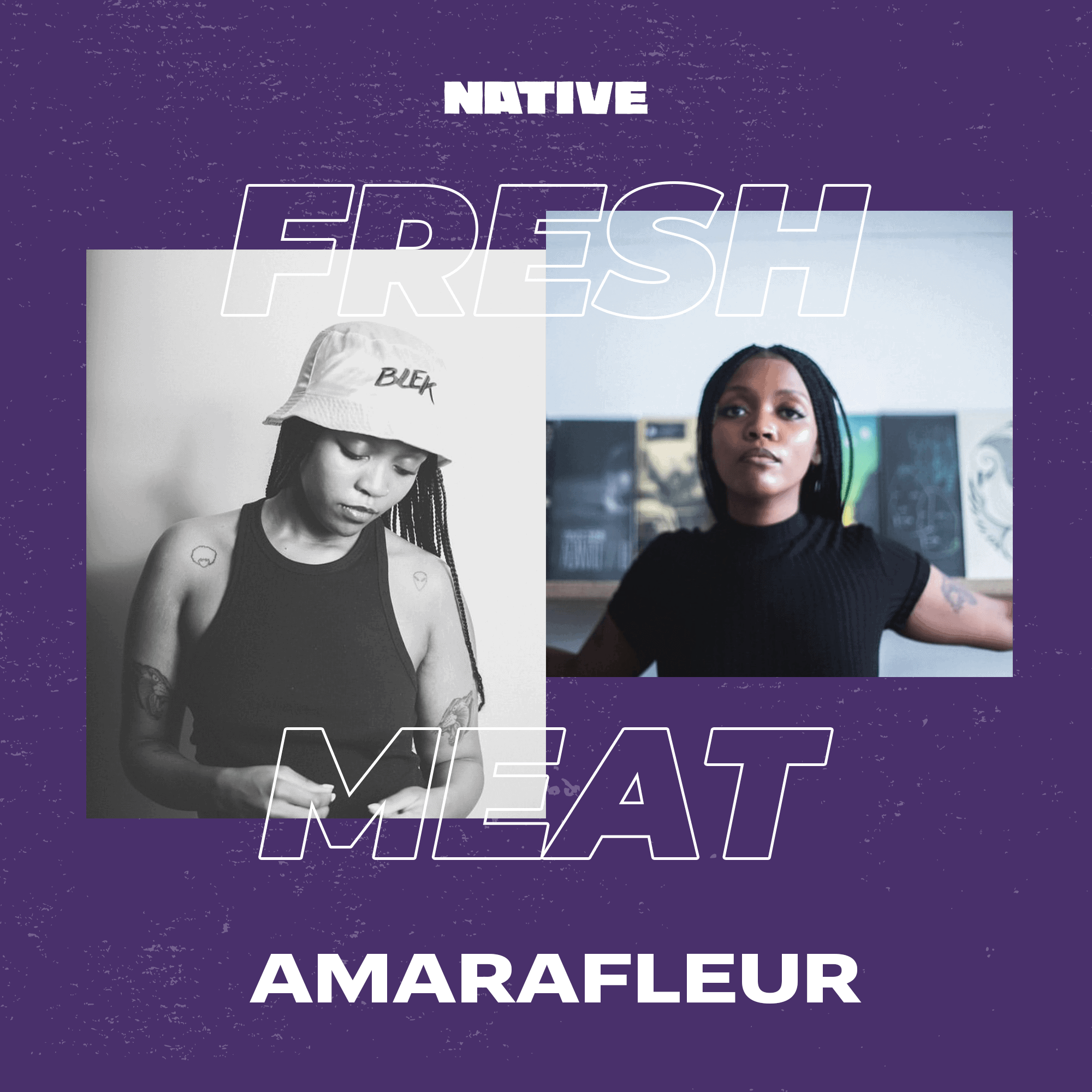 It may seem like Amapiano, Hip-hop and House music often dominate the South Africa's music scene, however, from collating these lists every month, we have observed that there's a massive r&b scene out there. Even more interestingly, this scene seems to be dominated by women, who are coming into themselves and expressing their true selves through song. With only a few songs in her discography, Amarafleur has made a clear stamp that she's one to look out for, thanks to her serene vocals, confident songwriting and distinct style.
Amarafleur's month old 3-track EP '…And Then I Stopped Caring' grabs your attention right from the title. The cover art, which sees a desolate-looking, blue-tinged Amarafleur looking into the distance, already gives you a good idea of what to expect from the project, and what you see is really what you get. The first track, "A Reminder", she reminds listeners about the power they have within, in a convincing and confident pitch against a cool, slow tempo beat. From one listen, you can tell that Amarafleur is an integral part of the r&b revolution going on in South Africa at the moment, and out of all three songs, the pre-released "Whole" identifies this the most, with the bouncy beat reminiscent of a Lauryn Hill in the 90s. Pop culture's harnessing of nostalgia has proven successful for many artists, and will certainly benefit Amarafleur. With her measured flow and vocal range, it's only a matter of time until she works her way into the limelight, and judging by the reception of other women like her, she's on track.
Celine Banza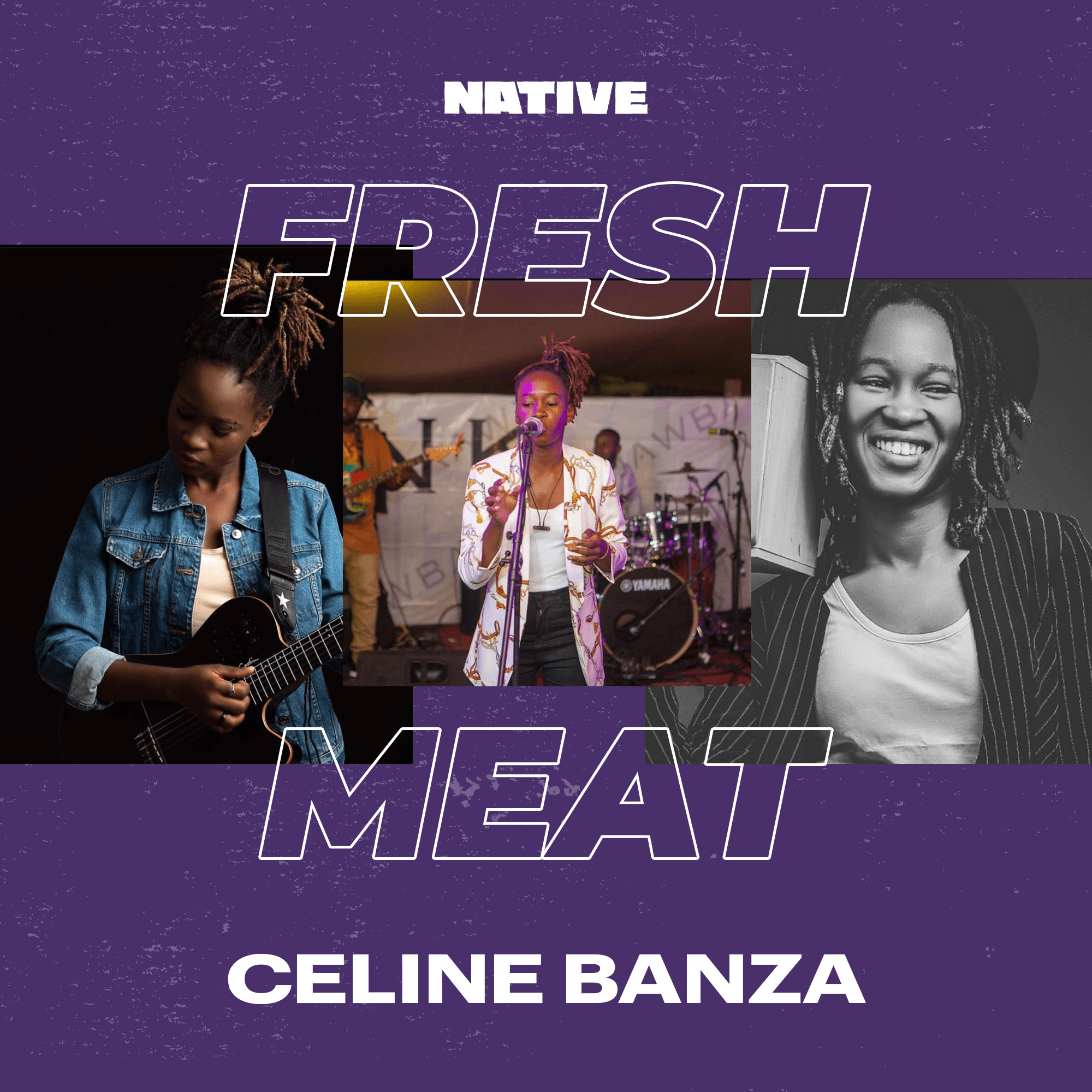 Listening to Celine Banza's music is like having your ears pressed up on her heart as she unfurls honest, sometimes complex, musings with an affecting grace. In late 2019, the Congolese singer, songwriter and guitarist won the gilded Radio France International Discovery Award, on the back of her powerful song, "Te Rembi", a stirring ode to femininity that manages a handful of caustic swipes at the way society (read: men) centres and censors the sexuality of women at every given chance. "You think you can buy my soul with your assets/you confuse me with a commodity and a slave", she sings on the track whose title simply translates to "My Body".
The RFI Discovery Award, which has been won by several breakout acts from the Francophone region of Sub-Saharan Africa, has several perks usually attached to it, including a €10,000 cash prize, a mini-African tour, and a headlining concert in Paris. Due to the disruptive effect of the pandemic early last year, Celine has yet to cash in on the non-monetary parts of her win, which will bring her to new audiences across several countries. However, with society gradually opening back up this year, she's still very on the money to capitalise on this opportunity, especially with the recent release of her excellent debut album, 'Praefatio'.
Much like her breakout song, Celine's full-length debut is rooted in emotionally expressive lyricism with a slight poetic twist, and a modern Folk sound that incorporates Neo-Soul, Soft Rock and Afro-Soul into its gently shaded landscape. 'Praefatio' is a largely personal album, drawn from societal observations and experiences, especially the passing of her father while she was young, but there's a communal, relatable edge to the music. Celine mainly sings in Ngbandi, a local language spoken in the north of Congo, with the occasional song in English and French. It's an assertion of her identity, a lingual choice that will very likely draw in more audiences than alienate, considering how instantly engulfing her music is on the strength of its identifiable tenets—the music and her voice.
Reminiscent of Folk-rooted singers like Oumou Sangare, Asa, Fatoumata Diawarra, and more, Celine Banza is telling her story and holding a mirror up to society without compromising her artistic vision, setting her up as the latest addition to this enviable canon of inventive and continentally impactful lineage of African women artists.
Nipho Hurd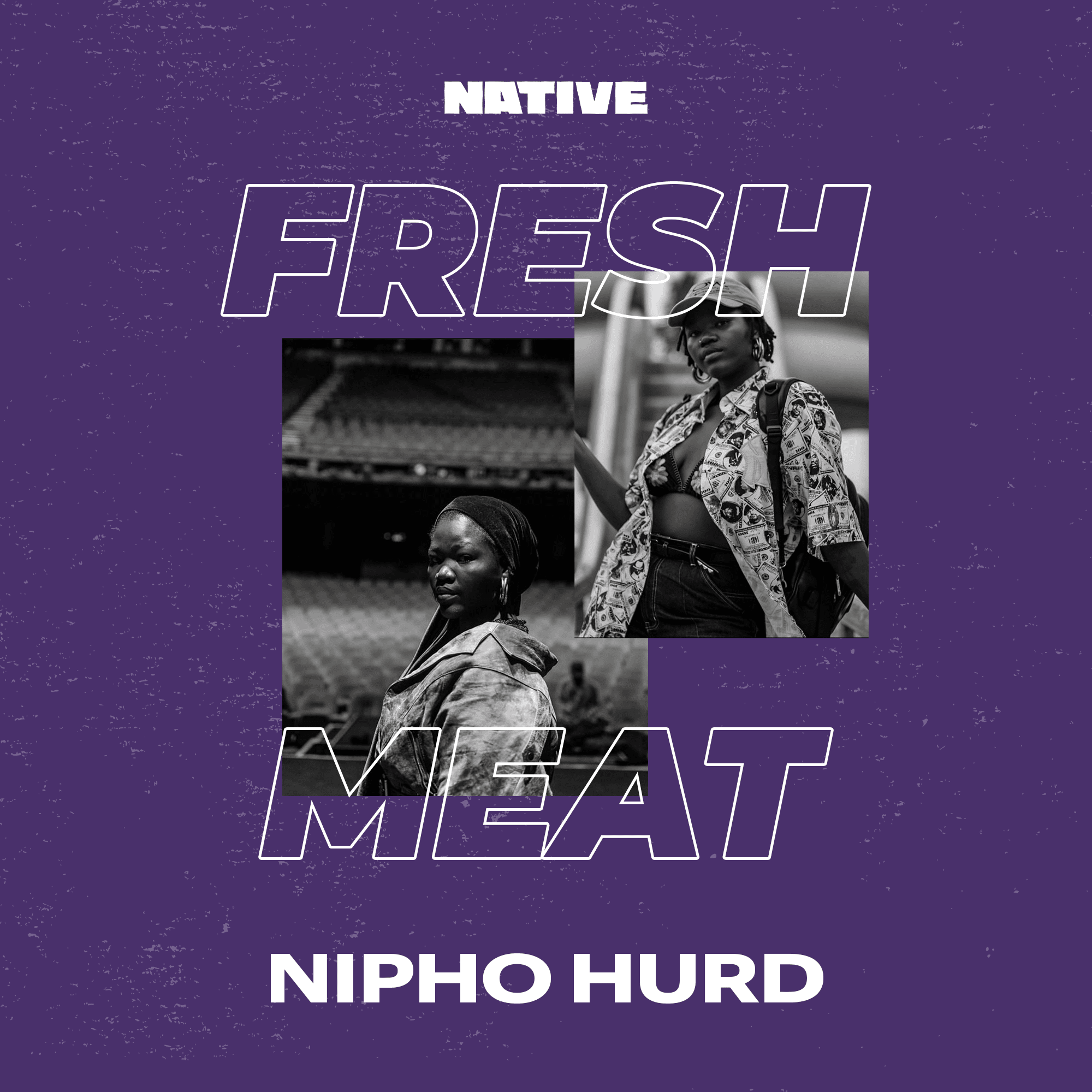 "This song goes out to all the ladies dating a bag of wet hair", Nipho Hurd offers at the very beginning of her impressive debut EP, 'The Ghel'. Released about a year ago, that opening adlib shows the directness that makes the South African singer's music immersive, especially coupled with her preference for an eclectic and altogether soulful soundscape. "Money", the track containing that line, sees Nipho grappling with the influence of finances—or lack thereof—on relationships, with an understanding that both sides have to carry their weight even if the dynamics are bound to vary from based on the people involved.
The song is a great example of how much Nipho Hurd's music hinges on the balance between universality and her own personality. Her thematic concerns are commonplace factors of the human existence—romance, financial self-sufficiency, fun, understanding of self—especially relatable to young adults who are still figuring the world out. What makes her stand out, is how she approaches these topics in a way that asserts her unique person and gives listeners the nudge to examine their own values. "My EP is a symbol of strength to me", the Durban-based singer told Red Bull at the time of its release, explaining that her process of making music is a way of engaging with personal empowerment and self-improvement.
To do this in an effectively, the self-described nonconformist wraps her cloudy, sublime voice with varied layers of musical styles, pulling threads from Neo-Soul, Funk, R&B, Hip-Hop and Jazz into a warm whole. While the pandemic affected her plans, the year since the EP release has seen the singer find ways of engaging with her growing set of fans, performing her music on a few virtual shows. She's also continued to experiment, recently revealing to Texxandthecity that her forthcoming release will feature her personal take on Trap, a genre she's been fascinated with in the last few years.
Within the context of South African music's R&B/Alternative corner, Nipho Hurd is another compelling character helping to push past conventions, both industry and societal. With an unbending dedication to being herself, and inspiring others to be themselves unabashedly, her message will only get louder and those who identify with her will multiply in the near future.
Featured image credits/NATIVE
---
Words by Dennis Ade-Peter, Damilola Animashaun and Tami Makinde