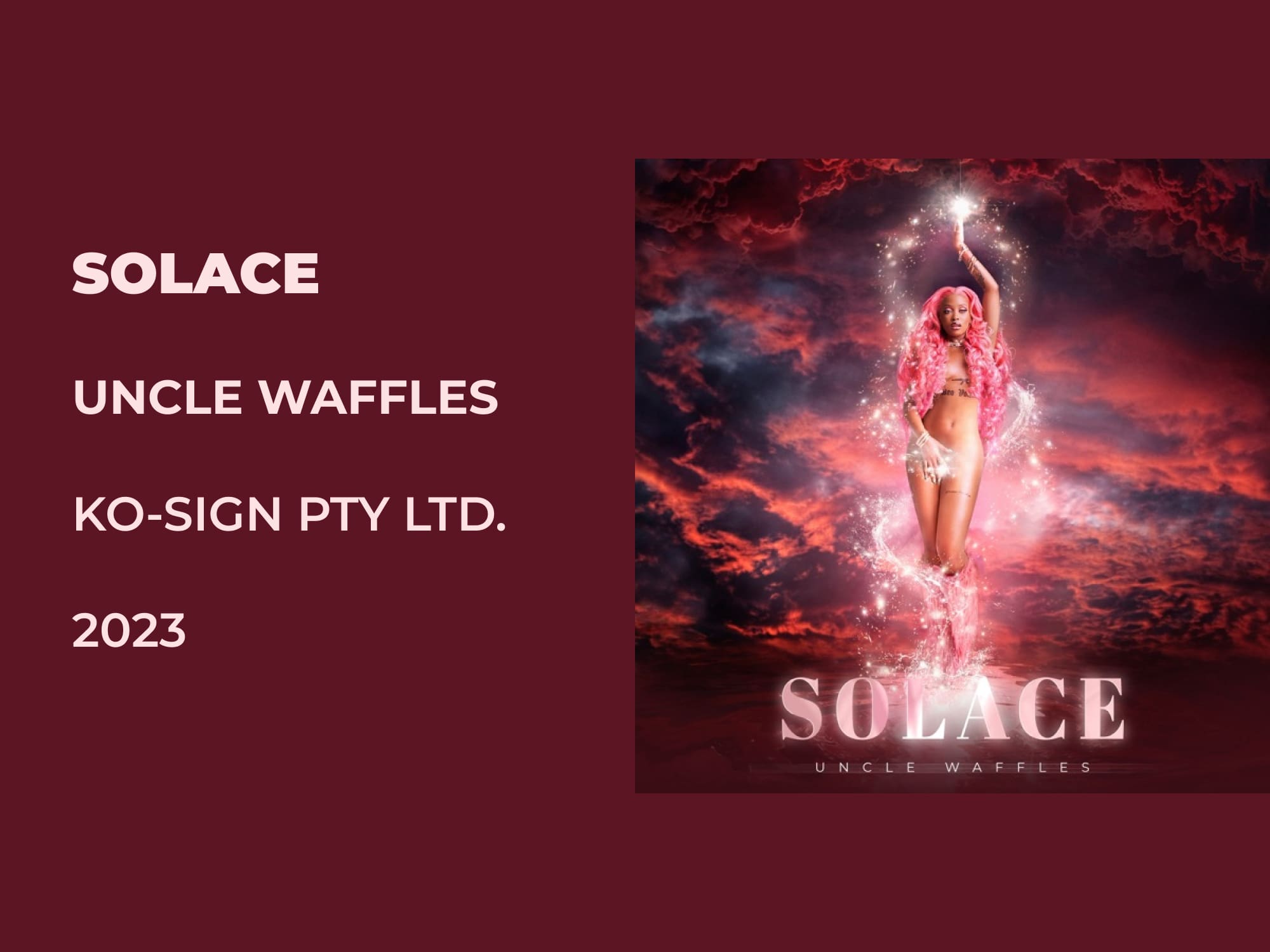 Review: Uncle Waffles' 'Solace'
stretching the boundaries of private school & Barcadi-House 'Piano Amapiano is a feeling. As the South African-honed sound continues to traverse the continent's borders in increasingly unfathomable ways, language has not proven to be a barrier to its global success. Through the success of the genre's frontrunners including Major League DJz and Vigro Deep who continue to sell out venues across the globe, to the widespread love its receives on social media through instant virality, it's clear that Amapiano is here to stay. Perhaps the most fascinating export to arrive from the genre's global success, is Eswatini DJ Uncle Waffles who is similarly garnering a lion share of audience attention through thrilling DJ sets on the hottest stages including Afronation and Coachella.
View this post on Instagram
It's impossible not to have come across or heard of Uncle Waffles. Through her infectious dance moves, the DJ and artist is inviting more audiences to experience and listen to Amapiano, the global sound of South Africa's townships. This is the latest South African music genre to see its artists on the global stage, with Spotify streams outside of Sub-Saharan Africa growing more than 563% in the past two years. Building on her approachable personality and proximity to fans, Uncle Waffles creates a connection whereby she engages with her audience on TikTok and regularly previews new tracks and scouts new artists, bringing listeners into her world.
It's through the world of social media that Waffles first got her foot in the door through the viral success achieved in 2021 while playing Young Stunna's "Adiwele," to a dance floor of enthralled audiences. It's also through social media that the DJ landed the attention of her team, South African-led Kreative Kornerr run by Zeus and Kai who further her global ambition through well-thought out campaigns and social outreaches with her growing legion of fans. Social media also serves as Waffles experimentation ground for testing out new material and connecting with new artists who she then invites to collaborate and contribute to her growing sonic tapestry. Following the release of her debut EP 'Red Dragon' and chart-topping single "Tanzania" in 2022, the Estwatini DJ and artist returned this year for her second project 'ASYLUM' which laid the foundation and served as the first instalment for a full-formed LP now titled 'Solace.'
Ever the keen observer and shaper of the current tides of culture, Waffles returns strong and confident on 'Solace' which reinforces her ability to operate as a industry tsunami with minimal effort and maximum skill despite being only two years away from her breakout moment. On the new album, she continues to draw converging lines between the music and her audience, cementing her impact as one of the female leaders in South Africa's male-dominated dance scene.
Given that advancing the culture remains central to Waffles' global vision, her ability to effortlessly translate meaning and feeling on the screen, champions her more viral moments. Think "Yahyuppiyah," her lead promotional single for sophomore release, 'ASYLUM.' The track's urgent delivery and heavy shakers delivered an infectious buzz that has soundtracked many TikTok videos since its release. The stacked song credits, featuring Pcee, EeQue, Tony Duardo, Justin99 and Chley not only reiterated her dedication to the genre's ethos of community by providing other artists and producers with a platform, but also shed a light on her first-rate ear for music and the culture around it. The song's accompanying dance and infectious production spread like wildfire on social media, playing into Waffles' strength and understanding for surveying the culture while informing it in real-time. 
This innate understanding has set the tone for the rest of her journey as she ascends the ranks. The appeal of Amapiano is rooted in dance and rhythm, which is gleaned through the emerging culture around it. More than just the music or the lyrics that audiences are hearing, the ability to connect with listeners through a video and social-first approach has allowed audiences from around the world to tap into the genre's fabric by peeling back the curtain on its language-barrier. The speed with which Uncle Waffles has made her name, as one of the most important voices of the younger generation of hitmakers is nearly unprecedented, and this is mostly entirely due to the proximity listeners have to her truest and most vulnerable feelings on social media.
When her sophomore release 'ASYLUM' arrived, it was clear that Waffles felt the need to provide a refreshing contribution to the dance subgenre. This created a sharp contrast with a visibly dark, almost daunting, effect in her tone and delivery. Armed with moody, pensive beats buoyed by catchy features, Uncle Waffles peeled back new layers of her artistry on 'ASYLUM'  with infectious rhythms and melancholic melodies that command you to bump your head and sway your hips. However, the heart-thumping drum patterns paired with light shakers are only one part of the inventive equation when you consider the continued presence of Private School Amapiano and the Deep-House-led excursions. So, while the party anthems remain a crowd favourite with good reason, the melancholic interpretations also served to further encapsulate the genre's many facets. In Waffles' world, light and dark are able to exist in tandem, rubbing off on each other but never truly commingling.
As Uncle Waffles hurdles closer to the crown jewels of Amapiano with a mastery of these varying frames of reference, she elucidates that in her world, light and dark can co-exist. Her recent addition to her catalogue, 'SOLACE,' — '(An Asylum of) Solace' acts as a follow-up characterised by dazzling synths and wide percussive bass lines providing a soulful touch and broadening our sonic palettes one chord at a time. On the album opener and promotional single "Echoes," featuring Tony Duardo, Manana and Lusanda, Waffles provides the perfect backdrop for her visitors to chant with lyrics such as "Echoes, but you're not trying to let this go" which set the effervescent tone of the project. Both Manana and Lusanda are important mainstay acts in South Africa's burgeoning R&B/Soul scene and their appearance on this track further enunciates Waffles more emotive, vulnerable moments .
The project's title goes a long way in establishing the mood for the rest of the listening time. Comfort, cheer or support perfectly describe the tone of Manana-assisted "Echoes." Waffles leads in with the genre's mainstay embellishments, drawing curious ears in with a familiar bass-heavy pattern lined with subtle shakers. As they drift in and out of the song's production, their voices and lyrics hold a sense of equivocation in expressing their emotions, as though uncertain to speak their mind. The next track "Peace and Happiness," continues this penchant for brooding beats and delectable shakers.
"Peace and Happiness" is a fusion of heartfelt memories and a good time. Here, Kamto and Khesto snag production credits on the second track embellished with bubbling piano chords, gently tickled by raspy vocals. Wordless chants and harmonies evoke the feeling of euphoria supported by the occasional drum infusion. "You give me peace and happiness, oh yes/In my soul, in you I echo," the mid-cadence vocals croon, continuing the project's aforementioned themes of love. This, however, takes a brighter and significantly less daunting approach—a smooth attempt to lift the mood in the groovy soundscape. So far, our introduction to Waffles' solemn side presents a nuanced view of soul music and acid jazz, secured by a string of House embellished keys. 
On 'Solace,' Uncle Waffles is leaning towards Private School Amapiano–a school of thought which believes that Amapiano should be more soulful and heavily vocalised. It strays away from the heart-thumping drum patterns paired with light shakers and general production-led facet to the genre. On the contrary, this embraces melancholic interpretations to evoking the same transcendental emotions. Seeing as the genre is dance-focused and was majorly exported through upbeat bangers with intoxicating soundscapes as seen on Focalistic's "Ke Star" or Mellow and Sleazy's "Bopha," Private School Amapiano is yet to witness a similar upwards trajectory. Other than tracks like Kabza De Small's "Abelele," the Bacardi-House party anthems remain a crowd favourite. 
There's no party without Uncle Waffles and she reminds listeners of this on the project's next track "Peacock Revisit" which interpolates a vocal interpretation of bubblegum group Splash's 1986 hit, "Peacock." On here, Waffles shows her true skill, coalescing basslines and Barcardi House flows into her orbit. The song's progressive nature builds a steady momentum with a creeping bass, backed by a penny whistle that drives its rhythmic qualities up several notches. "Peacock Revisit" is a call to action from Waffles to the audience, complete with drum kicks and playful snares that beckon them immediately to the dance floor. 
As the project builds, it's clear that improving her skills and that of her collaborators is a great source of pride for Uncle Waffles. On "Waffles Anthem," she taps a slew of artists to showcase their undeniable skills, providing the artists space to fire off their dazzling over-the-top spectacle. Murumba Pitch is a familiar name given the artist's outstanding vocal contributions on the hit single, "Hamba Juba." On "Waffles Anthem," there is an almost hypnotic feel to the track, helmed by the seductive saxophone, clashing cymbals and Pitch's sonorous vocals. In true anthem fashion, he smoothly slids over the mid-tempo production with charming boasts using Waffles' name. Shakes and Les, frequent collaborators with the 'Piano princess, couldn't be a more perfect pairing with Pitch for the celebration of her charismatic personality.
MaWhoo's rich vocals fight for space amidst the pleasant cacophony of instruments on "Khumbula." The jazzy undertones smoothly glaze the blend of sounds, allowing Msolo's honeyed croons to form an enticing ballad of melodies that further amplify the track's celebratory nature. The project's penultimate track, "Khula," presents a smoother blend of percussive elements that aptly represent the chirpier atmosphere of the extended play. The repetitive lyrics also give enough room for a lush soundscape created by the kalimba and piano progressions to flourish. 'SOLACE' wraps up in a bittersweet moment with its titular track in a captivating mix of guitar and piano chords. Reminiscent of smooth jazz records, "Solace" portrays a relaxed atmosphere with minimal lyrical backing to celebrate Ice Beats Slide's proficiency in instruments. 
As the Amapiano genre continues to redefine the status quo, Uncle Waffles is navigating the industry not just as a newcomer but as one of the youngest women competing for a share of attention against powerhouses such as DJ Maphorisa, Kabza De Small, Major League DJz and more. More importantly, Uncle Waffles is changing the rules of the game and playing on her own terms, as she widens the potency of her arsenal with animated DJ sets and experimental music that brings other emerging artists to the fore. Waffles has proven that DJs no longer have to be one-dimensional, embracing her vulnerability and assertive storytelling to empower other African women just like her.
There's no denying that Uncle Waffles is someone we will continue to keep close tabs on. Her desire to redefine the status quo, push the envelope on the spaces reserved for women, as she navigates the industry with the vim of a newcomer and the confidence of a veteran, is admirable. Uncle Waffles is a sonic, human manifestation of the popular saying, "Amapiano is the lifestyle" and continues to reaffirm herself as a powerhouse capable of global domination.  'SOLACE'  adds another string to her bow, as she pretty much continues to go warp-speed on her abilities, making music that is thematically bound to introspection and constantly evaluating personal truths.
Listen to Uncle Waffles' 'SOLACE' here. 
---