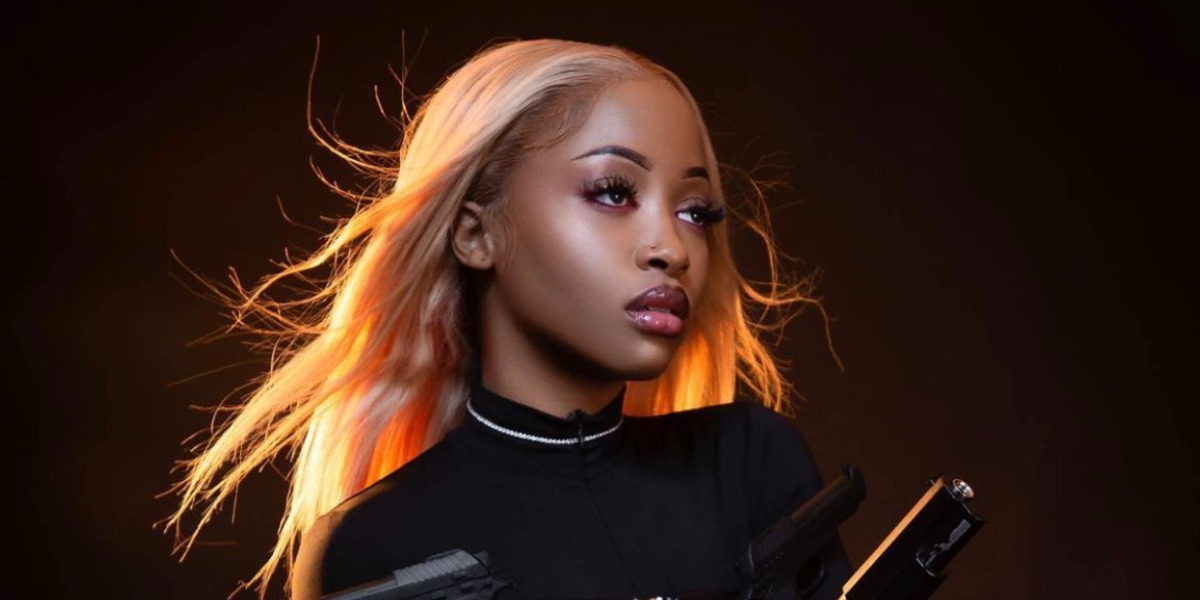 A 1-Listen Review of Uncle Waffles' Debut EP 'Red Dragon'
A showcase of her sure-fire abilities
Social media plays an indisputable role in the music we enjoy today. Over the years, we've seen social media's power to boost an artist from operating on the fringe margins to viral success, as seen from Fave, Khaid, and a spate of other talented newcomers. Similarly, Uncle Waffles was such a sensation in October 2021 when a feel-good video of her DJ'ing and whining for a hyped, intimate room went viral.
The South African polygoth rode the wave for the rest of last year, but soon carved the blueprint for a career as a recording artist earlier this year. Her debut single "Tanzania" unites three other performers from South Africa, with Waffles' production sizzling beneath their spirited vocals and introducing her sure-fire abilities to newfound her audience. Burnished with the energetic party room vibe of Amapiano, the record made for an interesting entree into the music of Uncle Waffles.
Earlier today, her first project 'Red Dragon' was officially released, months after that single fanned the embers of Uncle Waffles' heated sprint towards stardom. The four-track EP follows in the heavily collaborative style of the genre she operates in, packing almost thirty minutes of run-time in that space. Recently making our March column for the talent-spotting UNDER, Waffles' project will now get our one-listen treatment.
View this post on Instagram
In usual 1-listen review fashion, all reactions are in real time while the music plays. No pauses, no rewinds, fast-forwards or skips.
"Tanzania"
I didn't know when this came out, shame on me. Well, great vibes are never hidden for too long and this, surely, is a good start to the project. There's something intricate and delicate about Amapiano production like this; every element builds like a picturesque house in a mystery novel. These vocals are bewitching, energetic and really in sync with the song's bounce. The features have different textures, but there's no clash here. Soulful female voices meld with the gritty men's, the percussions rattling behind to create a truly immersive atmosphere. Of course, I don't know what's being sung but between the word 'senorita' and 'Tanzania', I'm picturing a drop-dead gorgeous East African diva walking into the studio where this was made, and just taking everyone unaware with her luminous beauty.
"Umalume Wako"
If the opener was a light-headed entry into Waffles' universe, this is sturdier, like staggering into a forest while drunk. There's an open-air vibe about the record; at the same time it retains intimacy, like the music that plays when a camera zooms in on a film character who's conflicted and thinking stuff out. I guess that's the thing I love about dance genres, the easily shifting gears between public and private, how one section could build on melancholy while another is more celebratory. Depending on who's listening, you're either dancing away your problems or caught in a dreamlike state of reverie, where nothing can penetrate the satisfying warmth of the drums building around you.
"Uwelona"
The chord progression on these opening seconds is similar to those on Rema's "Calm Down", but they're definitely spacier keys. "Uwelona" is a decidedly different vibe from the other pair of songs on this project. Moving with the reserved pace of an interlude, it settles the energy of the tape so far. Those keys are just one element of what makes this song so soothing; the drums are as well warm, forming a beautiful backdrop when jazzy horns are introduced. The singing on this is also the most accomplished so far, evidently invested in complementing the laidback mood of the production. Waffles is not the only producer here, that much is clear, but the disparate textures of sound are neatly woven. As the song progresses, other elements enter and leave, moving in a truly unpredictable way. The best way to enjoy Uncle Waffles is by letting go of any expectations and just sinking into the hypnotising feels of the music.
"Love I Need"
This song is credited with five other collaborators and at eight minutes, Waffles is definitely going for an epic closer. Cinematic: that's the word that best describes these opening seconds. Waffles' drums exude the sustained mystery you'd hear in the music of veterans like DJ Lag and Kabza De Smallz but her keys tend to be more mellow. Following the previous song's lead, the singing here is soulfully inspired. As always, I'll reiterate my opinion that South African voices are some of the richest on the continent and I think that's because of their vibrant relationship with their indigenous languages and cultures. Anyways, this is a bop, although I think it wears a little thin after the fifth minute. The seamless flow between the singers is one of the highlights of the record, while Waffles' production provides a consistent cushion for their vocal acrobatics. WHAT ARE THESE SYNTHS? Okay, I spoke too soon, the song's pulling into an affecting closer, voices lulling like angels into the world's darkest void. This is perfect.
Final thoughts
Uncle Waffles' 'Red Dragon' portends a credible start to her career, it includes an incredible selection of the excitable sounds that makes the South African music scene so heralded. Of course, the nature of her come-up casts the sceptical shades of a familiar pattern on her name, but what better way to showcase her talent than putting this project out?
To her credit, Waffles is not all about being a one-woman show, rather using her popularity to salute decades of musical tradition. What emerges is the earliest indication of a producer and artist primed for the top level, and it's surely worth keeping an eye out for this 21-year-old who's uniquely flying the banner of one of the most recognisable genres in the world today. With her debut EP now out, we're excited to see where Waffles goes next.
Stream 'Red Dragon' below.
Featured image credits/UncleWaffles