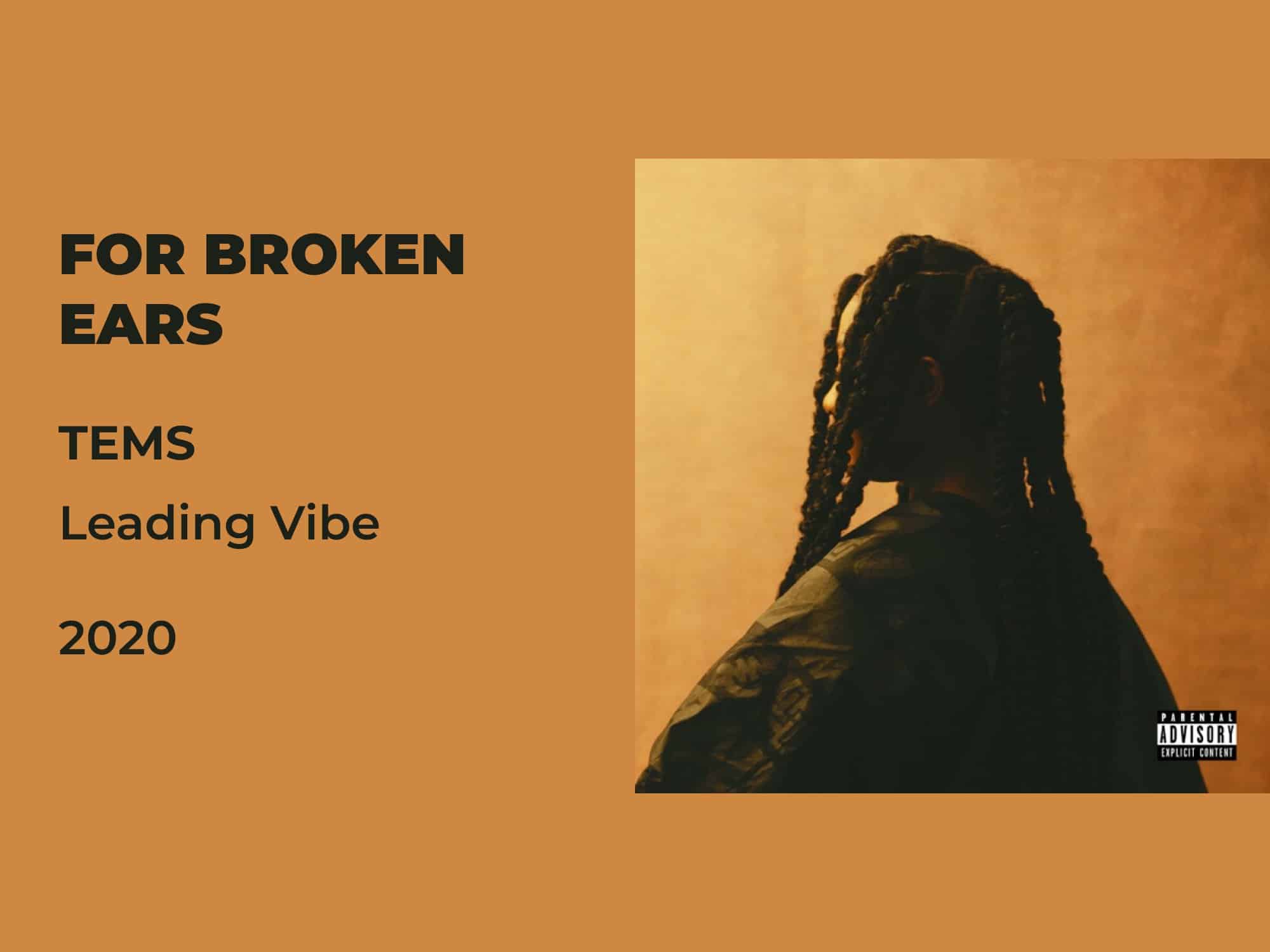 Review: Tems' 'For Broken Ears'
Tems provides aural healing
On "The Key", the final song on her debut EP, 'For Broken Ears', Tems delivers her most powerful message which easily surmises the space she now occupies in the new vanguard of Afropop stars. Singing loudly atop a groovy mix of airy synths and vivid percussion patterns, she musters the words "their chains they cannot hold me" just as the song is about to fade out. But her lyrics, simple as they may seem, are a triumphant declaration of the fervour with which she operates having been delivering at the top of her game for the past two years. It's hard to imagine that she's only just offering up her debut but the 7-track offering makes for a potent and unforgettable entrance.
With 'For Broken Ears', Tems adds another string to her bag of therapeutic sounds. Infact, it's possible that you couldn't build a person more suited to offer emotional comfort through music. The NATIVE 004 cover star has had to constantly redfine herself her whole life. After struggling with depression while growing up, Tems found it hard betting on herself and her musical abilities. After school, she joined a digital marketing firm in Lekki putting music on hold for one more time. But in 2018, while reading her devotional, Tems got a divine message that would catapult her into superstardom. Two years later, she's one of the brightest stars in the country with a voice that commands listeners to evaluate personal truths. Tems is the "girl on fire".
'For Broken Ears' as the title suggests is a remedy for those among us who may feel broken right now. Hearts and minds are in need of healing, but Tems' voice is the remedy our ears didn't know they needed up till now. Her moody blend of afropop and r&b lends itself delectably to the listeners ear. The 7-track piece delves through a range of themes–loss, love, success, regret, longing, power with ease, but with each song, Tems peels back another layer, revealing an unshakeable confidence that is firmly rooted in who she is as a person. She's singing about her own experiences but the relatability is striking. She could easily be the voice of an old friend with her assertive, lucid storytelling. In an industry as notoriously impossible as music this gives her a serious edge. When Tems released 'For Broken Ears' over a month ago, she could not have imagined that the next few weeks would be shrouded in so much pain and violence. But her music speaks firmly to our current reality as a people. When she sings "this is the peace that you cannot buy/finding the way, when you cannot see" on "Damages", I can easily see the lyric sitting firmly amongst the minds of young people in Nigeria who are currently fighting for a better future. For over two weeks, young Nigerians have been protesting against the rogue police unit SARS but also against the corrupt excesses of the government that have plagued the country for decades. In just a few days, we've watched young Nigerians find a new strength in themselves that not many people thought existed. For many years, our contributions in the political world were undermined and reduced as a result of our ages, but this time around, young Nigerians have audaciously carved out a space to speak about the issues that affect them directly and that is due in a large part to social media. "Damages" for me, represents our collective message. Tems sings passionately about an unrequited lover, armed with new eyes she sings about her experiences when she was a "baby girl". While she demands to be treated better so also do we demand better from our government. She sings "no more damages now" telling a past lover that she's done with them, moving on to better things. For Nigerians, we're contesting a systemic evil that needs to be rooted out from its damaged core. We want real change, and Tems through her music offesr a world where change is possible when you know what you're worth.
In this moment, music that speaks to the core of our experiences as Nigerian people has given many of us a sense of hope and peace for the future. Protest grounds were ringing triumphantly with afopop sounds like Davido's boiseterous new single "Fem" or Eedris Abdulkareem's "Jaga Jaga" because of their relatable lyrics which radically condem the actions of many of our common oppressors. Both songs were prime afrop cuts, buoyant, lively and replete with instant quotables. But now, two weeks gone, since we gathered on major highways with our End SARS placards to shout, demand, and sing with unified voices, our fates are once again resigned. With the state-wide curfews and the ensuing unrest lingering on our roads from last week's attack, our ears are hungry for a different type of sound. A sound that artists like Tems and her contemporaries like Omah Lay and Tay Iwar champion in their music. Cloaked in afropop's rhythmic pulse, these artists are making music which lends itself easily to the melancholic hours we're spending indoors consuming a tumultuous news cycle. But while Omah Lay and Tay Iwar are more concerned with matters of the heart, Tems continuously melds a myriad of genres into music that is thematically bound to deep introspection. The greatest example of this is on the album opener "Interference" where Tems finds her voice. She sings "If you thought I was distrubed before/baby boy I'm going to disturb you now" over soft keys, before delving into a spit-along confession that finds her shedding the shame and reproach of the past. She seems to be singing about a lover but her unbridled confidence draws parallels with the defiance of strong women who will stop at nothing to effect change. It brings to mind the invaluable contribution of organisations like the Feminist Coalition who have left their foot on our leaders necks, knowing Nigeria's patriachial society, but working to speak up about women's rights at a time where we need them the most.
Right from her debut single "Mr Rebel", Tems has shown her determination to flout society's perception of the Nigerian woman. With a magnetic voice, she quickly cemented her place as the self-professed "leading vibe" and the prized leader of the reber gang, a title which she wields with ease. "Try Me", her third solo single, and arguably one of the most decisive numbers from a female African artist is a fiery anthem of triumph but as she grows and widens her arsenal, Tems isn't shedding the experimental hallmarks of her earlier singles. With 'For Broken Ears', she's navigating her current reality anchored with the lessons from her past. On the groovy standout "Free Mind", she mulls over thoughts of escapism trying to navigate life with a clouded mind. But on "Higher", we see her coming to terms with reality. "Help me understand/why you made the war that we're fighting now" she sings, as though armed with the prescient knowledge of the questions that currently linger on many lips. Elsewhere on "Ice T", she sings with jaded detachment about her capabilities, delivering a poignatic message for all who are paying close attention. While on the surface she may be singing about about making flavoured "ice-t" out of lemons, on a deeper level, what she's really saying is to own your confidence and starpower in face of criticism, reproach, fear, you name it. Judging by her steady incline over the past the past year, it's clear that Tems is one you can trust for nuanced advice–and lyrics–to navigate our new normal.
Listen to 'For Broken Ears' below.