Fresh L has seen it all. And now, on the eve of his latest EP, we ask whether this will be his first summer – or his last.
Words: Adewojumi Aderemi
Photography: Deeds Art
"This is about to be your biggest piece" Ladi Lanre – more commonly known as Fresh L – tells me, confident that anything to touch his self-proclaimed Project of The Year will be gold.
The project in question is See U Next Summer, wittily abbreviated to SUNS. Inspired by a text to a former flame, Fresh L states the EP is all about "pretty girls". Chances are that if you check the comments of your favourite Instagram crush, Fresh L is in there, saying nothing other than "S.U.N.S". Such has been the aggressive guerrilla marketing tactics deployed by Lanre to promote his forthcoming EP – out at midnight – that his fans have taken to using S.U.N.S as their social media captions to fit their summer thirst-traps.
"I just like being around girls"
In business, his friendships, in clubs, his conversations, Fresh L is consumed by women and – here, at least –  they seem to be consumed by him. We are at a shoot for a vintage sunglasses brand, and Fresh is the only male model (the only male present), working alongside two sisters. His chemistry with both is undeniable, to the extent that jealousy is roused as he moves from one on-screen romance to the next. He revels in this, and has come to embrace this as his only "vice". Confidently stating he's not like a typical guy; before reeling off a list of stereotypical young black male interests that he is categorically not interested in, sports, alcohol, and weed; Fresh L is embracing this side of his character, and it is the one most prominent on See U Next Summer.
"I'm the situationship king!" He defiantly declares, almost as if it's an actual royal title that was bestowed onto him.
And as such, his EP constitutes an alternative guide to the typical hyper-masculine rule book on how men should manoeuvre situationships.
"Maybe I [can] teach some niggas how to be themselves. It's okay to say you don't have a side chick, you have one spice ting" He says very seriously, despite the fact he's quoting one of his own lyrics. "And it's okay to, y'know, make a certain girl feel special".
It's a far cry from the "rappers' rapper" image he became known for during the DRB era in the early 2010s. Freestyles upon freestyles, mixtapes upon mixtapes, beefs upon beefs – with everyone from Dj Caise to fellow rapper Yung 6ix,  to most famously Wizkid (who he has now made up with). But Fresh sees this as a natural progression – from a rapper to an artist.

But it doesn't stop him from reminiscing over the heady times of his teenage years in the music industry. "We used to just put out so much music. We could record anywhere and just *clicking* drop drop drop drop." There's a clear feeling of unfinished business as he looks towards the group's 10 year anniversary this December. "We would have exploded [if we all moved back in 2016]..but we can still come back and conquer."
Fresh then begins to recount one of his most famous beefs – with the group's former management company, LSG. In the throes of the breakup, his then-manager TK (of Bearded Genius, who Fresh now has a close working relationship with) delivered a parting barb to the rapper on his way out: he dared him to blow up. Fresh doesn't think too much of this particular barb, off-handedly stating that "That's the only thing he could say. I'm handsome, I rap well."
He seems to switch back to braggadocios rapper mode when discussing his DRB days – performing at the O2, touring the UK – but it comes across as just bragging points. SUNS feels deeper than that. 
"I cried when I was recording 'Ride For Me'. When I did the very first draft, I was just crying." He admits to me about the EP's second track. It's a rare moment of legitimate vulnerability, something that he is determined to do more of, opening up his heart as the music leads him.
"Ride For Me", version number 10 (or thereabouts), is one of the lucky 5 to have made it to 'SUNS'. For each song, Fresh exhausts about 6 different versions with the same beats, different flows, altered lyrics, and varying personalities. Fresh L has been preparing for Next Summer for over a year now, starting with an 11 track EP, moving down to 7, before finally settling on these 16 minutes – trusting his shower and car states of mind to decide upon the most transcendent arrangement of the final five.
He has been very meticulous through his SUNS-era, he is no longer rushing to prove he is a sick rapper; that stage has passed. Now, he is taking his time, bathing in the beats and expressing himself fully in the way that best marries all the pieces in front of him.
"This is not trial and error. This is me doing exactly what I'm trying to do… and the thing is that whether or not people actually accept the sound, I feel like I will always produce this type of music."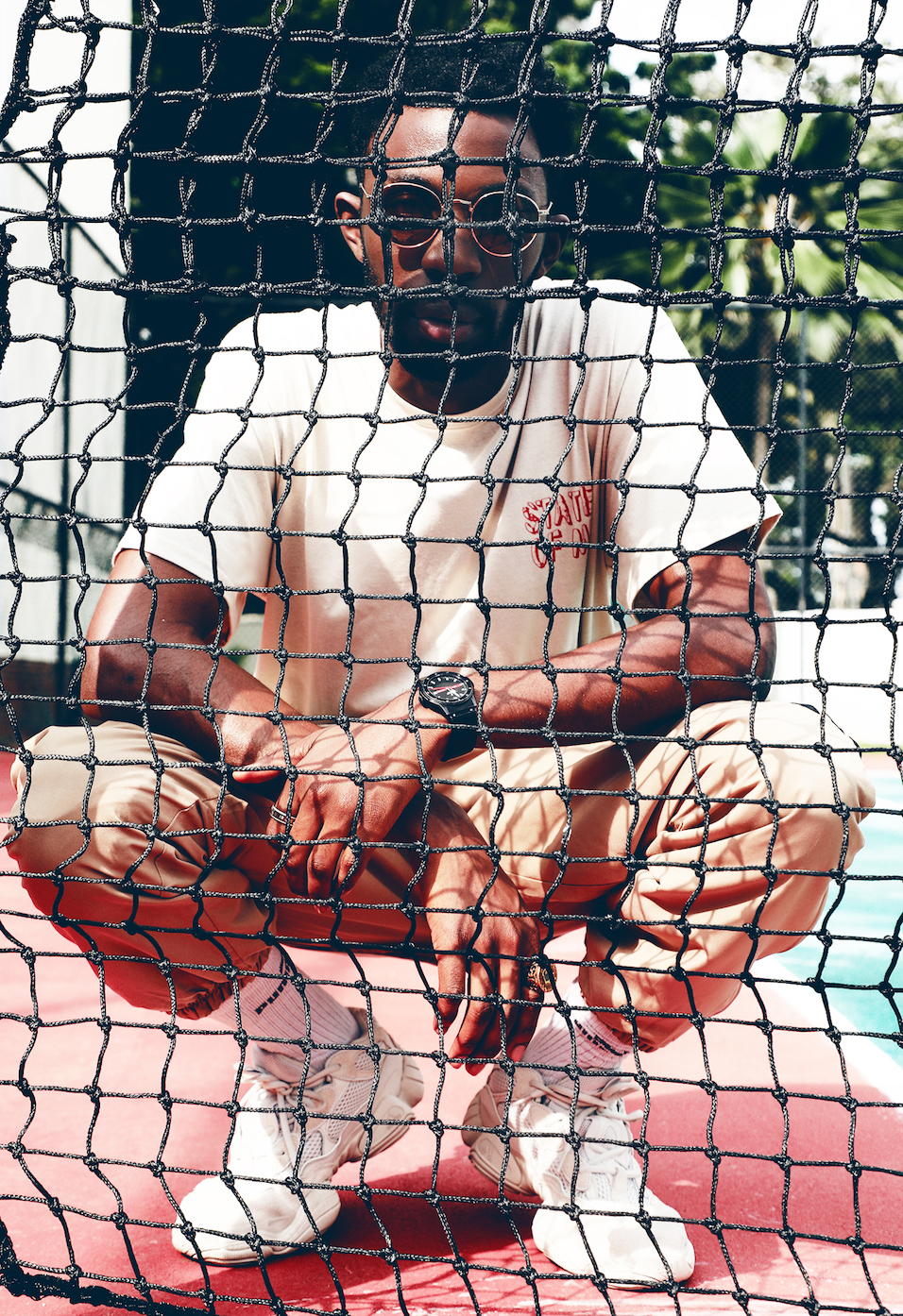 The sound is melodic, mid-tempo R&B, and it is here to stay. Considering his features – Davido and WavyTheCreator – one might be led to believe that he's just trying to fit in with what's hot right now. But the difference in Fresh L goes beyond the type of music he makes. Fresh L has evolved as an artist, not only in his sound but also in his attitude to making music.
"I just cared about my verse and my bars [during the DRB days]."
He recounts, admitting the comfort that the cushion of his fellow DRB members afforded him. The hooks were handled by Boj, the beats were emailed in or sourced from DatPiff, they rarely mastered their music.  Fresh L DRB got away with the bare minimum, and he was comfortable with that. Now, since overcoming the most pivotal part of his progression from a DRB member to a solo songwriter, Fresh rests proud of his growth into a more proactive artist. He gleefully tells me he co-produced two songs on the EP.
SUNS-era Fresh L has been "super hands on" in all the aspects of music making, from the first keys of the melody to editing and mixing. Of course, he always seeks a professional touch, but not before he completes every track to the best of his abilities.
This is what he narrates as he talks me through the extended-play, and what I observe as I sit in the studio watching him re-record a verse that he described as "perfect" on the first take.
He is following his heart, the heart that drew him into singing, the heart that inspired and narrated SUNS. This Fresh L is uncontrived, his music is organic, it's spiritual, he goes where it takes him. He tries a different flow, a different pitch, a different tone. When it's wrong, he starts again, no stress, no haste, no urgency – just a compelling desire to outdo his best. This painstaking process of re-perfection is a stark contrast to the hurried releases he describes as DRB's approach.
@FreshLDRB's handle is almost synonymous with provocation, especially whilst he was still living in the UK. His twitter was littered with distastefully ignorant tweets that need not ever be aired, but Fresh L refuses to conceal this aspect of his character to appease the masses.
Lanre says he comes from a generation that "cruise" each other. If you take it, you should be able to give it, essentially.
To him, it's all just a bit of fun. His tweets about "casted pies", his clapbacks at those who insist that 'L' is the most fitting way to end his moniker – no matter how much trouble it gets him into, no matter who he offends, it's just entertainment to Fresh L, and you're the fool for caring.
The topic of separating art from artist has never been quite as topical as it is now. From 6ix9ine, to the late XXXtentacion, to R.Kelly and Chris Brown, fans are now rightly being asked whether they can support an artist regardless of what they do outside the record booth and off the stage. Whilst Fresh L has no such charges as some of his contemporaries mentioned above, he admits he is not perfect and is still learning. Perhaps this is why he has been seen to defend the freedom of the listener – namely R.Kelly – because subliminally at least, he sees himself in their shoes. Some people may not like Fresh L the person, but he doesn't want that to stop you from pressing play, as he grows into the man he wants to be.
Now, it seems he is a little more aware of the potential damage (ab)using his platform, in this way, could do. Now, he rallies to the defence of victims of sexual abuse, insults the accused, and even vows to relinquish his once relentless support of R.Kelly. It might have taken some time, and some personal relation to the matter, but Fresh L has grown. Ultimately, he is a good guy, with a good character. Those close to him view his personality in reality as a polar opposite to the one he portrays online – and spending time with him leading up to the release of SUNS, I see that. He exudes a positive energy that is difficult to knock.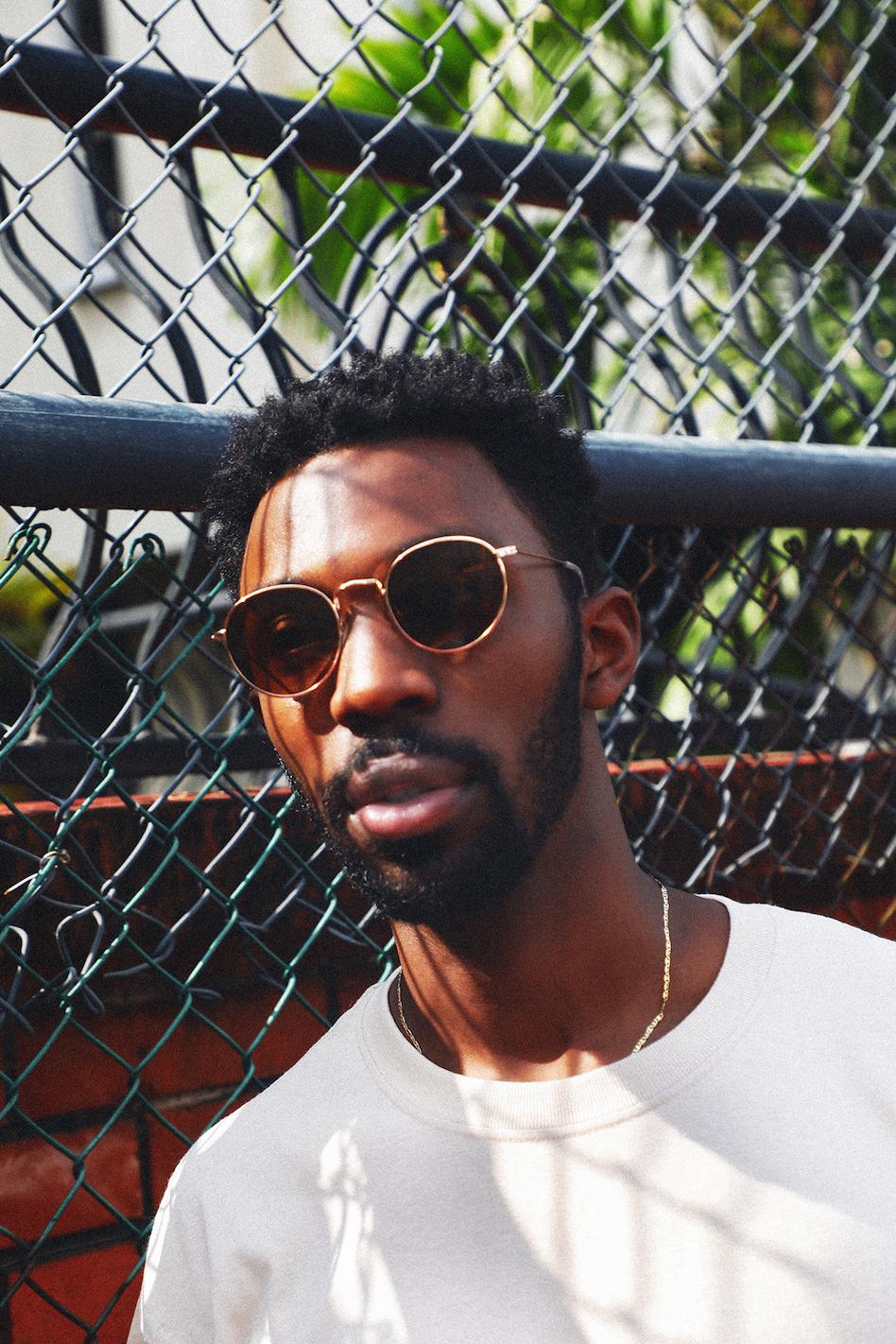 According to Tola Odunsi, the CEO at Fresh L's label, Urban Records, it is this personality that will boost Fresh L into the limelight.
"The music is his springboard – but the person, Fresh L himself, is what will be the engine for Fresh L's success" Tola predicts candidly.
Tola signed Fresh as the first artist on the Urban Records ticket over 3 years ago – their fate together sealed from the moment Urban gave Fresh L the opportunity to rap with one of his favourite rappers, Wale. Although Fresh abhors contracts and describes labels as "a waste of time", he recognised the utility of having a corporate body to supply the requisite resources – studios, producers, engineers and general connections.
One of those connections was the label placing one of L's songs in an upcoming Nigerian movie. However, as there seems to always be with record labels,  there was a slight caveat – due to its inclusion in the movie, the song could not appear on the EP. "Hold U", the song in question, is arguably Fresh's strongest and most radio-ready offering as a solo artist till date. Gliding comfortably between Yoruba and English, it's a smooth R&B/Rap record that would fit right at home on a Bow Wow & Omarion joint album from 2005. As always, Fresh doesn't linger on the disappointment – he quickly replaces it on the tracklist, and promotes the Davido-assisted "Firewood" to lead single status. And what a masterstroke that ended up being. Despite only being out for two weeks, it's gradually garnering more airplay on the streets of Lagos.
As a self-proclaimed "Young OG", Fresh L has been through two eras in the Nigerian Music Industry; he has been in the game for 7 years, he knows what matters and what's just noise. DRB's independent run meant they could avoid the dictatorship dynamic that wayward execs laud over younger artists. Their experience of the industry was unfiltered, they learned the game, its structure, its loopholes, and they did it all on their own. So, Fresh knows what it means to "blow", he knows what it can cost, he knows of its seasonality. He isn't interested in all that, Fresh is only interested in one thing: doing what he does best to the best of his abilities.
But of course, he wants SUNS to be successful. "People all over the world will be listening to SUNS" He tells me rather matter of factly. "In Tokyo, LA, worldwide! Babies will listen to SUNS. Parents, grandparents, brothers of the girls I'm singing about – everyone! Everyone will hear See U Next Summer."
His conviction in this EP, in himself, is overwhelming – he not only believes that is his best, but the best. This is Fresh L's moment, and he's confident it won't let him down.
"It's only me that can make the sun come back."
Next Summer is here, and it looks like it could be the first of many for a new-look Fresh L.
See U Next Summer is out now under Zero Label Records.
Click here to stream it via Apple Music.