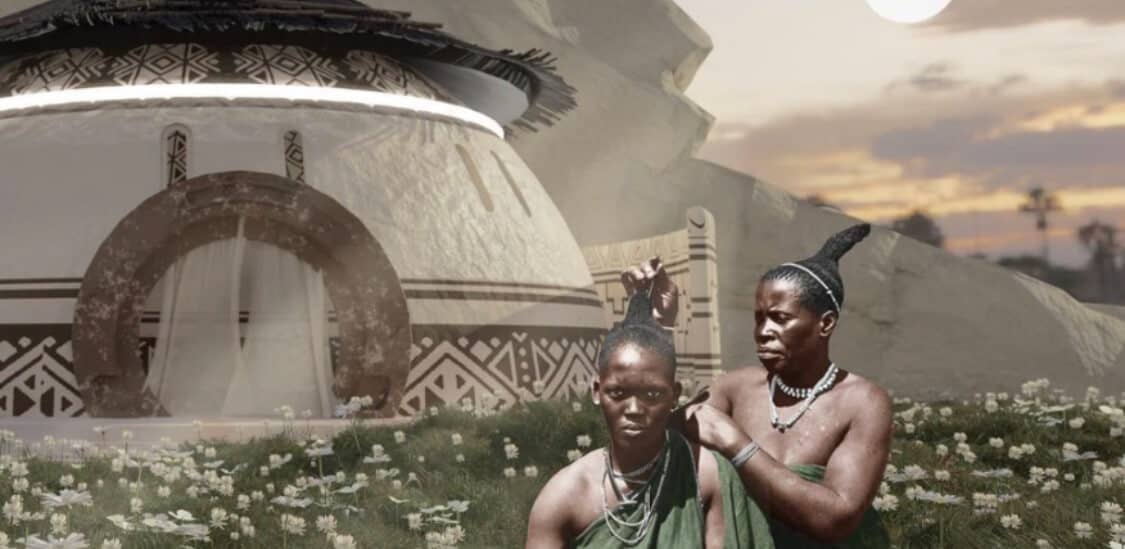 The African Ancient Futures Exhibition explores the Black experience through an afro-surrealist lenses
The exhibition runs till 22 March 2021
Afrosurrealism is getting a modern revival. Over the past couple of years, the genre which is characterised by cultivating alternative and expanded ways of knowing and being for Black people, began to take over mainstream entertainment with a host of artists like Khalil Joseph, Jenn Kniru, Beyoncé, and more reimagining the reality of Black people today.
In these times where we are disconnected in various countries across the world due to a global pandemic, there is an urgent surge for escapist entertainment in arts and culture. The African Ancient Futures Exhibition provides that experience, both in-person and online through a virtual 3-D viewing. Although the pandemic has inadvertently changed how we engage with art, we can't deny how community has grown to be an essential facet of art viewing. Africa 2.O Magazine and White Space Lagos know this all too well and have adapted various digital mediums to curate users experience through art and film.
A2.O x @whitespacelagos present 'AFRICAN ANCIENT FUTURES'. An immersive art & film exhibition opening this Sunday 28 Feb (4PM) — 6 March at 59 Raymond Njoku St. Ikoyi, Lagos

Works by African artists who engage with Africa's past, present & future through an afrosurrealist lens pic.twitter.com/krxa3zdEP3

— Africa 2.O Magazine (@a2omag) February 26, 2021
It features Congolese architect and environment designer Edward L. Lobo (@hueman.ntr), Nigerian-American artist & filmmaker Jamal Ademola (@jamalademola), and British-Ghanian film director Curtis Essel (@curtis.essel, @33bound). Also included is a #HistoryDive series curated by A2.O editor Elisha Tawe (@vicious_roy), and a special feature by contributor and acclaimed Nigerian-Irish author Emma Dabiri (@emmadabiri). There will also be a #HistoryDive series curated by editors of A2.O Magazine, and a kiosk with creative merchandise and this will all take place in Lagos, Nigeria this weekend at 57 Raymond Njoku Street, Ikoyi. There will also be activations at The Kiosk section with merch from a few brands including Free The Youth for the first time in Lagos. The exhibition is held at Untitled, 59 Raymond Njoku Street, Ikoyi and has been extended for viewing till March 22nd. The virtual exhibition has also now opened through a portal here with a digital 3D space designed by exhibiting artist Edward Lobo.
Ahead of the exhibition's closing day over two weeks away, we spoke to Ethel Tawe, the art curator who is currently hosting the exhibition in collaboration with Whitespace Lagos and Africa 2.O Magazine about her interest in surrealism, the exhibiting artists, and the future of magical realism in African art.
View this post on Instagram
 NATIVE: Hi Ethel, how are you doing? Please could you tell me more about the African Ancient Futures exhibition and its focus on imagining Africa through surrealist lenses?
Ethel: Hi, I'm blessed and feeling thankful for the response to the exhibition so far. I curated this exhibition with a few questions in mind, asking why the Black and African experience has largely been framed as a 'move away' or response to the western world. I was prompted by Kenyan filmmaker Wanuri Kahiu's essay 'Ancestors of the Future' where she asks: "assuming here that we are all equal, what is the western world reacting to? Are they reacting to us?… As artists, does our creative impetus derive from challenging the dominant narrative, or like artists elsewhere are we driven by the sheer need to create?" Kahiu mentions that it is as if Africans are viewed as unable to have an original thought that arose from themselves without it being reactionary. While reality has put many of us in the position to simply reflect the times, what about beyond that? What would we be doing if we weren't always responding? It's a difficult and almost uncomfortable question, even for myself, but that's why I wanted to explore it through surrealist art which aims to release the creative potential of the unconscious mind. 
NATIVE: In your curatorial statement, you state that the rise of audiovisual and digital media has expanded our imaginations and increased the spectrum of our narratives. How do you hope to transpose this change in our lives with this exhibition?
Ethel: I wanted to bring together artists who investigate Africa's past, present, future, and beyond, through the digital medium. The exhibition has a virtual viewing online. In the space itself, there's a virtual component with QR codes throughout for the audience to tap further into these digital artists' world. At entry, guests receive a special QR code that takes them into our listening portal to hear the artists introduce themselves in their own voice. In a time like COVID when travel is restricted, the artists and I worked remotely across time zones and space, from Kinshasa, to Los Angeles, London, and Accra. The process itself was a reflection of the theme and I wanted the audience to reflect on that.
It is also no secret that digital artists struggle to find ways to physically exhibit and monetize their craft in the capital A art world. An old emphasis on the canvas often placed digital work in the margins, though this is slowly changing. In the hyper digitized world of COVID 19, is there now a significant opportunity to bring these artists works to a wider audience in an increasingly accepted format? Are these formats considering access and how do they compare to the physical experiences? I don't have the answers to these questions but I hope the audience can join the artists and I in investigating the infinite possibilities.
NATIVE: How did you source the different artists that are a part of this exhibition?
Ethel: As an editor, one of my favorite parts of developing new stories is the process of writing about artists I love; that's how I connected with and interviewed some of the exhibiting artists. I am interested in researching and documenting African arts, to build an archive that puts us down in history on our own terms, especially in the digital landscape. These artists' works feel quite personal to me in one way or another. In Jamal's work, I see myself reflected in the Black female form and her cosmic energy. Edward visualises worlds that resonate deeply and feel like a stage for my own figurative collage work; that's what inspired our collaborative series "Transmission", included in the exhibition. The pan-African essence of Curtis work, the references embedded throughout, are so relatable but equally push boundaries. The power of the digital world is how these artists came together for me and for this exhibition. 
NATIVE: Your work has always dealt with afro-surrealism and magical realism. Why does this mode of expression define most of your work?
Ethel: I find that there is power in allowing ourselves to dream beyond this dimension. I call myself a time traveller because of my interest in exploring cyclical conceptions of time in African tradition; hence the phrase 'African Ancient Futures'. I'm interested in how we breathe life into colonial African archives; how we work with and against the archive today as a form of history-making for tomorrow. I'm interested in myth, intuition, social justice, and the complexities of identity, through experiences of my own or perhaps those embedded in my DNA. Magical realism has become a visual language to convey these ideas and reflections in a way that feels expansive enough, most authentic to me, and (I think) accessible to a wide audience. It allows us to FEEL, as a shared human experience. 
You can find out more about the 'Ancient African Futures' here.
Featured image credits/Courtesy of Ethel Tawe 
---