In just the space of a couple of months, we've gone from memeing through the pain of the then-novel coronavirus to observing strict social distancing requirements to flatten the curve and curb the chances of community spreading. It's been a gradual, yet harsh phasing into a new reality, where we are heavily reliant on social media and the Internet to stay connected with friends and loved ones, work and study remotely from home, engage in friendly culture clashes and if you're a bit like me–attend online yoga classes on Zoom.
Every facet of our reality is changing, and it's no surprise that with this change comes ripple effects on the way we consume music, entertainment, and art. This is why online art gallery, Polartics are quickly adapting to these new times through the introduction of their new 3-D virtual art exhibition 'I Hope This Finds You Well'. This endeavour is a joint exhibition of work from artist, Adeoluwa Oluwajoba and photographer, Femi Johnson, with art that revolves around themes of isolation and stillness in a changing world. The exhibition is currently ongoing and will end on the 7th of June.
View this post on Instagram
The immersive virtual experience mimics being in an art exhibition IRL (in real life) as viewers can begin a virtual tour guided by a playlist that takes them through all the artwork on display. Oyinkana Dada, the brains behind Polartics came up with the idea for a virtual exhibition following the cancellation of an IRL exhibition she was supposed to curate in Lagos. After this, she began reading up on how other key art players were coping with the lockdown and stumbled upon the deeply immersive world of virtual tours and art fairs.
"Polartics has never had a physical space, it's always been mainly online anyway. I guess the difference was not just putting art online, but actually curating something as close to the exhibition experience as possible".
The new normal is now suggesting that all you need to lose yourself in art, is really just access to the internet, and Oyinkan Dada is tapping into this, alongside museums and galleries around the world phase into this frontier of 3-D digital experience. 'I think this movement might even stay after all of this cause I mean this is a good way to save money, and as long as you raise awareness and collectors know it is happening, you don't always need that physical space' she explains to me, noting how this augmented reality experience is in no fact a new feat, and one that will only continue to catch on, depending on how soon we're all allowed to be let out again.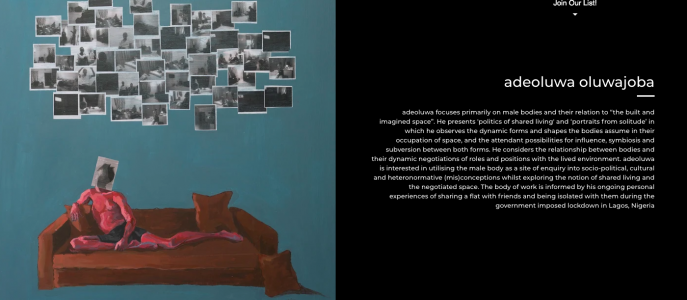 Although things are changing, creatives are still met with the same challenges as they would be in real life without the lockdown, such as access to funds to realise her vision.  'The biggest challenge was not having done this before, but it was relatively straightforward once I knew what I was looking for. I knew that I was looking for some sort of software that could create an experience that was close as possible to the real thing. Funds are always a challenge, it was exciting to be creative with it and explore something new' she tells me, explaining how the process came to life.
Conversations around how we consume entertainment and how that's changing is definitely in the forefront right now, and it's refreshingly exciting to see young African art collectors aligning themselves with the change that is to come. You can check out the exhibition here.
Featured image credits/Polartics
---
Tami is living in a black mirror episode and can't seem to wake up. Tweet your fave female artistes at her @tamimak_
---