Born Ann-Maree Quaynor, AMKMQ has been drawing, painting and creating for as long as she can remember, however, it wasn't until she turned 19, that the young multi-faceted artist, decided to take her visual art seriously as a professional career. "I grew up not speaking very much, I was a very visual thinker and I would voice everything I wanted to say out loud through painting and drawing. When I would upset anyone, I would apologise through a painting" she reveals to me over a late-night FaceTime call, while she was getting ready for bed.
Like many other African creatives, choosing art as a career meant upsetting her African parents who had a grand plan for her to  attend impressive universities, however, after a year at the University of Warwick studying Sociology, AMKMQ came to find that she was nothing if she wasn't creating. Following this, she had to compromise by promising to attend an Ivy League college that would merge both a commercial career and an art one.
"I realised I was unhappy at Warwick, I didn't really feel like myself. I would see my friends at schools like Central Saint Martins and would go back to school and feel empty. I knew my parents would only let me go to art school if it was attached to an Ivy League school. I actually grew up reciting all the Ivy League schools, and have been prepared from birth to go to one. I went to Warwick because my dad did not let me go to Berklee when I got accepted"
Now a student at the Brown University and the Rhode Island School of Design, AMKMQ is finally at a point in her life where she is producing art in different forms: from creating zines with her bestie & engaging in performance art, to exploring videography & even trying a hand at DJ'ing during this quarantine period. The girl has done it all, and done it all by herself too, so now, she's ready to take up space in the art industry unapologetically.
View this post on Instagram
Her work spans across different themes, which she has named herself with the most noteworthy one being, Purity Politics. In this  side of her art, she explores themes of feminism, choice and purity in relation to her experience as a West African woman. Growing up all around the world, AMKMQ is always constantly searching for herself in her art. She was born in America and raised in England & Nigeria to Ghanaian parents, which made the concept of home incredibly difficult to attain.
"I was bullied quite a lot growing up because of my accent, it was like when I was in Nigeria, people saw me as Ghanaian but when I'm in Ghana, then I'm Nigerian and when I'm abroad, I'm a black woman".
It wasn't all bad though, her upbringing also sparked her interest in the colonial history of both Nigeria and Ghana. Led by her rage towards the injustice and the erasure of our culture, she became very preoccupied in creating art about a  version of herself and of her people which could have existed if we were not colonised. The helplessness from feeling like she can't change the past, actually gave birth to her love for afro-futurism, which allows her to explore a future that is incredibly diverse and open to her own interpretation.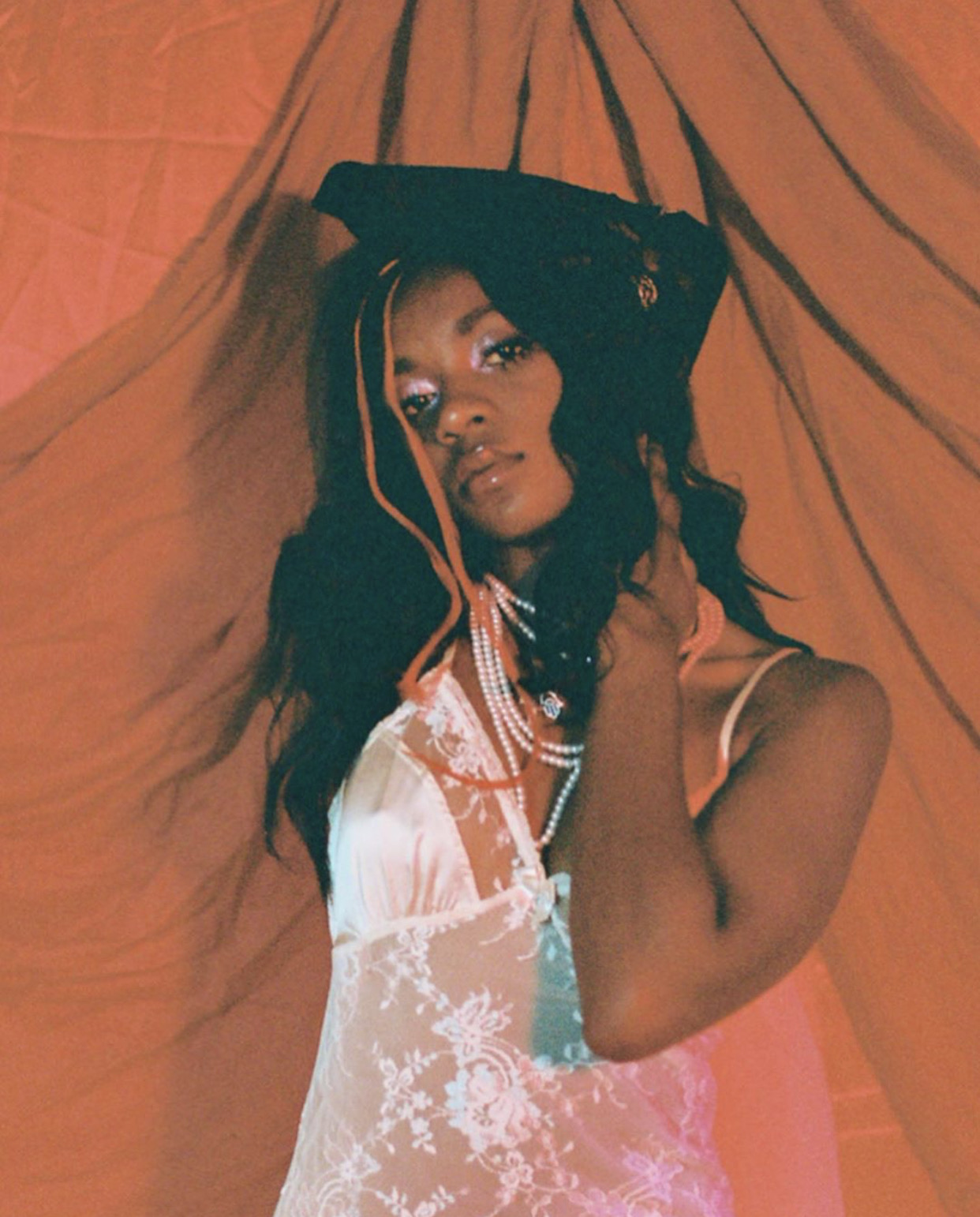 "When you are trying to find history about Ghana or Nigeria, it's mostly colonial writers or English writers and that's just one side of a bigger story that's now been erased. This is what led me to afro-futurism. If I can't change the past and the present is not really entirely me, then I can dream about creating the future I want through my art"
A running theme in AMKMQ's work is the use of her body as a medium to create art. Growing up, she attended predominantly white schools, where there were no black female references she could admire or look up to. Her style also irked her mother, who believed in the traditional forms of femininity, and didn't approve of the way AMKMQ liked to dress. However, AMKMQ would find support in her parents over the years as they would support and fund her art career by paying for supplies and also introducing her to people they knew in the art world. The unwavering acceptance and love from her parents plays a strong pat in AMKMQ's confidence today, as she speaks so highly of their support.
This feeds into her Platonian philosophical outlook of life where belief in duality and the ability to detach from our physical bodies is possible; as the body or objects become tools through which art is brought to life, which is explained in her short film, 'Purity Politics'. 
As you'll find in any aspect of life, the 21 year old has already had her fair share of men being out to silence her. When she was 16, a distant male friend stole one of her artworks, passed it off as his own and auction it out for £2000. This really enraged her, and fuelled her drive to create everything in her own way, and on her own terms. "I love teaching myself to do things, it's like crack" she reveals with a laugh. "Everything I do now I taught myself because it's just fun to learn and it's nice as a woman to say, I did that myself because men will try to claim your work".
AMKMQ has tried her hand at a number of things, but her main love at the moment is videography and collating zines under the moniker 'AVOCADHOES' with her best friend, Ayo Sule. She's always wanted to be a director, and happily runs through a list of her film influences from Gasper Noe to Tarantino.
"
I like art and cinema that feels situational, when you experience the moments with the people in the film. My work a lot of the time is about evoking emotion rather than showing it. That's what I'm really trying to build up now with my video work, videos that evoke emotion from anyone who watches".
For her, she doesn't think she needs to explain her art to anyone – in fact she's done with answering questions about what inspired her work because sometimes it's nothing other than just for the sake of creating. When she first started being public with her art, AMKMQ felt a huge pressure to always have a detailed description of each piece and if she didn't, then she wouldn't post it online. This affected her work a lot because she was then left feeling a bit pretentious.
"
I stopped thinking like this at the end of last year because my perception changed. In one of my studios, we were talking about art as religion. Creating not to have shit to say or seem talented, but more for the sake of art. Like art as a devotional object, something to admire. Knowing you don't always have to have an answer for why you created something, or know immediately why you did. It's like the sake of creating is so important."
AMKMQ also has the benefit of enjoying visibility in different art scenes around the world, because of her connection to different places. She's worked in the Lagos, Accra, London and New York art scenes and mixed and matched ehr experiences from these places into her art. "The Accra art scene is soo much better than anywhere else I have experienced, in Lagos it's very gate keeped and only a certain set of artists stay getting all the deals and attention. No one pays attention to younger artists, especially not women. But in Ghana, people are so much more accepting and everybody really be on their grind, so there's space for everyone to eat literally".
As the world slows down due to the ongoing 'rona pandemic, AMKMQ is keeping her art and creativity alive through constantly learning and creating. For her, it's a great time as any for creatives especially because she feels the heavy use of digital media may give rise to a post-pandemic movement characterised by digital art. While we wait to see what great ideas are birthed from this, you can catch up with all things AMKMQ and her art here.
Featured image credits/Clawdia Marine and Lena Morton
---
Tami is a lover of women, music and astrology. Tweet your fave female artistes at her @tamimak_
---