One quick scroll through social media will reveal that Ramsey Nouah's directorial debut 'Living in Bondage: Breaking Free' has been a point of conversation in the Twittersphere this week. The much-anticipated sequel to the 1992 classic, which hit the cinemas late last year is now available to stream on Netflix Naija.
The sequel follows the story of young and ambitious Nnamdi Okeke (played by Swanky JKA), through whom we get a glimpse of what the Nigerian dream is – to blow by any means necessary. When we first meet him, Nnamdi longs for success and as the events of the film unfold, he finds himself in a struggle between his morality and the possibility of living in bondage for his entire life.
Living in Bondage: Breaking Free is a marker of the Nollywood's entry into a new phase, with using a relatively new face on the scene as the lead, to Ramsey Nouah – a veteran actor moving into a new phase of his career. Swanky KJA's role as the lead character, Nnamdi Okeke will definitely set him apart as one to watch out for going forward, as his convincing portrayal of Nnamdi is almost palpable, and it wouldn't shock me to see that he's even a bit like the role he plays in real life.
Nnamdi Okeke is a young man who much like anyone else wants to make something of himself. Having grown up with a family who adopted him, throughout the film, it's made clear that he's always felt a bit out of place and wanted to find his feet by 'making it'. When we first meet him, he's excited about a beginning for himself, after setting up his own advertising firm and cheating his way into making his first pitch for a big company. Unfortunately, this plan is thwarted, by another double-crossing, which sees him falling flat on his face without a contingency plan.
At every point in adulthood, one is faced with adversity which makes you question your entire existence. This can make you either wallow in self-pity or drive you to create a better reality for yourself. After 5 years of being unemployed, no prospects in sight for him and a big dream, Nnamdi refuses to be knocked down and adopts an even stronger 'by-any-means necessary' attitude. Unbeknownst to him, he has a curse on his head, and his choices seem to be a bit more complex than whether or not he makes it in life.
This is where the broken Nigerian dream is brought into question. Where in the land of milk and honey, the dream is that you can achieve anything as long as you put your mind to it, the average Nigerian would rather take a shortcut, and hustling and finessing each other is the means to achieving your dreams. If you successfully find a cheat code in these parts, it's considered an achievement, and this is clearly what drives Nnamdi throughout the film. He is reeled into the fast life, after being introduced to Richard Williams (played by Ramsey Nouah), by his family friend Obinna (played by Enyinna Nwigwe), without being overtly told that there's a price to pay for it.
Set in 2019, where anyone with internet subscription has enough access to things outside of their physical realm, it's not surprising that Nnamdi was so desperate to make it, that he became wrapped up in the lifestyle and didn't question the speed at which he seemed to have made it. In fact, it seems as though Nnamdi didn't give anything much thought until it was time to give back to the source which presented him with all the riches. If you're a Harry Potter fan, think of Nnamdi in the same way you think of Draco Malfoy – that's literally it.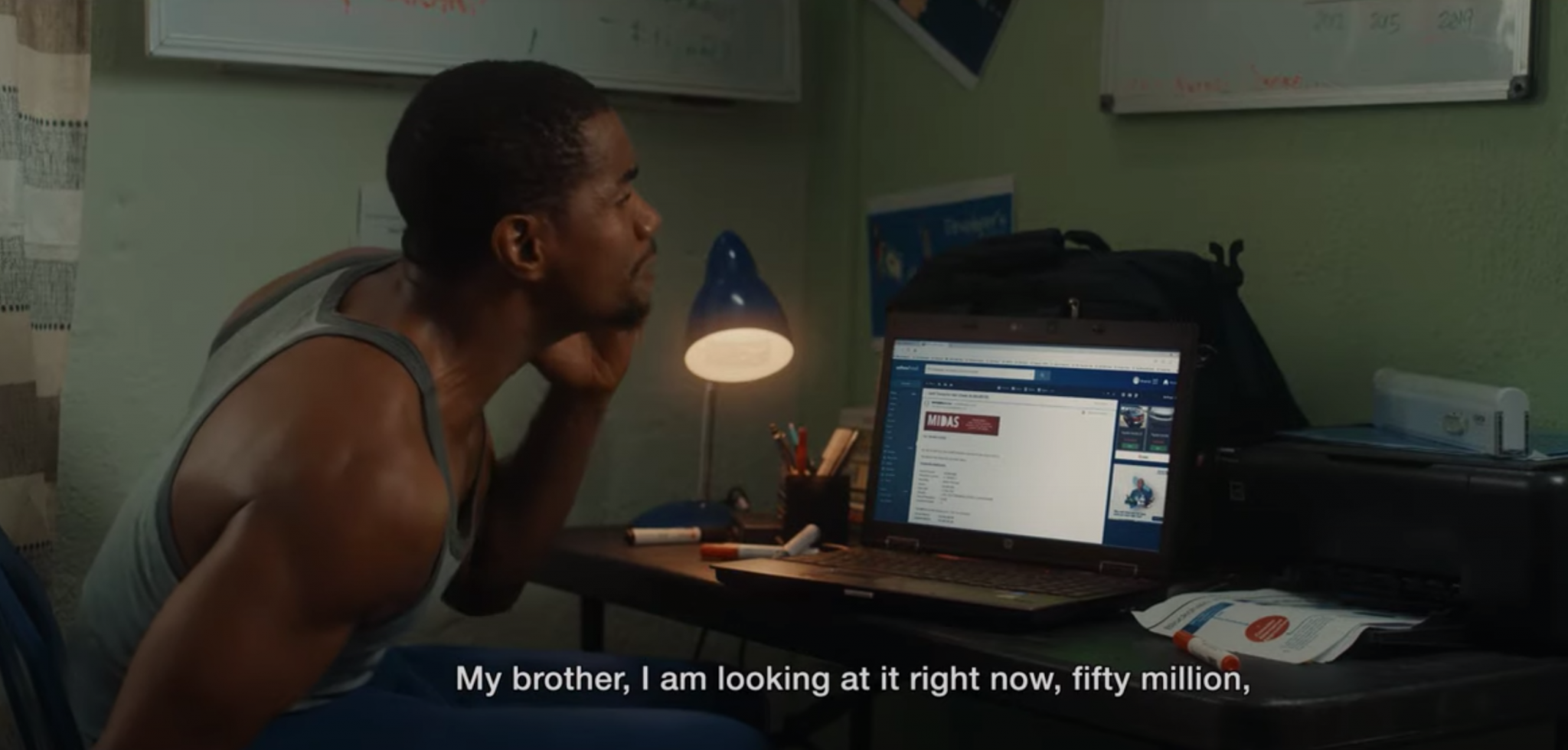 (Credits: Netflix)
In contrast to the other male characters in Living in Bondage: Breaking Free, Nnamdi seems to be the least ruthless, and also manages to be the one with enough backbone to break the generational curse on his head. If you're familiar with the first Living In Bondage, it follows the life of Andy Okeke (who turns out is Nnamdi's father), and much like Nnamdi is, he was desperate to make it out of a life of strife. Seeking out a quick fix, he becomes involved in a cult (much like Nnamdi) and sacrifices his first wife for a life of riches. In this film, Andy seems to have left that life behind and like the notorious Shina Rambo, has given his life to God. Both Andy and Nnamdi seem to evade any kind of accountability throughout the film, whilst others in similar positions to them don't.
Obinna, unlike Nnamdi, grew up in wealth which was brought about by these diabolical means and didn't seem as phased when it came to actually being evil. The very first scene of the film opens up with Obinna slicing off a little girl's head, and by the next time we see him, he's speeding across town in a G-wagon, much to Nnamdi's amazement. Whilst Nnamdi is impressed by his life of largess, throughout the film, Obinna is haunted by his decision, which in the end drove him to suicide. Unlike Nnamdi, Obinna would have continued to live in the dark lord's bondage, even though he seemingly had all the money and success in the world.
Given where he's coming from, it's hard to blame him for wanting a better life for himself. Throughout the film, we see his parents castigate him a lot, guilt-tripping him when he tries to find out who his real parents are, and generally paint him as the black sheep of the family. In Michelle Obama's recent Netflix documentary, she points out that she was seen and heard at home, therefore when she went out into real life and it wasn't the case, she found it difficult to understand why. For Nnamdi, he doesn't seem to be seen or heard at home, therefore hasn't been rooted with an essence that will allow him to take on the wicked world, no matter what is thrown at him. This could be why he's so easily and naively swayed by the promise of riches, without carefully considering what it could mean for him in the long run.

(Credits: Netflix)
Even though Nnamdi proclaims to do 'Anything for the keys to the good life. Nothing else matters' it turns out that he actually isn't, which is actually a good thing in this situation. Each time we see him, he's trying to bend the rules to his favour and the end of the film actually allows him to. In fact, apart from Obinna and his father, none of the characters face any consequences for their actions in the end. While Nollywood usually wants to pass off a moral message about the consequences of evil, and the bad guys are sometimes punished for evil doings, it seems as though this film almost presents the way it is in real life, where most people get away with evildoings.
While Nnamdi's story unfolds and we see that he escaped the police whilst maintaining the relationships which were threatened during his stint in the cult, the cult leader, Richard Williams' fate is left elusive. We see that he escapes police detention and flies away from Lagos unharmed, (which could be a hint at another sequel), however, we're unsure of what it means for him in the grand scheme of things.
Whilst it doesn't seem like there's any palpable punishment for the antagonists, what we are left with is the truth finally coming to light, and an actual 'breaking free' of sorts. Where he might not have succeeded in gaining the material things he hoped for, he succeeded in breaking a generational curse and gaining peace of mind which is what he wanted all along anyway. Obinna acts as a foil to Nnamdi, and was so deeply entrenched in his own bondage, that it cost him his life.
We would imagine that a real-life Nnamdi wouldn't be so desperate to 'blow' anymore, given the lessons he should have learnt in his experiences. He's a good example of the failure of the Nigerian dream to replace good ol' hard work with greed and desperation, and what stands to be a way out of trouble if you do the right thing at the end of the day. We would definitely about 6/10 recommend that you watch Living In Bondage: Breaking Free on Netflix if you have nearly three hours to spare.
---
Tami is living in a black mirror episode and can't seem to wake up. Tweet your fave female artistes at her @tamimak_
---