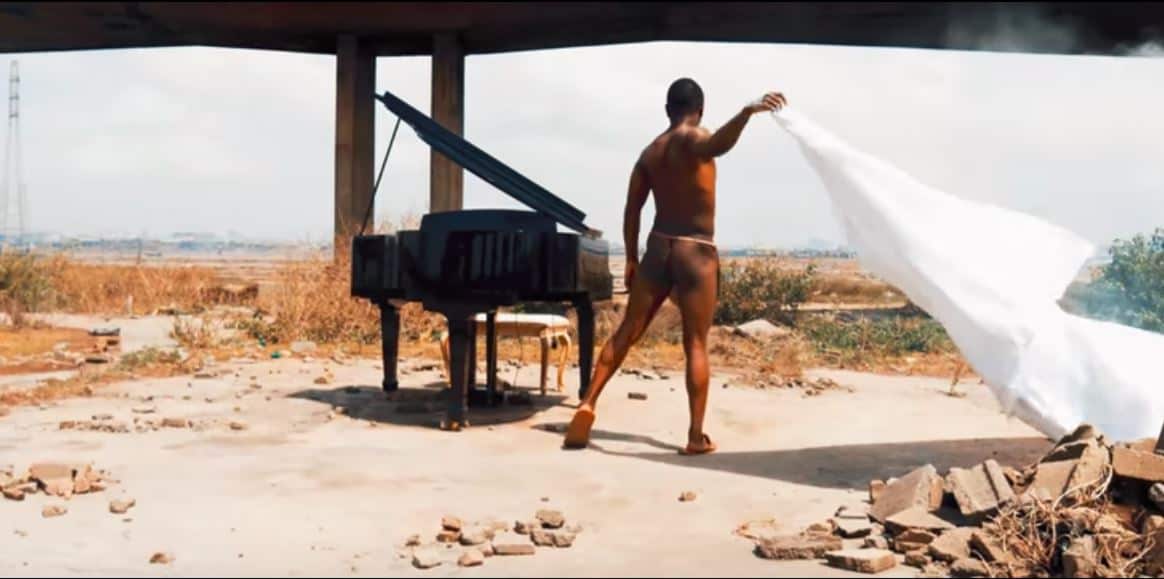 On Brymo's self-indulgence and the gimmick of marketing controversy for art
About that video of Brymo with no clothes.
Nearly 8 years since we first heard his voice on Ice Prince's "Oleku", Brymo's mid-tempo, retro style; a fusion of Fuji, soul, RnB, and alt-rock and an understated catalog has earned the singer a distinguished stature among fans and critics likewise. In his self-presentation as seen in interviews, BrymO is modest; his elocution articulate, if tentative, and with an awareness for a crisp enunciation.
Indeed, BrymO may be a pop singer but some of his impulses are also clearly literary: already the author of a book, BrymO can be found mingling with writers at book festivals, like Aké, and other literary types on university campuses. In the pop culture polarity between artist and celebrity, Brymo leans on the former, and this schtick, of an introspective, literary-lyrical everyday human, no doubt, constitutes a significant part of the Brymo appeal.
Brymo's rise to cultural prominence began ostensibly by complementing the hip-hop of former Chocolate City label mates: MI, Ice Prince, and Jesse Jagz, with befitting hooks. But since an acrimonious split from that record label, Brymo had charted a different solo trajectory, starting with the uber philosophical, Merchant, Dealers, & Slaves, released in 2014.
Without ignoring BrymO's unusual Freudian turn with his compilation album, Trance (2015), as an intuitive metaphor for his fame and stardom as a dream state, Tabula Rasa effectively marked the beginning of Brymo's once philosophic and, well, vacant outlook. Then came the whimsical and infamously suggestive Klitoris (2016).
Across these projects, Brymo has consistently managed to spark curiosity by edging on minimalism and obscurity, using a combination of intriguing album titles, and poetically waxed lyrics. He is no doubt, an indemnification for what should exist as conscious music, but with the release of most recent album is revealed, Oso (2018), a self-referential Yoruba word which translates to 'wizard', BrymO had perfected a long-running theme but may have also worn the narrative thin.
BrymO's competence as a singer is rarely ever in question but it is the non-musical quirks and posturing, which are perhaps a broader reflection of his personality but also serve as a crutch to some form of artistic avant-gardism, that are a curiosity. None more relevant than in the recent uproar about one of the lead singles and video to his new album: "Heya!"
"Heya!" is set around the Lagos lagoon, and shows BrymO naked but for a San bushman traditional thong, covering his pubic region. The video opens with the aerial view of the Third Mainland Bridge, then the striking image of a steam engine boat, before cutting on to a naked BrymO emerging from the middle of the river, leaving small ripples in his wake, while walking on to a parched path, toward a grand piano covered in white clothing.
Directed by Ayomikun Oludoyi, "Heya!" can be read as a metaphoric allusion to the mystical powers of deep waters in Yoruba cosmology, a connecting theme with the album title, and a comment on his self-presentation as a mysterious child, of humble beginnings in riverine Lagos who walking on to a predestined career in music.
BrymO's singing is accompanied by a simple piano acoustic progression and indistinct synths backing. In the song lyrics, BrymO dabbles in more tendentious self-eulogizing: notably, a cursory reference to having been 'stubborn since a small pikin' and smugly to a supreme talent of always being the first to diagnose a problem. In the following verse, some of this childhood predilection resurfaces, with a conclusion that tracks the 'problem' of men and women is down to collective 'ignorance'. Without irony, BrymO, an otherwise proficient musician, had assumed the haughtiness of a priest, one no less common in men of letters.
"Heya!" is Brymo's attempt at profoundness that comes off bare and deficient instead, against the backdrop of hollow introspection and self-indulgent social meta-commentary. A more cynical reading of the script is to take BrymO's daring naked video as an excuse, and misguided prop, to shore up a half-assed musical performance. Given the video, we have gotten for "Heya!" off his Oso, Brymo's flair for shock value and mysticism has disproportionately skewed to the spectacular-controversial at the expense of his primary duty as a competent singer-songwriter. It is almost too odd that for a man whose art seemingly borders on self-awareness, Brymo seems to be easily consumed by a distracting solipsism when thrust in the centre spot.