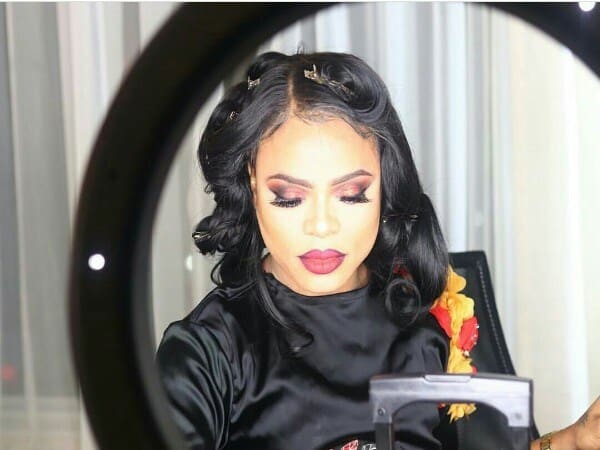 Bobrisky is the Nigerian Millennial we deserve
The snapchat king sits on a precarious throne.
Nigerians have an unhealthy obsession with the West. A persistent carryover from our near century of colonial oppression and the economic and socio-political interference, we have been unable to shake the belief that even the most rudimentary appearance of western influence somehow elevates us from the average Nigerian. We see this everywhere; the graduate who goes for a Master's degree from a foreign university for that extra advantage over their Nigerian peers, the On Air Personality who adopts a Frankensteinian accent that has no merit save for sounding foreign, or the people who bleach their skin to simulate a proximity to whiteness, or the IJGB (I just got back) who returns to Nigeria and holds on to that title years after their return.
This obsession deepened with the advent of the internet and the indirect access it granted to a generation of Nigerians who were born in our country's relative poverty. That generation of Millennials needed proximity to Western influence in ways that we could only fathom a decade before. They need this proximity because the internet reconnected them with millions of young Nigerian millennials who had either emigrated to first world countries as children, or were born there. Those Nigerian born westerners were unaccepted by their white peers and sought community by seeking out Nigerians their age who were still in Nigeria. They formed traditions like travelling back to the country for major holidays, created a sort of half-life where they left their lives to live as rich 'tourists' for a few weeks in Nigeria. For the Nigerians here, that racial distinction white peers offered was gone.
It wasn't enough to have an accent and vaguely mention places in Jand to pass as 'hip'. A quick Google search could out you and destroy valuable social currency. The introduction of social media upped the stakes and turned passing as 'western influenced' from a social activity to a full-time, immersive second life. We became the 'urban poor', living a life we could not afford to fit in to a fantasy world we'd all built and collectively maintained. Some people have been much better at gaming the system than the rest of us, turning our obsession with public personas and a proximity to western influences and ideals into a lucrative career, marketing our attention to brands and corporations as influencers. And the very top of this tier of 'influencers', is the person we least expected; a gender non-conforming, trash talking, self professed misogynist.
For two years now, we've danced around the phenomenon that is Idris Olanrewaju (Bobrisky to you lessors). It isn't hard to see why. Bobrisky represents everything that we public profess to abhor; loud and ghetto, visibly uneducated and culturally illiterate, unashamed of his sexuality and boastful about using sex instead of hardwork as a route to success; the very antithesis of the IJGB archetype that we worship.  So how did Olanrewaju go from relative unknown to internationally known celebrity with a devoted fan base. He did it with a backstory that rivals Kim Kardashian and a little help from Nigeria's biggest gossip blogger Linda Ikeji.
In 2011, Olanrewaju was relatively unknown in Unilag, but even then he was already angling for fame. There are unsubstantiated rumours about him cross dressing on campus in that time and confirmed hazing from hostel mates. There is especially a news report from that period when Olanrewaju was arrested by law enforcement for trying to solicit a man while in drag. Not long after that incident, Olanrewaju embraced bleaching creams and Facebook and before long, his profile, where he was documenting his transition from darkskinned to light, began to draw attention. At this point, Linda Ikeji had just made her name as a gossip blogger and launched a thousand copycat blogs who scoured Facebook, Instagram and Twitter looking to break news on their platforms. It was one of these blogs, the Stella Dimokorkus Blog that first introduced Olanrewaju to the mainstream media by reproducing his controversial Facebook posts. This went on for a while, until Linda Ikeji finally took interest and put up a post about him on her blog.
In 2015, Linda Ikeji was at what many consider the peak of her career, she was averaging a 300,000 – 500,000 hits a day and had the uncontested ear of the Nigerian Diaspora, who were dying to connect with the 'motherland'. When Ikeji began to regularly post updates of Olanrewaju, she hoped to leverage the sudden but intensely volatile interest President Goodluck Jonathan passing a bill criminalizing same-sex marriages the year before had brought. She had already tested this theory by posting carefully crafted posts about the private lives of several popular gay American celebrities, and the allure of challenging the righteous indignation of Nigerians towards another Nigerian was too much to resist. Her gamble paid off and her popularity sky rocketed. But incidentally, so did Olanrewaju.
His Facebook profile began to get thousands of hits and comments, mostly negative, so the boutique owner abandoned his Facebook profile and moved to Snapchat, which was just gaining popularity in Nigeria. Snapchat was perfect for Olanrewaju; its 24 hour disappearing stories provided a real-time opportunity for him to chronicle his fabulous life to an adoring audience without having to worry about likes and comments and without having to deal with self censoring. Armed with a fancy smart phone, Linda Ikeji providing endless publicity and the rare opportunity to reinvent himself, Olanrewaju fell headlong into the project of a lifetime; creating the Bobrisky persona.
It took a few months, but Bobrisky eventually went full throttle on this new project. Armed with a mysterious 'bae' who allegedly provided him the bulk of his spending budget and a 'thriving' side business selling bleaching creams, Bobrisky created a phantasmagoric universe where dark skinned girls were ugly and bleaching one's skin to gain the attention of men was acceptable. He toed the line regarding gender at first, only wearing some makeup, but as he grew more famous, he began to dress in female assigned clothing and wear heavy makeup, turning his daily routine into a most watched event.
Peppering his snap stories with videos of million naira drops and expensive spa treatments, Bobrisky slowly built up a mythos around his bae, casting him as a very powerful politician with a legitimate heterosexual family, who skulked in dark corners stealing precious moments of happiness with him. Bobrisky staged elaborate fights, offered tearful diary style confessionals while recounting episodes where his 'bae' violently punished him for disobedience and disloyalty.  Bobrisky cast his bae as a generous but controlling lover forbidden by society from being his true self, himself as a long suffering kept 'woman' pursued by other paramours but ever faithful and their love, a doomed star crossed affair. It is the kind of melodramatic storytelling that New Nollywood only wishes they could conjure. And we lapped up all of it; the drama, the tears, the violence the unabashed 'sexual perversion'. It was clear Bobrisky had become a phenomenon when Google Nigeria announced he was the most searched person of 2016.
But Bobrisky has not been without controversy. There have been rumours and call outs about him grossly exaggerating his wealth, often with unsubstantiated evidence. Then there are the public feuds, most famously  a running feud with Toyin Lawani of Tiannah Empire, a former close confidant who has also had her life heavily scrutinized for her own transition from dark skinned to light. He has also feuded with other peddlers of lightening creams including Grety who peddles the Grerivian skincare line and Dencia of Whitenicious over accusations that his skin lightening package is substandard. 'Fans' routinely steal pictures of him without the Snapchat filters he favours and accuse him of selling his customers a pipe dream. Bobrisky has played up these feuds and scandals, using the media furore created around them to peddle his products and affirm the privilege his skin gives him. He has become the country's biggest proponent for skin lightening and often likens himself to celebrity author and OAP Toke Makinwa, who has also been accused of lightening her skin to make herself more commercially viable. Bobrisky routinely posts collages of himself before he started lightening his skin and himself now to emphasize just how much he has changed in four short years.
But light skin isn't the only approximation of femininity that Bobrisky has adopted and monetized. Bobrisky publicly presents with feminine markers, heavy makeup, false nails and lashes, full wigs and hair extensions, feminized clothing. However he continues to aggressively identify as male, even choosing violence to assert his maleness. He has had several run-ins with law enforcement for his often violent and misogynistic reactions to people, especially women filming him in public without his consent. This falls in the same pocket with rants on his Snapchat profile, slut shaming the women he was feuding with, promoting misogynistic ideals of women being subservient to men in exchange for financial perks, promoting colourism as 'good' and advocating that dark skinned women be ostracized and denied opportunities because of their skin.
But none of these egregious missteps have really dimmed Bobrisky's shine. If anything they've added to his mystique, especially with the Nigerian community in the diaspora who are more liberal towards Olanrewaju's brand of celebrity. He spent the last two months touring the United States, getting paid to make appearances at public parties and clubs, a financial model many z-list celebrities in America use to gain extra cash, accompanied the usual rumours that his time abroad was also used as an opportunity to solicit for transactional sex with white patrons fascinated by Bobrisky's celebrity. He crossed another milestone on his return, he was signed on to become the brand ambassador for Hair Nymph, a Nigerian haircare startup.
'International Exposure', a term coined by twitter user @MakiSpoke, has only made Bobrisky more desirable and given him the final push he needed to fully monetize his brand. He recently deleted his formerly free profile and opened a new 'premium' account. 'Premium' is a fancy term used in the adult escort industry for secret social media accounts where followers buy access to the owner's private social media updates through a monthly 'subscription' or a one-time buy in. As at the time of writing this, Bobrisky already has 300 subscribers to his new 'premium account' and the assurance that that number will only grow.
Our millennial inclination to ridicule the outsider, to play the long con by luring the outsider into a false sense of security and biding our time until we get the big payout of a major, public humiliation has helped turn Bobrisky into the mega success he is today. It is a con that we have seen happen many times; with Toke Makinwa when her 11 year relationship turned marriage crashed, with Tonto Dike when her marriage crashed, with Dammy Krane when he was accused of fraud. We love the thrill of the public rise and fall, even more than we love the illusion of western sophistication. We push them to pursue wealth, to embrace narcissism, to extol pettiness. When all three come in a neatly wound package, even better for us. Of course Bobrisky's humiliation is inevitable, the model he has built his brand on is unsustainable. Eventually someone will croak and the house of cards will come tumbling down. But for now, let us revel in the contradiction we have crafted.
It is our finest work yet.
---
Edwin eats his rice and cabbages. Tweet at him@edgothboy
---