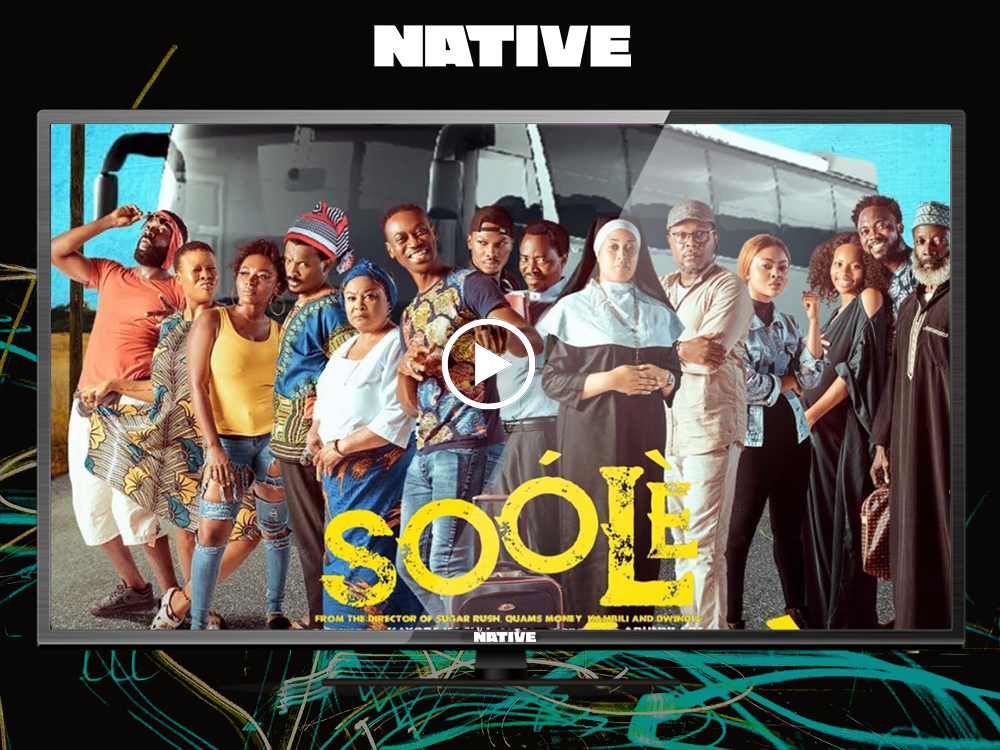 AV Club: Kayode Kasum's 'Soólè' Employs Exaggerated Comedy To Make Poignant Social Commentary
featuring your favourite Nollywood acts
In the later parts of 2021, Nigerian movie and music video director, Kayode Kasum, released 'Soólè', a poignant social commentary which adds to the slew of productions under his belt such as 'Quam's Money' and 'Fate of Alakada.' The title, which loosely translates to "cheap bus" or "cheap ride," is a popular means of transportation in Nigeria used to commute long journeys by road. Only a week after its release on October 14, 2022, the movie shot up to claim the number one spot on Netflix Naija.
Kasum gathered a star studded cast including Sola Sobowale, Lateef Adedimeji, Adedunni Ade, Femi Jacobs and a plethora of other notable names, as they embarked on a rollercoaster road trip to Enugu, a state in the Eastern part of Nigeria. Through the course of the film, we are introduced to a diverse group of characters with stark dissimilar backgrounds and morals, all which come to a head in the film's climax.
As they journey to their final stop, the inevitable clashes between these characters creates several bumps in the road, necessitating several stops and the discovery that some passengers had an agenda beyond reaching their final destination. Amid the fast-paced plot and elaborate character portrayals, 'Soólè' combines relevant social commentary about the state of the country, and its regressing inter-state travel networks.
View this post on Instagram
Audiences are first introduced to a reverend sister, Veronica, who boards a bus to Enugu to source funds for an orphanage. Unlike most religious leaders in Nigeria, Veronica is a lot less judgemental and hypocritical. She engages a fellow passenger and seat partner, Justina, in conversations on modesty expressing her thoughts on the virtue being overrated. She starkly contrasts another religious character, Pastor Oko who upon boarding the bus, forces a praise and worship session on all the passengers. This was followed up by an encouragement for them to offer their money to God through him–a familiar tactic for fraudulent men of the cloth. Unsurprisingly, the majority of passengers obliged, which speaks directly to the blind religious followership Nigerians often have to anyone who holds a Bible and speaks with supposed authority. 
We gain more perspective into Pastor Oko's character, as he refuses to donate to Justina who had lost five hundred thousand Naira worth of goods after a raid. While other sympathetic passengers offered up money according to their capabilities, he declined to donate to her cause, claiming that he must know the content of the stolen property first. Here, Kasum adeptly sheds light on blind religious followership among Nigerians as well as the sheer hypocrisy and judgemental attitude some religious leaders have on their followers. 
The most engaging aspect of the plot in 'Soòlè' is the way in which Kasum allows viewers to see themselves or someone they know in the characters who board the bus. For instance, other than the religious fanatics, Kasum also incorporates poignant commentary about respectability politics which play out in everyday interactions between the old and the young. Here, John, played by Lateef Adedimeji, attempting to alight the bus against the wishes of the other passengers. While conversing with the driver the other passengers began questioning his motives and that spurred a negative reaction from him. Ifebuchi, one of the older passengers proceeded to insult him, referring to him as a "Bastard African" with no respect for his elders. To this, he responded "What respect are you looking for? Your respect was lost years ago" 
'Soólè' also touched on the theme of insecurity, one which couldn't be more relevant in these times, with the ever-increasing rate of robberies and kidnappings on major road networks in Nigeria. In the film, all passengers are enroute a journey to Enugu and while they make their way in the bus, they encounter many horrors that have been experienced by Nigerians living in the country. While most Igbo families dwelling in Lagos and other parts are notorious for going back home towards the end of the year, the reality remains that the security conditions rid passengers of a hitch-free journey. 
It was hard to miss the general tone of desperation, masking as perseverance in the face of danger, which shone through the film and all its main characters. Through all the dangerous obstacles, all characters relentlessly worked to have their money intact in order to leave the bus unscathed in the end. Money becomes a currency through which the passengers alight the bus bargain for their freedom, and get themselves out of tight situations. For instance, in a dire attempt to survive in the tumultuous country that is Nigeria, a man left his pregnant wife stranded so as to get his share of the money. In addition, some captives expressed their desire to stay in the baby factory if it meant them getting their money. 
Overall, 'Soólè' acts as a satirical comedy, holding up a mirror not just the current issues plaguing our society and country today, but also some flawed yet normalised behavioural traits that are continuously perpetuated by many Nigerians.
Watch 'Soólè' on Netflix Naija.
---
ICYMI: NIGERIA WILL HOST THE OFFICIAL 'BLACK PANTHER 2:WAKANDA FOREVER' AFRICAN PREMIERE