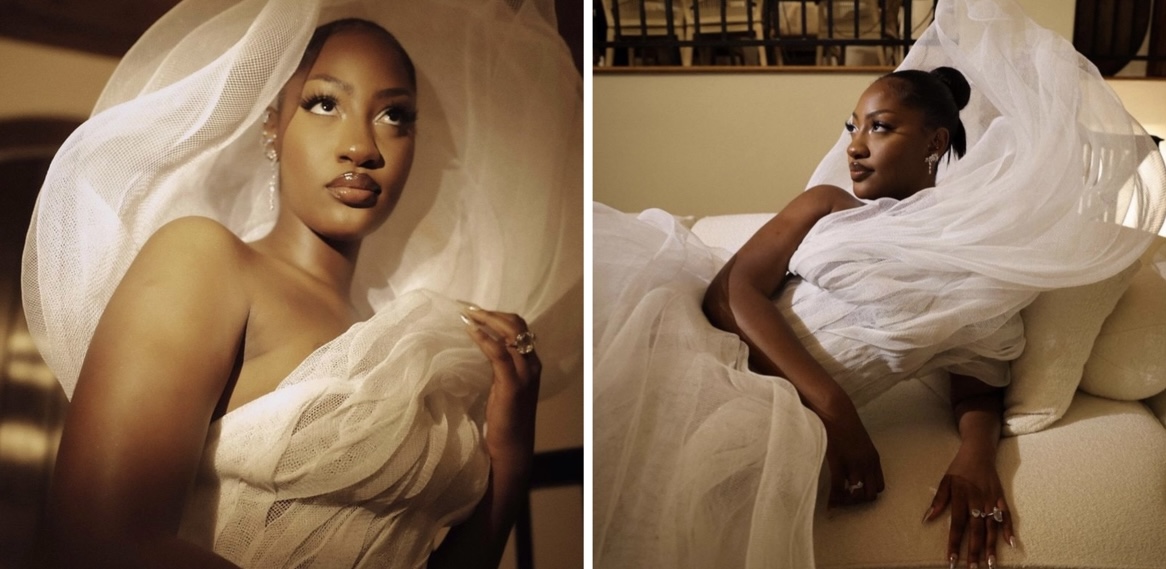 Hot Takes Special: Tems, the view, the topic and the moment
Tems stole the show, "oops"
Tems was the view, the topic and the moment at the Oscars this year. With millions of viewers around, award nights tend to generate a ton of buzz on social media for a number of reasons. When we aren't dressed in pyjamas and picking apart celebrities' looks on Twitter, we're sharing memes in reaction to some of the night's winners and losers. Last year, the talk of the night was the infamous Slapgate. While many viewers were fuelled with shock and excitement over Will Smith's reaction to an unsavoury comment about his wife, Jada Pinkett-Smith, others were apparently afraid. I guess? One-half of the Twittersphere made jokes about it and applauded him for standing up for his wife, another half, including Amy Schumer, Judd Apatow and more expressed their horror and fear over the violence.
One year later, against my better wishes, the conversation continues popping up as the likes of this year's host, Jimmy Fallon couldn't seem to let it go. Watching the show in the early hours of the morning became increasingly exhausting as 60% of Fallon's comedic monologue referenced the slap. However, I braced myself through the redundant and uninteresting aspects, waiting for Rihanna's performance and the announcement of Best Original Song. Like many viewers, sitting through these 3-hour long award ceremonies would be almost impossible without the hilarious on-going social media commentary. Still reeling with excitement about the possibility of Tems' Oscar for her writing contribution on "Lift Me Up" off 'Black Panther:Wakanda Forever,' nothing could have prepared me to find that she had created her own after-award show stir just by sitting pretty in Lever Couture. 
Oops.☺️ pic.twitter.com/en3XjAamhI

— TEMS (@temsbaby) March 13, 2023
Much like the Slapgate last year, one half of the Twitter sphere made jokes about Tems' outfit, some likening the headpiece to massive geles that Yoruba women wear to owambe parties, or the towering hats Black women wear to church. On the other hand, some seemed to be offended by the large headpiece, using rather vile language to express their distaste. A moment that started off with comments pitying whoever was sitting around Tems, quickly turned into distasteful, racially motivated commentary. The heat even extended beyond mere Twitter fingers, as publications like New York Post called her 'rude' and other Twitter users words and phrases as 'self-absorbed,' 'classless,' 'entitled' and 'lacking in self worth' to name a few. 
For many black women, growing up in a society that holds them to the highest, most unrealistic standards, this didn't come as a surprise. In the same space, off-putting tweets were flying around about Angela Basset for expressing the way she really felt after losing yet another Oscar category. Nominated under Best Supporting Actress for her prolific and memorable performance as Queen Ramonda in 'Black Panther:Wakanda Forever', the award was instead given to Jamie Lee Curtis for her role in box office giant, 'Everything Everywhere All At Once' For any following Basset's decades long journey in Hollywood, it would come as a surprise that she has never been awarded by the Academy for any of her iconic roles. Trolls took to social media to call her 'ungrateful' and a 'sore loser' when she had every right to be upset or at least disappointed. 
And this prejudice towards black women isn't a one-off moment. For the 2015 Oscar Ceremony, Fashion Police and Red Carpet host staple, Juliana Rancic criticised Zendaya's now iconic red carpet look, sporting now trendy faux locs, saying "I feel like she smells like Patchouli oil. Or Weed." The capital R that was glaring at me from that comment, is the same capital R that glares at me now with the backlash Tems is receiving for her outfit. Whilst we can all agree that it must have been annoying for the people behind her to have their view blocked, it's simply not that deep. Especially not deep enough for the connotations of the comments she received.
View this post on Instagram
While many argued -yes, Nigerians included- that the statements lacked racial undertones, it's important to remember that in the instances other *cough* women did similar things or simply existed, it was more 'iconic' than inconsiderate. For the 2010 MTV Video Music Awards, Lady Gaga's Franc Fernandez-designed raw meat dress was and still is the talk of that night. Except in her instance, it was 'eccentric.' For anyone who's entered a butcher's market or any grocery store retailing meat products, you can imagine the aromas exuding from the "Bad Romance" award-winner that night. Cher's towering feather headdress at the 1986 Oscar's, a response to her 'Mask' snub in that year's ceremony was also deemed groundbreaking. Just as these women were making bold fashion choices, Tems was doing just the same. 
In an interview with Harper's Bazaar, Tems shared, "Two years ago, I'd have said no to this dress. But it's my first Oscars — I am going to go all out. I really wanted to make the most of the day. The dress is also my way of celebrating my work and the people around me, celebrating my country, and celebrating the people that are rooting for me. This dress says 'Yes, yes, I am here!'" Her stylist, Dunsin Wright also shared that she wanted to reflect the magnitude of the iconic moment. Whether you like it or not, this is Tems' moment. The rite of passage for black famous women to receive racially motivated backlash is tired and we're tired of it. Black women should be able to take up space without being put under a microscope. More than Tems, it's about all of us, and it's comforting to know that through her music and her response to the backlash, it's no skin off her back. She's good for it.  
Featured Image Credits/Instagram: @temsbaby.
---