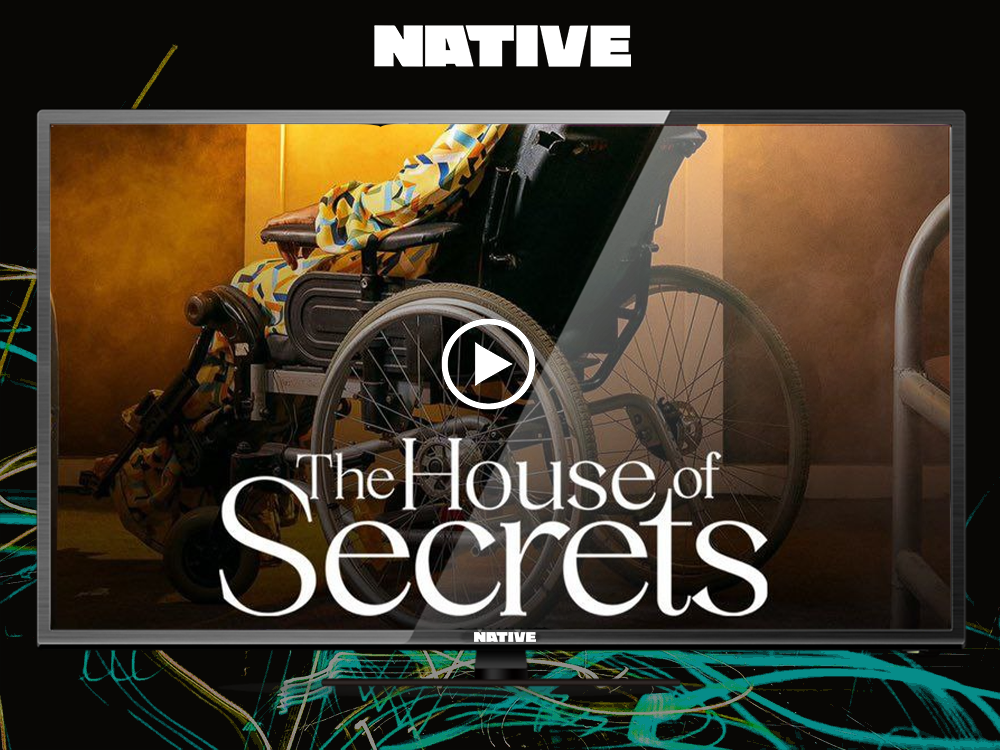 AV Club: A Love Story & Dreamy Cinematic Thrill Converge in 'The House of Secrets'
a Niyi Akinmolayan-directed film
At the start of The House of Secrets, the year is 1999. Through a voiceover, we meet Sarah played by Najite Dede, working at her typewriter as she cooks up gossipy banter for her column about her two loved-up neighbours. Sarah sits in a room facing a window, through which she spies on the couple and their everyday lovemaking and squabbles. Sarah is a slender, slightly grey-haired woman who is attended to by a small group of family members: her niece Esther (Anee Icha) and her young son, their maid Kamsi (Funlola Aofiyebi-Raimi) and another relative Daniel (Emeka Nwagbaraocha). They are joined by Dr Badmus (Femi Jacobs) and, through an effective enter-and-exit of the characters, we understand that Sarah suffers from memory loss, which these other characters desperately need her to overcome. After an intense panic attack, the scales fall from both Sarah's and our eyes: we are in modern-day Nigeria, twenty years away from 1999.
The past haunts the present within these walls, and lurking secrets come to light.

THE HOUSE OF SECRETS is now available on @primevideonaiia worldwide. #TheHouseOfSecrets#HouseOfSecretsMovie#SarahAndPanam pic.twitter.com/PrhFTtWpLy

— The House of Secrets Movie (@thos_movie) June 30, 2023
This sleight of hand is the catalyst for Niyi Akinmolayan's psychological thriller that premiered exclusively on Amazon Prime Video. Through flashbacks distinctly demarcated by monochrome and colour photography, the past and present intersect as the lives of a younger Sarah and her husband (played by Efe Irele and Shawn Faqua) are laid bare in a whirlwind of romance, patriotism and death. Much of Akinmolayan's acclaim as a filmmaker has come from the box office-smashing romantic and comedy flicks The Wedding Party 2 (2017), Chief Daddy (2018) and Prophetess (2021) but he's no stranger to dramas and thrillers, as 2019's The Set Up and Elevator Baby prove. What The House of Secrets does differently is its infusion of film noir, encapsulated by the dim lighting and melancholic tone of the black-and-white scenes.
After Najite Dede's Sarah is no longer fooled by the antics in the opening scenes, she realises that an enemy from the past still lurks in her present, in the person of General Sanni Sofa (Keppy Ekpenyong) who is the favourite for the forthcoming presidential elections. Sofa has a secret that can damage his political ambition and only Sarah knows of it. Aofiyebi-Raimi reveals herself to be Mrs Banke Lawal, the founder of an NGO that seeks to improve the chances of Mrs Durosimi Williams (Moyinoluwa Olutayo) with Sofa's secret in the election. Sarah, with her hazy memory, is at the centre of this power play that could influence the trajectory of a nation.
Najite Dede is one of the standout performers in The House of Secrets. She carries her role with a subdued yet dignified poise. Her witty voiceovers and dialogue display a young-at-heart persona, and when snatches of the past begin to converge, her confusion and anger intermingle on her face, leaving her both enraged and helpless. An earlier one-on-one scene with Femi Jacobs's Dr Badmus (who really is Dr Jide) is remarkable. The intensity of Dr Badmus' interrogation (worsened by the screech of a train) and Sarah's defencelessness are evidence of the incredible talent of both actors. Scene after scene, Najite Dede moves with different emotions and effortlessly embodies one after another.
View this post on Instagram
While Najite Dede's Sarah pushes the narrative forward, it is her younger version and Panam Peters that are the heart and soul of The House of Secrets. Efe Irele and Shawn Faqua's on-screen chemistry is one of the best in Nollywood's recent history. Their meet-cute, enhanced by a soaring score, is one of the film's best scenes. After they fall in love, Panam Peters, a soldier and Sarah, a secretary at the post office, marry. Through Barnabas "Barny" Emodi's camera lenses, Panam and Sarah's marriage is dreamlike, full of kisses and hugs and affectionate words. It's moving and tender, with both actors complementing each other yin and yang.
When trouble comes from Panam's associates in the military, Sarah and Panam's marriage, now blessed with a coming child, is rocked but it never loses its on-screen charm. Sarah and Panam's story arc bears similarities with Izu Ojukwu's 76 where Ramsey Nouah's Joseph, also a member of the military, is aware of a dangerous secret and must protect his pregnant wife Suzie (Rita Dominic). While both films differ in their presentation, the two lovers in the films are the winning cards in their portrayal of a love threatened by evil politics. 
Aside from the strong performances from the cast, The House of Secrets also wins on a technical basis. Emordi's cinematography and Akinmolayan's direction, most especially in the black-and-white scenes, marry each other with skill and intent. A particularly impressive frame is where Irele's Sarah is whipped into a line of seated patients in a psych ward and the scene match cuts into cups of pills. The shots are also used well in bringing the characters' surroundings to the fore and heightening the mood of the scenes.
Where the wins of The House of Secrets lay, though, are also where its flaws arise. The actors with an identifiable catalogue of works are the ones who put in the best performances, while the rest are left to their own devices. Also, the CGI effects are poorly executed and call undue attention to themselves. The strongest moments in The House of Secrets are the scenes set in the late 90s; they shine with a lot of thoughtfulness that the filmmakers put into them. When compared to those parts (aside from the early scenes), it elicits wonder about what The House of Secrets might have been if it was strictly set in 1999.
Still, The House of Secrets is a commendable work. It shows that Nigerian filmmakers are more than ever willing to take creative risks with their storytelling. At its core, The House of Secrets is a story about the strength that love possesses to outlive fear and pain. With excellent acting from the lead stars and skilful camera work, Niyi Akinmolayan has unlocked a new creative path that promises interesting tidings.
Stream The House of Secrets on Amazon Prime Video.