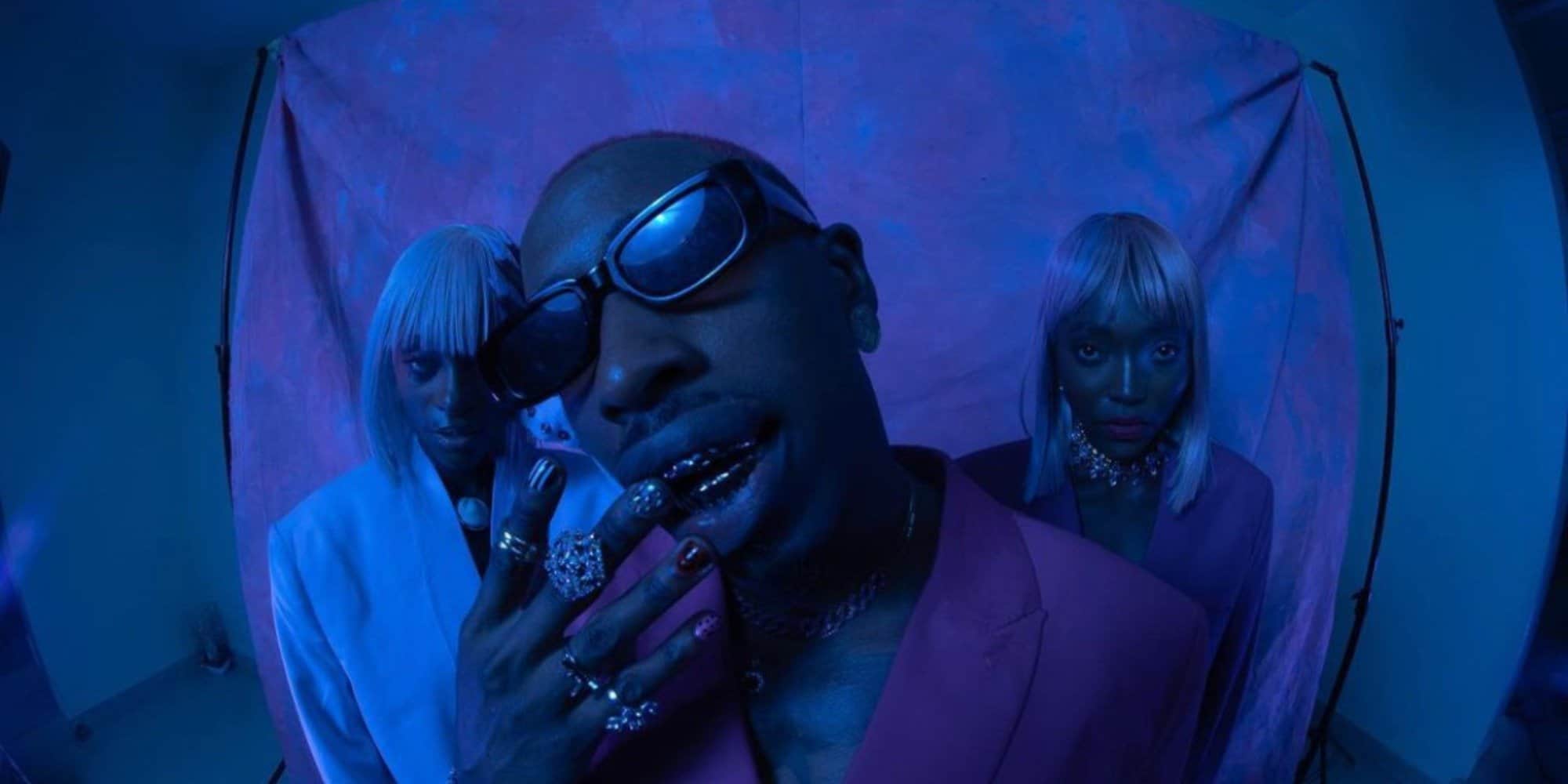 A 1-Listen Review of Zamir's EP 'FLOWERBOI4000'
a new arch for the rhythmically daring rapper
For months now, Zamir has teased the release of his latest EP, 'FLOWERBOI4000', a welcome return after a four-year gap since his last effort. All year long, he's been releasing multiple hit tracks leading up to this defining moment from gritty dndSection-assisted "A.Iverson" to the melancholic confessional on "LUV HRTS" featuring Odunsi (The Engine). 
He's clearly spent the years since his 2017 debut album 'XXIII' sharpening and refining his skills, all the while remaining consistently relevant in the alternative music scene delivering memorable raps on multiple singles and features with other talented musicians in the alternative African music space including Amaarae, BOJ and more.
'FLOWERBOI4000' represents a perfect nexus in the rapper's expanding soundscape as he showcases his genre-defying abilities, ambitious rap ideas and impeccable sound execution. With his pre-releases and the visuals he accompanies with them, Zamir has kept us all on our toes as we anticipate this project. Interestingly, the project features two prominent faces in the female Nigerian rap industry, hinting at how in tune with the times the young rapper is. Upon my first listen, 'FLOWERBOI4000' is a sharp reminder of the rhythmically daring rapper's abilities pushing the boundaries further and delivering his own interpretation of modern Rap music. 
In usual 1-Listen fashion, here are my first thoughts on 'FLOWERBOI4000'. No pauses, rewinds, fast forwards or skips. 
"A.Iverson" featuring DndSection
Listening to this song for the first time on loudspeakers certainly contributed to the love I have for it now. Zamir is assisted on this number by dndSection as the pair deliver these hard-hitting raps about getting their shit popping like 11-time NBA all-star, A.Iverson. Their sounds complement each other seamlessly as they smoothly glaze over this captivating beat. I couldn't have imagined a better track for the intro to a Zamir tape. This has definitely set the mood and got me excited for what's coming next. I anticipate this being a fan favourite.  
"Amnesia"
Like "A.Iversion" and "LUV HRTS", this track was also a promotional song for the project. The alternative track didn't really hit when I first listened but now within the context of the EP, it's certainly grown on me. I appreciate the contrast in sound between this and the first track and the lyrics are growing on me. A standout lyric for me is "Baby I need you, wanna spend all night with you/Baby I won't forget you" as Zamir quips about his lasting effect on his love interest, promising to never forget her despite suffering moments of amnesia.  
"Fly" featuring Mannywellz
This is one of my favourite tracks on the project. I'm not too familiar with Mannywellz's sound so I'm excited to hear what that's like and I hope he doesn't disappoint. Oh wow! He and Zamir are gliding over this beat so seamlessly, this is exactly what the doctor ordered for this late August weekend. Zamir has really improved upon his skills and I'm pleasantly surprised at the pace of the entire project so far. 
"Nowhere" ft. Seki Supervillian and Maison2500
This is one of those tracks that if you don't listen to it on the loudest volume in your room, you'll probably miss out on how good it is. This is toxic love at its finest. "You ain't going nowhere/know you coming right back" is an instantly memorable hook for me. It underscores many modern-day relationships so I'm not surprised that it makes a feature in Zamir's genre-defying world. Zamir and Seki Supervillian already deliver crisp verses but Maison2500's verse has to be my favourite bit on the number. In their typical fashion, Maison2500 brought a blunt and edgy youthfulness to the track, standing out on this stellar number from their peers.
"LUV HRTS" featuring Odunsi (The Engine)
This number was the first track pre-released from this project and I thought it was the perfect teaser for what was to come. I instantly fell in love with the track's memorable hook "she wanna love hard/she wanna love heart", which has been stuck in a loop on my mind. I'm always down to listen to a heartbreak anthem and that's exactly what Zamir and Odunsi (The Engine) deliver on this catchy track in their own futuristic way. It's on my heartbreak playlist as we speak so you know it's a good one. Run this back a hundred times.
"STAN" featuring DetoBlack
So far, I'm really enjoying this project. I can't say I've previously listened to Zamir music as much but this has definitely converted me into a fan as I'm already adding all my faves to my playlists. Following the release of her debut EP 'Yung Everything', I'm definitely excited to hear more Deto Black who's been one of the brightest specks in female rap in the past year. I like the speedy delivery of Zamir's raps, this is so intoxicating. I'm bopping my head to the beat at this point and I'm not afraid to say that Zamir makes music for bad bitches. Safe to say Deto Black also understood the assignment. As usual, her lyrics are catchy and key into the vibe of the song. 
"RI"
I love the instrumentals of this track as it fits the vibe of the entire EP but I could also do without it. It was interesting to see that RI was a reference to Rihanna though. I mean who more than Rihanna could have her own spot on a project after years of taking a break from any solo music releases. I don't have much to say as the track was over before I knew it but it was an interesting listen. I'd have to spin it again to really get into it. 
"Pretend" featuring Tay Iwar
This might be my favourite intro, scratch that, my favourite song on this EP. This is what they calling making music. Tay Iwar already drew me in with the vocals even before the beat dropped. This man is literally the secret ingredient towards making any track a confirmed hit (shoutout Wizkid). These lyrics are doing it for me: "Ok let's pretend, this party never gonna end/ it's ok don't pretend, maybe we should just stay friends." The vocals and lyrics mesh perfectly with the beat of the song and contribute to the mood and delivery of their collective messages. I'd say though, I wish Tay Iwar had another verse but at the same time, the length of the song is good as is. I love this song a lot and would definitely have it on replay this weekend.
"Bad Af" featuring SGaWD
SGaWD is bad and about it. Since last year, the emerging rapper has been silently working her way into our musical consciousness with a stream of releases and guest verses that have showcased her growing skill and stellar penmanship. For me, everything changed with "POPSHIT." I've quickly become a fan of SGaWD and after listening to this melodious intro, I'm anticipating her verse and hearing how well she would pair with Zamir on the track. As expected, she didn't disappoint. I'm speechless and is that Spanish? Nah she is impressive and this is exactly how it's done. I'm glad Zamir has carved out space for female voices on this tape. This is important.
"Ordre Du Jour"
The last track on the EP and I'm not mad about it. It initially came out last year during the pandemic with a dynamic French verse that proved the rapper's rapid-fire abilities. The dramatic violin riff and the buzzing piano strings on this track set the tone for the project's outro and I'm pleasantly surprised when the beat drops because I was not expecting that. The rapper seamlessly goes back and forth between French and English and after a quick google search the title which translates to "Order of the Day" is reiterated in the lyrics "rolling with the same guys since like five/never told no lies". 
Final Thoughts
Zamir's presence on a track is something like a force of nature. He's rhythmically daring, willing to take risks and ambitious to experiment with a spate of various soundscapes that set him far outside his comfort zone. It's been four years since we last heard the rapper on a solo musical effort but 'FLOWERBOI4000' reiterates his promising skills as he embodies a new template of authenticity that sets him apart from his peers in the industry.
With help from a talented crop of artists and producers from Higo to Deto Black, Tay Iwar and more, Zamir delivers a gleefully hedonistic set of songs that pack an onslaught of wordplay. His laser-precision flow gives him ample space to fire off hard-hitting bars while giving his collaborators the ability to shine in their moment. Here, harmonies swell and shimmer for listeners delight. This is the effect of all the hard work put in behind the scenes to create a fully-formed planet of his own making where unfiltered confidence oozes with each lyric. Zamir has definitely learnt a lot over the past few years and now, he's ready to share that self-determined showcase with the world.
Stream 'FLOWERBOI4000' below.
Featured image credits/TSE
Nwanneamaka couples her creative interests with her individuality and uses writing as a vessel for her expression.
---