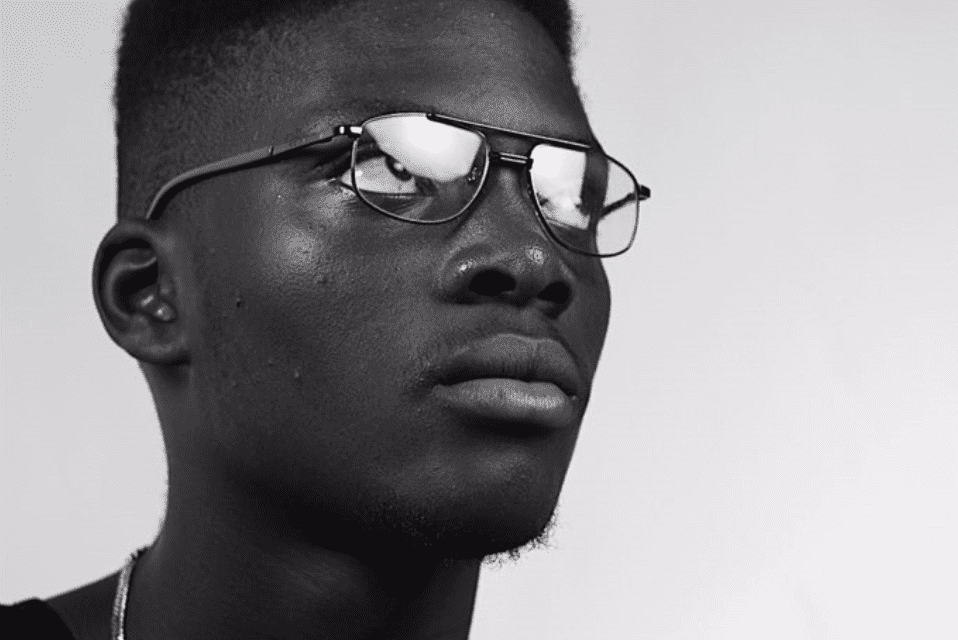 4 Years, A Deleted Tape, 1 Yinka Bernie
Yinka is here to tell the story
Yinka Bernie speaks for 2 minutes and the first thing you notice is how much he uses the word "Crazy". You are either thrown off by this or you are left to feel up your imagination with what crazy could possibly mean in the context he speaks of it. Then at intervals, he punctuates his sentences with "and stuff". But it reflects how difficult it must be for Yinka Bernie to squeeze his past experiences and the feelings of it into the apt 2 minutes I seek out of him. Even when he begins a story, he never really completes it, moving to the next or the previous for fear or care that he may have gone off discourse a little too much. His eye for detail and observational skills however, remain intact. Yinka Bernie recognises the importance of process. When he highlights on something obviously sad or painful that happened in the past —like his lost music files, he concludes with a rejoinder —"but I couldn't even put that out. Thank God sef."— recognising that it's all for the greater good in the end and it's all part of life's journey too. What he has now is better than what could have been.
The music journey for Yinka Bernie began in 2014, when he dropped his first project Fela Obsession. "I wasn't a singer then, I just produced and sampled and stuff", he says. Albeit, the reception towards this was substantial. Taking on the entire Afrobeat vibe and immersing himself in it, he says he may have even outdone it. So he took to other's advice, by listening to other artist's music and ultimately, improved. He was now ready to figure out where, exactly, he fits into music. By 2016, he released his first song as an artist, "You Need", which was just "a trial"–so he puts it. And was recorded by his producer-friend, Magic Jacobs. At this time, Yinka Bernie was already diverging in a single direction to release an original project he had finished recording with about 5 tracks done. But then, an incident happened.
He describes it as a "Funny Thing". As usual, Yinka dishes the meat of the matter, not the nitty gritty details of it. First, his laptop is damaged. But thankfully, he's clairvoyant enough to have backed up music files on his friend's system. Except unfortunately, the two young men get into a fight and before Yinka could … —at this point, Yinka Snaps his fingers in this way that expresses how short a time it is for a friend to delete all the files.
The notoriously embattled relationship between he and the friend who altered the release of already completed tracks in August last year, triggered Yinka to a short demise from the music space. Until he decided to slowly reconvene with a new laptop, to recover work on a record that, for a time, seemed destined to become a Yinka debut release. Finally, he pulls away, only to stop resuscitating what has long been dead. But the singer quickly realised his vision would be incomplete without immersing himself in other music related doings. You can tell he was hurt at the time, and now that he narrates it briefly, he's recovered. So like someone who is now over it, Yinka says "then I was making beats, making beats, till like November last year. And then, I started recording again. By December (2016), I had already recorded another E.P. That was still 19 and Over. But then again, I couldn't put it out."
Yinka acknowledges the importance of listening to other music, to broaden his own knowledge, curating his own sound to help improve his craft. He tells me, in the wake of 2014 to 2016, "I was trying to feel up my head with new stuff like new music: I listened to Jazz a lot, and hip-hop…a lot of music, trying to understand how to go about this whole thing."
However even with a little mimicry of other peoples' works, Yinka Bernie has always been the exception rather than the rule. At the time he was still fuelled by enough friend insolence and the uncertainty of life, he released an introspective 3 track compilation titled, Facts of Existence, which seems both like spoken word poetry and a stream-of-consciousness monologue. On it, a voice —which isn't Yinka's though—states, "I think about pain, it is in the crevices of my psyche and the flashbacks of my past". Here is a glistening sculpture of an experience (presumably including times after his lost tapes) that injects a healthy dose of everything that is far from mainstream Nigerian music. The 19-year-old who lives in Lagos, sings with a gravity beyond his years –by dint of his baritone voice. His music is boldly personal (although on 19 and over "I didn't take anything too seriously" he says), and he's a technically precise artist and producer who understands the strength and weakness of his voice and how to go about it.
What it reveals is someone of talent, ambition, and enough wit and self-awareness to keep his ambition grounded in reality. His songs (peep his track "Balance") are alive with this tension between life and a thoughtful, sensitive adolescent. And thats a big part of what makes his recent release, 19 and Over sought after.
We begun 2017 and Yinka still seemed to be on Shaky ground before the release of what eventually became the complete 19 and Over later this year. First, he released  "Silhouette" in March then left again for about 6 months, up until last month (August). But "Silhouette" was the engine that rocketed the producer-artist-songwriter nearer the gates to stratosphere. It's a testament to his decision to "get serious as an artist, put up that personality as an artist and finish recording the songs for the E.P. So now there's this transition from the former Yinka Bernie (i.e the normal producer guy) to the artist now. And It has been crazy. Honestly, it hasn't been that easy."
His song "Subconscious Flashes", released just 48 hours before the eventual release of the long awaited Extended Play, begins with the burden of disappointing his supporters who have been in anticipation. However, even with the roadblocks, all the mistakes and missteps would prove more of a defining consciousness that aids the goodness of all the new tracks on 19 and over. Yinka exudes sane energy: he achieves his relaxed cruising altitude on a cloud-bed of cosmic experimental grooves, leisure ambience, jazz-and-hip-hop-schooled beat science, and elegant orchestration. Where in his earlier days, a lot of what he did (with a short project like Fela Obsession in 2014) were samples and refixes. The driving force behind it is the baritone voice people have often likened to Black Magic's singing style. While the musician in question is truly worth the comparison, there's something radical in Yinka's new release that departs from the Black-Magic-identity that marked earlier releases. Here, his songs are retrofitted with some other people's distant voices swirling around Yinka on 19 and Over (think "Subconscious Flashes" or album-titled-track "19 and Over") and genuine production works that slopes to suit unique formation.
"What do you want people to take away from it when they are done listening?", I ask.
"[On 19 and Over], I have different songs that talk about life, balance, …uhhmm, different things but life generally. 19 and over is the transition of me leaving the teenage-hood to adulthood. So I'm telling a story about my teenage-hood, everything I've felt, my aspirations and all. [With it, I want] people to know that basically you could do anything you want to do. And that's pretty much it." he says. And we are done.
The record is truly progressive and unconventional. And there's a certain boldness and adventurousness to dropping a first definitive project. This is it for Yinka Bernie Onaduja. Like the cock that crows on the last note of "Not the Intro", this is daybreak. No matter how much "running around in circles" or "Plotting Plotting" (as he sings on "Not the Intro") he does on his journey ahead, Yinka Bernie will always be here on the E.P cover, hands in pocket, legs apart with a firm stance, the childhood playground structure forever behind him, as he rows the treacherous waters of adulthood towards his aspirations.
Featured Image Credit: Instagram/@yinkabernie
---
Fisayo is a journalist who thinks writing is hard and reading too. But her journey somewhere reveals, words are like pawns on chessboard when writing. She wants to see, create and share with the world, experience & communicate these experiences. Tweet at her @fisvyo
---