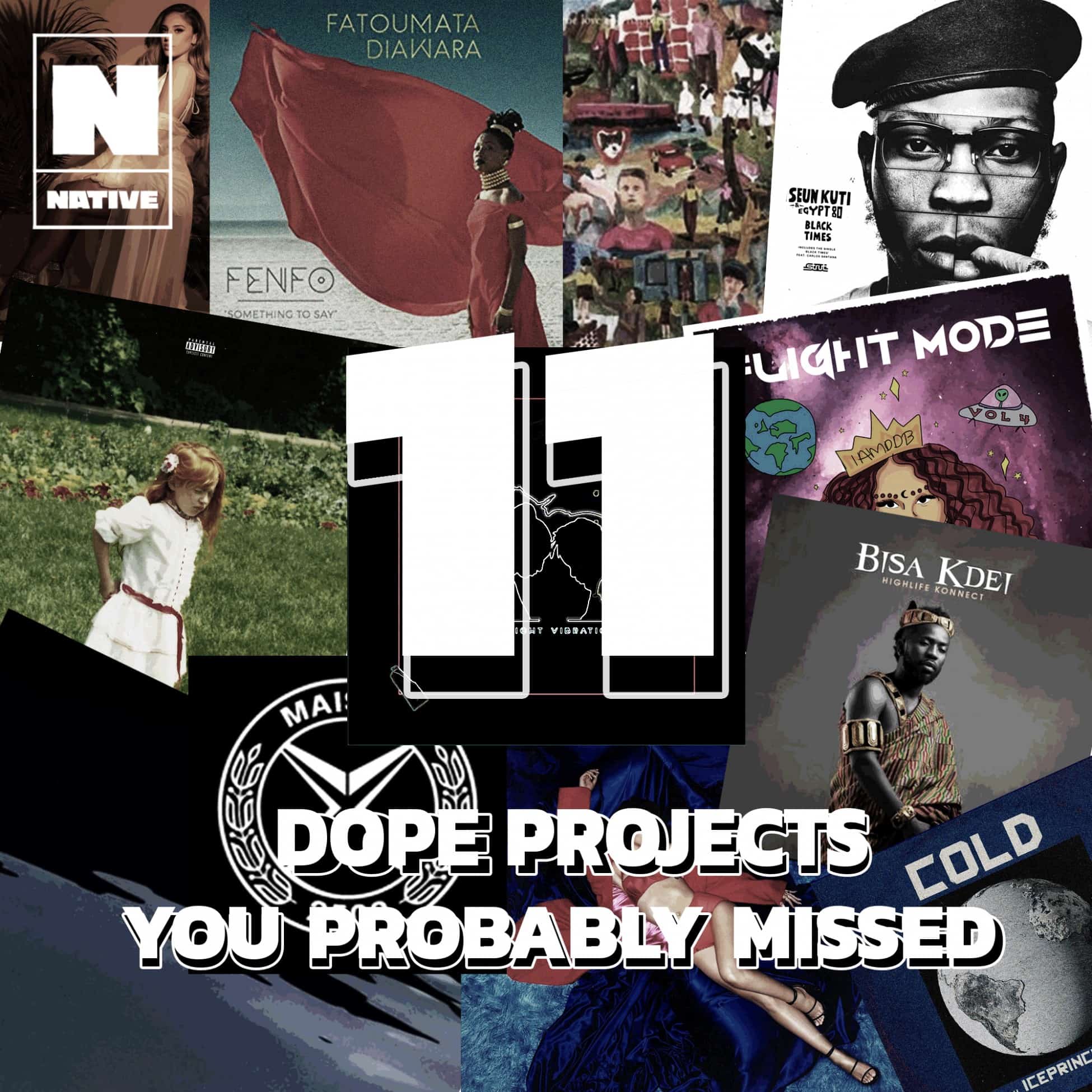 The NATIVE Presents: 11 dope projects you probably missed
From all over the world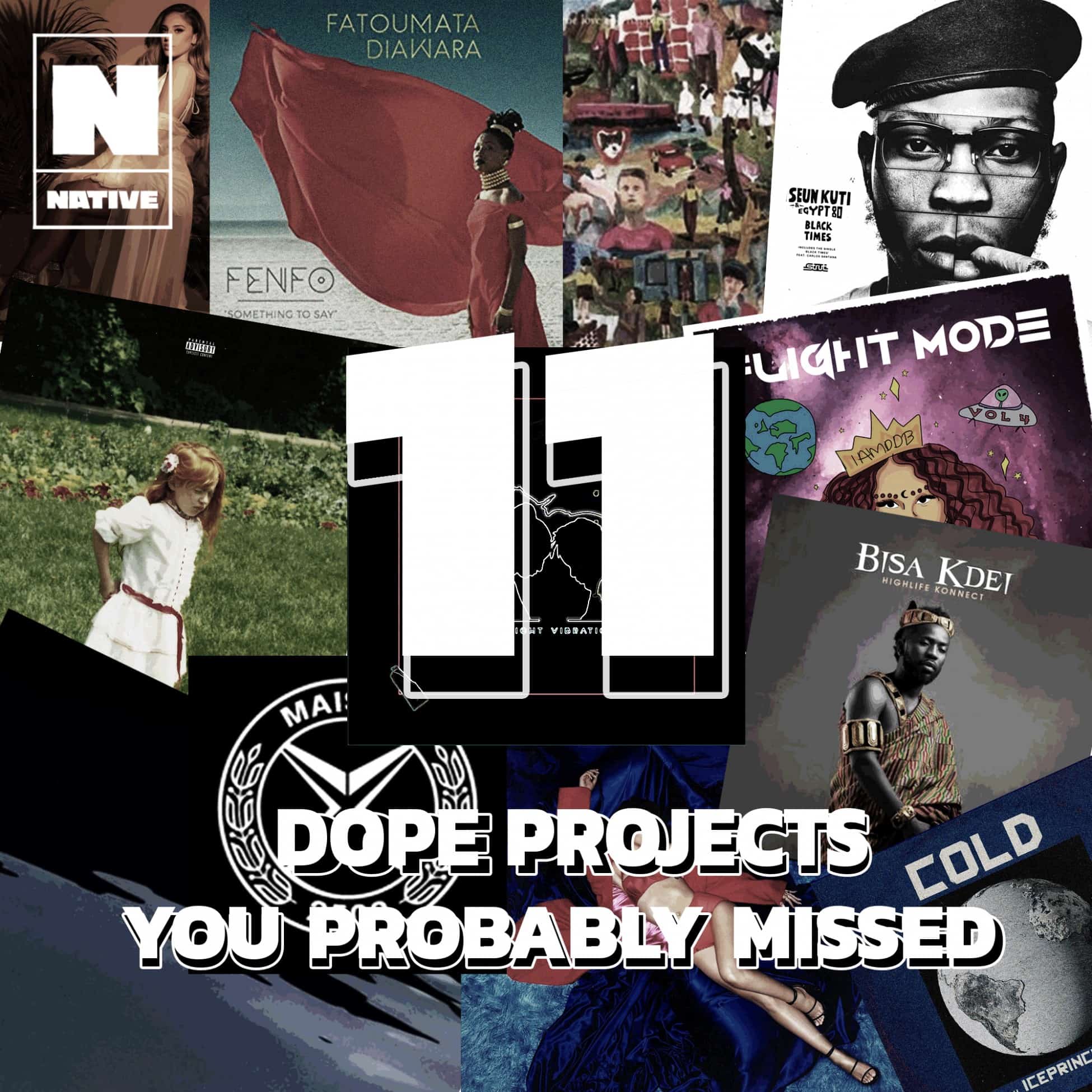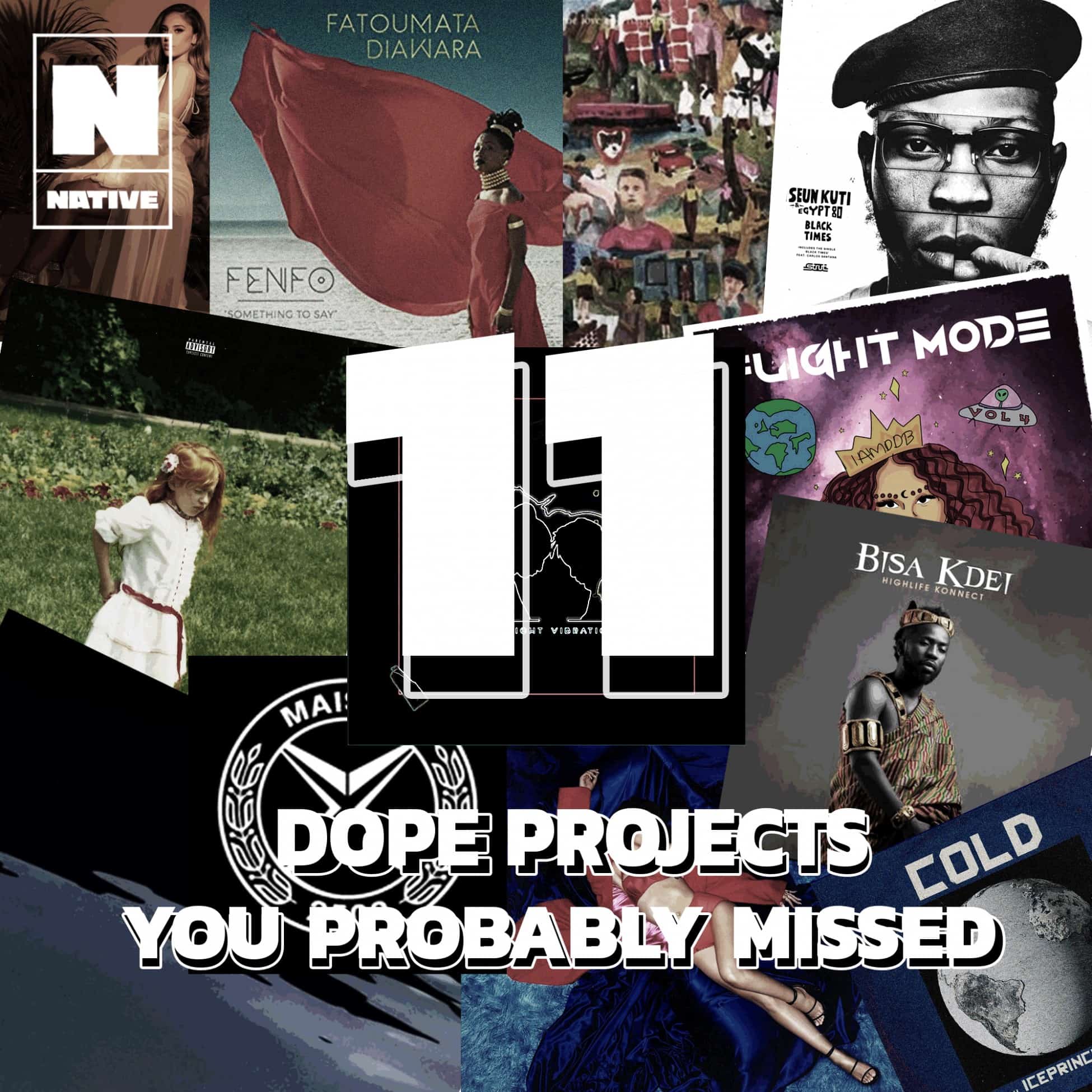 Late Night Vibrations – YCEE and Bella Alubo
Tinny Entertainment has been strengthening its A-team of signees since the label released last year's "Kokoka" featuring Bella Alubo, YCEE, Damilare and Dapo Turburna under a group alias called Tinny Mafia. The label's strategy has been more overt this year, putting two of it's leading acts—rappers YCEE and Bella Alubo—on Late Night Vibrations, an emphatic joint project. LNV is technically a romance-themed project, but rather than packing the 6-track EP with corny declarations of undying love and affection, YCEE and Bella Alubo double-down on the real-life niceties that can make or break any relationship. Young love always seems to be constantly going through the motions and this reflects in LNV's songwriting and mellow production. Both YCEE and Bella talk communication, romance itself and staying together despite the odds of not knowing how best to do that. As we hear on "Be There", the EP's final track: 'Bad as e bad, we can work things out', Bella and YCEE sing, exemplifying the flawed humanity at the core of every relationship.
Ecstasy, Just Chill – SoulBlackSheep
SoulBlackSheep's 'Ecstasy, Just Chill' EP was one of this year's pleasant surprises. The Ibadan-based singer's subdued vocals are unlike anything you've heard from around here. Soul is able to instinctively channel the angst of emo, the tenderness of gospel, and the emotions of R&B. He first surfaced last year, flaunting gorgeously imperfect lo-fi anthems, "Bermuda" and "Space Girl" before releasing his 'Ecstacy, Just Chill' project this year.  "Ecstacy", the tape's lead single, paints SoulBlackSheep's Ibadan hometown as an ancient city illuminated by the tawny sun, capturing her curious mix of historic and contemporary architecture, and the unmistakable sense of peace and quiet that almost feels otherworldly. SoulBlackSheep channels this ethereal atmosphere to create a 12-track project with gorgeously sung hymn-like tearjerkers for the ones that got away. It makes a compelling case that dealing with a broken heart can be akin to a religious experience.
Kali Uchis – Isolation
Isolation is a movie in the 80's and in 2018; it's interesting to see how Kali Uchis balances all her varying styles in such a modern yet vintage-y manner on this debut. She explores bedroom pop, funk and reggaeton, weaving a personal narrative about having binational immigrant parents, living out of her car, and the universal theme of love. None of the artists that Kali Uchis features outshine her on Isolation —Tyler, The Creator, Jorja Smith or the Internet's Steve Lacy offer complementing verses and they don't stay for too long, as Kali Uchis sings truth to power. On "Your Teeth in My Neck" she sings about getting recognised in the music industry. "Nuestro Planeta" featuring reggaeton performer from Colombia, Reyton, is sung absolutely in Spanish but it sounds so good, it's easily amongst the top five from the Colombian-American singer's album.
Generation XXX – Maison2500
As the Nigerian Music sphere becomes more popular, one of the crucial signs of a healthy soundscape is the existence of varying genres. This is exemplified perfectly on Maison2500's debut solo effort. As a member of the collective No Politics Mob – featuring NATIVELAND alumni, New World Ray – he shows himself as the next potential breakout rapper from a raucous bunch. The standout record "Do or Die" – with a fitting name for anyone who has ever been to Nigeria – is an infectious, hookless flexing of Maison's lyrical chops. With clear influences on Generation XXX from Lil Uzi Vert, Maison shows a range sometimes ignored in this strain of 2018 Hip-Hop.
24: How To Find True Love and Happiness – HYUKOH
Though K-Pop remains unrivalled as the biggest cultural export from South Korea, HYUKOH has seemed set to change the sound with the release of 3 projects in the last 5 years, favouring the guitar riffs of psychedelic rock to contemporary pop quirks. Rather than launch a full-on aggressive campaign to ensure their crossover into the mainstream, their latest project, '24: How To Find True Love and Happiness', has a playful clarity that ultimately gained the record reach where other Korean records felt too abrasive. Recorded in English, they come across as eloquent and subtle, making music that's wiser and less demonstrative. What '24: How To Find True Love and Happiness' may lack in newness and excitement, it makes up for in wit, charm and a comforting familiarity that highlights the intimate sentiments of the EP.
Highlife Konnect – Bisa Kdei
As African music becomes more homogeneous, collaborations between artists from different ends of the continent have become increasingly popular. From Nigeria's Niniola to Kenya's Sauti Sol, many artists are wearing the pan-African tag with pride. Bisa Kdei's third studio album, titled "Highlife Konnect" may be following in this direction. Assisted by acts from both Nigeria and Ghana, Bisa Kdei's 15-track album creates a web of varying sounds, all pointing back to the indigenous highlife. On the Mayorkun-assisted "Count On Me" for instance, Kedi borrows from 90s RnB and highlife to plead with a lover he intends to marry, while "Pocket" with Sarkodie is heavily indented with Afropop jollof sounds.
Black Times – Seun Kuti
Seun Kuti knew he had huge shoes to fill after his dad passed in 1997 and he had to take command of the Egypt 80 band. Fela's reputation for using his Afrobeat music to speak against the ills of the Nigerian government has inspired artists from around the globe to take a similarly humanitarian path. But perhaps Seun Kuti and Egypt 80 have had the privilege of a more direct influence. Their latest project, 'Black Times' continues right where Fela left off; Jazz-fueled and politically charged. Co-produced by Robert Glasper, an accomplished jazz pianist, 'Black Times' is more than just 8 tracks of a pointed statement, opposing Nigeria's corrupt government. It is also funky with upbeat grooves that make for an interesting pairing with his defiant message.
IAMDDB's – Flightmode Vol. 4
IAMDDB's music, as she puts it on 'Watrfall", off her 4th project, is what happens when a girl just wants to express herself. Her aesthetic sound, which she describes as "Urban Jazz", is the contemporary lovechild of RnB, Jazz and her take on trap music. IAMDDB also sometimes layers her music with drum sounds she says are inspired by her Angolan roots. On her 8-track latest release, 'Flightmode', the 4th volume of projects she has dropped at intervals, the Manchester-born singer delves deeper into these roots. On "Azul", for instance, reminds us that she's not here to play "I ain't come to play no games, yeah I came to take the throne and bounce like skrt skrrt", while paying homage to her African roots with thumping drums and lyrics sung partly in Portuguese.
Dear Annie – Rejjie Snow
A year after leaving a football scholarship in the US, Dublin-born rapper, Rejjie Snow released his debut EP, Rejovich which earned him a deal with Elton John's management company, as well as gigs opening for Madonna on tour. The project that followed was last year's The Moon And You, a 13-track compilation of pop, RnB and hip-hop sounds he has explored since his first EP. Leaving the nomadic life behind, Snow released his debut album, "Dear Annie"  this year, employing the Pop, RnB and other sounds he explored in his past lives. 'Dear Annie', as it is called, is a 20-track genre-defying collection that sees Snow lamenting leaving a lover, mainly desperate for reconciliation. Snow is his most laid back on "Egyptian Luvr", featuring Aminé and Dana Williams, where he expresses romantic nostalgic lines about what once was and a melancholic mantra—"Leave the past behind"— over a groovy house beat Kaytranada produces.
C.O.L.D – Ice Prince
It's almost odd how little rap we hear from Ice Prince these days. When you think about it, this was a man once believed to undoubtedly be Africa's biggest hip-hop act. But this is not the only reason Ice Prince's 2018 C.O.L.D EP lives up to its name and hype. In a manner that can only be considered transcendental, Ice Prince successfully does two things on this project: show-off his often understated range and delivers sorely a missed Afropop touch through the 8-track serving. C.O.L.D opens with "Shutdown" almost unaware of itself because Ice Prince isn't trying to clear doubts. In his mind, his foray into full-blown Afropop may look like the sideline on the rap bench but he's "been on the grind for a hot dang minute". The best track(s) on C.O.L.D is a hard pick between the fan favourite, "Hit Me Up" (featuring Straffiti & PatrickLee), the Remmy Baggins-produced "Tour 234", and "So High" featuring KaySwitch—the Mo-Hit era's most underrated artist. If Ice Prince' solo-projects have failed to impress you in the last four years, C.O.L.D is the fifth year charm that should turn things around.
Fenfo – Fatoumata Diawara
Born in Cote d Ivoire to Malian parents, Fatoumata's profile in film and theatre provides some context for her climatic storytelling style on Fenfo. Unlike her intimate genre-mashing debut Fatou (2011), Fenfo, her sophomore project is directed at where her heart will always be: home. On Fenfo Fatoumata settles into the warmth of love and nostalgia, edging her rebellion against tradition on prevailing African realities. Fenfo is Fatoumata singing against beliefs that prevent intermarriage on "Kanou Dan Yen", emphasising the dark skin and honour for black heritage on "Kokoro", and laying vocals on Vincent Segal's beautiful cello baseline for "Don Do", a haunting track about unrequited love. Across 11-tracks—no more, no less—Fatoumata delivers a perfect album that peaks at the Afrobeat-infused dance number, "Negue Negue" before segueing into a sombre second half, starting with album-centrepiece, "Mama".
The Color of You – Alina Baraz
Some of the adjectives often used to describe Alina's voice are: sweet, angelic and dreamy. She fuses these three things into a relaxing cruising altitude on The Color of You.  The Color of You is Alina Baraz' first solo album, a follow up to a sultry collaborative project she did with Danish producer, Galimatias in 2015 titled Urban Flora. On the EP, they both achieve alluring sonics. Little wonder we anticipated her 2018 personal debut, and we've been pleased. When Alina sings, her angelic vocal style is layered and combined into one beautiful form with the instrumental.  Alina's sensuous music is all about the interplay between soulfulness and technology; this is exactly what makes her album so dreamy.  Some songs you'll want to zero in on include "High", "Coming to My Senses", "Tainted", and "Yours". There's some satisfaction in listening to Alina's album at night to reflect on loneliness and moving-on as she takes us through the mistakes she's made in her own relationships
[mc4wp_form id="26074″]