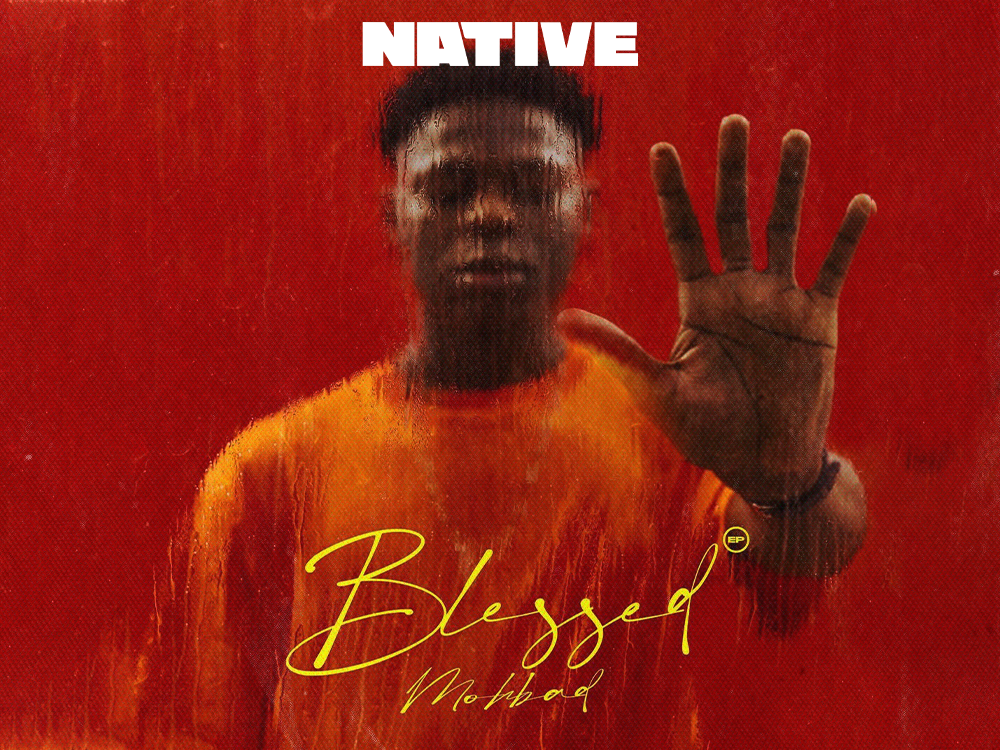 A 1-Listen Review of Mohbad's New Album 'Blessed'
honing into his strengths, the musician delivers a narrative masterpiece
Stars are abound in the Afropop galaxy, but Mohbad shines a different light. Since entering the scene, he's united a fusion of eclectic elements in his work, impressing his talent on audiences within Nigeria and beyond. Last year's contractual difficulties with Marlian Records led him to break away from the label, but Mohbad continues to renew his appeal by honing in on his sonic strengths. Through brilliantly rendered songs like "Feel Better" and "Ask About Me", he's kept himself in popular discourse, cornering the angles for a project drop that solidifies his new path.
View this post on Instagram
'Blessed' comes with that motivation. Released earlier today, it has eight tracks and features Bella Shmurda and Zlatan. These interesting pairings nod in the direction of Mohbad's fuji-informed street hop origins but also his tendency to really rap, which contributes to the distinct colours in his music. He's surely had a fine run-up to this EP, so it would be enthralling to witness his approach to this sophomore body of work. Let's get it on. 
In usual 1-listen review fashion, all reactions are in real time while the music plays. No pauses, rewinds, fast-forwards or skips. 
"BEAST & PEACE"
Army band-type drums starting out this one. Very atmospheric, it's like a dove hovering above a streak of dark clouds. Mohbad is really spitting; I love this reserved flow. Every word is hitting, the cadence is quite Reminisce-esque. "You don't have to hurt me before you win" is such an heartbreaking line. I'm feeling this; personal openers are the norm but few approach it with fresh perspective. This mention of Bella—their friendship is so wholesome. A rarity in the music industry, I tell you. Solid opener; perhaps the best I've heard all year. It's surely up there. 
"SABI"
Grooves are put front and back of this one. This production is alive and mellow; I love the tone of the drums. Mohbad's singing never fails to be evocative: he studied the greats, you can tell. It's songs like this that make me wish I could hear the Yoruba language. Mohbad knows how to take it to church; I wonder how much religion influenced him growing up. The violinist here has been stellar as well; these first two songs just sink you into a reflective, poignant, but ultimately grateful mood. There's something about the musical quality that sounds like the aftermath of struggles and tribulations. 
"ACCOUNT BALANCE" FT. ZLATAN 
This is the most street hop song on the tape so far. I wonder who's the producer behind that 'meduwa' tag; he's become the owner of this bounce. It's a very bouncy, catchy song. Coming from the energy of the first two songs, perhaps a mid-tempo could have settled the vibe a bit better. I like this song as a stand-alone, and would probably break a few chairs in the club to it, but it was an abrupt choice for the pacing. You'd like it though; some close friends say I tend to overthink. 
"OMO MI"
Mohbad's ear for beats is underrated. He's hardly picked a bad beat throughout his career, and his understanding of their nuances also reflects in how he utilises his vocals. He's skating over this one, it's what I mean to say. When he gets into that smooth-sounding delivery, where his vocals barely rise over a whisper, the richness in his vocals comes alive. This song is such a good song; it does everything, from motivating the listener to making her feel sexy. I admire coherence, but I also enjoy the ability to be different things at once without losing one's essence. Everything is everything. 
"BLESSING"
"Many people say me I dun too fumble," sings Mohbad some lines into this one. His awareness of self is beneficial to the music. His vocabulary is quite expansive if you peep it; he's able to relay very conflicting emotions easily. Everytime he performs he puts the merit of his celebrity under perspective, especially with the gory past of the label conflict. He's willing to grow in public and that carefreeness reflects most especially on this song. Banking on the grace of God, he makes the case for his continued development, through the essential act of creating music like he's always done.
"LA PIO PIO"
Niphkeys tag—I know this is about to shut down clubs. The intent to party is not hidden; the mysterious feel of these drums are synonymous to the Lagos nightlife where anything is said to happen. I'm currently in the most serene place possible so it's just my legs swinging; I feel a bit estranged from the vibe. But I know this will bang on club speakers; the chorus is also structured in a way that would inspire dance moves and chants. Don't be surprised if this becomes the breakaway hit from the project. 
"ASK ABOUT ME"
Amapiano makes the cut, finally. Lol. Jokes apart, it's quite the sonic feat that Mohbad made it seven songs into this project before having the familiar log drums. Even their adaptation here is novel; it's moving with a breezy splendour, while the soft synths and trumpets alongside it makes the production more dynamic. Having one of the best vocal deliveries in the game, Mohbad makes light work of the beat. When he sings "ask about me," he's really about that talk. It's remarkable how consistently evocative Mohbad has been over the years. These female backups, golden. Great song, man. 
"PARIWO" FT. BELLA SHMURDA 
When I heard the snippet of this song, I really liked the direction. Now Bella's starting out; man, this guy's vocals have a vulnerability that borders on spiritualism. He's open to the emotions of living. He's left the beat now, though, and Mohbad is riding it with a more fun streak. "I just let you know" is such a simple lyric but Bella makes it sound like a passionate theory from a 19th Century philosopher. He's the unique quality in this record, but his host deserves credit for also working towards his strength. Short song, but you'd surely return. Boasting dance and demons in almost equal measure ranks a fine spot in the achievements of contemporary Nigerian Pop.
FINAL THOUGHTS
The sophomore slump is one of the most believed myths in music history. An artist turns into their personal life—the pains and triumphs–to create their debut, and when the second comes along, the material is exhausted or weakened. We've seen artists fail to replicate the spark in their early work, but for some others, the mundane is potent for vibrant sounds to emerge. Mohbad belongs in the latter category. 
Where his first project, the pandemic era-released 'Light', bore his signature traits, the affiliations with his former label and his relative newness to celebrity life somewhat blurred his vision. Societal accounts made for reflective bops, but here he's created a transcendental body of work. A project which endures, and moves endlessly with the inner tensions of the creative. 'Blessed' is a narrative masterpiece, uniting the past, present and future through an assortment of stripped, spiritual sonics. 
Mohbad delivers like someone who's got something to prove, while for large parts ignoring the obvious elephant in the room. What this does is embolden his perspective, pushed to delve into himself and unearth ideas that had previously only appeared on surface level. As a pop project, these eight tracks also colour the mainstream with an ingenious energy, turning the light back to the scene as the musician bares his ever-evolving perspective. 
Stream 'Blessed' below.
Featured image credits/NATIVE
---