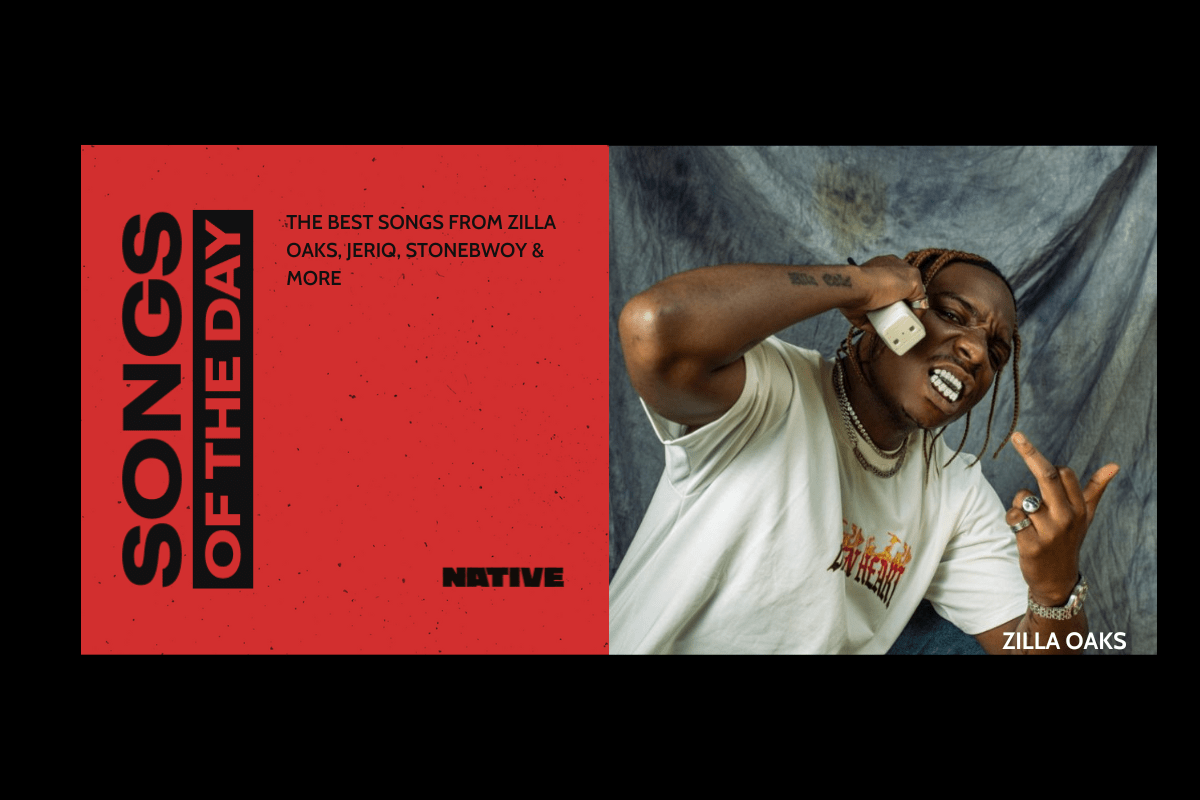 Songs Of The Day: New Music From Zilla Oaks, Jeriq, Stonebwoy & More
New songs to begin the week
2022 is no longer a new year, and Afropop knows that very well. As much as the previous year was packed with scene-defining achievements, especially within the context of global growth, the only way to keep the momentum from falling off is for artists to keep reaching into their bag for great music that holds the ears and captures the hearts of millions of listeners across the continent and well beyond. That's exactly what's been happening, so much so that there's hundreds of new singles, at-least one new must-hear album and a new smash hit every week.
Amidst this torrent of new music, the NATIVE is committed to highlighting the best releases you need to hear, and possibly add to your playlists. That's the essence of our 'Songs of the Day' column. Earlier in the week, we highlighted new drops from Kizz Daniel, Tekno, Larry Gaaga and more. Today's selection includes new cuts from Cobhams Asuquo, Bella Shmurda, Stonebwoy, Zilla Oaks and more
COBHAMS ASUQUO, PATORANKING & BELLA SHMURDA — "JAH ELI JAH"
Cobhams Asuquo, the veteran singer and songwriter has recruited Patoranking and Bella Shmurda for a dizzying new offering titled "Jah Eli Jah." The record which is made up of billowing drums, soulful melodies and glib flows sees the trio skate the beat with grass-to-grace-tales and prayers to God. 
STONEBWOY — "THERAPY"
Ghanian superstar Stonebwoy is back with a new offering dubbed "Therapy". "Therapy" pares down the fluid texture of R&B with the gritty percussion of Afrobeats, with Stonebwoy surfing the beat with his sleek vocals. Over the track, the singer is openly vulnerable as he professes his unflinching love to his muse and declares her love as his therapy. 
Jeriq – "Back To Basics"
Ahead of his forthcoming debut album, rapper, songwriter and uNder (previously Fresh Meat) alum Jeriq is here with his new single "Back To Basics", a Drill tune with heavy bass and kicks on the production. "Back To Basics" finds him rapping in his dialect and speaking on where he started from to where he is today.
AYOMIDE SOUNDS — "YAWA DEY" FT. ZLATAN
On this gleaming offering, the age-old dance of old and new lives on, as budding talent Ayomide Sounds taps Zlatan for a resplendent romantic ballad. Ayomide is earnest as he professes his obsessive love for his muse with lines so clever, they could be the work of a Pulitzer Prize-winning poet stricken with lovesickness. Zlatan contrasts Ayomide's solemnity with his defining playful essence. 
ZILLA OAKS & MAKAMA — "MUTUMINA X ALOBAM" 
One of the blistering acts heralding a new wave within the Nigerian music scene returns. Zilla Oaks — an illustrious Abuja based rapper — taps fellow Abuja-based rapper for a high-octane Hip-Hop offering "Mutumina x Alobam", which is the lead single off his imminent 'MMXXII' EP. There's no shortage of thrill on the record as the talented duo trade sleek bars over a menacing beat. The allure of the song is not so much in its lyricism but the smoothness the pair exude as the rap about living their best lives.
BLVCKI TOPIA — "BLVCK ORISA"
"Blvcki Orisa" is a powerfully poignant track that melds the amorphous sonics of quintessential Yoruba soul music with the tittering drums of 80s disco into a wholesome flourish. Blvck Topia is amorphous and fluid on this track, not just with his delivery but with his choice of words. He skirts around themes, heading in no particular direction but instead uses his sultry vocals to conjure a dreamy ambience. 
Featured Image Credits/NATIVE