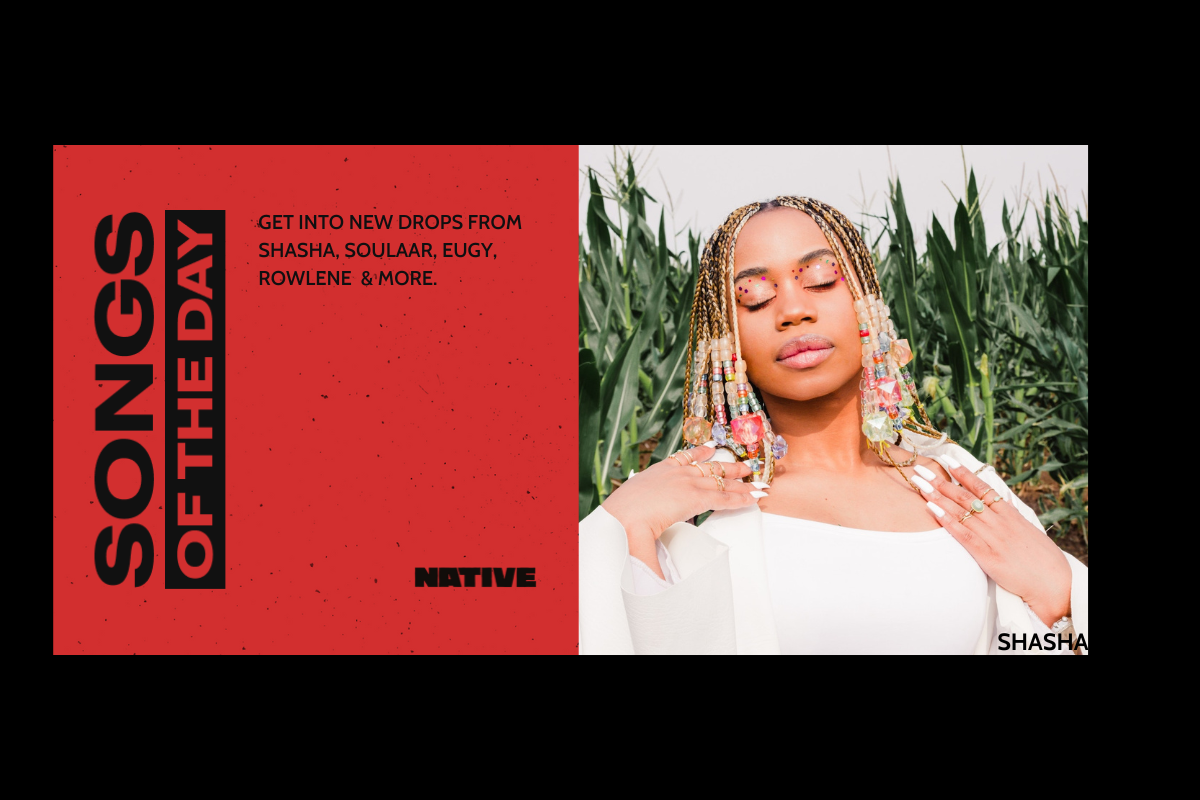 Songs of The Day: New Music From ShaSha, Soulaar, Eugy & More
New music for the week
We're more than halfway through 2022, and it's been an eventful year for Afropop. There's been a torrent of great new music, spawning a massive stack of inventive smash hit songs. From Highlife-infused Ghanaian pop, to the unrelenting force that is Nigerian street-pop, to South Africa's indomitable Dance scene, to tantalising Drill explorations in East and Central Africa, and much, much more, we're living through abundant and musically expansive times.
Every week, tonnes of songs from African artists make their way to digital streaming platforms, and wading through them can be intense. That's where The NATIVE's Songs of the Day column comes in to help. We go through as many new releases as possible, spotlighting them here, two to three times every week. This Wednesday, enjoy new releases from South African Amapiano singer, ShaSha, the new Ejoya Music artist Soulaar, Eugy, Rowlene and more. Dig in!
SOULAAR – "BAM BAM"
This week, Ejoya Music announced the first artist out of its music development programme, Nigerian singer Soulaar. Now the newcomer has released his debut single "Bam Bam." Soulaar might be new to the game, but his pen game skill has been in practice for a while, and the Afrofusion number gives a glimpse of his range of capabilities. Produced by Xtremetheproducer, Soulaar sings over a thumping bassline and airy piano keys "Bam Bam Bila, She's a killer, bloody sinner," giving the song a hypnotic chorus.

SOMTO – "AVAILABLE"
The South Eastern music scene has produced remarkable gems over the years, and Somtoo comes from that lineage. A soulful musician based out of Awka, he explores themes of love and loss in a vulnerable style that's influenced by his passion for writing and poetry. Somto's latest record is "Available," a warm bop which seeks the companion of a lover. With adequate grasp on his tone, the budding musician has created a contemporary-leaning record that both confesses and excites, confirming Somtoo as an impressive artist to watch out for.

M.RUMBI – "LET GO" FT. NAWEKULO
The mellow guitar riffs and harmonious background vocals give this Soul & RnB number a melancholic feel. Featuring the sumptuous vocals of Nawekulo, South African songwriter M.Rumbi reflects on fading love that has wilted. Nawekulo repeatedly sings "if I let go will it be okay," showing the desperation of her love as she has been holding on for too long.
$HYLI – "SLOW WINE"
The best word to describe Ugandan singer, $hyli's new single "Slow Wine" is seductive. The juxtaposition of singing, subtle mid-tempo productions, and dancehall vibe give off a dreamy tune that relaxes listeners. The beautiful catchy flow and bass percussions make up for the scanty lyrics in the song. 
EUGY – "NO OTHER"
2022 has been an active year for Ghanaian- British-based singer Eugy and "No Other" is another catalogue to add to his hits. He follows up his most recent single "Enough For Me" with an Afro-fusion ballad: "No Other." On the Afro-Fusion ballad, Eugy combines cloy lyrics with his Afropop palette as he persuades a lady to accept his feeling towards her with lyrics such as "I'll be your guy when you need, you know I'll ride when you need."
EMMIE MUTHIGA – "CATCH ME LATER"
Releasing her debut album 'FREE' over the weekend, Kenyan songstress Emmie Muthiga is redefining R&B according to her terms. The eight-track project contains an array of emotions circling love, despair, and liberation over complex up-tempo productions. The stand-out track "Catch Me Later" finds Emmie Muthiga bidding goodbye to a toxic relationship characterised by love and insecurity. She constantly assures her listeners her confidence is contagious as she meticulously blends Swahili and English while cheering on the beauty of Kenyan ladies. 
VUGA KVNGZ – "DROWSY"
Since breaking out in 2019, Vuga Kvngz has been on an upward trajectory in defining Afro-Trap. In his latest single: "Drowsy" he tells the story of working hard, drugs, and shawries on a trap-infused beat produced by DicetheGem. As his fan base and career evolve the feeling is overwhelming as he speaks of where he is heading. The aggressive vocals and the bouncy beat render this song enjoyable to listen to as the song is a perfect blend of rap and afro beats with; a beautiful hip hop orchestra. 
SHA SHA – "GIVE ME SOMETHING" FT. ROWLENE
South African songstress Shasha is gearing up for the release of her album 'I'm Alive' coming out on 23rd September. With two songs out already including "Ungowami" featuring Soa Matrix and "Themba Lami" featuring the dexterous Ami Faku, Sha Sha released her third single"Give Me Something" from the anticipated album. Employing the euphonious vocals of fellow countrymate Rowlene, the R&B number gives a love story over a concussive production. Birthing a sonic bliss, the duo coat the song with their sweetened vocals.

Featured image credits/NATIVE