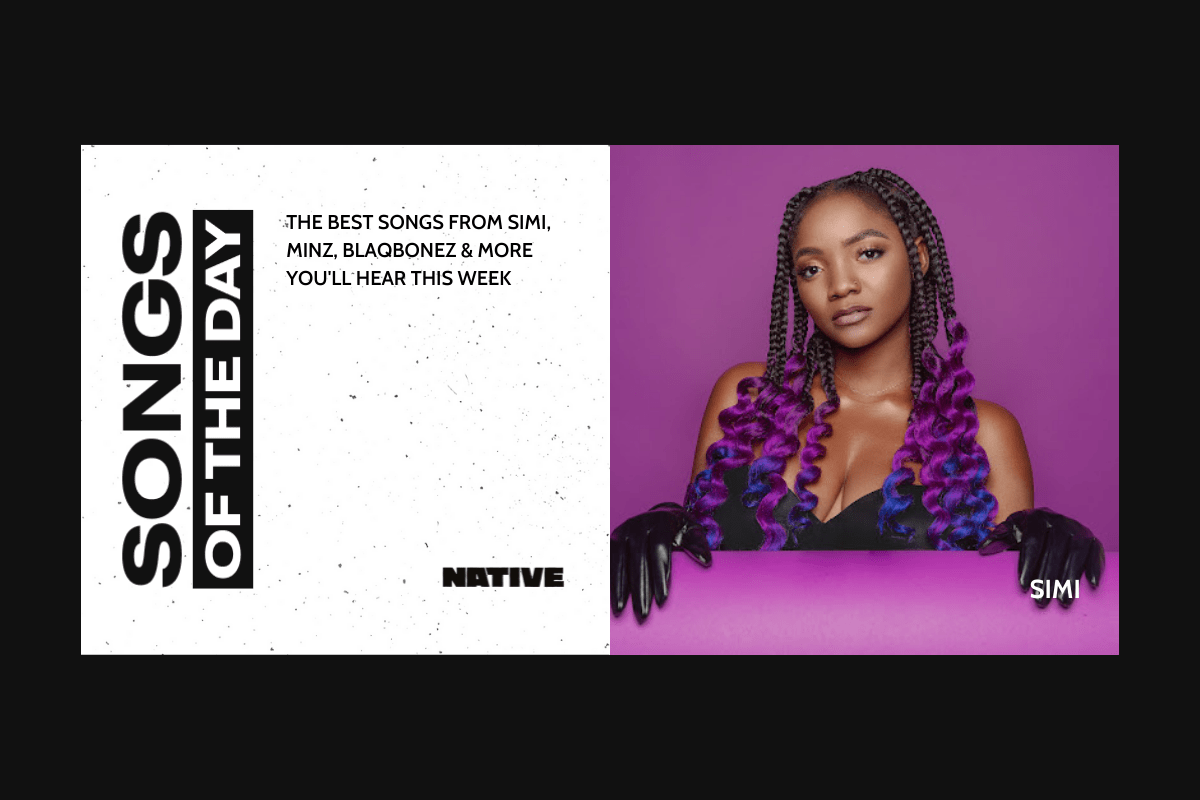 Songs Of The Day: New Music From Simi, Minz, Blaqbonez & More
new music friday
After the many wins forged by Afropop last year, the musical landscape has never looked more promising. As such the fast and furious pace of new music releases makes it hard to keep track of all the good music coming out of Africa. That's where our Songs of the Day column comes in.
We're doing the work to stay on pulse with all the music coming out from across the continent and beyond, bringing you exciting songs of tomorrow: today. Earlier this week, we brought you new releases from Kidi, Ria Sean, Popcaan & more. To ease you into the weekend, enjoy these new releases from Simi, Mohbad, Black Sherif, Tesh Carter and more. Enjoy.
SIMI – "SÁRÉ"
Simi's new song packs her trademark groove into lighthearted lyrics, coasting over bright percussions. Her songwriting flits between romantic excitement and the general positivity of one who's living her best life. "I'm getting money, I'm getting lucky/I hear you calling, you're up to something" she sings on the pre-hook, taking into the innuendo into the song's chant-esque hook.
TESH CARTER – "REBEL" FT. BLAQBONEZ
Tesh is usually one of the sickest singers around with a voice of gold. On her latest single, she opts for a pop vibe on "Rebel." Tinctured with a Caribbean bounce, feature Blaqbonez joins her in talking up their grit and journey in the game. "I don't fear anybody, I'm bad I'm not humble/you know I'm a rebel," she sings.
OBT – "OH NO" FT. KILLERTUNES
OBT's new record "Oh No" adopts the self-referential gaze of many afro pop songs. Over warm percussions and alongside revered producer Killertunes who turns in a scintillating verse, the artist takes stock of his wins and the haters who'd want to fumble his bag. To them he gracefully sings, "as my life dey mess with your conscience, I no mind."
JAYLON & MINZ – "NAYA'S RIDDIM"
Last year, Jaylon racked up credits on projects by Mr. Eazi and Psycho YP. Said to be currently working with DJ Tunez, the producer is in demand and "Naya's Riddim" demonstrates why. Crafting a sweet, textured groove on the record, he collaborates with emerging act Minz, who adds his accomplished vocals and catchy adlibs. In all, you get a romantic bop dripping with sensuality and intent.
BLACK SHERIF & BURNA BOY – "SECOND SERMON (REMIX)"
Not long ago footage emerged of Burna Boy performing the "Second Sermon (Remix)" on stage, effortlessly taking both his and Sherif's verses. It's obvious he loves the song and why wouldn't he? It's a thrilling sound which appeals to different audiences; since last year, the "asem ebo" phrase has been hot on everyone's lips, regardless of whether they knew its meaning or not. Now, a video has been released to represent the record's evergreen energy. Cinematic in vision, it's shot in Ghana and shows Sherif being chased through some buildings and being caught, before Big Brother Burna Boy shows up, bossed-up in an all-black ensemble as he delivers his verse.
DJ TUNEZ – "MMM" FT. MOHBAD & REXXIE
Rexxie and Mohbad have never missed on a song together and for their latest, joining Starboy's DJ Tunez, the chemistry is again channeled. The production is trademark Rexxie, thumping drums and adrenaline-lined keys. The aspirational quality of "Feel Good" is again present in Mohbad's lamba, confidently delivered in a mix of Yoruba pidgin English speak. The song just pulls you in till you lose control, dancing wildly. Who doesn't want more money?
OCHOFOREIGN – "LOVE CYCLE" FT. JESS ETA
The title track off OchoForeign's three-track release, "Love Cycle" is a slow burner, suffused with lovelorn voices reminiscing of the better days in love. "We go together like stew and rice," sings Ocho in his chorus, making the point of why the romantic interest should stay with him, regardless of whatever pops off in the future.
Featured image credits/