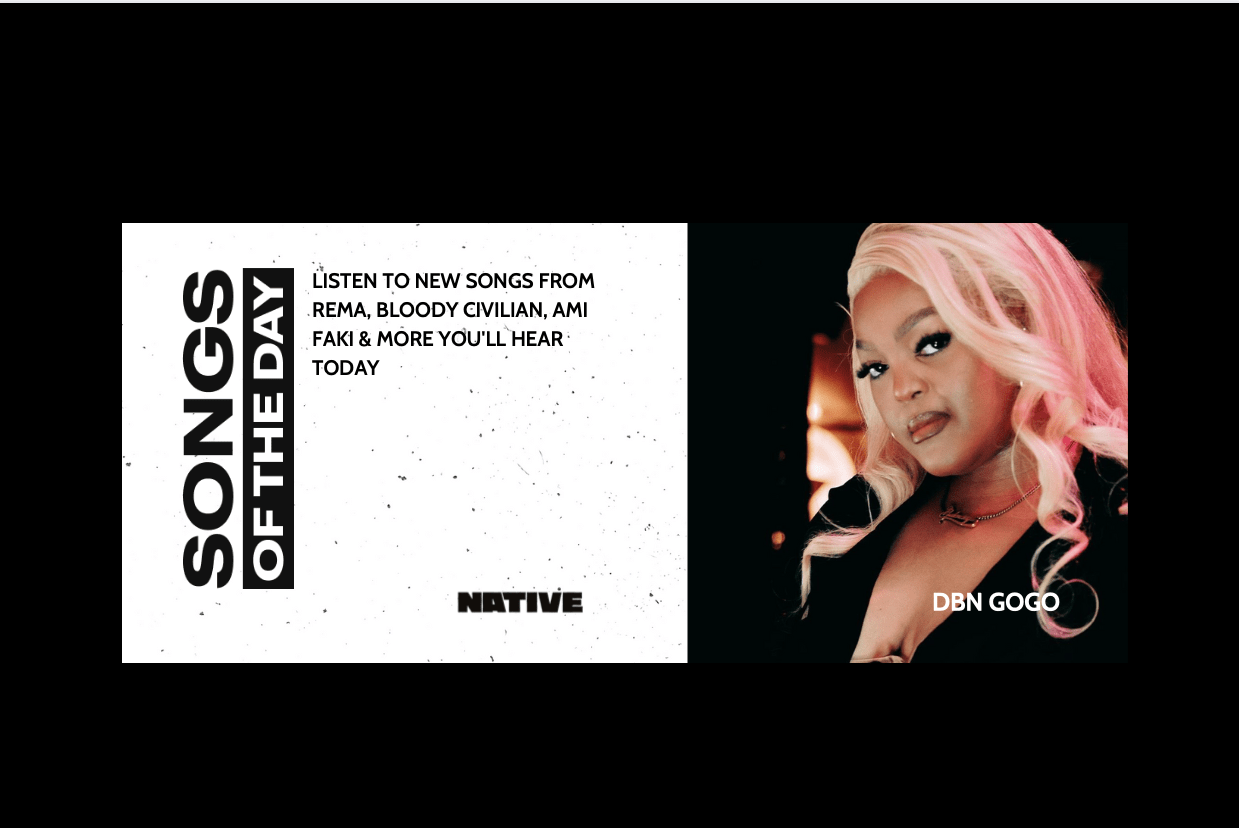 Songs Of The Day: New Music From DBN Gogo, Bloody Civilian, Ami Faku & More
new week, new jams
2022 is winding down, and it's been an eventful year for Afropop. There's been a torrent of great new music, spawning a massive stack of inventive smash-hit songs. From Highlife-infused Ghanaian pop, to the unrelenting force that is Nigerian street-pop to South Africa's indomitable Dance scene, to tantalising Drill explorations in East and Central Africa, and much, much more, we're living through abundant and musically expansive times.
Every week, many songs from African artists make their way to digital streaming platforms, and wading through them can be intense. That's where The NATIVE's Songs of the Day column comes in to help. We go through as many new releases as possible, spotlighting them here, two to three times every week. Today, enjoy new music from DBN Gogo, Bloody Civilian, Rema, Busiswa, Ami Faku and more. Lock in!
DBN GOGO, Sino Msolo, Kamo Mphela, Young Stunna & Busiswa – "Love & Loyalty (Believe)"
Off the recently released 'Black Panther: Wakanda Forever' soundtrack which features some of the greatest talents in Africa, some of South Africa's best join forces to deliver invigorating verses on "Love and Loyalty(Believe)". Marking the second track on the project, after the solemnity of the lead promotional single "Lift Me Up" by Rihanna, the cast bring the intoxicating energy commonplace in Amapiano tracks. Produced by DBN Gogo, the intro is a gradual build to the chorus, performed by Sino Msolo and Kami Mphela. The track's unforgettable introduction leads to a stellar delivery by Young Stunna and Busiswa on the first and second verse respectively.
Bloody Civilian & Rema – "Wake Up"
Similarly off 'Black Panther:Wakanda Forever' Soundtrack, is another standout performance from Bloody Civilian and Rema. This feature comes shortly after the release of her single "How To Kill A Man". The vocals pair that we didn't realise we needed until we got it go back and forth on the track as they sing about hard work and dedication they put in their craft. While the track introduces Bloody Civilians melodious vocals as she sings "And I can never give up/I got tunnel vision and I'm on a mission", Rema's flow is smooth and steady like we've never heard before. He impressively croons on the tuneful hook, "Oya tell me the person for this generation wey dey bridge the gap."
D Jay – "Balance It(Remix)" ft Mr Eazi
Released earlier in the year, D Jay enlists Mr Eazi for the remix of his single "Balance It". On the Samsney-produced record, both emPawa artists display an enviable flow, as they sing of the the lengths they would go to secure their heart of their love interest. D Jay introduces raw vulnerability into the track as he sings lyrics such as "For your love I go fit kill ma, Baby I can/Cause this thing I feel inside dey weigh me down." 
Aymos & Ami Faku – "Fatela"
South African hitmakers Aymos and Ami Faku join forces on a fresh Amapiano number titled "Fatela." Over dazzling production by Mas Musiq, the sing beautifully in their mother tongue, and exchange verses that urges listeners to keep coming back for more.
Nikita Kering' – "Unrelatable"
Kenyan vocalist, Nikita Kering' is back for her fourth release this year, following the singles "Last Name" and "On Yah(Intro)" as well as her 7-track EP 'A Side of Me'. Nikita's airy, melodious vocals perfectly contrast the heart-thumping bass beat as she sings about denying a former lover interest a second chance, "You wasted another chance mmh, I warned you I'm hard to find." 
The Kazez – "Stallion" ft. Oladapo
Afrofusion duo and uNder alumni, The Kazez enlist Oladapo for his second release this year after "Chobar". "Stallion" is released alongside "Nor Do" from their two track project '2nd Pair'. The group openly express their desire for their love interest accompanied by impeccable use of log drums and subtle violin, sampling Sisqo's iconic track "Thong Song".
Featured Image Credits/NATIVE