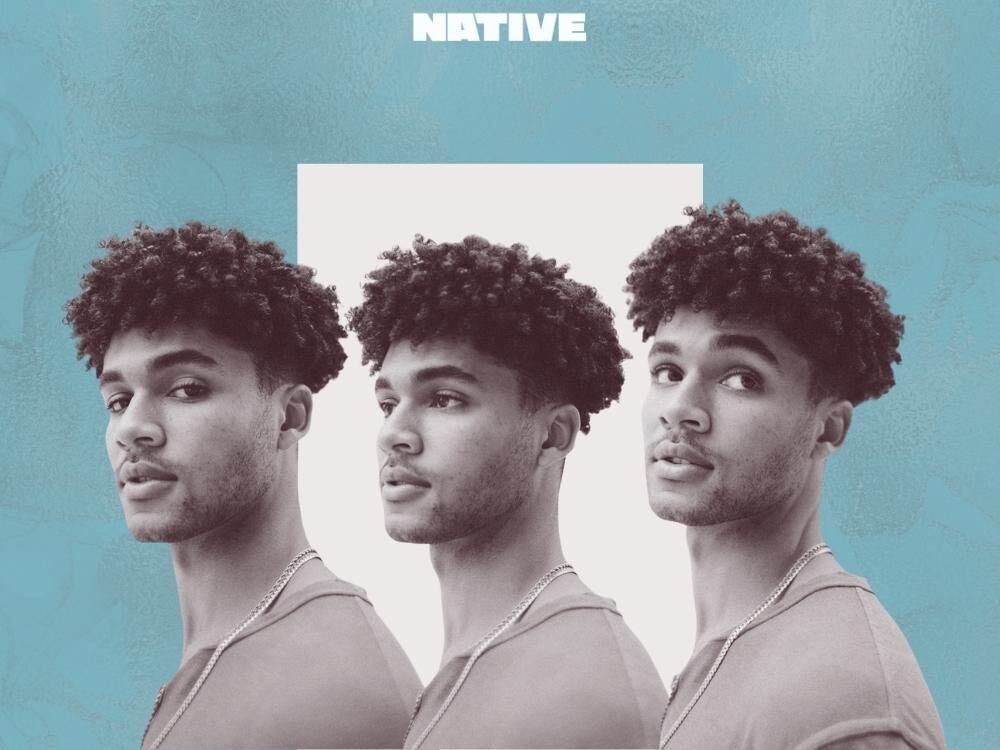 NATIVE Exclusive: Asher Yelo Is Making Memorable Music
Asher is confident in his abilities
Realising your passion at a young age is a privilege many young people never experience, as most only encounter this later on in life. For 20-year-old singer, songwriter and producer, Asher Yelo, he realised his talent from a young age. Growing up as the son of a highly renowned British-Nigerian actor, Asher fell in love with the arts and performing. However, unlike his father, he was more interested in making music and creating new sounds.
Asher began his musical journey as early as 11 years old, when he began producing music on the Garage Band software found on his mom's laptop. Aside from producing music, by the time he was 14, Asher was ready to explore other parts of his artistry which gave him ample space to perfect his singing skills. By the time Asher was 16, he had sang and recorded his own original music, and when he was 20, the singer released his first-ever project, a 5-track EP entitled 'Know Me'.
View this post on Instagram
Asher's confidence in his abilities stems from his strong family background. Raised in U.S., where he's been living the last fifteen years, he tells me that his parents realised early on that he had a love for music and entertainment. As such, they nurtured Asher's skills, pushing him to develop them further and make a career out of it. "They trust me to do it to the best of my ability and it's because I had started so young, at the age of 11. They just saw that I was working hard with what I love to do," Asher shares. 
Asher Yelo is very intentional about his craft and shares that he is a perfectionist when it comes to making music and writing his lyrics. Listening to his EP, you can tell how much he loves to tell a story, and how vivid he is when depicting the moods and feelings he sings about. "I call myself a story teller, everything is very much a narrative and you can hear that in my projects," he says. "In the EP, the transitions are seamless because I'm very intentional with how things move, sound and are placed. Very much a beginning, middle and end. Everything is deliberate."
Asher simply aims to create really good music that he hopes, in turn, will speak to people all over the globe. One of his earliest releases, 2021's "Know Me" is a double entendre imploring his fans to "get to know [me]," while also presuming they know a considerable amount about him and his journey. This theme of getting listeners to understand more about him runs through his next body of work. The forthcoming project is meant to serve as a re-introduction to Asher Yelo, the artist and newest sensation on the scene.
View this post on Instagram
With a deeper emotional understanding about who he is and where he stands in the game, Asher approaches his sophomore project with a profound sense of clarity and a cohesive vision for his artistry. Recently, the singer shared new single, "There Ain't Nobody," an earworm track that finds the artist crooning about love and modern-day relationships. He displays an impressive balance of vulnerability and levity, which Asher shares can also be expected on his forthcoming sophomore release 'Mr Misunderstood,' which will further peel back the layers to the artist and man.
Ahead of the project release, we caught up with Asher Yelo to talk about his upbringing, his music career, his family roots, and his sophomore EP. Our conversation, which follows below, has been lightly edited for clarity.
NATIVE: How did you start making music?
Asher Yelo: Oddly enough, I found my love for music through Lego at 11 years old! I'll explain how that came about. For the first 5-6 years when we moved to the U.S., my brother and I were home-schooled by my mum due to the constant traveling we'd have to do because of my parents' work. And during that time, I was absolutely obsessed with Lego building; I'd create bionic arms from scratch, dragons and sci-fi looking worlds I'd play in, and so much more! I was convinced I was going to be a master builder at Lego HQ. But then one day, I came across my Mum's laptop and found GarageBand. I explored around this music production program and found that all these loops you could find in the sound bank could be pieced together and structured to make a whole world, just like Lego! And so it was a very quick mental shift that allowed me to dive very deeply into music production at a very young age. 
Did you have a music around you while growing up?
My mum is always singing and playing piano throughout the house, and I grew up listening to a lot of my parents favourite music like the Fugees, U2, Linkin Park, Fela Kuti, Jay-Z, even contemporary worship from the likes of Hillsong. So I had a very diverse palate of music before I even considered making it myself.
That's pretty diverse. Do you feel that your multinational background helps you connect with a global audience?
I think it really does. Being Biracial (English and Nigerian), an immigrant, living in the US, having been in French, English, and American school systems, and having travelled throughout almost every continent at only 20 years old has very much matured my worldview and perspective as a human. My mind and heart has been exposed to the grandeur of life ever since I can remember. This inevitably informs my ability to write and create music that can connect to people from many different walks of life.
You are considered a 'bedroom producer'. Has this production style made it easier to have your own unique sound?
Yeah, I believe so. Since it's a very unorthodox approach to music creation, you find methods and styles that are unique to your own work flow. I think one of the biggest components that differentiate people's styles is the vastness of their musical taste; the various genres they listen to, the different forms of songwriting they enjoy, the kind of emotional atmosphere they're attracted to, etc. All these pillars alter the sound that naturally comes out of a creator/producer, especially as someone who works for themselves in their own environment (namely in a bedroom). So yes, it's helped me a lot to truly find my own sound and voice that I enjoy.
View this post on Instagram
You teach people about producing on Reddit live streams. As a self taught artiste, what were the major sources that you used to educate yourself?
It's honestly quite simple: listening. My most valuable tool up to this point has been my ability to intentionally listen to every kind of music and figure out its blueprint. So replication, execution, and experimenting has been my primary method to educate myself. 
What's been the highlight of your career so far?
The highlight of my career so far would have to be getting nominated for International Rookie of the Year at the Denniz Pop Awards in Sweden. The ceremony is on Sept 7th near Stockholm! It'll be so fun to go out there and meet everyone.
You're set to drop a new project.
Yeah, my upcoming EP is called 'Mr. Misunderstood,' and it's about the mental, emotional, and spiritual journey of navigating how to be kind in a dark and turbulent world. I believe we've all felt alone and misunderstood at some point in our lives. I wanted to bring a voice to that state of mind because it can be so self destructive and scary at times. I hope it helps people to heal and navigate those emotions. 
NATIVE: How long did it take you to create the entire project and what was the most challenging part of working on it?
ASHER YELO: It took about 8 months to get all the songs made and finalised. The hardest part about the process was figuring out how to make sure that each song had its own identity while also making them live in the same sonic world so that it's a cohesive experience. For those who don't know, I make my EP's transition into each other perfectly so that you can listen from beginning to end as if it's one whole song with moving narrative points. But at the same time, each song works as a stand alone, so you can put them into your playlist and still love it!
What inspired the songs on the EP? 
Life inspired the songs and my girlfriend as well. You have my mum there for "it was you" which was fun to make. It's just me talking about leaving the nest and how it makes my mum feel. It's all from a different place but centred around love. I wanted a soft entry into what I wanna portray. My next project goes way deeper and very introspective, very relatable for the self and it will be intriguing to see how people react.
The "Know Me" movement experience was a 15 minute dance video playing all the tracks on the project. What fed into this decision to share your music in this way? 
It was all coordinated by a team in Quincy Jones productions. They coordinated it without me knowing, it was a surprise release party by telling me it was gonna be an interview but had friends and family who came. They had amazing dancers dance through the whole EP and it was cool to see how people interpret the visual aspect of the song. Having dancers interpret the music I made was such a cool thing to witness. It's definitely motivated me to look further outside the box as to how I can help express the essence of the songs I create, whether that be through visual arts, poetry, technology, or whatever else. 
How did you get signed to Quincy Jones management? 
In high school, during my senior year, Gezim Gashi (who is now my management consultant), created a program at my school called the Institute of Arts and Innovation that I was accepted to. Alyssa Lein Bryant, VP of Quincy Jones Productions was the first speaker for one of the master classes. I really related to her as she was talking about building a strong character and things that actually matter, so I really appreciated that. I introduced myself, and we kept in touch from there. Long story short, she wanted me to finish high school before we could officially work together. After I was done with school, on February 3rd of 2021, I finally signed a management agreement with her as my manager, via Quincy Jones Productions.
What's next for Asher Yelo? 
I believe a lot of things are about to unravel; the prospect of being able to perform my music on stage, collaborating with artists as a fellow artist and producer/writer, continuing to broaden my reach within the arts, and growing as a person. I'm still very young and have a lot of life to live and I'd love to use my craft as a way of recording my journey. So all in all, we've got a lot to look forward to!
---
Written by Ada Nwakor and Moore Wright