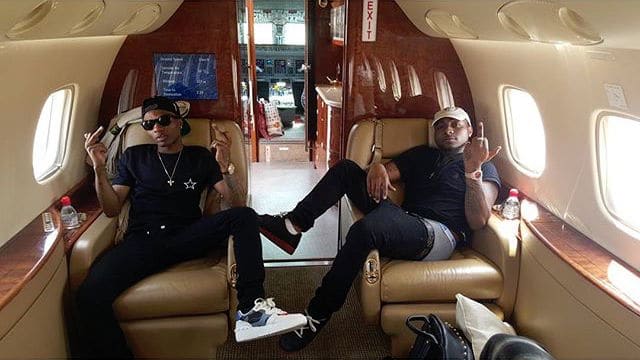 According to Twitter, Wizkid's Davido sub is a reminder that their rivalry isn't dead
Marketing strategy or genuine bad blood?
Words of Ehimenim Agweh
As Davido drops hit song after hit song and Wizkid prepares for the release of his SFTOS album, the air should be clear and buzzing with excitement for the two of them. But Wizkid decided to stick his hands into a hornet's nest and get Davido stung.
In what can be described as one of the most direct hits Wizkid has delivered in his light switch feud with Davido, he made fun of Davido's voice as he referenced a line in the latter's new song with Olamide. No names were called but the Twitterverse knew who the punch was directed to and another quarrel started online.
My people make una remember say Yankee passport no be baba blue, e no dey cure frog voice. 🐸🐸

— Wizkid (@wizkidayo) July 5, 2017
Reactions ranging from outrage to hilarity followed the tweet.
Wizkid and Davido with their Tom & Jerry Beef…LOL! https://t.co/1PTXgU62AL

— F£GZY (@Fegzy) July 6, 2017
this is how wizkid and Davido beef has extended into this family, if you are team Davido you get 2meats wizkid 1meat cos mums likes Davido

— BIG_SAUCE (@sauccy360) July 6, 2017
Wizkid and Davido should spare us this distraction and record a diss track like really dudes since d industry accepts it.

— Agape Lovato✊🏿 (@Intro_Tweet) July 6, 2017
Davido and wizkid just Dey use us Dey catch cruise 💸

— Somto Udeaja #BlackBase Ent (@Austinesom) July 5, 2017
https://twitter.com/balxjnr/status/879598039131934720
For a whole day, Wizkid and Davido trended side by side, which begs the question: what does Wizkid mean by this?
With SFTOS on its way, Wizkid's team must be doing everything possible to keep the world on its toes waiting for the album. However, in the days before the Twitter sub, chatter on Wizkid had been minimal. Davido's name was more prominent in conversations online. But once the sub hit, Wizkid shot up and anticipation for SFTOS went up with it. And it stayed that way until the next morning.
Even though Wizkid has acknowledged Davido's position as an industry leader, some things still don't add up about his sudden emergence from the deep just days before his album is set to drop.
Feature Image Credit: 
---
A journalist by training, Ehimenim is a lover of history, good books and Game of Thrones. For her, the real world is just another Westeros and everyone is a supporting character. Read and repeat is her motto. Give her a wave on Twitter @EAgweh.
---