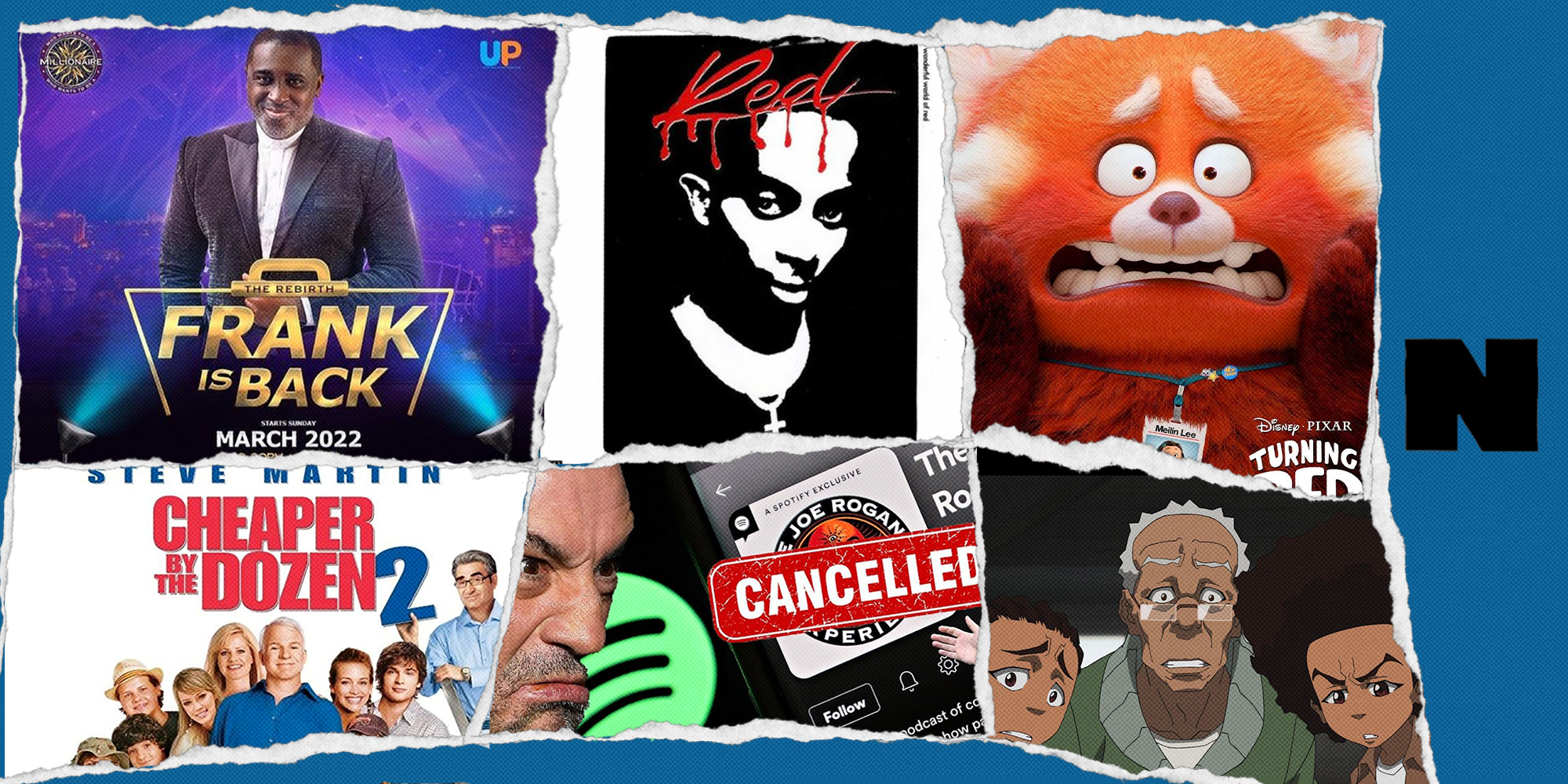 Hot Takes: Spotify Shitshow, the return of WWTBAM & More
All the hottest takes this week
It feels like just yesterday that we chanted "happy new year" in unison. At the start of 2022, expectations were high for the new year which brought new hope as the world slowly reopened, even in the face of a global pandemic. January burned through like a birthday candle and we're already knee-deep in the season of love, as it's a few days until Valentine's day.
It's that time of the season when almost everyone seems to be booed-up, ready to enter the day of love with caption-worthy moments while those left out busy themselves by posting anti-love memes on Twitter. Twitter is already teeming with these kinds of dark-yet-extremely-funny memes. Blaqbonez has assumed leadership of the anti-love crusade, joining forces with industry colleagues to craft brilliantly hilarious promotional antics for his soon-coming concert that have been rocking the internet. We're just a few days into the month so it's safe to say the party only got started.
On this episode of hot takes, in our usual fashion I take you on a voyage through the most sizzling topics rocking the internet and what I'm currently watching and listening to. This episode features an interesting selection of topics, ranging from the Spotify/ Joe Rogan debacle to the announcement of the comeback of 'Who Wants To Be A Millionaire'. Enjoy.
What I am watching: The Daily Show with Trevor Noah
In my freshman year in college, Trevor used to be my favourite person. I read his autobiography in that period. Almost every evening after my gruelling engineering classes, I'd whip my laptop open and type "Trevor Noah stand up" into the YouTube search bar. I kind of fell off along the way, leaning towards people like Hassan Minhaj and Russell Peters for comic relief. But in the last week, I fell in love over again and I'm addicted to his show "THE DAILY SHOW WITH TREVOR NOAH". He has this uncanny ability to create rib-cracking comic material from super serious news.
What I am listening to: "Whole Lotta Red" by Playboi Carti
It's 2022 and Playboi Carti still reigns supreme. Carti's sound is one of the most jagged in the world of Hip Hop but oddly, these days I've found his album 'WHOLE LOTTA RED' oddly comforting. Distorted guitars, sombre chords, boisterous syncopated drums, Playboi crooning in a tone that sounds like a chisel scraping titanium—pure chaos—but I put my headphones on and I find pure peace in this hubbub. Weird but yeah!
The Joe Rogan Spotify Shitshow
The whole drama started when iconic Canadian-American folk singer/songwriter Neil Young threatened that he'd take down all his content from Spotify if they allowed Joe Rogan to keep spreading misinformation on COVID-19. Of course, Spotify didn't budge—they bought Joe's podcast for a whopping one hundred million dollars, Neil on the other hand is just one artist on a platform with hundreds of thousands of artists. Well, more  artistes and creators have gone on to line up behind Neil, threatening to also boycott the platform. Soon after the increasing dissent, Joe Rogan made a video apologising for his inappropriate action, even though you could easily allege that Spotify made him. Whilst still stuck in that sticky web, he received an even stronger blow: A video compilation of various snippets where he used the N-Word and one where he referred to an all-black neighbourhood as 'Planet of the Apes' surfaced on the internet. Rogan immediately issued an apology to that effect, claiming that he's not racist and that he was only trying to be entertaining.
Here's what I think, regardless of his apology and whatever his army of supporters say (side note, he has many black supporters who think he wasn't racist), Joe was obviously racist in that video. Saying you're not racist and pulling out the "I have black friends" card does not make you not racist, and you don't have to take my word for it. In a longer version of the clip, he chuckled and admitted that his statement was racist. He made a racist joke to get laughs from his white friends present in the room. This is a classic case of a person committing deliberate racist acts but being absolutely petrified of being branded as a racist.
It's unequivocal that Joe was racist but the big question is 'What makes someone a racist?' Does committing a racist act make someone a racist? It's tempting to say yes, but just like doing a bad act doesn't necessarily make someone a bad person, perhaps committing a racist doesn't make someone a racist. The follow-up question is 'Does Joe deserve to be booted off Spotify and how should the streaming platform react?'
No more Boondocks?
On the 7th of February, word got out to the streets that media giant HBO Max had canceled its order of 24 new episodes of The Boondocks. This news probably dealt a huge blow to fans of the show, who have been keenly expecting new episodes of the animated series since HBO Max announced its deal with the creator Aaron McGrudger and Sony Pictures Animation back in 2019. On the sunnier side, this announcement doesn't mean that the series is going to the gallows, some other company may pick up the mantle and deliver the reboot.
Cedric Yarbrough claims that the 'BOONDOCKS' revival has been cancelled.

"I don't know if this is breaking news, but we've been wanting to do the show. And Sony… they decided they're going to pull the plug."

(via: https://t.co/JemjesRn1T) pic.twitter.com/q9iubf8Cnk

— DiscussingFilm (@DiscussingFilm) February 3, 2022
'Who Wants To Be A Millionaire' returns this year
For 13 years, Who Wants to be a Millionaire was a staple in millions of Nigerian homes, until its cancellation in 2017. There'd been hushes of a reboot in the last few years, but it's pretty much certain now. The announcement of the reboot of the show was met with overwhelmingly positive reviews from fans of the show, and by 'fans of the show' I mean the entirety of Nigeria—Everyone loved the show, young, old, Igbo, Yoruba, Hausa…everyone! The announcement stokes nostalgic memories—Sunday nights where the whole family is gathered in a dimly lit sitting room, an eerie silence presses down on the room, save for the sound of the TV, the anticipation in the room is palpable, the whole room is still frozen, all eyes are on the TV, magic happens: The theme song of WWTBAM comes on and everyone breaks into a smile. The show captured the dream of the average Nigerian family—The hope of escaping the rat race.
Frank Edoho coming back as the show's host is mildly concerning. He was accused of domestic violence by his estranged wife. Although he repeatedly refuted the claims and no formal complaint was made to the police by his ex-wife, it does feel like the situation was hastily swept under the carpet. It is particularly important to address this issue given the prevalence of domestic violence in Nigeria and the message it sends. Look, I'm not calling for Frank to be canceled, cancel-culture is another huge problem in Nigeria, the organisers just have to ensure that he properly exonerates himself from these claims before he carries on as the host of the show.
Hey everyone. I assume you know by now that I have been offered the role of Host of WWTBAM Series 2. My immense gratitude goes to all of you for hoping that I get the job. Thank you for your kind wishes and felicitations
God bless you all. 💙#FrankIsBack #WWTBAMTheReturn pic.twitter.com/DSBkQckvnd

— Frank Edoho (@frankedoho) February 7, 2022
Cheaper By The Dozen Is Getting A Remake
Yesterday Disney put out the official poster for their 'CHEAPER BY THE DOZEN' remake starring Zach Braff and Gabrielle Union. It's interesting to note that this is the third remake of the movie. Most people only know the 2005 version which enjoyed commercial success—Ranking at #2 on the box office, grossing about $27 million in its opening weekend, and going on to rake in over $190 million globally. The 2005 version is a remake of the 1950 version. I don't understand why Disney is pumping money into the remake of a remake when they could put it into bringing new ideas to life but ironically the answer is obvious—It's an easy way to make even more money. Fingers crossed, let's see how they pull this off.
Gabrielle Union and Zach Braff star in the first trailer for Disney's 'CHEAPER BY THE DOZEN' remake.

The film releases on March 18 on Disney+ pic.twitter.com/qUAzsGda4m

— DiscussingFilm (@DiscussingFilm) February 7, 2022
'Turning Red' Is Pixar's First Feature Film With An All Female-Leadership Team
It's 2022 and it's saddening that in this day and age, an all-female leadership team is an object of spectacle. Even with all the advancements in the struggle for gender equality and Inclusivity, women being in leadership in certain industries is still a rarity. On the sunny side, it's a step in the right direction and it's exciting anticipating what they'll deliver.
'TURNING RED' won't "shy away from topics like puberty, and getting your period," said director Domee Shi to @totalfilm.

"I think it's the first time we break the fourth wall, too," added producer Lindsey Collins. pic.twitter.com/Uz4JL0ykw8

— Disney Animation Promos (@DisneyAPromos) February 3, 2022
---