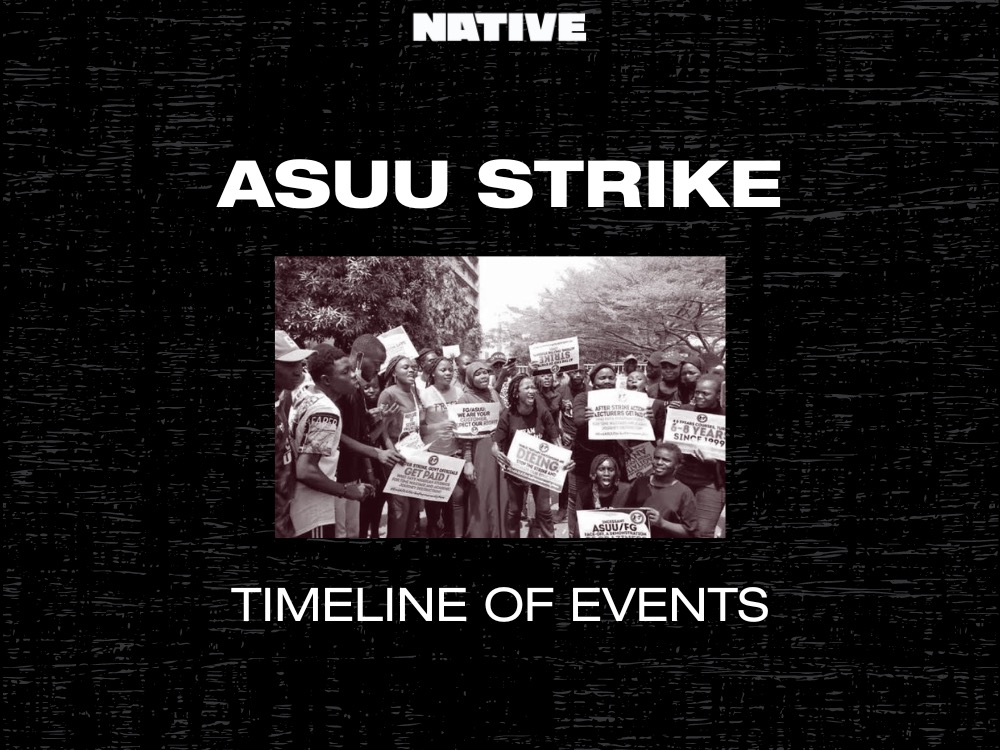 What's Going On Special: A timeline of the ASUU Strike In Nigeria
now in its sixth month
Towards the eighties, the Academic Staff Union of Universities (ASUU) was formed. This was made official in 1978, extending the reach of what was formerly the National Association of University Teachers into a more national entity. Previously consisting only of the legacy universities of Abuja, Lagos, Ife, Zaria and Nsukka, the newly-formed body was very influential in pushing for academic reforms through the military-led years of the eighties. Through the preceding decades, that significance only bolstered as a return to democracy in 1999 placed the priority of educational legacy under the eyes of the Olusegun Obasanjo-led government. 
In the 23 years since then, the phenomena of ASUU strikes have been rife. Any average person who has gone through the federal tertiary system knows how synonymous those words have become with education in Nigeria. The frequency of the strikes also demonstrate how further apart education has grown from federal policies, quite unabashedly so in the eyes of the ruling elite. Currently with the ongoing strike action, university students have been at home for almost six months. 
On February 14th 2022, millions of federal university students received the news that ASUU were embarking on a month-long warning strike, and lecturers would only be back in classes if the federal government met their demands. In a statement by the body's national President, Professor Emmanuel Osodeke, the association revealed that an agreement signed in December 2020—one which put an end to a nine-month strike—had not been fully implemented by the Muhammadu Buhari's government. This was after it had declared a lecture-free day the week before, aimed at sensitising university communities and the general public to the government's blatant failure to honour their previous agreement. 
"ASUU will not relent in its historic responsibility of advocating for an improved university system," said the union's leadership, stating that "this is because it holds the key to our collective prosperity and better future for our children and our children's children; so, let us work together to fix it. We don't like to see our students at home. We don't want our academic calendars disrupted but our demands are not met."
In his own statement a few days later, the Minister of Labour and Employment, Dr. Chris Ngige blamed the union for not giving a 14-day strike notice, saying that it was "a clear breach of labour laws." That statement saw him grasp at long-winded inefficiency of government bureaucracies, saying that ASUU's clamouring for the University Transparency and Accountability Solutions (UTAS) was to be approved by higher powers in the government, the very government who had turned a blind eye to the December 2020 decision. Even though he reported that the country's premier technical agency had finished its assessment of UTAS, no prior announcements were made as the strike continued to roll on and on. 
On their part, the ASUU have been fairly communicative of the myriad reasons behind their strike action. When President Buhari announced the utilisation of the Integrated Personnel and Payroll Information System in 2019, they kicked against it and highlighted its problems for the fluidity and autonomy of the academia, a field that's markedly different from the motions of regular civil service. Since its February strike, while the government and its agents have continued to strut their arrogance and unaccountability, the association have continued to speak with the press and indirectly parsing information through third-party social media channels, with some of those crucially using Gen-Z language to appeal to the knowledge of young Nigerian undergraduates. 
Since 1999, ASUU have embarked on about sixteen strikes. This latest tussle is an offshoot of the renegotiated 2009 agreement between the union and the Federal Government and speaks more to the latter's indifference to the long-held practice of affording the universities' little autonomy. This has not been summarily discussed nor updated with the times. Whenever the topic is broached, the Labour Minister and his Education counterpart, Mallam Adamu Adamu, are always certain to maintain disbursing some funds to ASUU, which feeds the union's opinion that the government isn't aware of the shifting nuances of education and the economy. 
Which way is Nigeria headed? I bought 50 litres of diesel for my car at the cost of N40, 000 in Enugu. I'm wondering how we will all survive this hardship. As a Law Professor that has reached the last step and stage in promotion at a Federal University, I'm paid about 400k per

— Prof. Joy N. Ezeilo (OON) (@NgoziEzeilo) June 15, 2022
Two months ago, a university lecturer—who is actually a professor—made a tweet bemoaning her salary earning of four-hundred thousand naira. This was met with uproar considering that the nation's lawmakers easily make more than that off bureaucratic allowances that should rather be catered for by their basic salaries. After a claim by Senator Shehu Sani in 2018 that the average Nigerian senator earns approximately 13 million each month, the Revenue Mobilization, Allocation and Fiscal Community said that each senator's salary and allowances tally just a little over one million naira. 
Still, there should be no argument that Nigerian politicians are paid in a grossly indifferent way to the plight of other civil servants. This inadvertently contributes to the god complex most government officials possess, moving through spaces callously and without regard for the average Nigerian. If you read in between the lines of the many statements, you'd see how much of the ASUU strike is an ego problem, of certain figures incessantly clashing against each other and hampering the progression of lasting negotiations. 
About two weeks ago, President Buhari seemed to wake up from his slumber. The incumbent president called for an executive meeting, which lead to little to no results. His statements released afterwards leaned into the militaristic behaviour of giving orders without any recognition of nuance. He kicked Dr. Ngige off the negotiation table, who's been accused by the union of disrespect and being an "unabashed protagonist in the crisis." 
In his stead, Mallam Adamu was placed. But this is also a man who angrily walked out of a meeting with representatives of the National Association of Nigerian Students, right after a comment was made about the children of most Nigerian politicians are students of well-run foreign universities. In a report by Premier Times, it was suggested that the two weeks "deadline" given to end the strike was actually made by the Minister of Education. The report also highlighted an alleged rift between Dr. Ngige and Mallam Adamu, the heads of governmental bodies that should ideally be collaborating for a quick dissolution of the strike. 
The aforementioned report also revealed that the past five years have seen the government budget only five to eight percent of the annual budget for education, falling quite short of the fifteen to twenty percent recommended by UNESCO. Coupled with the insecurity in some regions, this has resulted in over 18.5million children being out of school, while academic standards across federal universities have severely declined. As such, in solidarity with their fellow union members, the National Labour Congress embarked on a nationwide three-day demonstration. As reported by Al Jazeera, thousands of union members marched to important locations within the states of Lagos, Osun, Oyo, Kano, Kebbi and the country's capital, Abuja.
In all of this, undergraduates have reacted with typical defiance. Even as many of us—this writer included—take to online jobs and internships, the rising cost of services have resulted in a whole lot of physical stress for many young Nigerians. This current moment bears testimony to the government's lackadaisical approach to education even though current undergraduates will be expected to fill up the labour force in the next five years or more. Their outdated policies have also essentially criminalised cryptocurrencies, which was seen as a viable pathway to financial freedom. And with different sets of students clogging up the academic calendar, there's no doubt there will be a rush whenever schools resume, much to the detriment of the students' learning. 
This strike is affecting me. It's not even about time wasted but the academic and mental stress that comes with it.
I can't even move on with my life. The unproductivity is killing me.

— LOLA💜 (@lolaarae_) August 1, 2022
Currently, there is growing insecurity in many university towns right now because students–who are the largest stakeholders in these neighbourhoods—aren't present. Also, a wide spate of economic services around such places are sure to have taken a downturn, from computer centres to restaurants, bars, provision shops, medicine stores and many others. 
Two weeks after President Buhari's cabinet made sure to publicise their so-called efforts to reopen universities, there has been no resolution in sight. ASUU's leadership described that order as "lip service" and it's proven to be quite true. In any working country, figures such as Dr. Ngige and Mallam Adamu would have been relieved of their duties long ago, but Nigeria, as we all know, defies normalcy. In their bid to positively influence the decision-making of the government, in a National Executive Council (NEC) meeting on Monday, the first of August, ASUU announced it was extending the ongoing strike by four weeks. As the strike action continues to worsen and extend, it is pertinent we continue to call out the Nigerian government for its failure to establish a reliable and academically sound tertiary education system.
Featured image credits/NATIVE