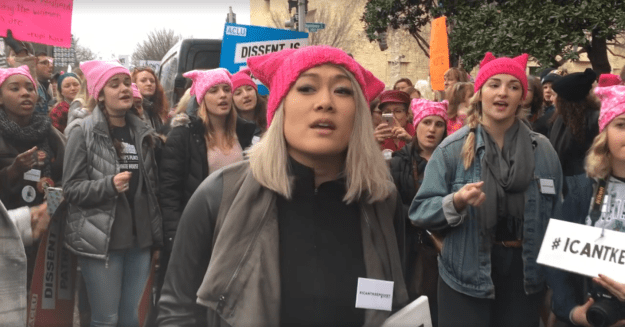 Watch Women's March Anthem #ICan'tKeepQuiet
Get Ready To Stick It To The Man
The world saw an unprecedented number of women from all races and sexualities over unite to protest injustice and fight for their rights and liberties 2 days ago. Different women used different mediums; many held up signs, some chanted, some made remixes of popular songs and others sang. Among these singers, one anthem stood out- "Quiet". A video recording of this song went viral when MILCK, a Chinese-American singer performed this song acapella with a group of other singers at the Women's March in Washington.
MILCK said that she wrote this song as a way to heal from battling physical and sexual abuse, as well as depression and anorexia.  She thought the song would resonate with listeners as most women were hurt with Trump's election and she felt the song would convey the true emotions behind the march.
"Then I thought it would be really powerful if there was a group of women singing it together." She said in an interview.
She reached out to several people and quickly heard back from a cluster of singers from different cities, including DC, Los Angeles, and New York, who were going to the Women's March main protest in Washington DC. They practiced online through Skype and only met in person two days before the march. Even in the face of possible missteps that could make everything fall apart, everything came together when she started performing with the choir behind her.
Alma Har'el, a Los Angeles-based director who happened to come across the group as she was trying to leave a crowded spot, posted the video that went viral. When she was interviewed about the video, she said her phone had died hours before, but miraculously turned on when she heard the women singing.
"I started filming and I was just standing there crying, I couldn't stop… It's beautiful, the sentiment of the song aligns with what so many people have been feeling for years, but especially during this election," Har'el said. "The most important thing for [the Trump administration] to realize is that we're not going to go away and we're not going to keep quiet."
This video caused such a stir that choir groups in Australia and Belgium started sending in requests to perform the song. MILCK has said she is getting ready to post the lyrics and recordings online for others to use. She also decided to join forces with director and editor, Sammi Cohen to create the music video for "Quiet".
Whether this is a perfectly executed well-timed promotion for MILCK or purely coincidental, this new resistance anthem could not have come at a better time.
Watch the viral video below: