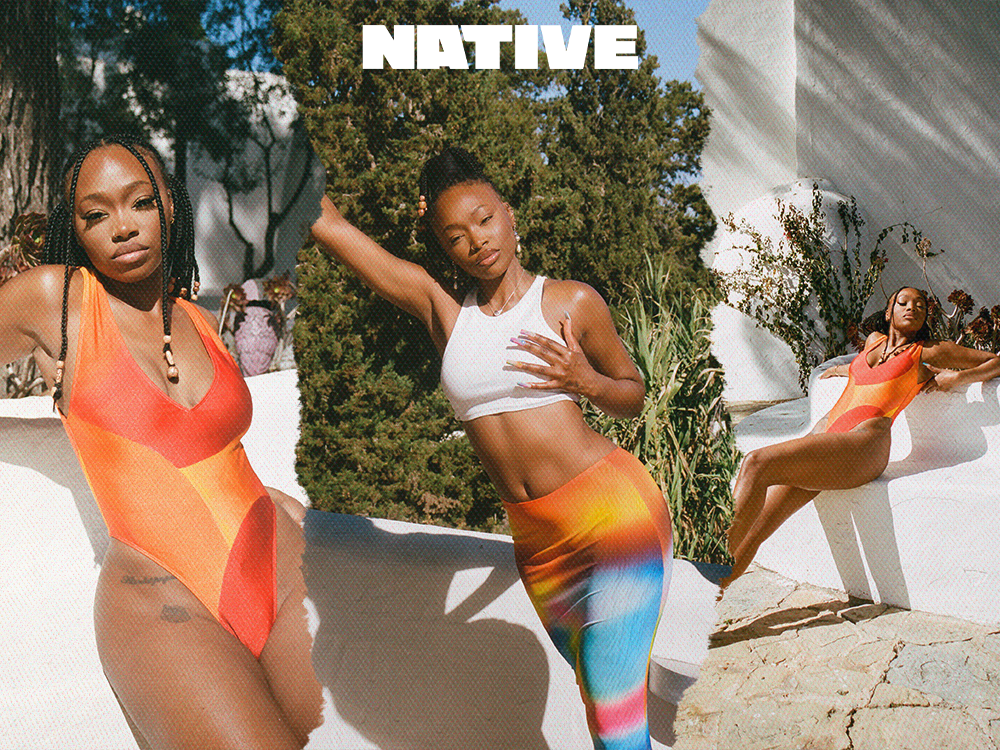 Farai London unveils its dazzling summer collection with British-Nigerian influencer, Uche Natori
Mark your calendars: 30th April
UK-based womenswear brand, Farai London has become a cult favourite for Gen Z shoppers and celebrities including Megan Thee Stallion, Kylie Jenner and model, Lori Harvey. Launched back in 2020 in the middle of the COVID-19 pandemic, the ready-to-wear brand instantly became a favourite for many Black women due to its vibrant and splashy colour palette. Within a few years of its launch, Farai London, the brainchild of designer Mary-Ann Msengi has been stocked at the likes of Selfridges and Revolve.
With summer approaching, Farai London has now collaborated with British-Nigerian fashion and beauty influencer, Uche Natori for her first-ever capsule collection titled NATORI. Speaking about the forthcoming collection, Natori shares that "What's culture without us? That's ultimately what it comes down to. I cannot be here without everyone that supports me."
Similar to many Black and brown skinned creators, Uche was constantly reminded from a young age that she looked different from the accepted standards of beauty and has spent most of her career uplifting women who look, talk and sound just like her. With over ten years since the start of her career, Uche continues to stay true to this mission and her latest collaborative capsule 'Natori Collection' with Farai London, is a manifestation of her passion to champion Black women.
View this post on Instagram
Ahead of the collection launch on Sunday April 30, we caught up with Uche Natori to talk about the new drop with Farai London, her expansive decade-long career and her plans for the future.
Our conversation, which follows below, has been lightly edited for clarity. 
NATIVE: Hi Uche, you've been a beauty and fashion blogger for five plus years now and you've gathered quite a following across social media. When did you decide that this was something you wanted to do full time? 
Uche: I was doing it for a while just as a hobby. I started back in 2011/2012. My brother was very into photography. I was really into YouTube at the time. So he basically taught me everything I knew about cameras and editing. Maybe not so much editing, but definitely cameras. Then when I was coming to the end of my degree at uni, I started looking at it as a viable option. I considered actually doing this full time. I was getting a lot of opportunities and a lot of recognition from brands that I really, really loved. And it was never anything I'd considered. I was sceptical but a friend of mine asked 'what have you got to lose?' So I gave myself a year to do it full-time when I graduated and I just never looked back.
Did you grow up in Nigeria at any point or were you always in the UK? How would you say your upbringing has helped you achieve your goals? 
So interestingly enough, I was born in Nigeria. We moved to the UK when I was five. Reflecting now, that was actually kind of traumatic.  That must have been really difficult for my parents. Anyway,  I moved here when I was five with my Nigerian parents and a very African background. Everyone in my family is either a doctor or an engineer. So I kind of landed in the middle with dentistry. At the time, I thought 'It's good working hours and I can still do all my science subjects.' It's also something that I'd really enjoy and love. I was very focused on my academics because of the environment I grew up in. I've always been an overachiever.  I have an older brother who's insanely intelligent as well. My parents are super hard worked as well. 
So I've always been in a background of really going for what you want. I've never felt limited in this life and like there's nothing that you can't do. So I think when I started venturing into the creative industry, it was new to my family because we weren't really creatives in that sense. 
You were definitely branching out 
Exactly. I took a similar approach thinking I can do this. There's absolutely nothing I can't do. I just kept going at it. Interestingly enough, I think I'm naturally better at creatives than I am at hard sciences, which explains the degree. It was more second nature to me. I always really struggled with chemistry, physics, and math.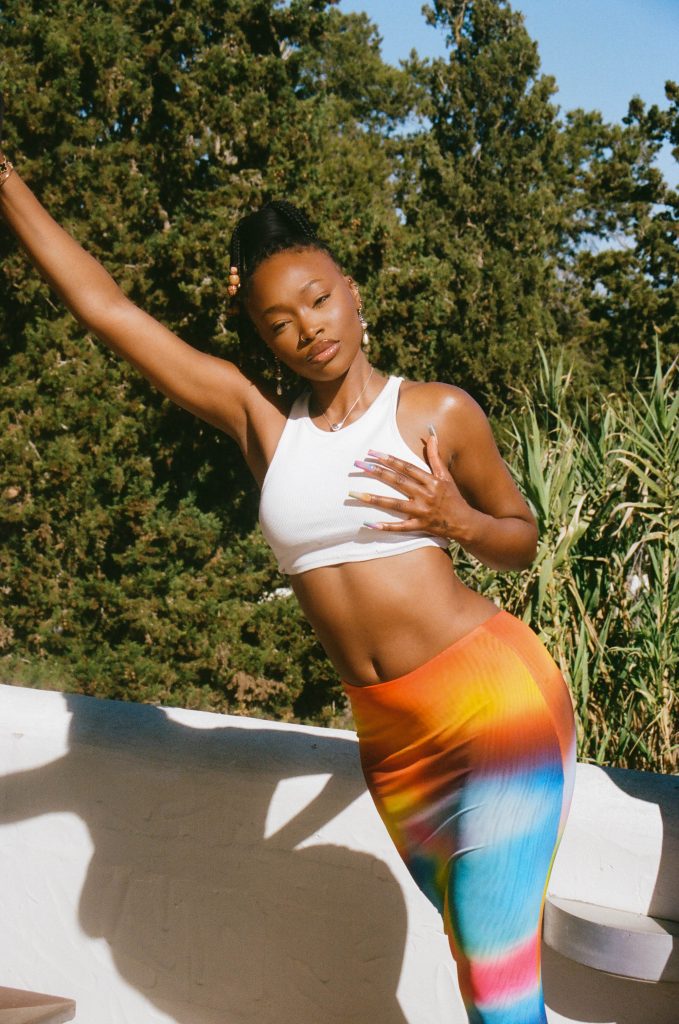 I think building a career as an African woman –a Nigerian woman – in the UK must have come with a lot of challenges. How would you say you overcame those? 
Yeah, the beauty industry particularly is just, it's a lot. It's come a long way, but it still has so much further to go in a lot of ways. I think my blessing was I, in a sense, got ahead of the industry. I came in very early. It was still in its infancy. That helped me a lot. It helped me kind of make my mark in an already growing industry or quite an early industry. I think if I came in now, it'd be very different, but it's tough trying to prove yourself as a Nigerian, as a black woman.
I grew up in a rural town in London, just outside of London, so everyone was white. I was kind of dealing with that element as well coming from being born in Nigeria and now moving to the UK. Obviously, I was still quite young then. I think maybe if I came at a later age, I might have experienced it in a different way but being around white people from a young age, there's certain things that you already conditioned. Which is so sad, but I think the generation now are so lucky and so blessed because there's so many people that look like you doing incredible things. So you don't have to do some of the knuckle fighting that some of our generation had to do. Just because there's people that come before you. Like I said, still a long way to go but people have made so much headway.
There's an undeniably expansive content and talent pool at the moment. How would you say you stay ahead of the curve with fresh and relevant content, making sure your audience stays plugged in all the time.
I think one thing about me, which I hope my audience values, is I'm not the creator that's going to chase all the fast and hard trends. I'm going to give you something of value. That's always been something that's very core to me. Core to my content and core to everything I'm about. Because of my science background and general educational background, it affects how I approach content. Sometimes I'm going to give you the fun, exciting trend-led content, but at my core I want people to leave with something new. Whether that's like a new product recommendation or a new technique or skill, something. I think maybe that's why I've had so much longevity in this industry. I've always been focused on adding value rather than getting the most subscribers in the shortest amount of time. That's not really a metric I've focused on and I think that's definitely helped me just kind of stay aboard.
Especially in an industry and world undergoing 1000 changes every minute. 
Exactly. There's TikTok today and there's Instagram tomorrow. There was YouTube five years ago and output is always changing. Ultimately it's about what you are bringing to the platform.
What would you say has been the biggest career highlight for you?
I've had a lot. If I was to think about the past year, I did an edit with Clinique, which was a huge full circle moment with me. Clinique is a brand that supported me very heavily throughout my social media journey. So to have that edit with them was a real big moment for me. Yeah. I'm working on a collection at the moment with Farai London, which is huge. Again, Farai London is one of those brands that people have probably seen me wear in the summer. There's so much synergy between me and the brand and to be able to come together and do this collection particularly in the summer is crazy. Particularly because there's so many huge moments in the summer like DLT Malta, Recess Land and more cultural big moments in the London circuit.
It is so nice to be able to do this collection and think about the ways to implement them into these events and big moments. I've done a lot of panel stuff with Meta, that was huge. Meta had me come in and speak to a room full of brands. It was insane. I think it was probably one of the first of its kind and for me to be the person doing that was absolutely mind-blowing. Currently, I'm part of the YouTube Black Program which is like the YouTube Black Voices Program. It was like an application and I'm really honoured that I was picked to be part of it. It's been such a great way for me to reconnect with YouTube because my social media origins start from YouTube and then Instagram came second. TikTok came third. So to be able to reconnect with YouTube has been really great for me also.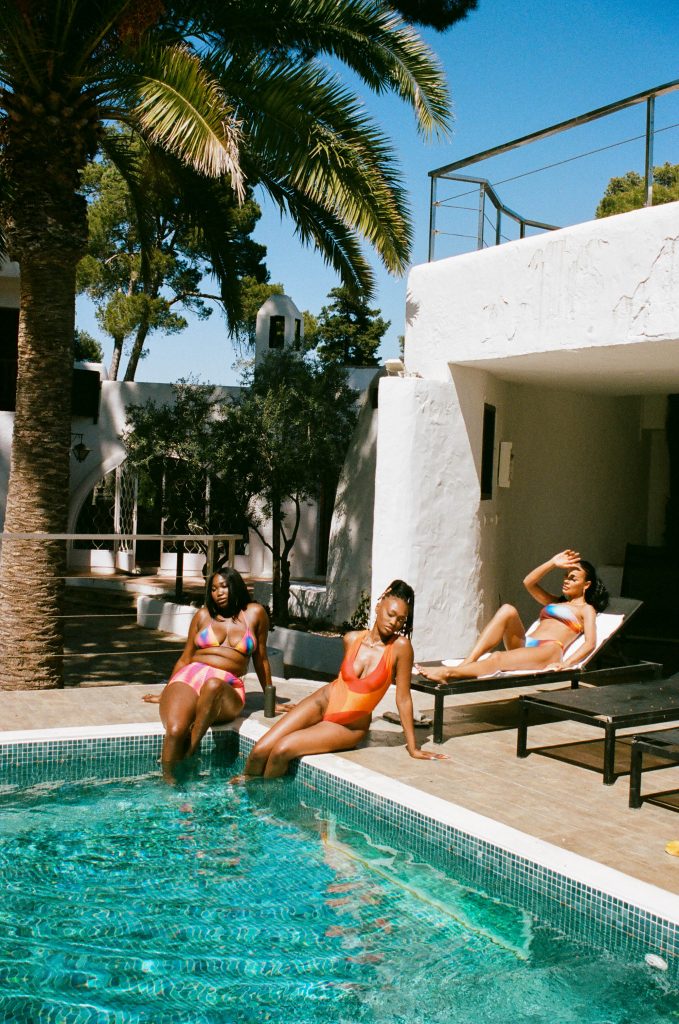 You have a collaboration with Farai London coming up soon. What values do you share in comparison with the brand? 
Farai London has always been a brand that I've resonated with because I think at their core they're all about making women feel beautiful and making clothes that women feel their best in. My content is all about educating women in a way that makes them feel the most beautiful. My lens is through makeup and Farai London is through fashion but ultimately we both celebrate women. We both champion women and we both empower women.
I've been wearing Farai since their inception so for us to be able to do this together is huge. I even connected with Mary-Ann, the founder, before her first launch. Weirdly enough, it seems like a different time because I was planning to release a swimmer and brand myself. I remember connecting with Mary-Ann about that. It's incredible to see how both our journeys have grown in such vast ways. Honestly, it's amazing. So I think when people think about incredible independent female-led brands from London we come to mind. 
The founder of Farai London is a black woman like yourself. How important would you say it is for collaborations like this to happen for the growth of the culture? 
It's like what's culture without us that's ultimately what it comes down to. I cannot be without everyone that supports me. Farai is nothing without everyone that supports them. Mary-Ann and I are nothing without the people that support us. So it really just felt like it had to be done. It's gonna be so incredible seeing everyone in the pieces over the summer. Mary-Ann and I are two people that are very involved in the London scene. We go to London parties and we know what people would want. Even for the styling there's some ways that I would style that Mary-Ann had contrasting opinions for. We really had in mind all the ways that people style it and I'm just so excited to see everyone's take on it. 
What were some of your inspirations going into the project and how were you able to merge this with Farai's?
My biggest inspiration was nail art. I'm so big on nails and anyone that knows me knows I've always had my nails done. Always done. It's usually long and elaborate. At the moment, I'm super into the heat pad nails and the kind of psychedelic look. We channelled the vibrancy of summer which was fun. When I think about myself and my summer wardrobe, I would say I'm quite neutral but in the summer I really bring out the colour, particularly in swimwear. So I really wanted to bring that fun element to the collection as well and Farai was so supportive. Farai already has a very colourful and fun branding. I think people know them for their very unique prints and colorways. So I really wanted to stay true to what they already do but bring a kind of fun, different element that's more aligned with me as well.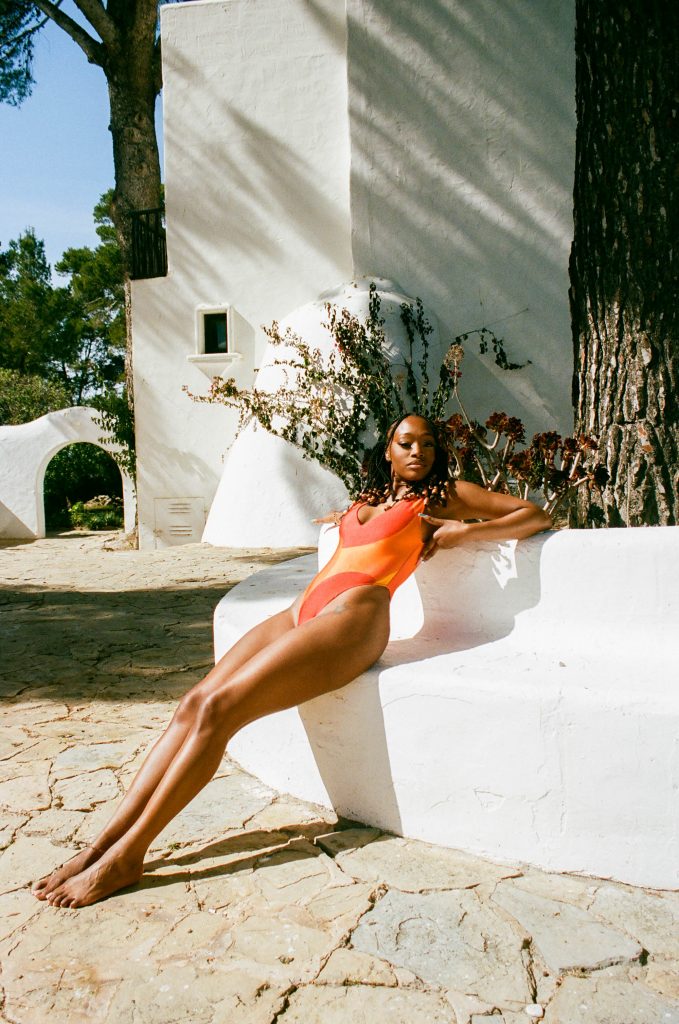 The collection is set to drop this summer. How did you tailor the collection for summertime?
We played around with a lot of different textures in terms of the prints and colours. So the only tough thing with Farai, because they are such a colourful brand, was thinking of colours that hadn't already been done before. I wanted to do slightly different colours so you look at the collection knowing that Uche and Farai did this. I wanted it to be a beautiful mix in the middle where you see both sides really having fun and being playful. The design team was absolutely incredible. They really helped me bring my vision to life. 
In a world that's growing just increasingly sustainable, was that something you had taken into consideration during the creation process? 
Definitely. The priority was creating clothes that people could wear in different ways. With swim and cover-ups, people often feel like you can only wear one way. When we did the campaign shoot we really wanted to show the different ways you can wear it. Someone might like the skirt of the cover-up but they might not necessarily want to buy the bikini.  We gave people the options of look so if you only resonate with one piece you don't have to style it in the traditional sense. These are not pieces that you're going to need to buy a new wardrobe to wear also. You can insert pieces very easily into your wardrobe, particularly your summer wardrobe.  I just want them to have fun with it and really just slot it in with things that they already wear.
So it's definitely not something trend based that would just last for a bit and then they forget about it the next summer. It's something you can include with what you already have at the moment. 
Yes and what makes this one different is it's just very fun. Hopefully it will make some people that might not necessarily play with colour, experiment a bit more. I've not always been the most colourful person but when you have that one statement piece,  you can put on a cute white top over it with your favourite heels and bag, it's like, 'hey, I didn't think that I could do this, but this looks incredible.' That's really what I want. For people to be able to look at it and think, okay, what do I have that I can just wear with this rather than thinking 'how am I going to have to buy a new wardrobe to fit around?' 
This sounds really good, very excited for the collection to drop. What more can we expect from you in the future?
I think this year you can expect me to do a bit more outside of the traditional beauty influencer. I definitely want to work a lot more with homegrown talent. I want to nurture those connections around me and tap in and work with my peers. I'm also working on a series. I want to bring a bit more fun and excitement to my YouTube channel. As I said, where I've been on the program, I'm really trying to give more. So I want to do something more fun with my YouTube channel. Bringing in my people and working on more content with them. I want to show the more fun sides of me because I think that's something that I've always felt like I had to suppress being on social media. I definitely want to do more creative directing. I really want to tap more into working behind the scenes with brands and bringing my kind of expertise and what i've learned in the past few years.
Featured Image Credits/ The NATIVE
---